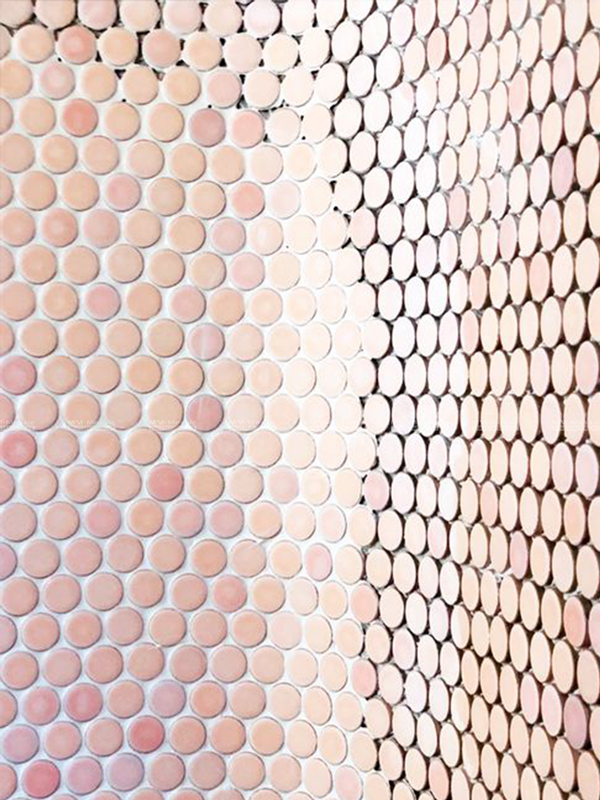 Do you like things sweet and bright, or bold and unique? When it comes to our beautiful glazed tile, we have tile design ideas for whatever your home style might be! Showers are one of the perfect spaces to play around with interior design styles. From tile sizes, tile shapes, glazes, finishes, and most importantly tile colors, there are so many ways for you to embrace your characteristic style throughout the room. In this project blog, we are showing off the wonderful shower design that you can enhance your interiors from 150x150 square tiles to 28mm penny round tiles. Read on to see this appealing shower project and get ideas for your future remodeling plan.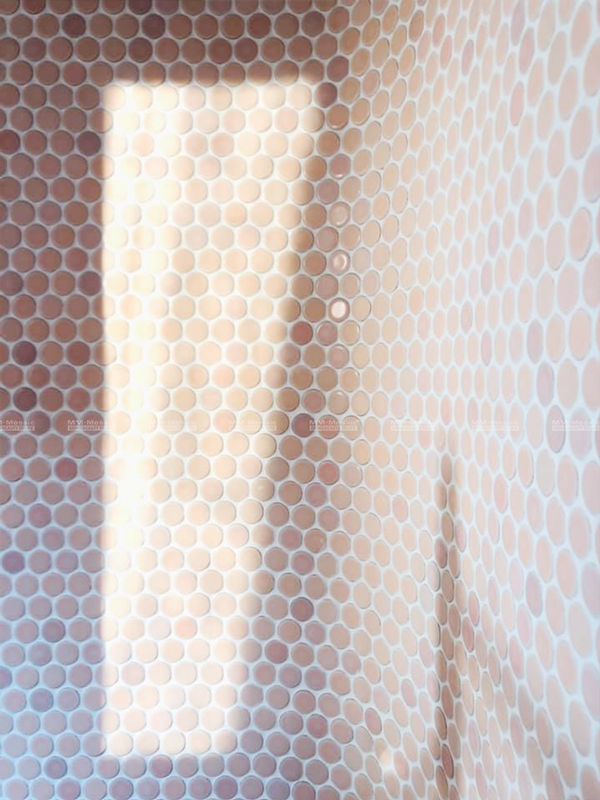 It might be the beginning of Spring, and this shower space just feels more like a dreamy paradise. With an appealing shower accent wall that's as eye-catching as can be, the wall tile install achieves the stunning factor when only using one glaze palette - Pink Breeze. This sweet and dreamlike tone matches faultlessly with our signature shape: Squares and Penny Rounds.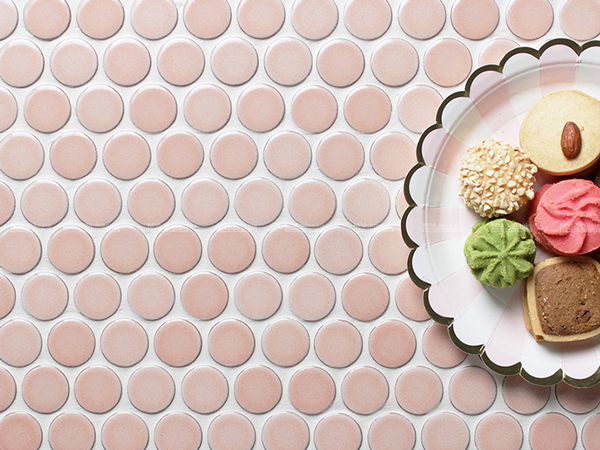 One of our all-time favorites is this Kiln Pink due to its incredible and depth and personality. This character and welcomed glazed are a smooth, breezy pink-toned glaze with a glossy glazed surface and subtle color variation. Filled with variations of tender pink, baby pink, and hints of orange, this color will transform any room into a dreamy masterpiece.
For a more interior project of pink palette ideas with our blog: Pink Palette Finger Stackbond Mosaic Makes Dreamy Wedding Dress Shop >>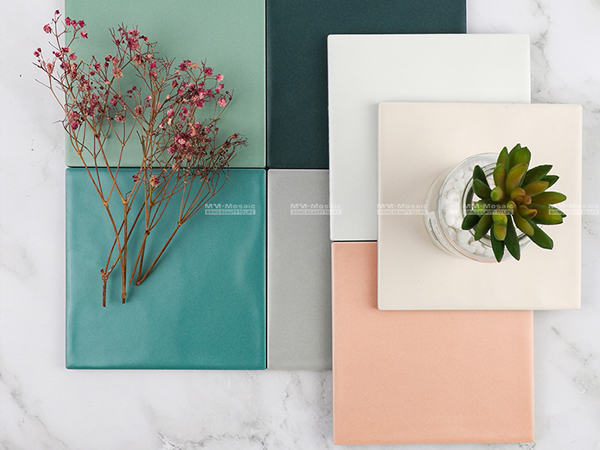 The Shower
In order to let a featured wall popular like this space does, make sure that the whole of the shower is mostly pink palettes. The adjacent wall uses Pastel Orange, classically made square tile with a perfect combo for shower decor. We think the contrast between the two wall tile shapes and touching feel only amplifies the wonderful detail of our glazed tile. The charming pink accents lend themselves to the contemporary and stylish look of all bathroom space. One of our favorite parts of this shower? The open design and without glass door or curtain. And if you are going to making a unique shower, we think you better show the accents off!
See more bathroom decor things project with our blog: How Mosaic Goes From Bathroom To Bar Counter >>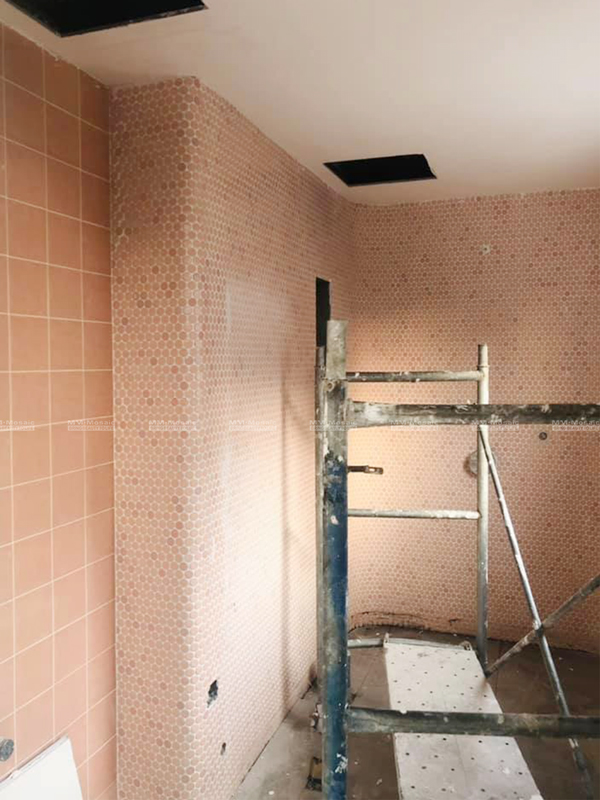 The Tile Details
We talked a bit about pink palettes, but how great is this featured wall covered in pink-toned tile? Perfect for the soft appearance. Again, we think the contrast of square and penny round lets that shower wall shine brighter. One of our absolute favorite details is the corner installation.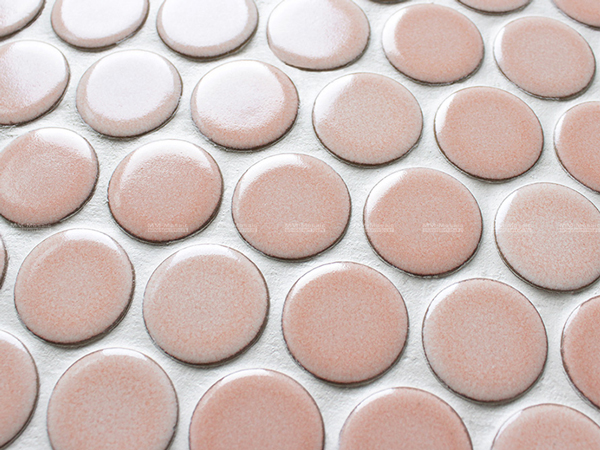 They provide a perfect curved and clean look to the accent wall. They also work great with the shower large window.
Learn more about our penny rounds and when you need to use them with our blog: Style Selection - 28mm Pretty Pink Penny Round Ceramic Tile >>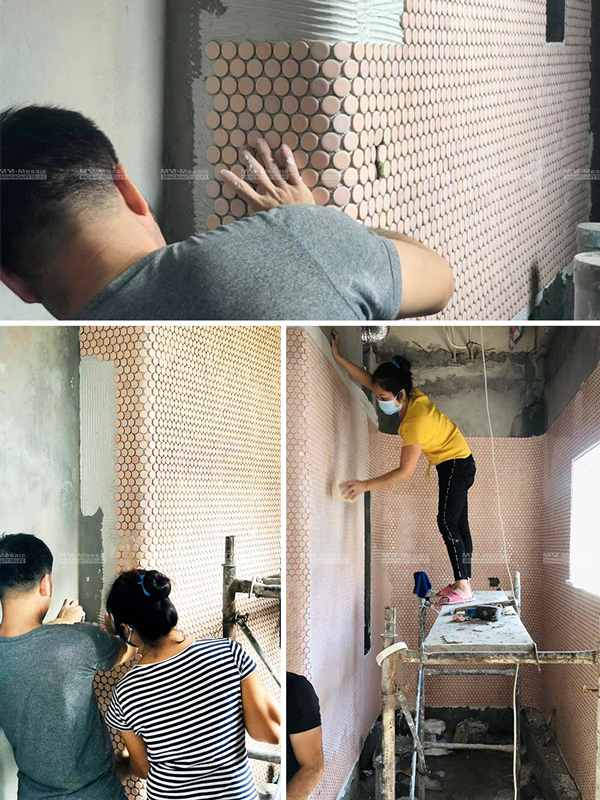 As mentioned before, we only used one glaze - pink color. So we consider this an ideal shower remodel project, which is one of the most affordable and quickest ways with our nice tile! It's even available to ship directly to your country on easy-to-install back mesh design sheets. Get more details on the pop interior projects: Top 10 Residential Interior Trends. If there are any problems unanswered by our online shop, please reach out to our contact page here. We are keen on talking about tile ideas and tile projects!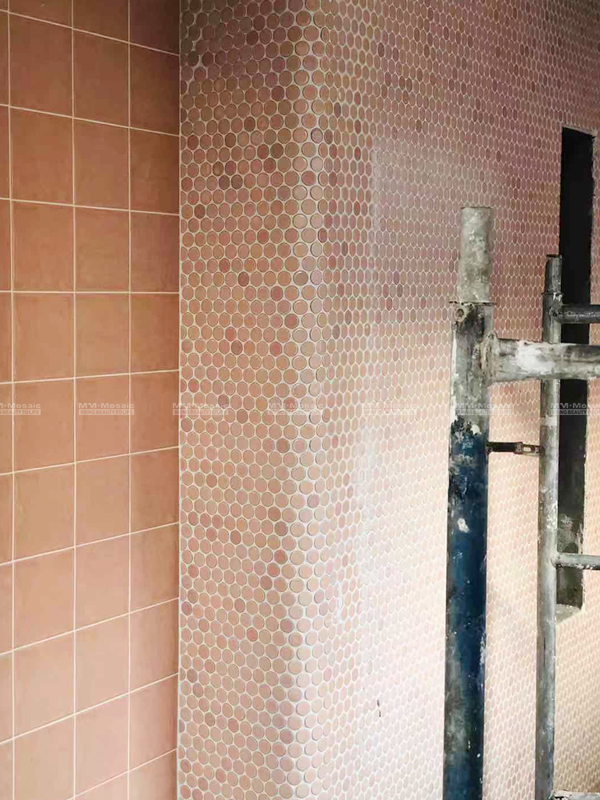 Last but not least, This lovely color is a luxurious light Pastel Orange glaze with a glossy glazed finish and delicate variation. Pink always represents vividness and approachability. They are abundant without being overwhelming and can serve a purpose in any room. While installing a particular color, such as pink, everyone can open up and transform any space of your home, from the bathroom, shower accents to kitchen backsplash. Like the below design inspo: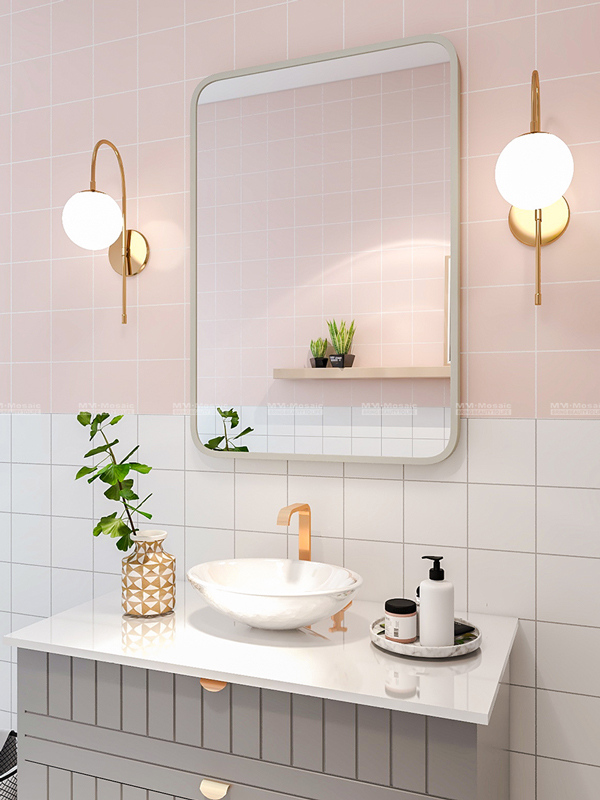 Get Inspired?
Fascinated this shower project? Love our tiles? Why not order tile samples right now? Let's see, touch and feel this appealing pink tile and tell us your future project ideas. Not only that, but you can also share your ideas about tile shape, color, size, and anything else you want to share. MM-MOSAIC will get back to you immediately and support you with your home or commercial remodeling plans.