What happens when the sweet hexagonal mosaic meets the Moroccan style? The hexagon is sometimes considered nature's wonderful shape as it organically occurs in beehives, petals, and snowflakes. The honeycomb pattern makes it fits perfectly into home interior design, as it adds fresh regular geometric angles to any surface in any space. From little to large sizes to options in porcelain, glass or stone, the sweet hexagon mosaic can be used in surprising designs.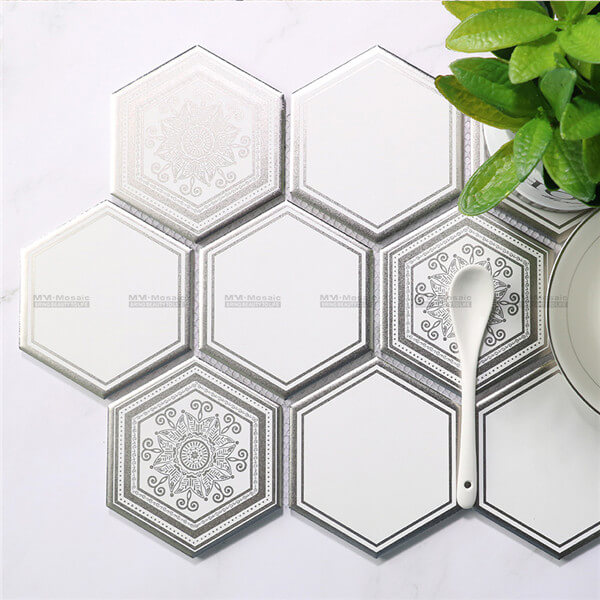 Matt Metallic Print Porcelain Mosaic Super Hexagon White CZO931D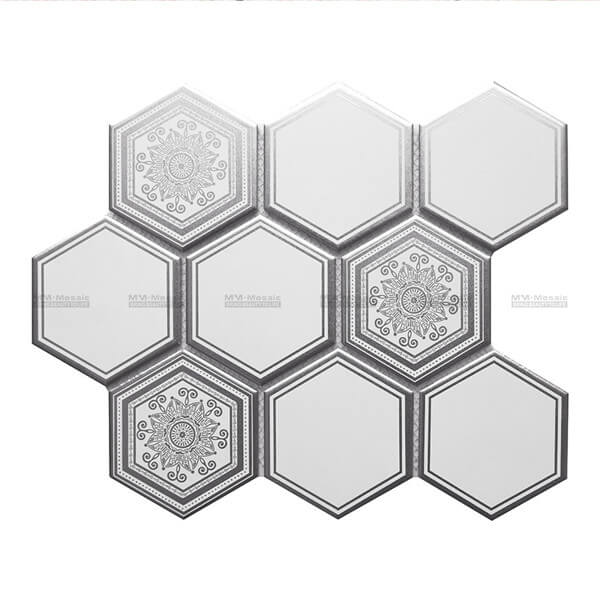 Expect the timeless hexagonal shape, Our latest porcelain mosaic hexagon tile collection use the metallic print technique on the matt surface, which combines with the Moroccan special pattern will make you amazing! Metallic mosaic is popping up all over the place, and they assuredly look pretty darn cool. Trending in bathroom interior wall and kitchen backsplash, metallic print technique stands out and it creates the modern look that had previously been impossible.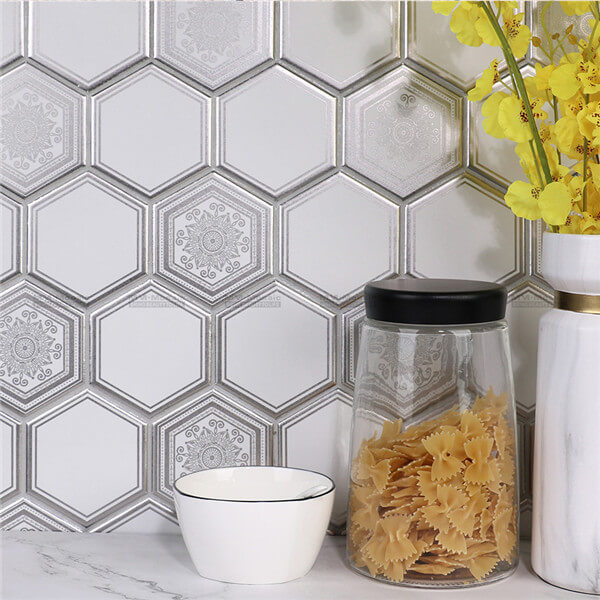 Make your backsplash unique:
Just like the below popular interior design, you can use this Moroccan-style mosaic in transitional spaces for example kitchen backsplash. The metallic print pattern full of urban modernity pair particularly well with wood textures cabinetry, the wooden shape flooring tiles, and the metal cooking range. What's more, this compact and ordered hexagonal arrangement will visually expand your kitchen and the color of silver mix white hexagon tile will brighten up space.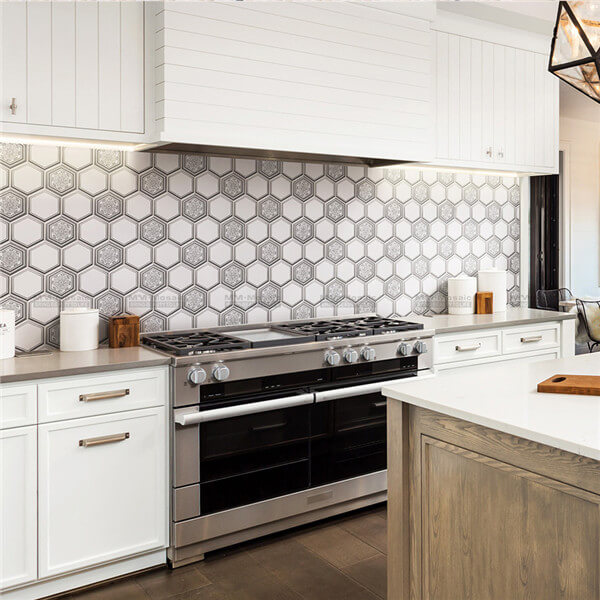 Chip Size: 95x110x6mm; Sheet size: 295x258mm
Thickness: 6mm; Gap: 4mm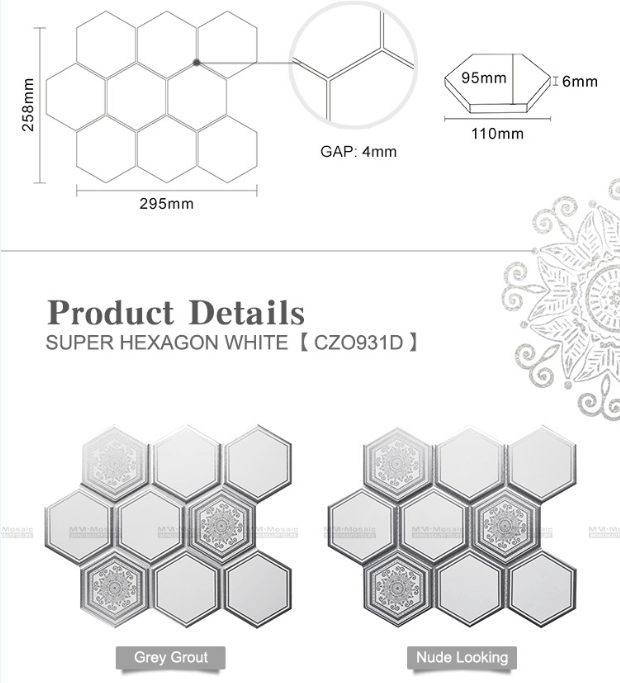 On the other hand, the most popular spots for metallic print pattern Moroccan-style mosaic are undoubtedly bathroom wall. If you can't imagine the real scene, here is an authentic design provided by one of our customers:
Prepare a timeless bathroom for you:
It is true that not all home decor age well. Done right, though, metallic print Moroccan-style mosaic can appear as timeless as natural stone tiles. Combining neutral, subtly patterned Moroccan style mosaic with ageless materials such as marble tiles can help keep your bathroom design fresh for more than ten years to come.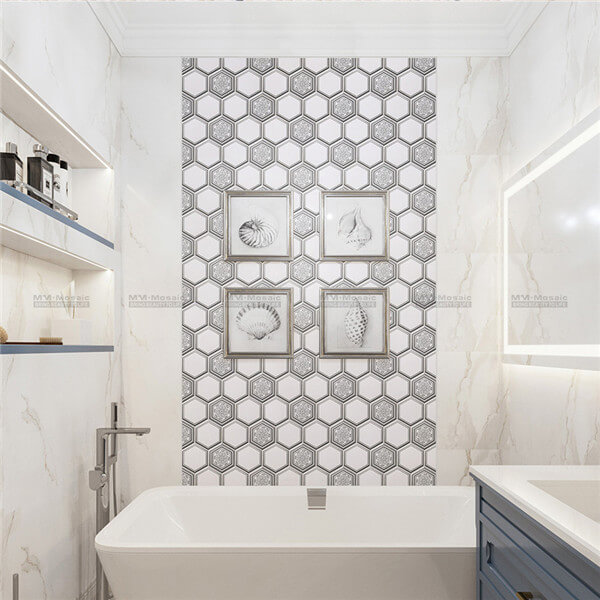 Trying this mixing different colors, silver hues with Moroccan-style pattern mix the pure white tones, they can be timeless. Generally, once the house has been decorated, it's not likely to be redecorated in ten years. Therefore, you must choose the timeless mosaic such as this hexagon bathroom tile, which matches well with the white bathtub, the white marble tiles, and the white light. If you are a hexagon fanatic, here is an article for your reference:
Style Collection: Travertine Look Porcelain Hexagon Mosaic Tile With Inkjet Print >>>
Samples are a great way to get a comprehensive feeling for the real size, shape, metallic print pattern and texture. If you'd like to take a closer look at the newest arrival collection before placing a full order, why not order some samples? Premium mosaic samples are preparing for you so please don't hesitate to contact us as soon as possible!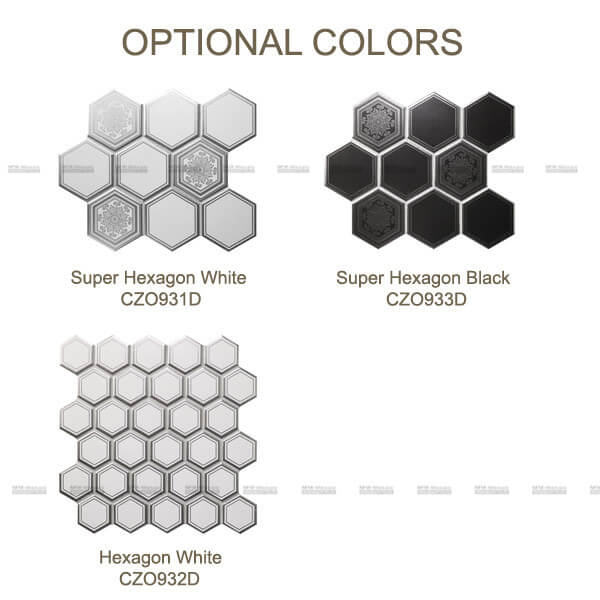 With over ten years of experience, MM-Mosaic who has established long business with many global customers is a professional mosaic manufacturer and wholesaler. We assure you of our professional export service and high-end products.