Guess you guys have come back to work after a yearly holiday. Did you enjoy and have fun? At this moment every year, people get used to concluding what they have gained last year and expressing best wish to the next year. As for MM-Mosaic mosaic tile design team, the biggest harvest is having finished the design work and launched out a new collection: Ice Crackle Ceramic Mosaic Decorative Wall Tile. The tiles get inspiration from geometry design and elegant fambe surface. No matter shown alone or combined together, they give a creative and beautiful pattern. Let's go into details as follow.
Hexagon Within Hexagon
The big hexagon mosaic sheet is brown in the middle and white around the edge, which is harmonious and balanced. Also, the small triangle chips are made plump like juicy pulps. All the details are crafted in a full and delicate way.
Brown is the popular color in winter as it gives a warm feeling. The big brown hexagon is relieved against the white hexagon rim, so when many put together, the integral pattern will not show abrupt. Instead, it will become the focal part that people can't stand to fix eyes on. The bedroom mosaic backsplash attached below is a good example. Brown-white mosaic tile headboard separates living room and bedroom ingeniously. Also, the mild brown color gives a warm touch that conform exactly to the principle of bedroom design, which is cozy, soothing and tranquil.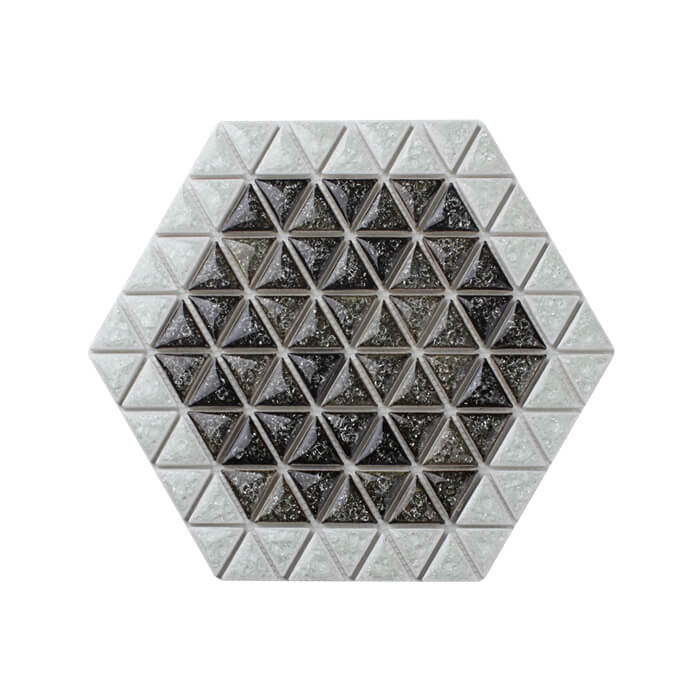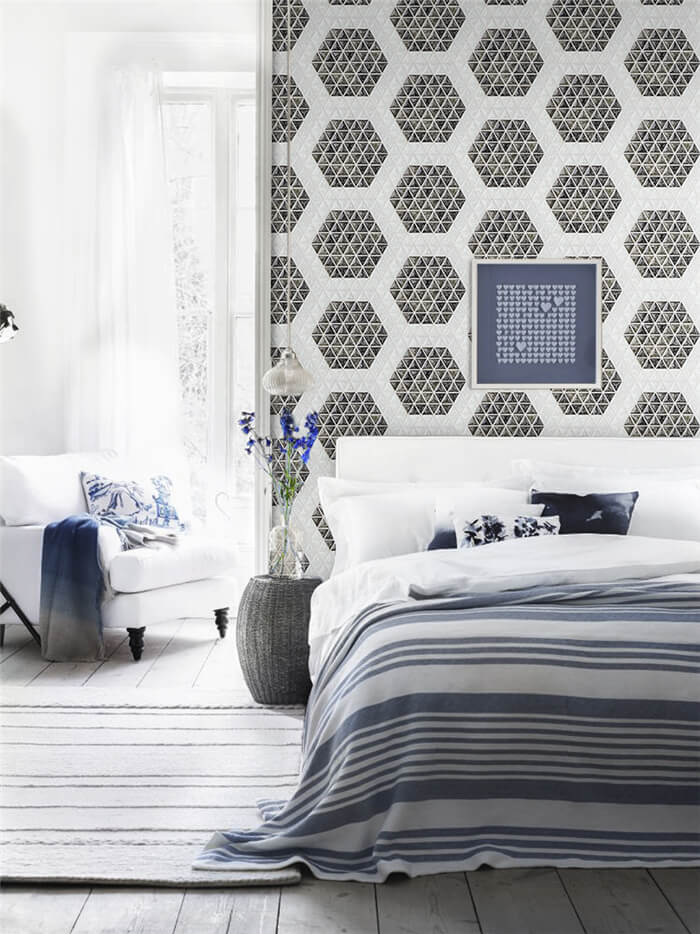 Mosaic Tile Headboard CZB016JI
Overlapping Brown & White Hexagon
This pattern is made like 4 layers of different-shaped hexagon overlap and block corresponding sections. You may think it very similar to gun shooting target that has a magic of attracting people's attention quickly because the smallest hexagon dot is placed in the middle and the surrounding hollow hexagons of alternant colors make eyesight concentrated.
As concluded above, this pattern is very suitable for the wall decoration of business establishment like restaurant, fashion shop and jewelry store, for those are the places that need to catch the eyes of passing potential customers at a glance. (Additionally, you're suggested to read our published article Advice on Mosaic Floor Tile For Your Business Establishment for more tile decorating tips. ) Geometric mosaic cover thoroughly over the wall in the attached restaurant design. It looks like a blanket surface from a distance, but closer you can see its glittering ceramic surface and ornate cracked pattern. It is practical and decorative.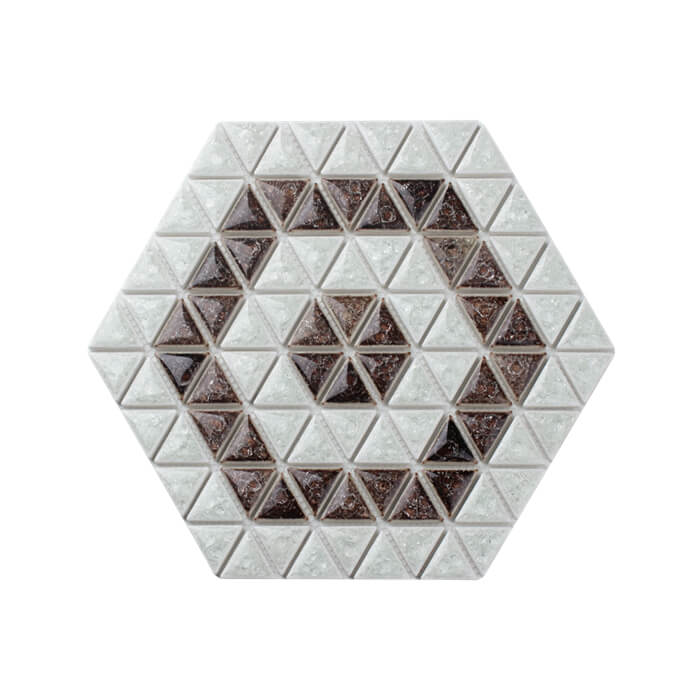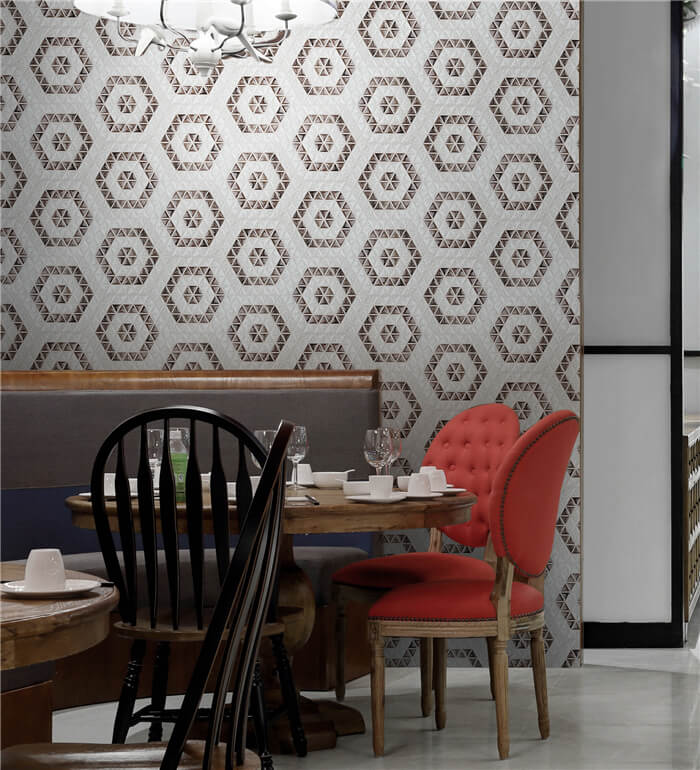 Hexagon & Small Triangle & Big Triangle
Small triangle chips combine to form a hexagon shape and brown tone divides it evenly into six blocks of triangle. You may think geometry pattern is stiff and unsuitable to be used as the decoration of living space. However, coffee-brown color weakens the shape edges of triangle and hexagon in a large part and come out to a decent result.
As you see, many of these mosaic tiles interlocking is like windmills neatly arranged on the wall and penetrates kind of modern breath. Inverted brown triangles give a visual illusion of draping curtains that save the wall from dull and flighty. And there is another outstanding feature: they are processed in a high temperature and covered with high-quality glaze, which is fouling resistant and very easy cleaning.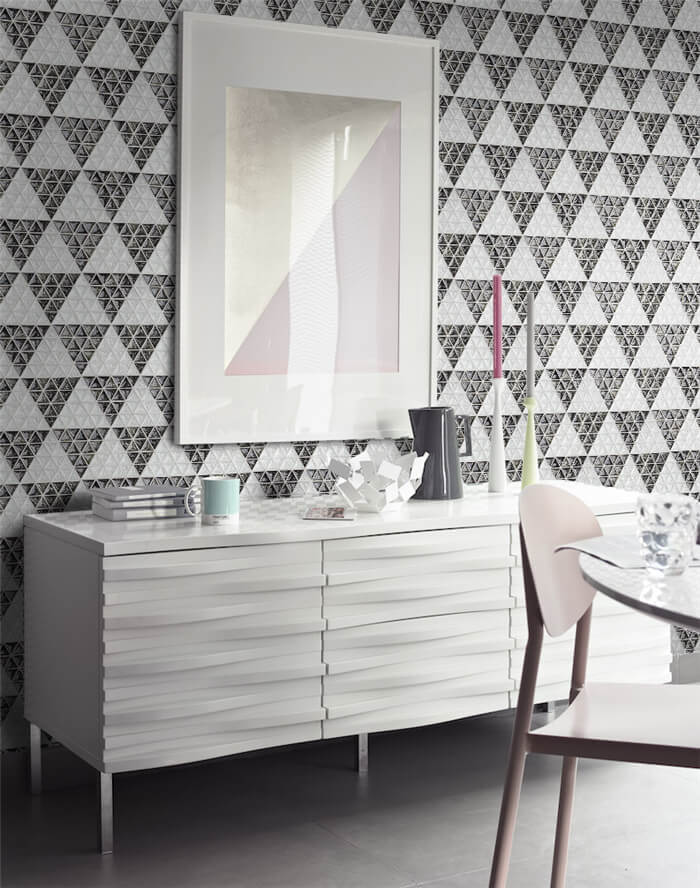 Get latest mosaic tile design ideas from MM-Mosaic, an experienced tile company that specializes in offering ceramic/porcelain mosaic tiles, glass mosaic tiles, wall and floor tiles, mosaic tile murals, pool mosaic tiles and other tile related products. Welcome to have a close eye on our blog update every week and keep up with trends of home decorating.