Mosaic tile designers have been playing penny round shape very well. Thanks to their creativity, round mosaic tiles have been developed many varieties and continue growing in popularity. Solid black or white color is the original version, and they are now available in a great variety of materials, colors, sizes and finishes. In today's article, MM-Mosaic is going to show you 10 newest penny round tile designs and the ways how to use them to decorate contemporary houses.

The first round mosaic tile MM-Mosaic can't wait to show you is the pink one. Believe it or not, you really can't take your eyes off it. Imagine how wonderful sweetness overwhelms your room and fills your heart with warmth. It's exactly the magic of pink mosaic penny tile. 28mm diameter size and glossy glaze coating make each round chip mellow. Unique surface treatment is the key to ensure pinkness appears indistinctly gradient. Below attach one of the ingenious way to use this tile. An arch door that features penny round mosaic has a distinctive artistic effect. This design is like sending a warm greeting to every guest who come to visit your house so using it in the entryway is a good choice.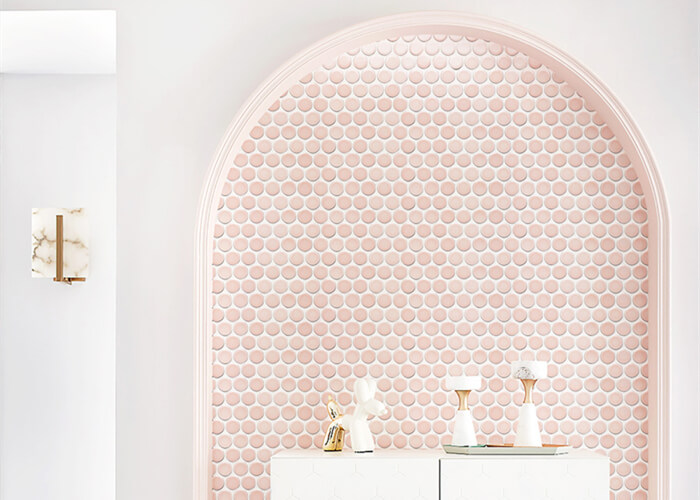 28mm pink penny mosaic tile CZO421A
If asked where people get used to install penny round tile, MM-Mosaic would say kitchen backsplash, a place that is often at your eye level and plays an important role in enhancing your cooking area. You may have found most people would take a conservative way and choose those that are more classic in appearance such as subway tile. However, round mosaic tile looks great on kitchen backsplash as well. As shown in the attached example, malachite green penny tile backsplash weakens the reflected light from the metallic board and the golden counter. That's a great harmony in different design elements.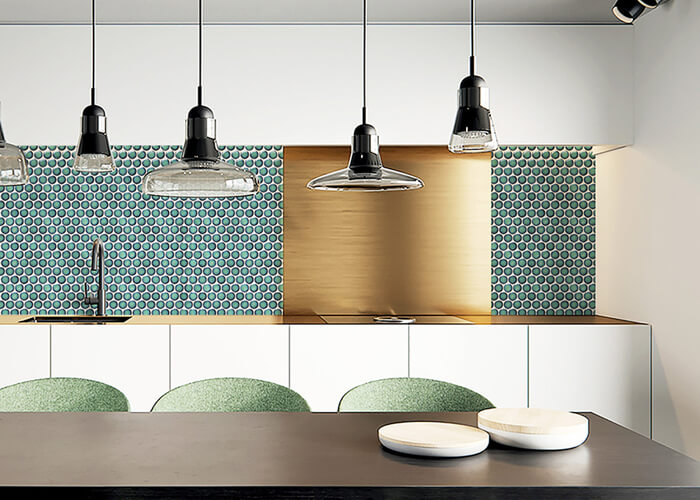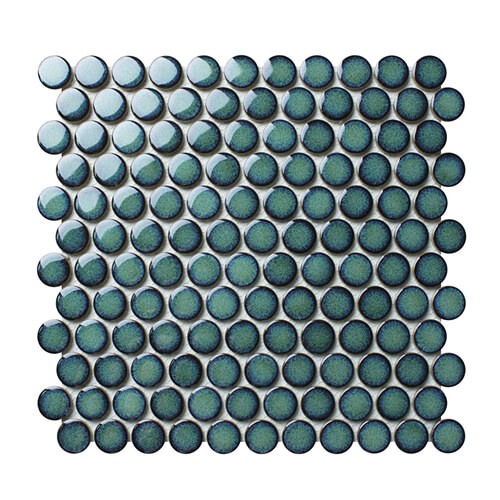 malachite green penny round mosaic tile CZO938A
This full body penny round tile is particular for bathroom and shower flooring because of its non-slip surface. As one of the traditional members of the penny tile family, black penny round tile enjoys dominant popularity on the paving inside shower cabinet. It's not difficult to imagine how people benefit from its anti slip matte surface. Low water absorption rate is also its prominent advantage, which ensure a long service life of the tile even in wet rooms.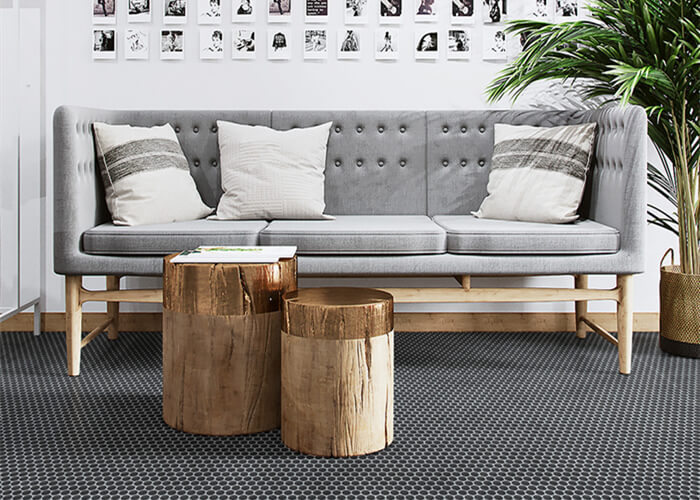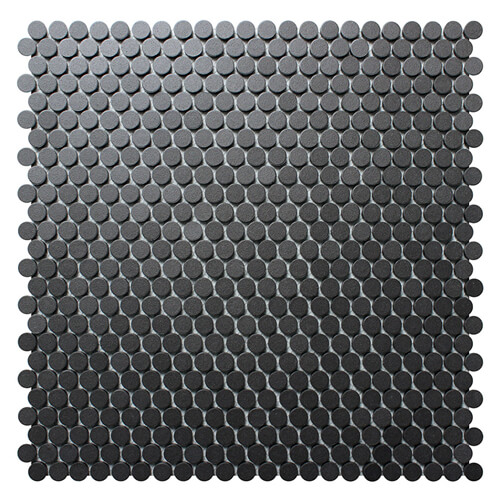 anti slip penny mosaic tile bathroom floor CZO137B
This is another great example of using round mosaic tile in hallway. We can see from the furnishings that the host loves antique style and makes every inch of the house archaistic – sofa, cabinet and other ornaments. To fit in the surroundings, the host creates a feature wall with tan penny round mosaic tile. For one thing, tan color is matching to the wood structure nearby. For another, it is an ingenious arrangement to set a light color wall behind dark brown furnishings. Don't you think the antique beauty of the cabinet is more outstanding in this way?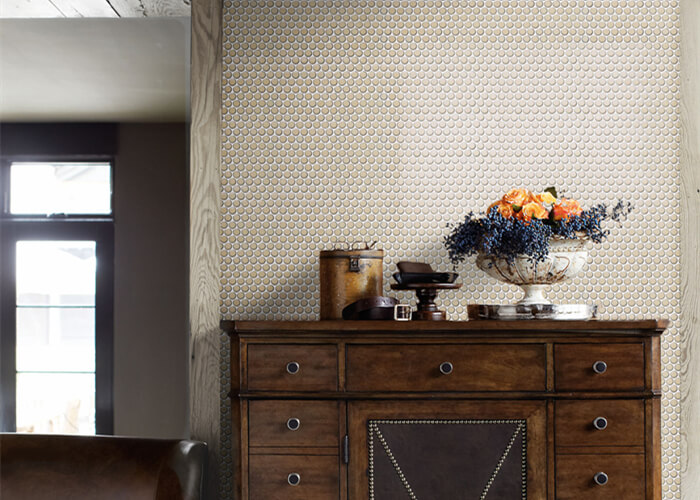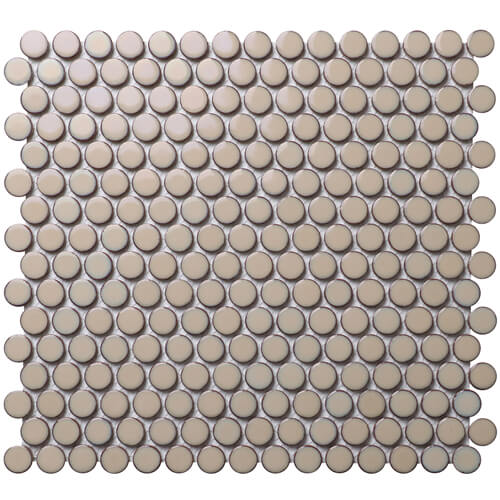 feature wall tan color round mosaic tile CZO921Y
It is a common case that people leave a white painted wall as background in living room and put on some hanging landscapes or family photos. In fact, painted wall stains easily. If you have young kids, the situation may be even worse than you think. The wall is better to be tiled, for tiles usually have glazed surface, which is easy cleaning with water even gets dirty. As shown in the attached design, the host selects beige penny round mosaic tile in order to match with the Nordic style furnishings. Light color background here integrates the living room design and exerts a pragmatic function.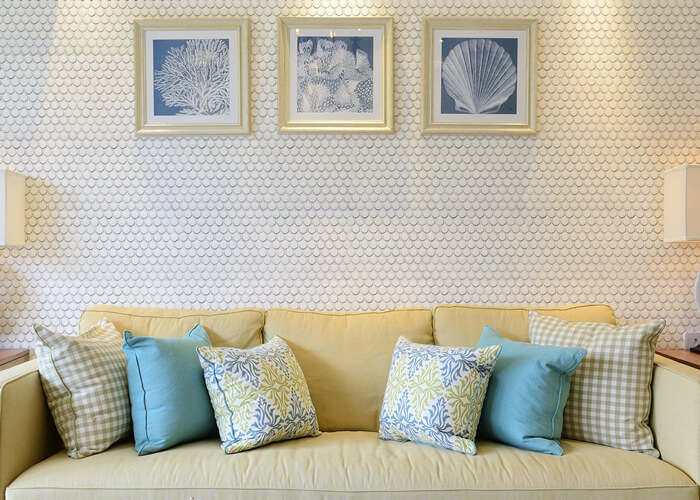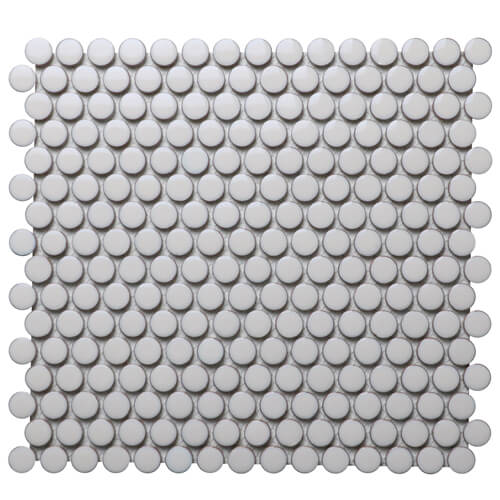 beige penny round mosaic tile for wall CZO920Y
Penny round shape design may be the most miraculous pattern that does not look messy when many put together. The instant that small rounds are installed in order, the wall gets vitalized. It is not a sterile blank wall any more. This light blue penny tile is just given a very little touch of blue that you will not find if you don't look carefully. Some people may even think it is in gray color. Just like the penny tile mentioned above, it is good for living room wall tiling as well.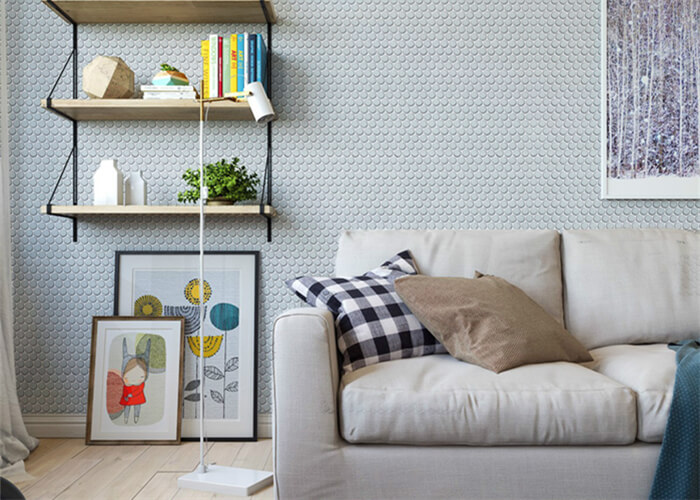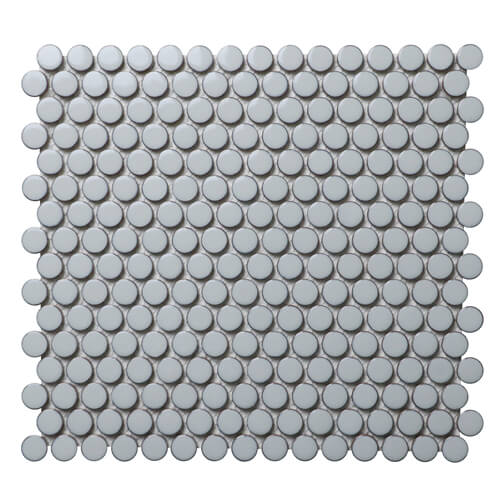 light blue penny round mosaic wall tile CZO919Y
Here comes a penny tile in striking color. The navy blue color and the glossy glazed surface make the tile look like sapphire. It shines in light and gives a royal atmosphere. One of the best places to use this tile in is bathroom backsplash, where light is ample and often water stained. Quality glaze coating protects the tile from getting moist. That also helps to prolong the service life of the tile. If you want your bathroom renews with a tasteful look, use bold color tile like this to add energy.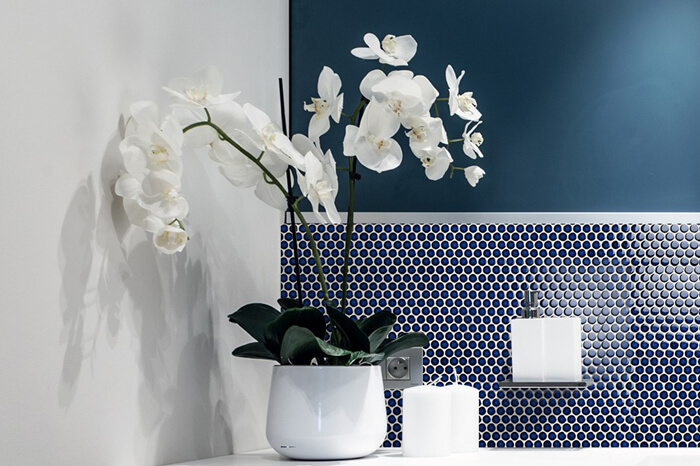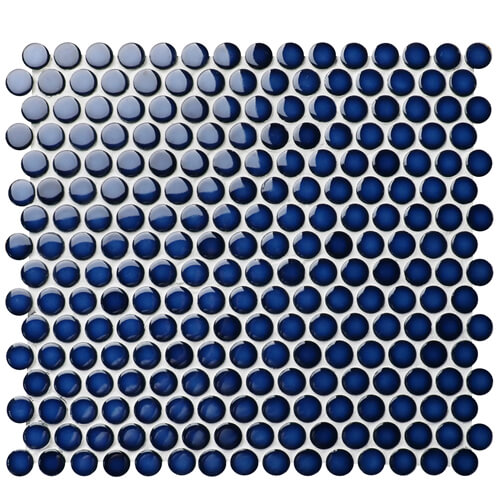 navy blue penny round bathroom mosaic tile CZO616Y
Solid black or white penny tiles were originally most trendy in 20th century. Yet, it doesn't mean they have been out of date. Instead, they get invigorated by mosaic tile designers and reborn with innovative designs. The flower pattern tile attached below is a great example. The pattern is organized by several black penny round tile chips, which is simple but doesn't impede its way to become a stylish mosaic tile design. With the decoration of a round mosaic tile wall, the white-based bedroom gets to be not that boring.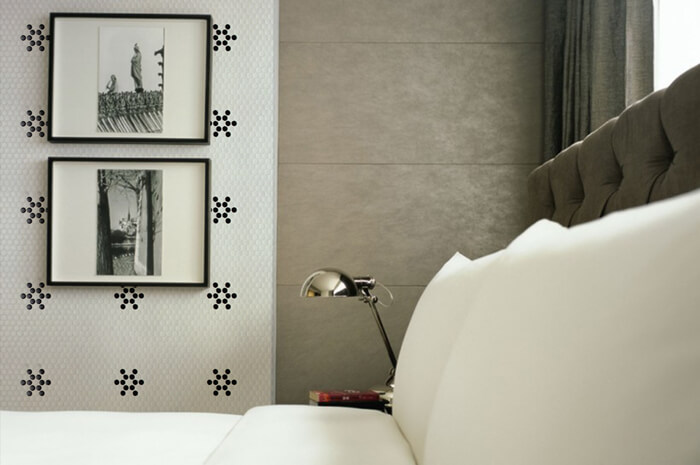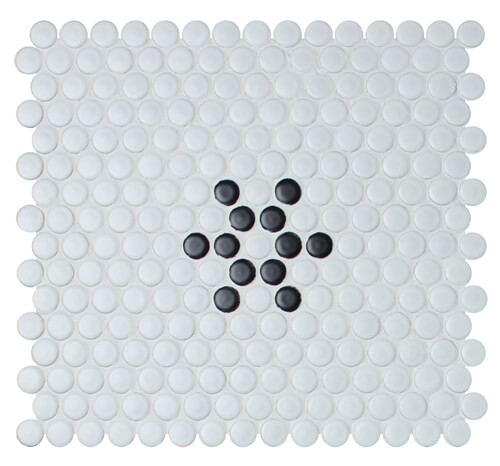 flower pattern penny round bedroom wall tile CZM039B
Below is a great example of a mixed gray penny tile backsplash. The way that the designer uses this tile to decorate the dinning area really surprises MM-Mosaic. First, the backsplash is like a enlarged photo frame. Second, there is another enlarged photo frame in the middle of the bigger one. Third, the dense penny round design enhances the three dimensional effect of the backsplash so that the two photo frames look a great distance from each other visually. Sometimes try to use tile creatively you will get unexpected result.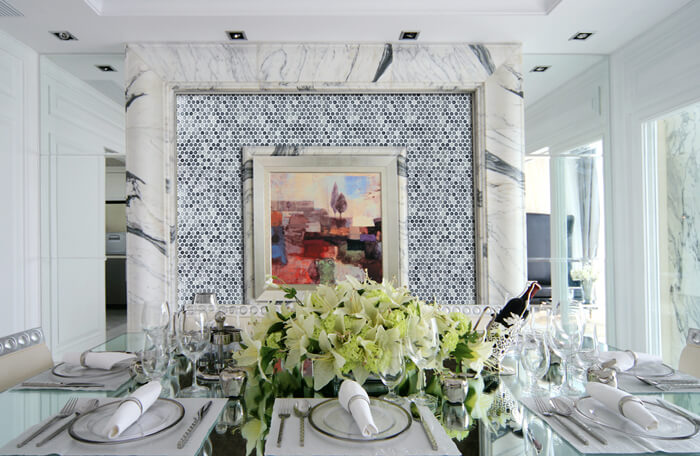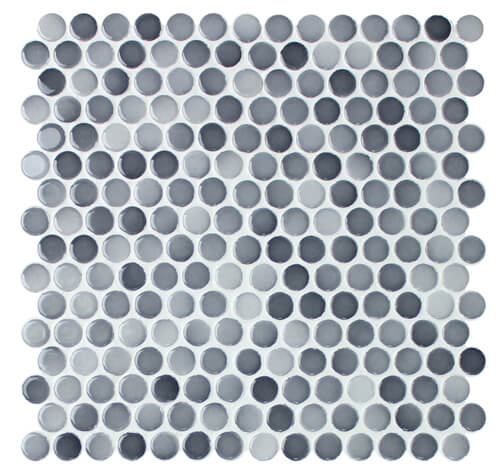 mixed gradient gray penny tile mosaic CZG008A
Last but not least, MM-Mosaic also wants to introduce a penny tile that is mixed-color design. What comes if yellow mixes blue in mosaic tile design? Here is the answer. They really work out a best result. Against the yellow, blue become not that cold; With blue, frivolous yellow is under control. As the bedroom design shown below, the host has used many round designs. Wall tile, wall décor and mirror…all design elements are highly integrated, giving a refreshing spring touch.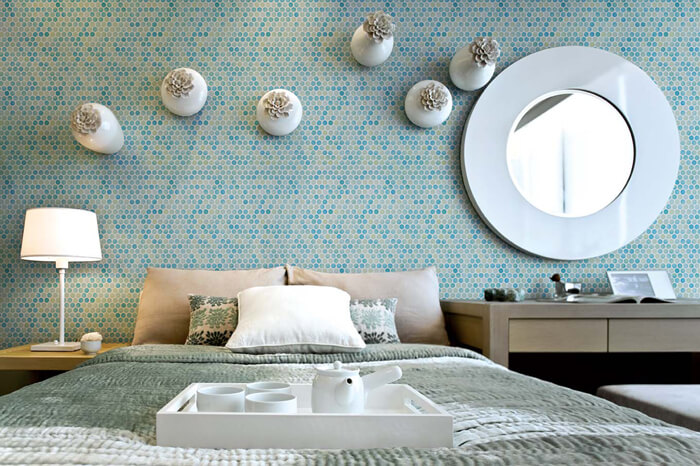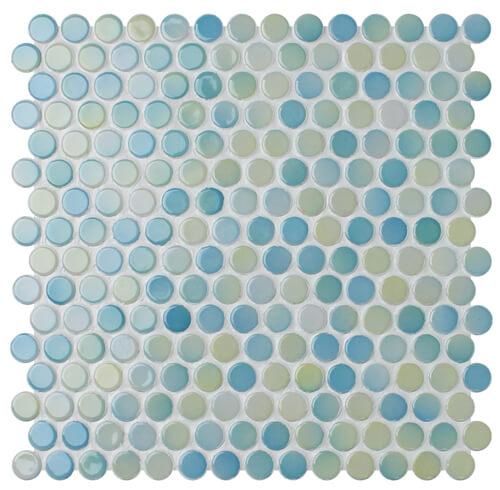 yellow blue mixed round mosaic tile CZG003A
Today there is a great range of round mosaic tiles for sale in the market and there is always one for you. Get more penny tile backsplash ideas from MM-Mosaic on http://www.mm-mosaic.com/, who is dealing in mosaic tile supplies for over 10 years. We would be so honored to see your sweet home achieves a splendid look by our tile products.