Many households and interior designers use different tile collections with their infinite charm to the maximum. An artistic touch of the combination of colors and patterns really shines the space. No matter residential or commercial construction would achieve a brand new look the instant they are added with these long lasting pieces of art. Among, there are three outstanding kinds, including 3D, brick and lantern shape. If used properly, they will absolutely elevate the environment and create a trendy surroundings. Follow tips listed below, you will be inspired and come up with more ideas to decorate your room.

Beautiful diamond-cutting surface is the highlight of this 3D hexagon mosaic tile. You may think a single hexagon shape is boring but actually the mixed colors such as white, beige and gray rescue the tile from monotony. The flawless glaze cost also adds power to make this tile outstand among many other types. If you want to create an incomparable accent wall, you may think tiles of complicated patterns and colors are more adaptable. However, this 3D tile is delicately crafted and has special gift of technology and artistry that injects vigor to any surroundings. Your wall perhaps need something like this interesting 3D mosaic tile to create depth and illusion. Replacing plain wall with wonderful mosaic tile is not costly as you surmise. Instead, it is the most cost effective way to enhance your interior decoration. For those who prefer simple yet a little different design, this 3D wall mosaic tile is a good option.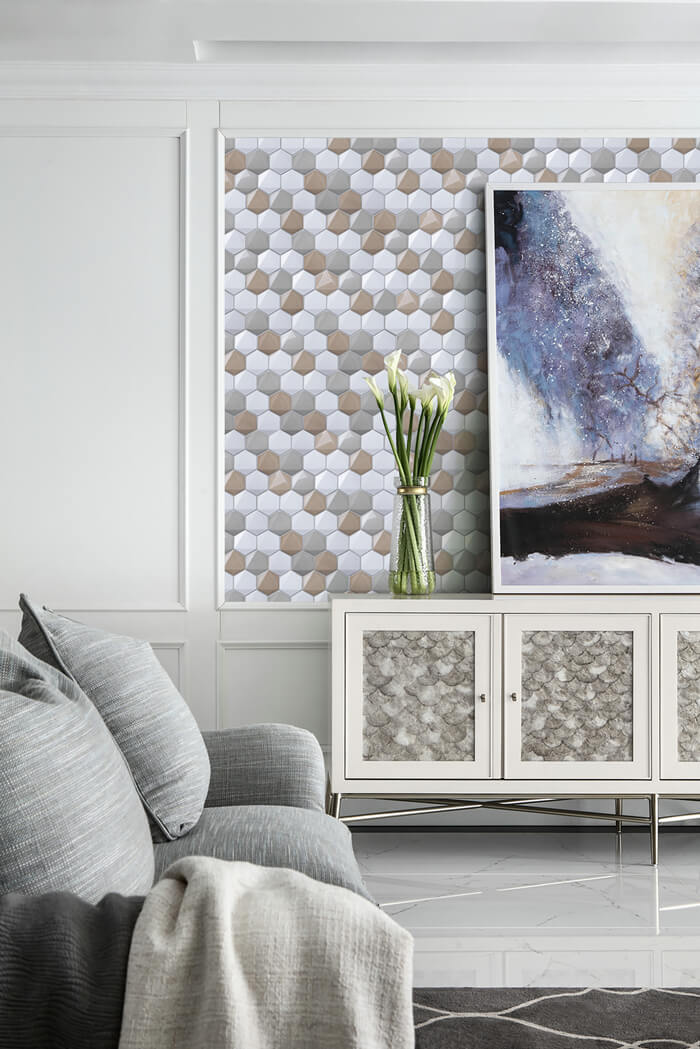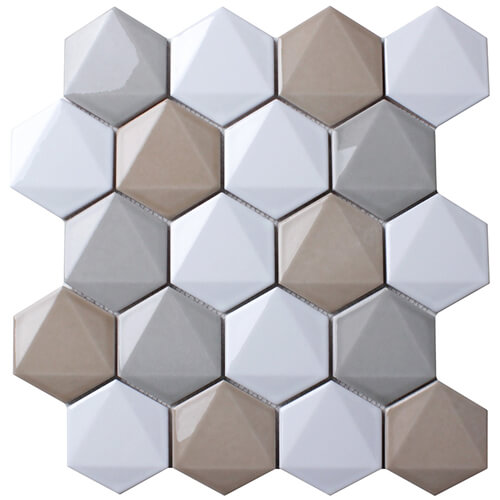 3D hexagonal mosaic tile CZG006JM

There are also two more color options for your reference. These two are modern types, as they use black and white design elements to ensure the design is clean and simple. Based on the overall atmosphere you want your home is, you are free to choose one of them. It is believed all three options can meet your particular requirements. Just use them properly.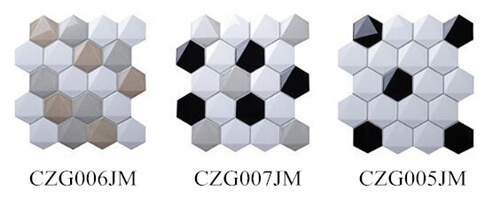 Brickbond is one of the most common paving way of tile. For easy installation, sometimes small size of subway tiles are attached with a mesh on back. Beveled edge subway tiles have a mellow margin and gain more popularity because they not only meets the safety standard but also show a more elegant look. People would like to use this tile for kitchen backsplash, regular wall tiling, etc. It is easy cleaning and wear resistant due to the quality glaze coat. Brick design mosaic tile is regarded as a classic choice and offers numerous variants. In fact, it has a lot of possibilities for you to dig out and it is not a mediocre tile type at all. If walls have feature, that is exactly what these brickbond mosaic tiles do. For those who love peaceful ambience with light tone, gray brick mosaic tiles can achieve nice effect. It presents a cozy background for your cabinet. Gadgets and ornaments are exceptionally prominent against the gray accent wall.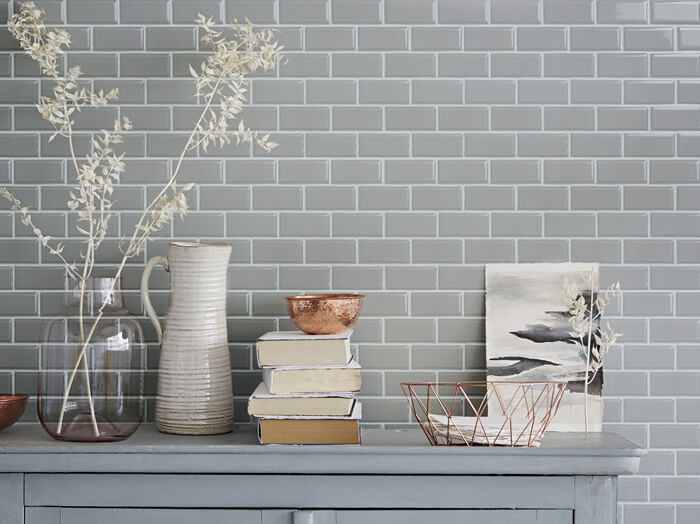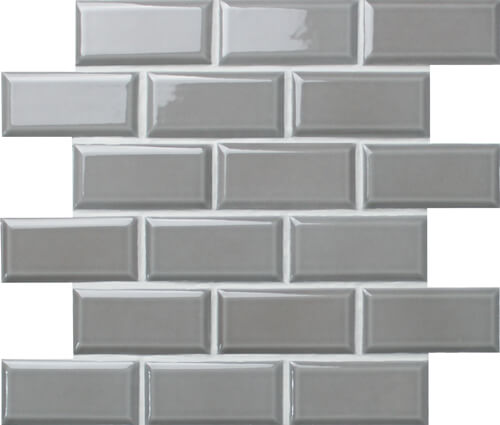 gray bevelled edge mosaic brick tiles CZO918Y
Black and white are other two color options for this tile design, which are ordinary and overwhelming in the market. They generally can meet the need of people decorating their kitchens, bathrooms, bedrooms, etc. For more color requirements, we welcome any residential and commercial customized projects.

The most exotic hint that mosaic tile types generate is the arabesque lantern mosaic tile, which takes the essence of Arabic and Moroccan cultures. The elegant lantern shape is stating its graceful bearing. Many different colors of arabesque patterns combine, uplifting conventional walls to stylish ones. The curved lines are soft and sweet that result in a better visual effect than straight lines. Moroccan arabesque shaped ceramic tile adapts equally well to wall decoration. As attached pictures show, the mystery of this tile is greatly enhanced by four particular colors – white, beige, blue and green. Fambe effect surface treatment make the colors antique and vintage so this tile is great to create a retro home decorating. Or if you have furniture that is at fresh Nordic feeling, this tile is a good choice to become part of the design too. Hanging picture backsplash is a trendy part in interior design. It plays a very important role in deciding focal point of the room and the part further improves the atmosphere.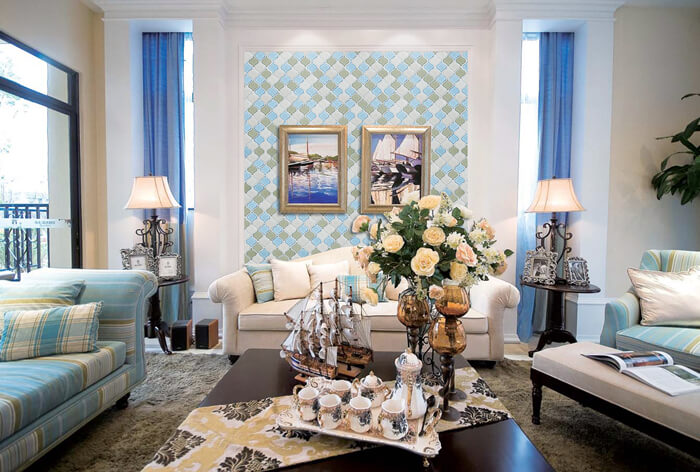 multi colored arabesque tile CZG001HA

Below are other three color options. They are the same in solid color. If you think mixed color is too dazzling and you do not know how to blend it perfectly in your existent property, then try the pure colors. They are more adaptable to almost any style of setting. The part you install with these tiles will not steal the show.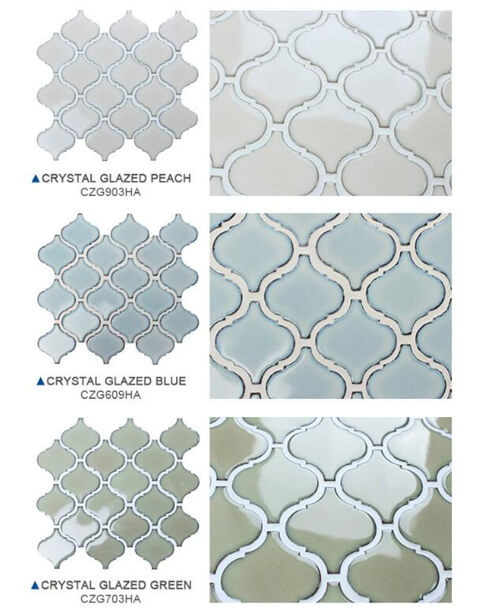 Read passages above you are suppose to have a basic acknowledgment of these three mosaic tile collections, which are regarded as the best versatile tile types to fit in almost any style of rooms. For more trendy tile collections, you are free to contact MM-Mosaic, a glass, stone and ceramic tile company. Of course we are not limited to only produce tiles that are made of these three kinds of materials. Welcome customized order.