When it comes to interior decoration, what kind of building materials will you choose for your wall, backsplash or floor decor? As different materials you choose will make an entirely different styles to your room, and you get different performance from them, it is important to choose the right surface pattern to suit your own styles. Tiles are the most common choice for decoration, among which mosaic tiles are one of the most popular and widely used tile type in the market. It is a piece of art, providing several colors, sizes, shapes, designs and styles. They give endless possibilities to interior designs, that is why so many homeowners, interior designers and architects opt for it. Today we are going to share you all some great example that you can get great ideas for taking mosaic tiles into your space.

A Living Room of Vintage Style
Many people loves to decorate their homes with an antique, vintage style, especially trendy in small living rooms. Vintage style can also work perfectly in limited space, it is always the first choice among young people's home. Decide the tone for your room is vital, you don't have to choose only wood material to fulfill your plan. You can get wide selection from mosaic tiles. Example as below, the combo of our mosaic tiles in Khaki coffee brown color and the same hue painting install the vintage vibe. The special tile trapezium shape add characters to the room. It is recommended to use some copper to enhance the room style.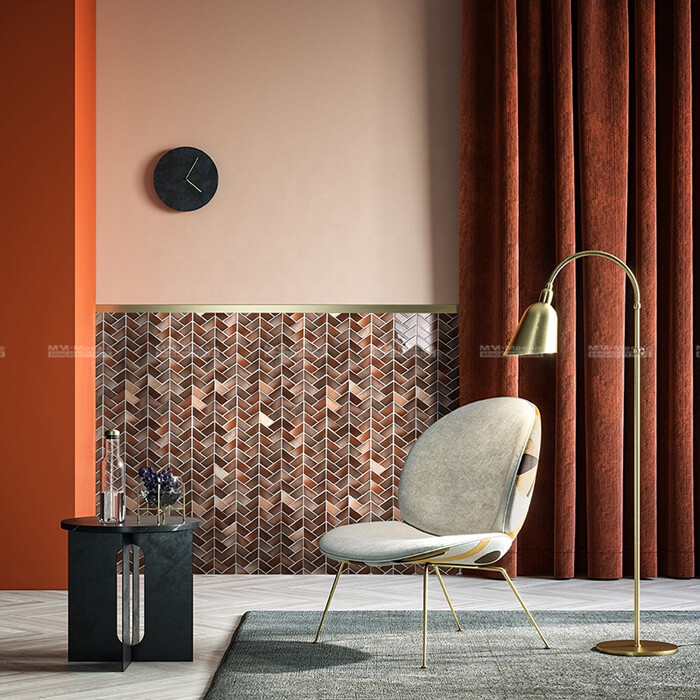 Featured product: Khaki crystal glazed trapezium mosaic porcelain tile CZO977A
Make Your Kitchen Backsplash Spotless
A good tile backsplash can absolutely create perfect addition to your kitchen space. The backsplash helps to protect the walls from moisture, and stains as kitchen is a traffic area, and it is a great way to add your personality into the space. I do love to use light color mosaic tiles for back splash design, for that can keep it looks clean and minimalist, this is modern and never out of fashion. Take a look at the case below, the bianco carrara white long hex mosaic tile used on backsplash looks very beautiful, its super picker shape and marble-like texture makes it won't be dull. I do love this back splash for kitchen, it brighten up the whole space and I will enjoy my cooking or dining time in front of the backsplash. Won't you?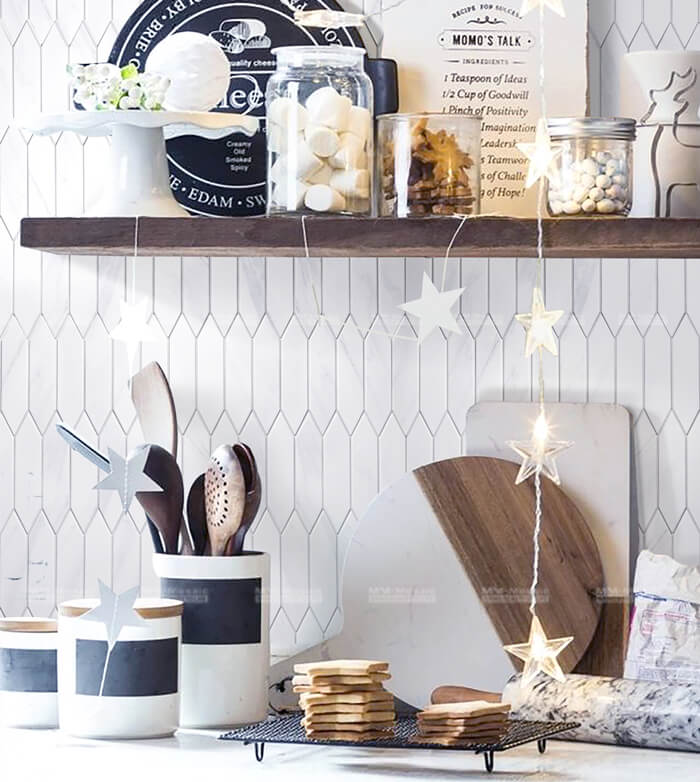 Featured product: Carrara white picket shape ceramic long hexagon tiles CZO954Y
Make A Decor Theme You Like
Set the decor theme firstly before you start your project will help you avoid detours. That means you should choose your home style you like most at the beginning, which can provide a clue to choose the tile right for you. There are so many interior styles on-trend to choose from, and country style interior design is suitable for everyone, which draws the calm of the country lifestyle with nature as its muse. Ceramic bricks split face tile is an ideal choice due to its rustic surface, the simplicity and rural vibe permeated the living room like below.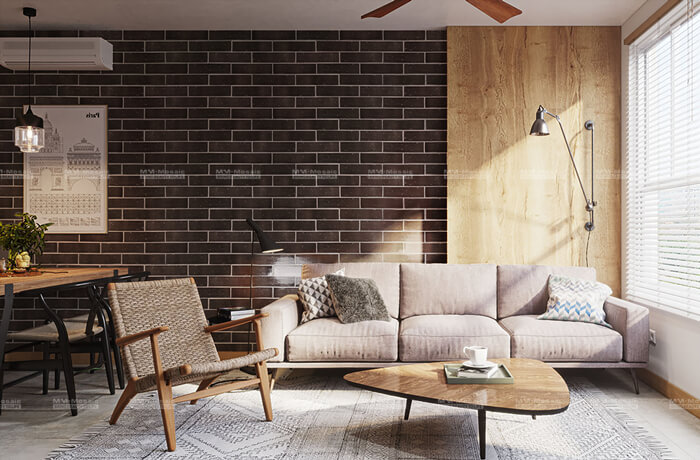 Featured product: Black bean ceramic split brick tile CZO101JF
Impress Your Guest With An Unique Entrance Wall
Entrance must be the first and the last thing that everybody notice when they walk into or leave your home, it is a good way to show your taste and make a great impression to your guests. Take advantage of stunning wall mosaic tiles such as the mixed color mosaic with an uneven surface and long honeycomb shape, combine them in your house's entrance to give it lots of personality, it would looks much more fabulous when paired with a nice cabinets and some knick knacks.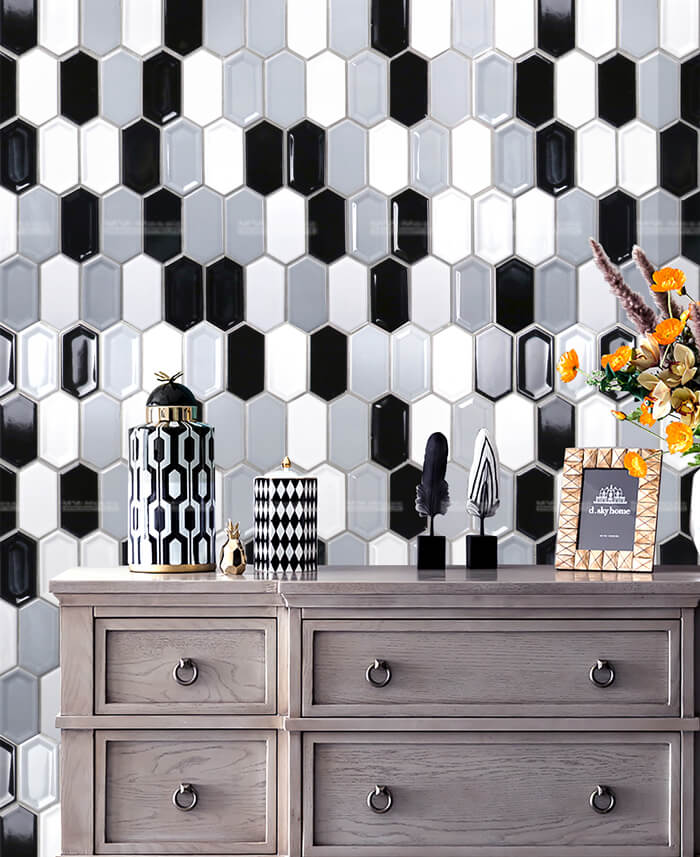 Featured product: Mixed colors 3d picket design long hex mosaic tile sheet CZO001X
Your Bathroom Wants Something Fresh
The inspiration for bathroom design is endless. Bathroom is an another one traffic area in your house. Ordinary bathroom design will get your bored quickly, the area is yours, and you can decorate it individual, unique even bold. If your bathroom is not large enough, then a limited bath is a nice place to experiment with bold colors, do not be afraid and just be careful to find the right balance by not overdoing it. If you are seeking for something fresh, try to consider tile in Maracon color, which is super prevailing nowadays, fresh, natural and wide colors. Like the case below, the 3d mosaic tile in mararon green used on wall certainly become the focus of the bathroom, the room seems wider and neater.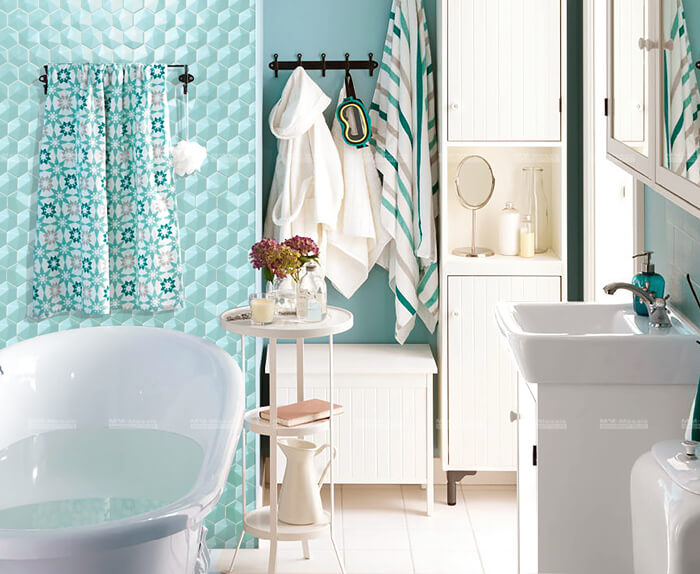 Featured product: Mararon green porcelain hexagon 3d cube mosaic tile CZM711D
Structure A Cozy Bedroom
When it relates to bedroom decoration, comfort is an element of great concern. The place is mostly built for sleeping and relaxing. Whether you have large or small bathroom space, there is versatile, beautiful makeover. White hue enlarges a room, while black hue helps sleep. Dark decor can also feel modern and comfortable, and won't be depressive if you decorate it in a proper way. Get inspo from the below case, you can create contrast in your black bedroom by tiling black mosaic walls with a white bedside table and white bedding, this is useful and you design will not feel overwhelming.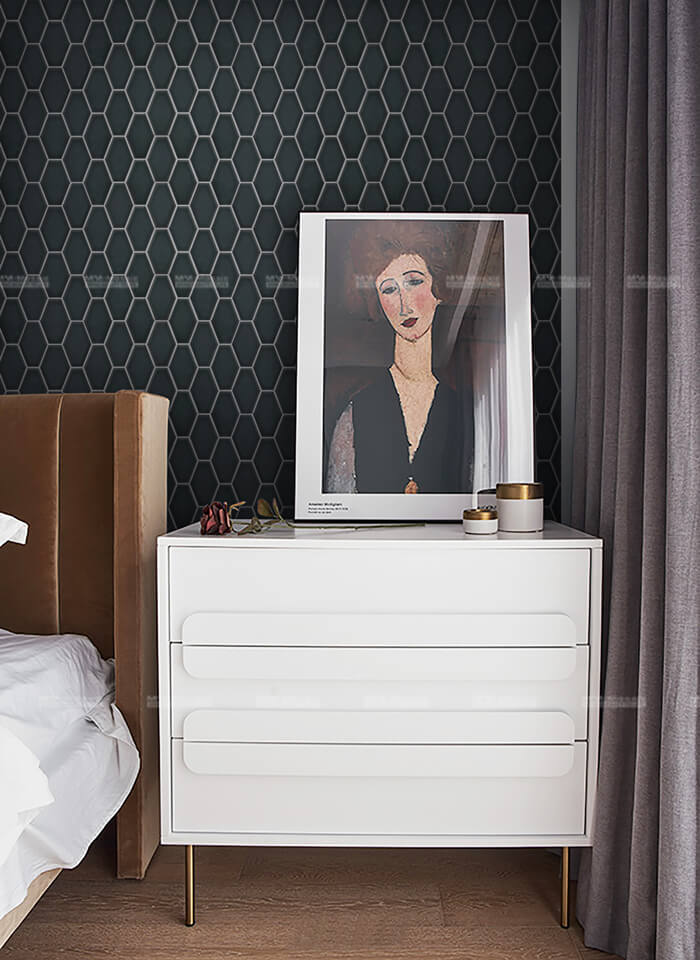 Featured product: Long hexagon shape black mosaic tile CZM117Y
Use A Bold Tile Color
Bold color is very in right now, it is getting more and more popular in stylish interior decoration. It is very effective to use a bold tile color if you want your room has a great visual impact, and you need to know how to use it the right way. Focus on the proportion is a crucial factor when you are dealing with bold colors. Using only one eye-catching colors in your design means you get the rick of feeling overwhelming. This is why we don't tiling the entire wall with our striking green decorative strip tiles for the shower space below.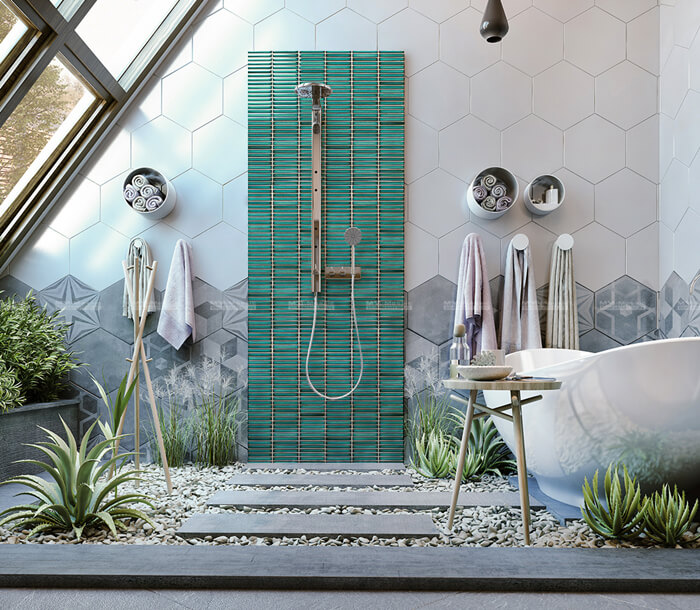 Featured product: 12x92mm dark green porcelain mosaic tile strips CZO949A
Make Your Shower Area Safe for Use
The ares of shower is often covered with lots of moisture, the first thing need to keep in mind is to opt for mosaic tiles that are approved for used on the shower floor. Mosaic tiles are popular because they are waterproof and anti-slip to safe use. Like the example below, you have choice not to tiling the whole floor with mosaic tile, you can just cover the shower area to make it distinguish. This white floor mosaic tiles combined with wooden floor tiles keeps up the minimalist style and goes for an unique design.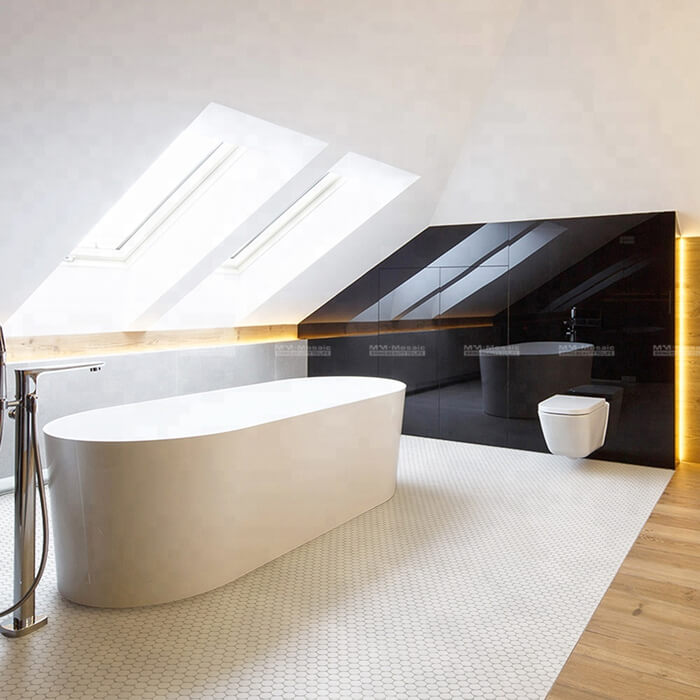 Featured product: 19mm anti-slip full body circular mosaic tiles CZO235B
If you have got inspiration from these mosaic tiles interior applications, welcome to comment below and share your ideas with us. If you want to get these mosaic tiles, do not hesitate to contact us now.
MM-Mosaic has into wholesale mosaic supplies more than 10 years, we have professional service teams and strict quality control system, we are looking forward to establish long-term business partnership with you.