Art nouveau, a style that is known to those who engage in art, was trendy in the Victorian era. It can be found in many ancient architectures until now. Victorian tiles is also a classic example and enjoying a renaissance in the last few years. MM-Mosaic is so glad to revitalize this period tile designs by modern printing technology. In the following paragraphs, we will show you how this kind of tiles develop from emphasizing on geometric curves and lines to floral patterns.
Why To Use Victorian Style Tiles
● A very versatile tile. Fit perfectly in interior and exterior decoration of different styles like ancient, classic, rustic, elegant, contemporary, avant-garde, etc.

● There are many shapes for Victorian tiles. Square, Octagon and hexagon are the three most dominant. They are tightly connected together without any grout lines, which shows a look different from other tile paving.

● Victorian tiles in a specific shape but various patterns can be collocated together freely. When many put together, it results in a mosaic feature on walls or floors, which is a very unique pattern based on your own taste.

● Both decorative and functional. Victorian tiles is a lifelong investment as they are usually made of durable materials like porcelain. Also, they can add unbelievable aesthetic value to your house with which you may get higher quote if you decide to sell your house one day.

● Most Victorian tiles are glossy or matte glazed so they are moist resistant. That means you can use them in almost any rooms. Wet rooms like bathroom and kitchen are no problem. Also, the glazed surface can protect stains from adhering. It is easy cleaning.

Where To Use Victorian Wall & Floor Tiles
Victorian tiles come in multiple shapes, patterns and styles. Among all those Victorian tiles in common decoration, you may find they are just restricted to entryway, hall, porch and outdoor path. But in fact, those tiles can also enhance areas such as living room, reception room, study, kitchen and dinning room. They are not limited to floors, though it is the most dominant application, walls only or floor-to-wall are splendid choices as well. These tiles are extremely durable thus are suitable for public and commercial areas such as street, plaza, hotel, shopping mall, office, restaurant and shop where foot traffic is frequent. All these places will be brand new looking and given ineffable charm when these tiles are put into use. No matter as a wall tile or a floor tile, Victorian tile is a perfect solution.
4 Outstanding Examples To Use Victorian Style Tiles
Black & white is a classic color scheme for Victorian floor tiles. Some are different shapes of black and white ceramic chips combined, as shown below the octagonal bathroom floor design, others are the result of advanced ink jet printing technology, which usually are marble imitated, geometric patterned or floral painted. In the initial stage of Victorian era, geometric patterns overwhelmed the tile design. Designers always can get inspirations from seemingly curt curves and lines and transform them into wonderful yet pragmatic artworks.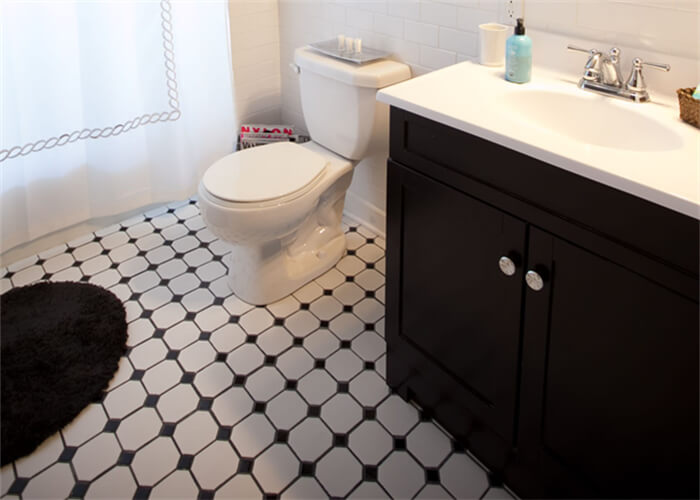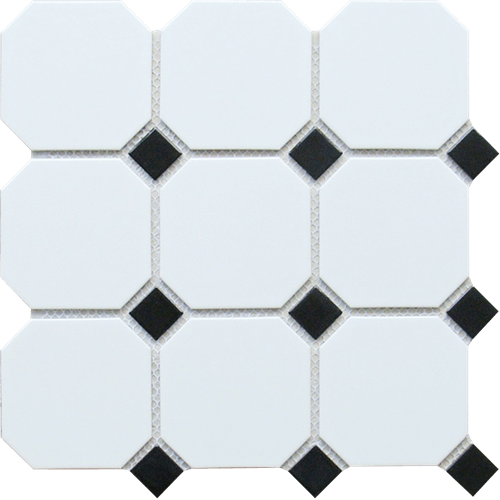 octagon victorian bathroom floor tiles CZH006B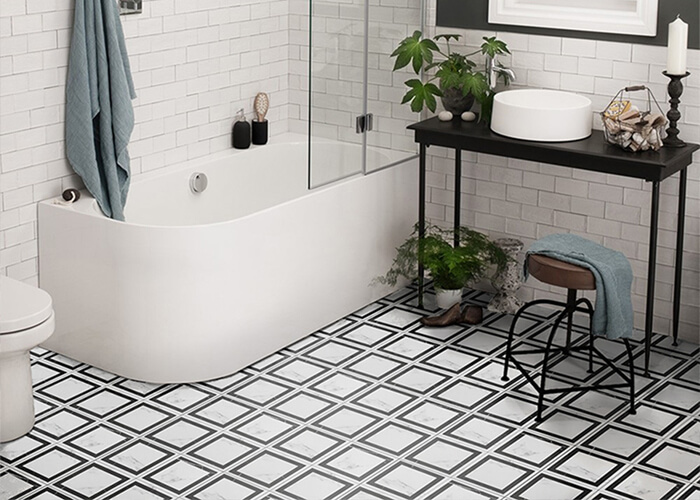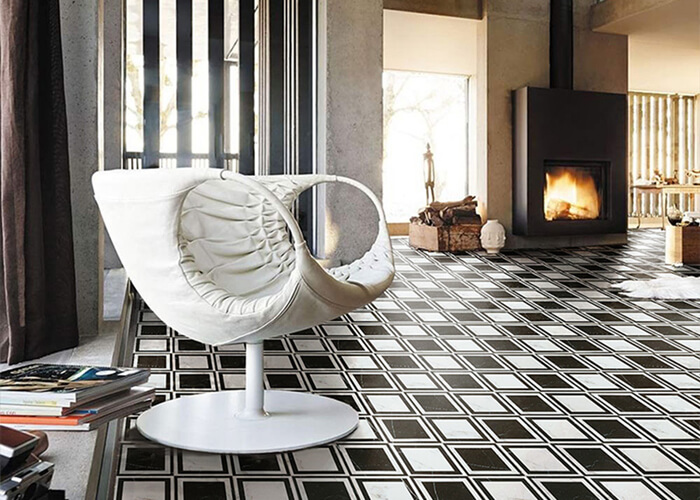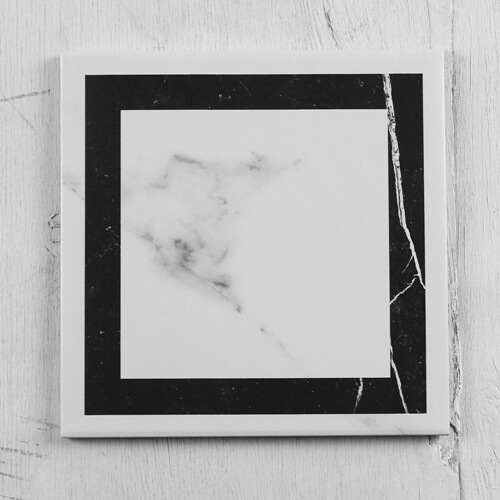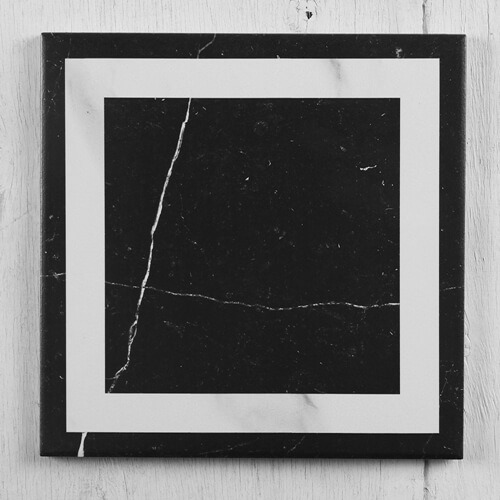 imitation marble victorian black white tiles PRM908DN

If you feel black and white design is a little bit boring, then take a look at those that use bold color combination. It is an integrated composition of two geometric patterns – triangle and square. The use of orange color is a masterstroke. It is categorized into warm tone, which vitalizes the overall design by balancing white and gray color. As you can in the attached pictures, this tile presents a possibility of looking nice both installed on floor and wall. It also give a new idea of how to use this tile properly – partially usage or used on somewhere uncommon such as the front of bar counter.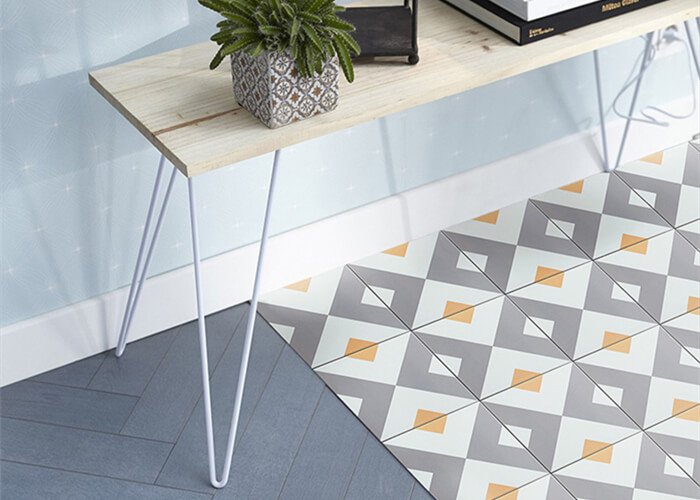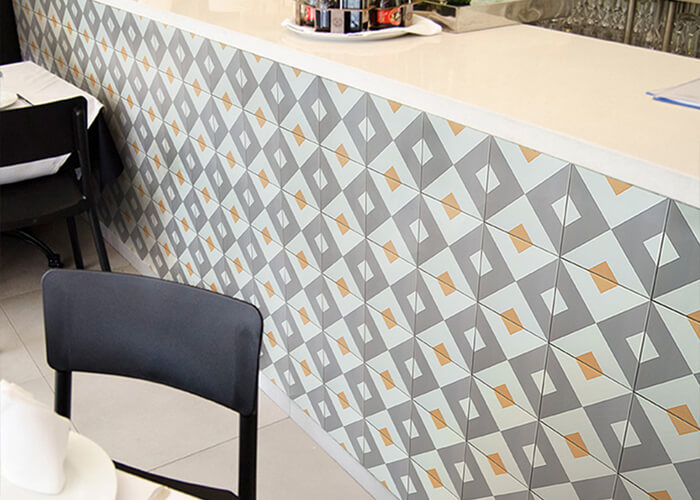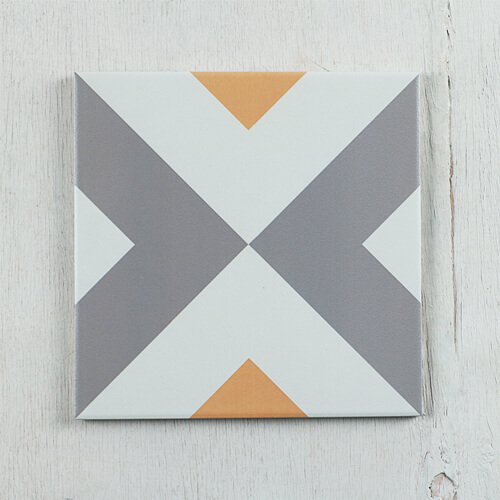 white gray orange victorian geometric tiles PRM906DN

As time went by, art nouveau developed into a style that was more pattern-focused. Victorian tiles became more and more complicatedly patterned. Most are flower pattern, others are abstract motifs, which are somewhat like religious totem that has a profound meaning. Generally, this kind of decorative tile has many patterns that can be used to customized tiling. Various patterns are freely matching. As shown in the attached picture, MM-Mosaic has altogether 15 ancient decorative tiles of this collection.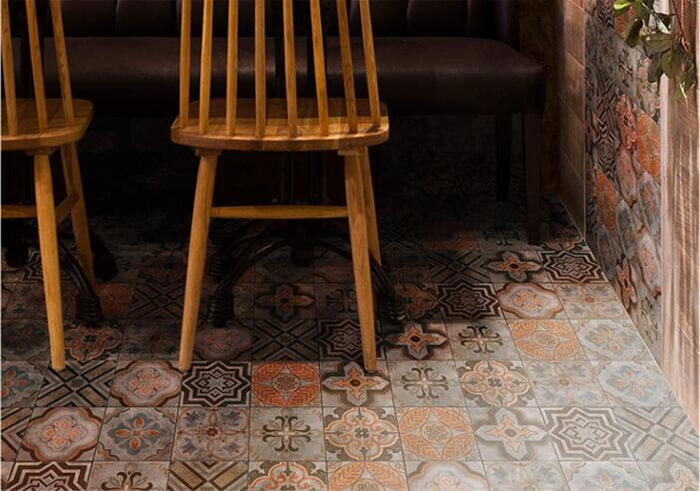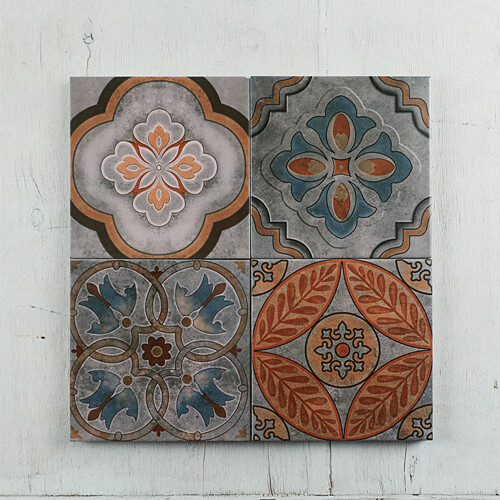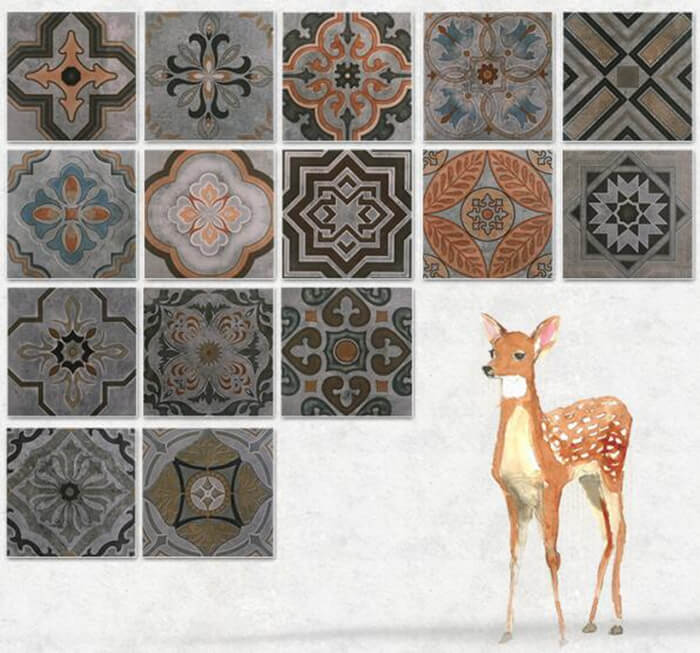 victorian floral wall floor decorative tile PRM910DN

Today there is a great variety of Victorian tiles for sale in the market and there is always one for you. Get more Victorian tile ideas from MM-Mosaic on http://www.mm-mosaic.com/, who is dealing in mosaic tile supplies for over 10 years. We would be so honored to see your sweet home achieves a splendid look by our tile products.