Have you ever experienced slipping on your bathroom floor or inside the shower cabinet? Slip and fall in bathroom is a common accident you may run into if lack of considerate safety precaution. To avoid your risk of suffering bruise or sprain, installing anti slip floor tiles is necessary. It is a measure both decorative and practical to make your bathroom safer for everyone especially elders and kids. Here are the five bathroom flooring examples that MM-Mosaic picks up for your reference.
No matter it is an open bathing place or there is a semi-enclosed shower cabin, penny round mosaic is a good option for non slip flooring. Dense round chips means a larger space for grout, compared with those in other geometric shapes like square and rectangle. Also, it's best a matte surface. Full body tiles possess such a pertinent trait that almost every tile professional would think of the first time. Black and white are the two common colors for round floor tile. If your bathroom is black styled and you want to create relaxing atmosphere with dim light, then you're supposed to choose black round mosaic tile. It won't stain easily and integrates perfectly in the black design. On the other hand, if the dream bathing place in your brain should be bright and spacious, then MM-Mosaic recommends using white penny round mosaic tile. Look at the attached bathroom design, can you feel overwhelming refreshment? That to a large extent benefits from the skylight and the white round mosaic tile floor. Two design elements work together and produce the best visual effect.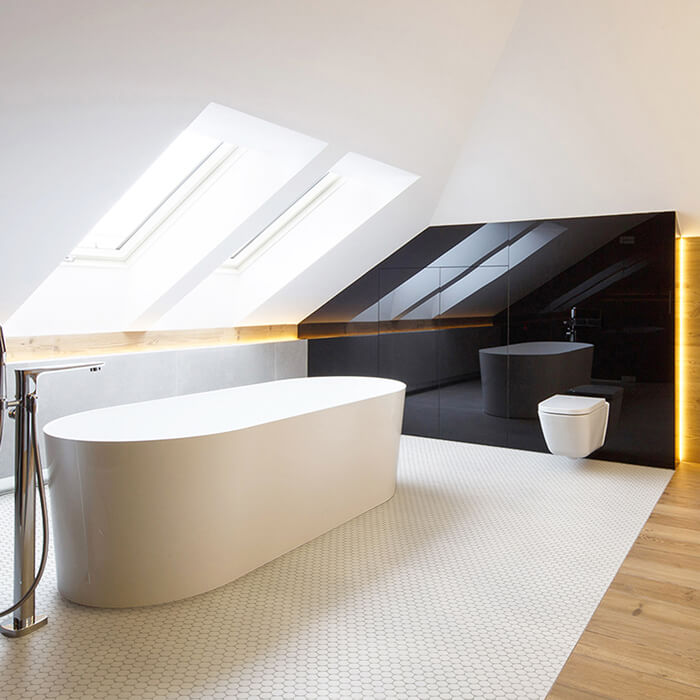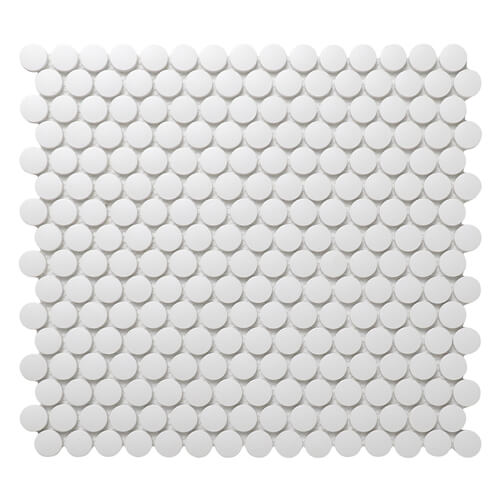 non slip round tile flooring for bathroom CZO235B
Besides porcelain, material-mixed mosaic is a great choice for bathroom non slip floor as well. Fan shaped chips in ceramic, stone and glass are taken into a random arrangement. Mosaic tile chips with different texture combine together, which creates a favorable basis for a rough surface. In fact, people like to distinguish washing and bathing area with two different floorings, just as the bathroom design attached below. One side is installed with large porcelain tiles in plain color, the other side is tiled with fan design mosaic with shimmering gloss. Marble floor tile is not recommended in wet rooms like bathroom and kitchen because it has a highly glossy smooth surface. Also, it will cost higher maintenance cost if installed in wet place. It is a common problem shared with tiles that are made of natural materials. They are prone to need more care due to the porous structure. MM-Mosaic believes you don't want to have your bathroom remodeled in such a short period. Therefore, a considerate plan is very important. It will save you from many subsequent troubles if you have tackled all potential problems before groundbreaking of the bathroom.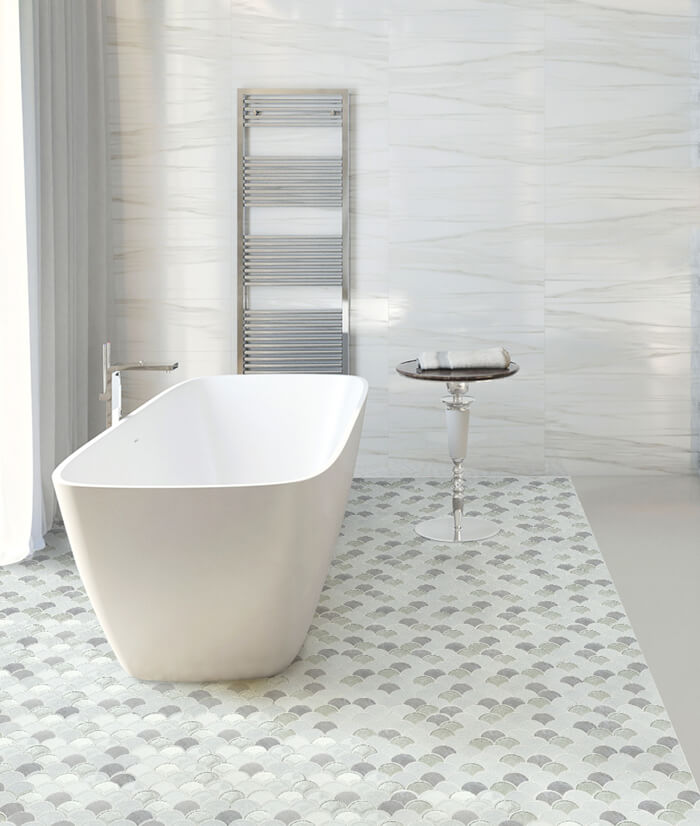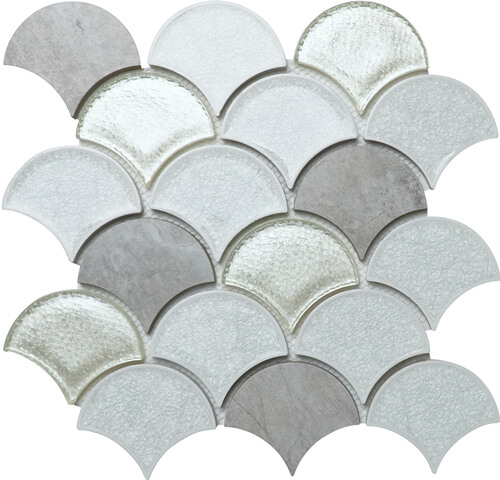 fan shaped anti slip mosaic tiles HZH046OYG

There is a rough texture for slip resistant floor tile that looks like many bumpy lumps spreading over on the tile surface. It may sound kind of creepy, but it is regarded one of the best anti-skidding surface. Generally speaking, porcelain is the best material that brings out the best anti-slip effect, largely for its deformability and durability. If you don't like large tile paving, then square mosaic tiles is a great alternative for you. As you can see in the bathroom design attached below, beige colored floor adds a mild touch that makes a plain white painted bathroom identical. The beige floor tiles are also matching to the cabinet-type wash stand, which are both in warm tone. That reminds us when designing a room, color scheme is significant. You should make sure the chemical reaction among different design elements are harmonious and interesting. Normally, bathroom is better to be equipped with bright lights so that it won't worsen gloom and moist of the bathing area. Furthermore, light color tiles can enhance the brightness that lighting shows. They make each other a whole that cannot be separated.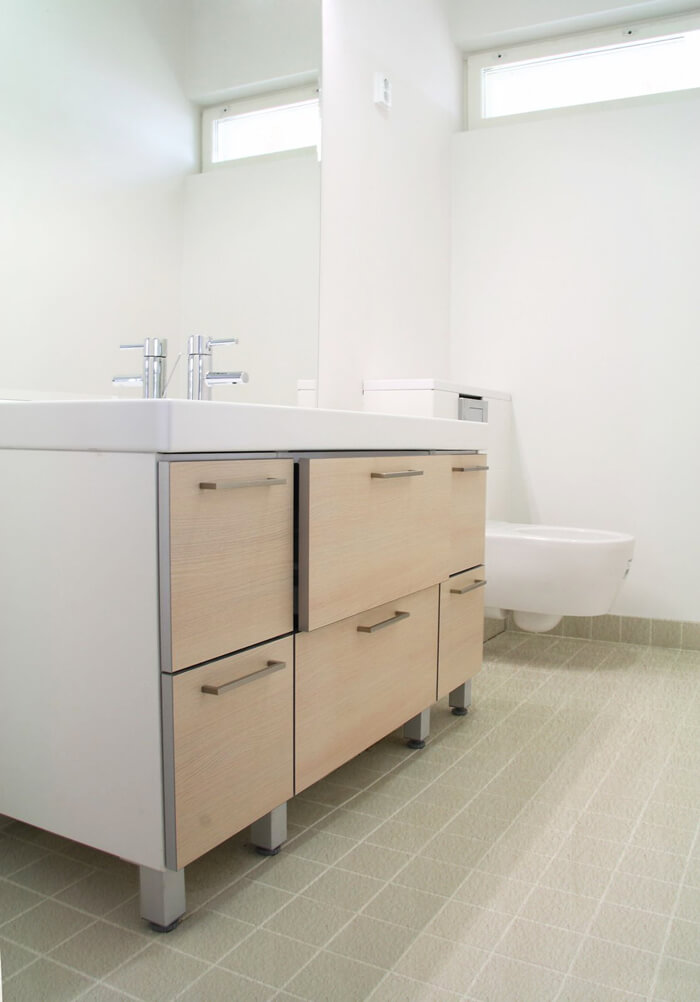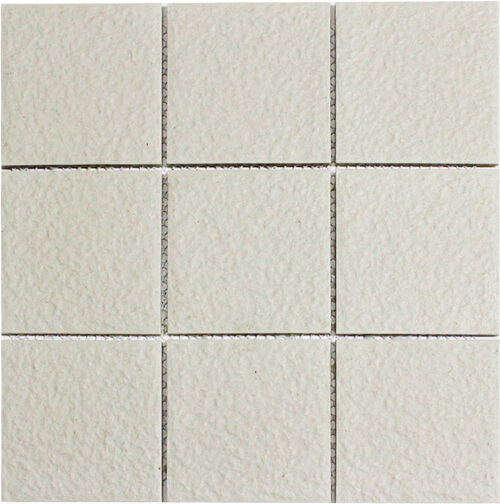 beige colored anti slip bathroom floor tiles CPO201D
It's absolutely wonderful bathing in this room. A single bathtub is placed beside the window, where your head can get it when you're sitting. It's an ingenious design that can make you feel the utmost pleasure and relaxation. Just imagine how cozy you are bathing in the warm water while enjoying the scenery through the window. Also, the open window is designed for another purpose, that is, let the ambient light penetrate in. In this way, your bathroom looks bright and spacious even in daytime when lighting is off. Now let's zoom in the design details of the bathroom. We can find easily that the designer has used many color lumps to make the room vitalized. Crystal lake blue wall, orange brown woodware and matte gray flooring…all elements on one hand are contrasting but end up combing perfectly together and create an integrated space. Gray mosaic floor tile of course in this bathroom design plays a very important role. As generally known, bathroom floor stains easily. Gray flooring can make the dirt unobvious. If you're also looking for such a laid-back mosaic flooring, you might as well take this type into consideration.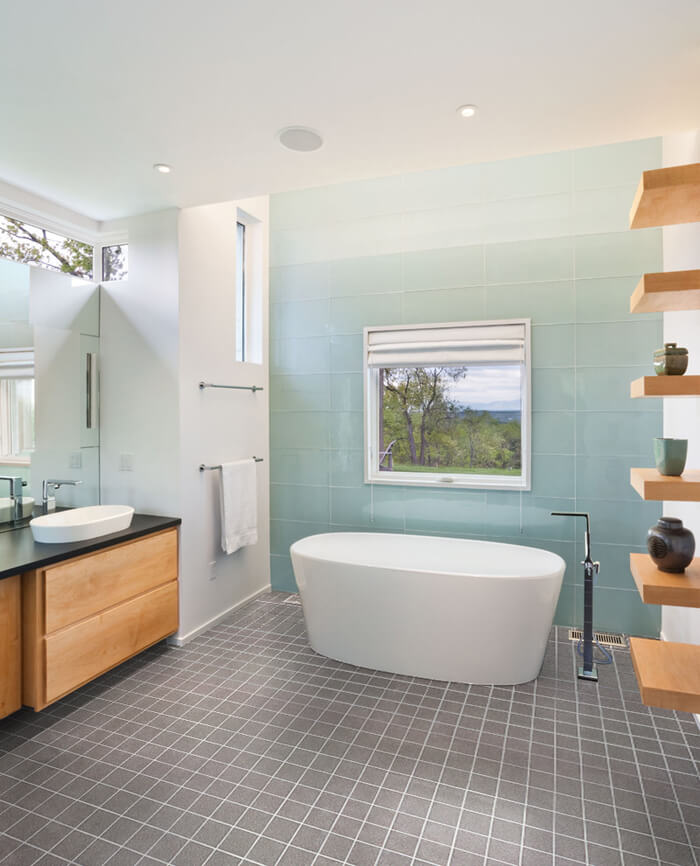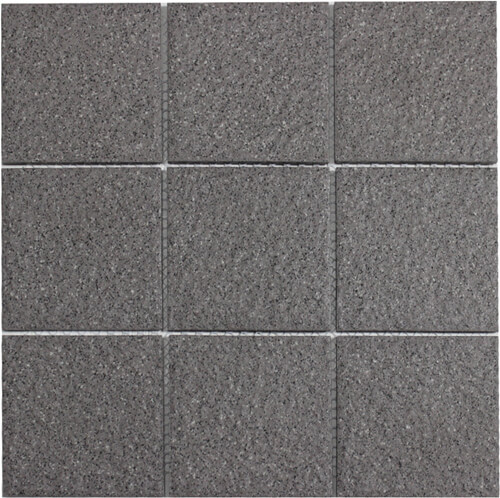 rough surface grey non slip floor tiles CPO301D

Black and white is a timeless collocation of chic. It never go out of style. Dating back to Victorian era, it was a common color in tile design. Residential and commercial places were usually paved with black white geometric tiles. They were so classic that people nowadays would like to catch the retro trend of using Victorian black white tiles in their homes. There is no limitation where to use this tile, entrance, hall, living room, bedroom, kitchen, bathroom…they are versatile that can fit perfectly in almost all scenes. The rooms that use this tile are antique and will give a specific scent that Victorian era has. If you're a big fan of antique thing and want your living place to be decorated in such a retro style, then the attached octagonal floor tile will not disappoint you. As the attached bathroom design shows, the black white flooring is the highlight of the room and becomes an extraordinary decoration that reveals the taste of the host.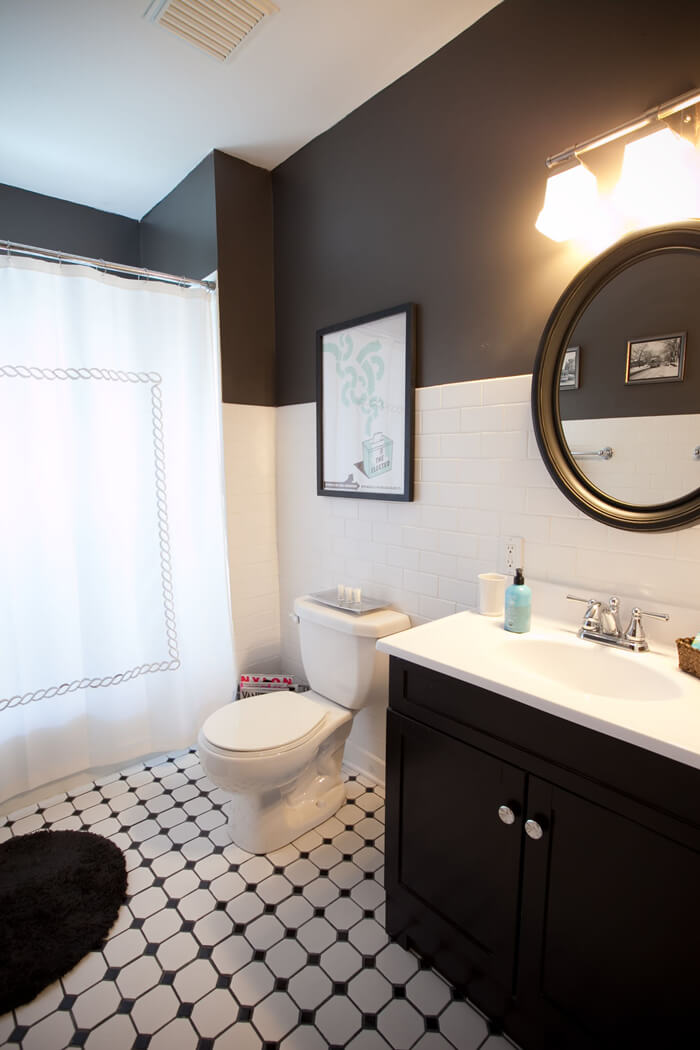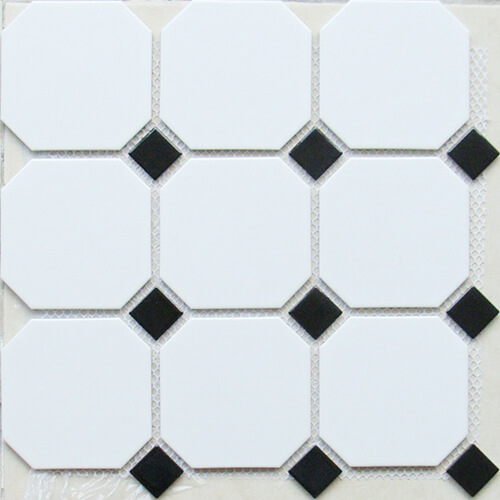 white black non slip bathroom mosaic flooring CZH006B
Last but not least, MM-Mosaic wants to reminds you that it always worth asking your retailer or supplier if the tile your thinking about using in your bathroom will suit. They will know all the features and can give you professional advices. MM-Mosaic is such an experienced professional among the mosaic tile manufacturers. Welcome to visit our official website http://www.mm-mosaic.com/ for more helpful and insightful tips about how to choose the most proper tile for your home. Write your story and leave us a message here.