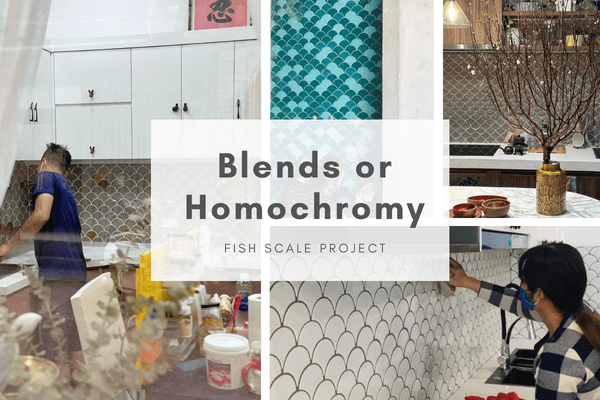 What's the most crucial factor to consider when personalizing your space? Your personality. Regardless of the trends that come and go, an interior that reflects your taste will stand the test of time. For a unique and personalized design in your backsplash, bathroom, or shower, a custom color plan is the simplest way to make it your own.
With an endless array of glaze options, it's possible to create a custom fish scale space for each of the people on earth without repeating a design. A perfect kitchen backsplash that suits your taste? We can definitely make that happen. Continue reading to see 4 amazing remodel projects to incorporate fish scale tile into your next renovation...
#1 Blends Fish Scale Kitchen Backsplash
The kitchen is the heart of any home. It's where we prepare meals, share stories, and create lasting memories. As a result, it's important to make it feel comfortable and inviting. One way to achieve this is by remodeling your kitchen backsplash.
The backsplash is not only a functional element but also a decorative one. It protects the wall from splatters and stains while adding personality and style to the room. As such, choosing the right material and design is crucial. In this article, we'll explore a kitchen backsplash renovation project that uses deep brown ceramic fish scale mosaic with gold and maple leaf colored crackle fan shaped mosaic.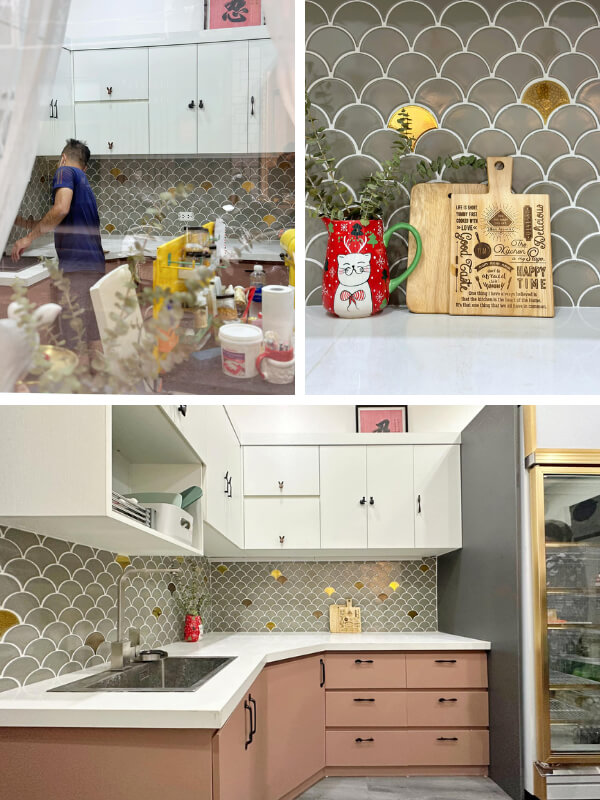 Featured Product: Fish Scale Glazed Ceramic Mosaic Tile Brown CZG352X
Add glazed gold colored fish scale ceramic mosaic tiles. Place them in between the glazed ceramic deep brown fish scale mosaic tiles, creating a pattern that resembles a fan. You can arrange them randomly or in a specific order, depending on your preference. Make sure that the tiles are level and evenly spaced.
And then put the maple leaf colored crackle fan shaped ceramic mosaic tiles. These mosaic tiles have a unique texture that adds depth and character to the backsplash. We add them in the deep brown porcelain fish scale tile backsplash, following the fan pattern. Again, make sure that the tiles are level and evenly spaced.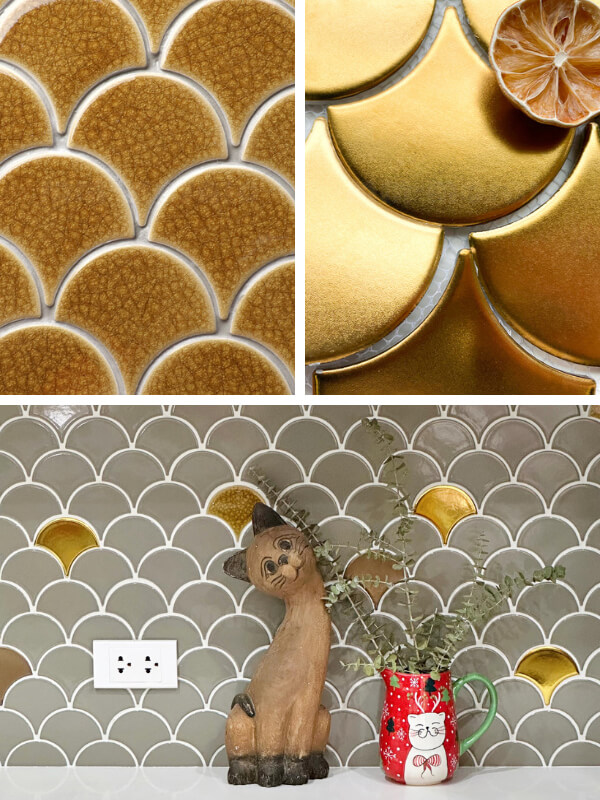 Featured Product: Ice Crackle Fish Scale Glazed Ceramic Mosaic Tile Maple ZOB2901
As we all know that fish scale tiles are a type of tile that is shaped like a fish scale. These tiles are popular in home design because of their unique shape and texture. When these tiles are blended with different colors, they can create a stunning visual effect that can completely transform the look of a space. Just like our kitchen remodels result.
#2 Blends Fresh Shower
The bathroom is one of the most important spaces in every home, and having a refreshing and stylish shower area is a must. One way to achieve this is by using a blend of ceramic fan-shaped mosaics in three different shades – lake blue, blue, and turquoise – for the shower walls. This combination creates a clean and fresh feel, perfect for a relaxing shower experience.
The lake blue shade adds a soft and calming touch, while the blue and turquoise shades provide a pop of color and energy. The fish scale tiles add a unique and modern touch to the bathroom decor, creating an interesting focal point in the shower area.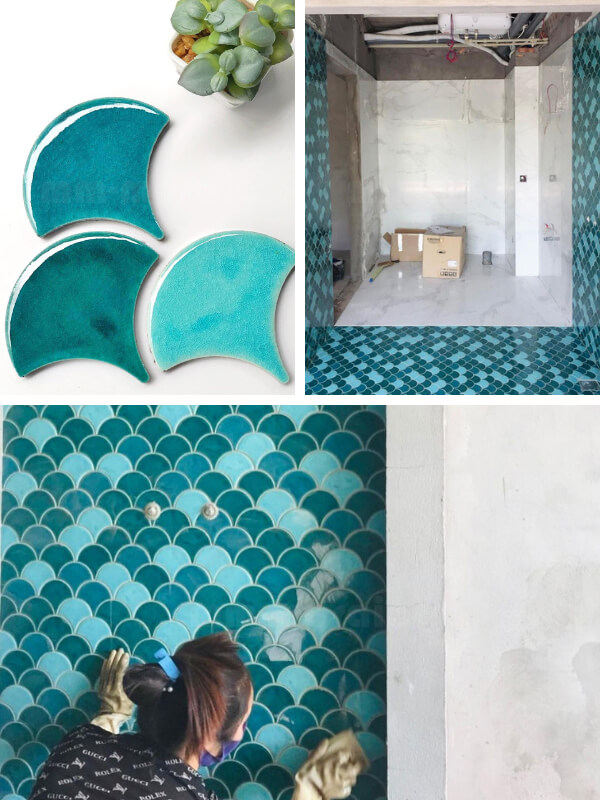 Featured Product: Fish Scale Glazed Ceramic Mosaic Tile
The ceramic material of the mosaic tiles is easy to clean and maintain, making them a practical choice for any bathroom. The blend of colors and shapes also makes it easy to match with other bathroom accessories and fixtures.
Overall, using a mix of ceramic fan-shaped mosaics in different shades is a great way to create a refreshing and stylish shower area that is both functional and aesthetically pleasing.
#3 Homochromy Fish Scale
An open kitchen is a popular trend in modern homes, and it has become a symbol of a warm and welcoming space. In this kitchen backsplash project, we will introduce a kitchen with a simple and elegant style, which features a deep gray fish scale tile backsplash.
The kitchen style is simple and understated, with a low-key and calm overall color tone. The wooden cabinets are a mix of open and closed storage, providing ample space for storage and display. The wooden stools are both practical and stylish, complementing the overall design.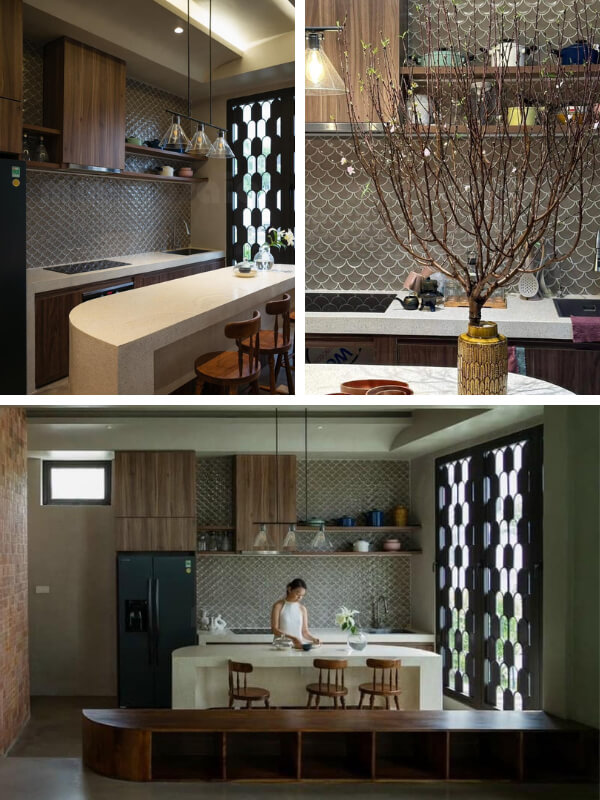 Featured Product: Fish Scale Glazed Ceramic Mosaic Tile Gray ZGA2304
The large white island is a striking feature of the kitchen, providing a functional workspace for cooking and preparing meals. The island is both functional and stylish, offering a perfect spot for casual dining or entertaining guests.
The kitchen is illuminated by a stylish pendant light, which adds a touch of elegance and sophistication to the space. The light fixture is both functional and decorative, providing ample lighting for cooking and creating a warm ambiance.
We all love this renovation! this open kitchen with a simple and elegant style is the perfect blend of functionality and aesthetics. The use of deep gray fan-shaped ceramic mosaic, wooden cabinets, stools, and a large white island, all come together to create a warm and welcoming space that is perfect for cooking, dining, and entertaining.
#4 Classical and Simple White
The kitchen backsplash features a minimalist and simple monochromatic white color glazed fish scale tile. The white fan shape mosaic tiles create a sleek and modern look that perfectly complements the simple white cabinetry above. For the under cabinets, the vintage peacock green color adds a pop of color to the room while still keeping a classic feel.
One of the most unique features of the design is the half-circle space above the countertop and close to the backsplash. This area is painted in the same vintage peacock green as the under cabinets, balancing the color throughout the kitchen. The floating open shelving unit adds a modern touch, providing space to display decorative items and kitchen essentials.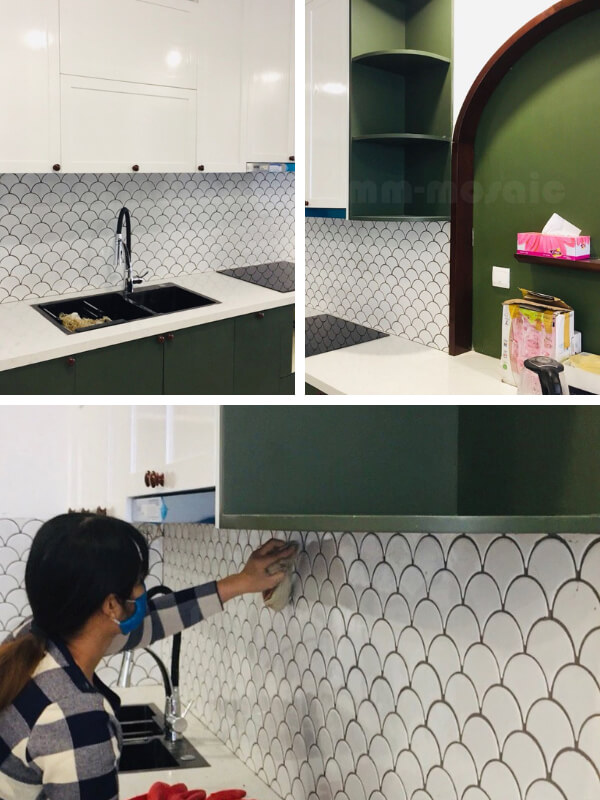 Featured Product: Fish Scale Glazed Ceramic Mosaic Tile White ZGA2201
Overall, this kitchen backsplash design is a perfect blend of classic and modern elements. The glazed ceramic white fish scale tiles offer a contemporary look, while the vintage peacock green cabinetry creates a touch of nostalgia. The design is both stylish and functional, offering ample storage space and a beautiful focal point for the room.
For more on this kitchen, visit our blog "10 Moroccan Fish Scale Ideas for Your Next Remodeling"
In the end, carefully choosing the right glaze color can turn a space into a stunning and practical living space. At the mm-mosaic factory, we are proud to offer high-quality mosaic tiles that not only look great but are also long-lasting and easy to maintain. We encourage our clients to take advantage of our sample program to get a first-hand experience with our mosaic tiles and to explore the endless possibilities for their renovation projects. With our fish scale tiles, you can create a cohesive and stylish look that reflects your individual tastes and personalities. So, let us help you bring your design ideas to life and turn your home into a space that you'll absolutely adore for years to come. Contact us today for free samples to see and feel for yourself!