With the next weekend is coming, it's the right time to decor your lackluster bar corner. Colorful flowers, transparent glass, and excellent wine are wonderful elements for decorating your bar space. However, stunning wall tiles are the focus! Installing a bar accent wall is a direct way to highlight the owner's taste and leave a deep impression on your guests. We've prepared 7 different porcelain mosaic style interiors:
1. 1" Triangle Charming
Small size triangle mosaics become a popular trend in both residential and commercial spaces. With classic white and black color, the 1-inch triangle can be made in the matte and glossy surface. Try to use a different finish to DIY your unique bar backsplash.
For more small triangle mosaic designs, visit our post "Is Triangle Porcelain Mosaic Tiles Suitable for Bedroom Wall"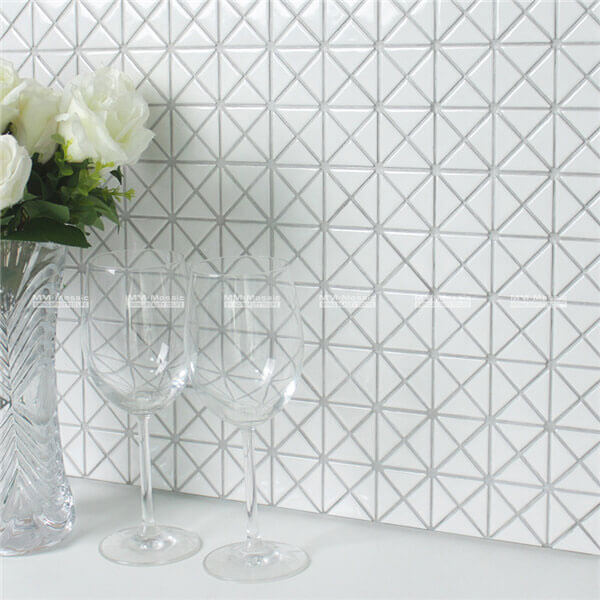 2. Imaginative Moroccan Style
In many people's minds, the Moroccan style is defined as colorful and full of complex and mysterious patterns. Why not creative distinctive and imaginative style to your bar backsplash? Installing a backsplash by using a glossy light brown fish scale tiles. Light brown color is completely underrated in many designer's eyes, which has a natural and cozy surface while caught by the warm light.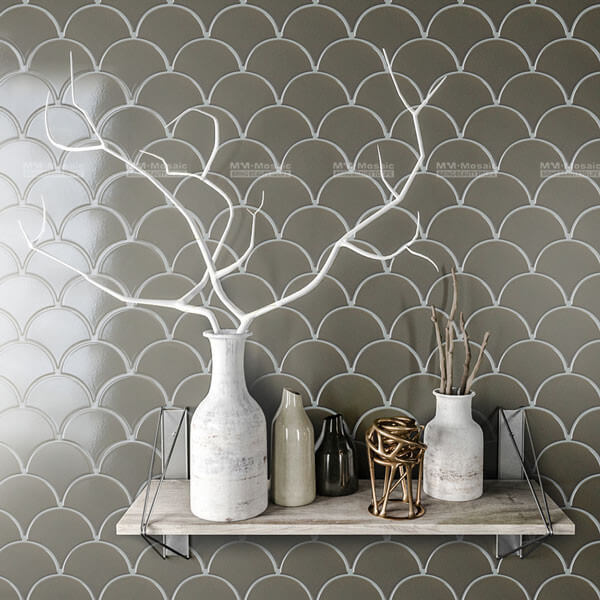 3. Mixing Various Triangle
We all love one of our customer's bar space, which gives us more ideas of the triangle. Instead of the traditional layout of triangle shape tiles, they design personalized patterns and rotate these triangle tile backsplash in different angles, which make the illusion that the bar space is more bigger than it is.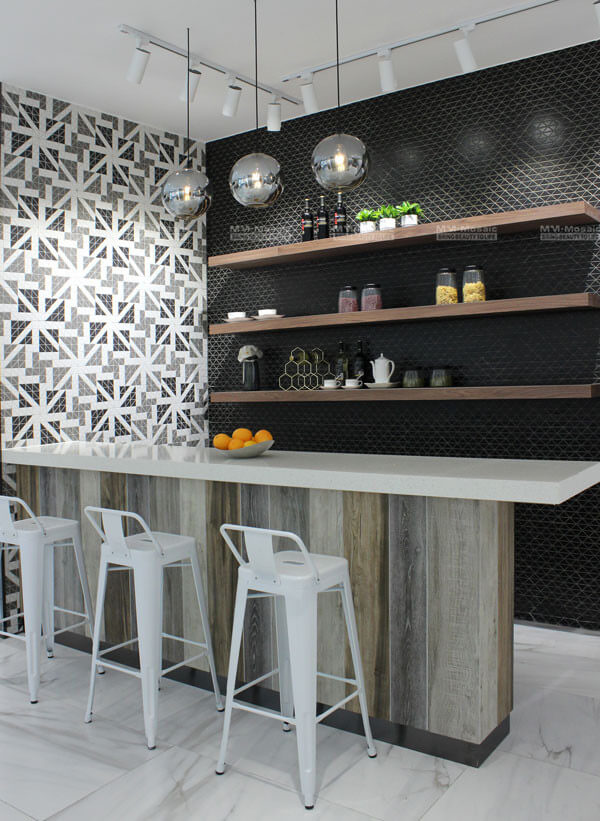 4. Three Dimension Rose Gold Mosaic
Who else wants to come back home to drink a small glass of wine after a long workday to this stunning rose tones bar space? For those with protruding round shape and three-dimension surface, the luminescent rose gold mosaic is a perfect backsplash for a welcoming atmosphere.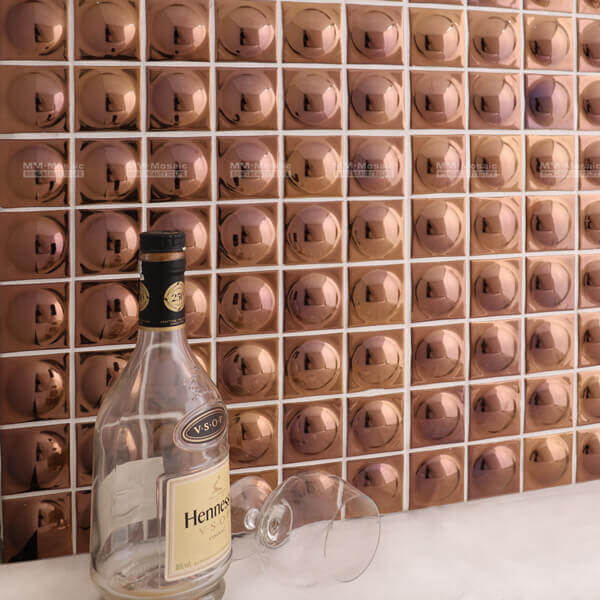 5. Funny Irregular
Generally, the bar space is no bigger than other spaces at a home but it's a suitable space to get creative shapes and colors. Actually, a bar backsplash doesn't need too much area of the mosaic so it's perfectly acceptable to make something funny and amazing elements.
For more creative shape interior design ideas, click our blog "How to Utilize the 87X305X9MM Feather Shape Tile"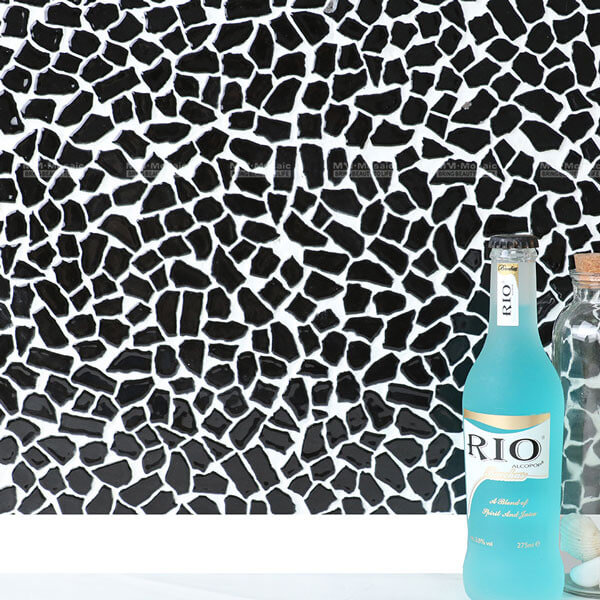 6. Inspirations Of Bottle Shape
Sometimes all you need to make a statement is using the bottle shape mosaic as your bar backsplash, which will naturally make a home bar environment. With smoothly clean curve lines and classic glossy black tone, they add a fascinating accent wall for those who use these irregular mosaics.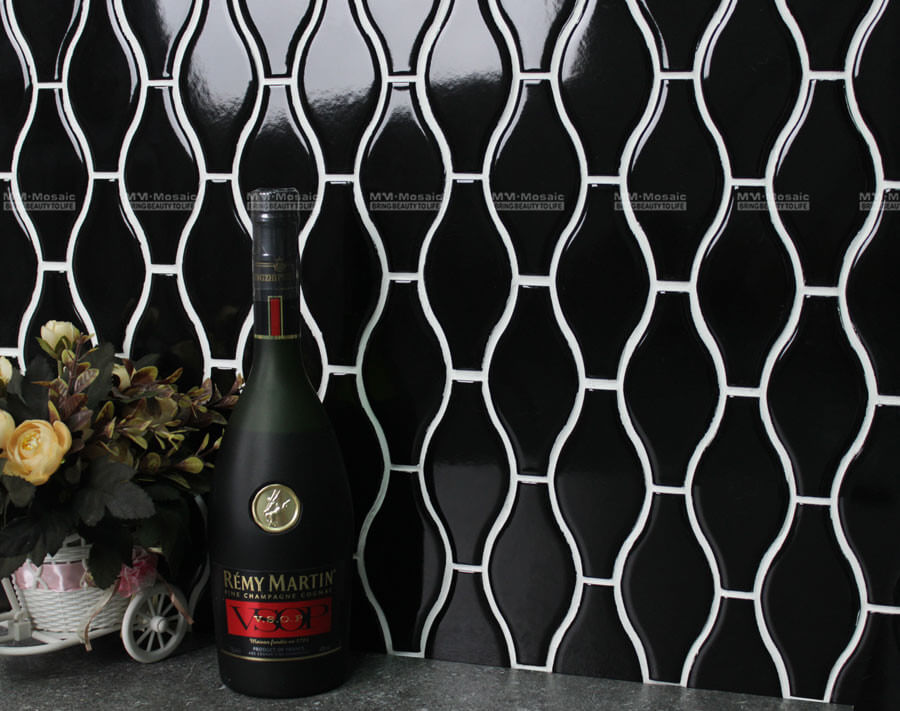 7. Penny Round Elements
It's no secret that classic penny round tile is taking over the design world, and you might see them in the shower room, kitchen or entryway. We also adopt this welcomed mosaic as the bar backsplash. With gradient neutral colors, 19mm diameter size and glossy surface process, these little mosaics will reflect the light anytime.
For more ways to use penny round mosaic, visit our blog "Why Penny Round Mosaic Can Keep Your Entryway Fantastic"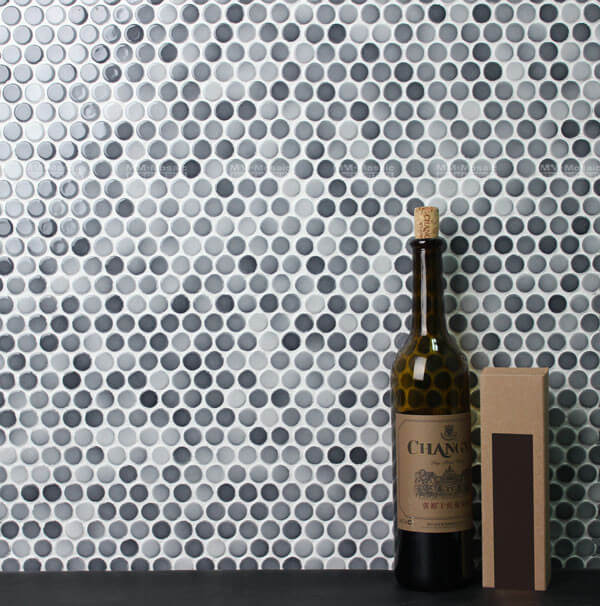 Get Any Ideas?
If you have any inspirations on bar backsplash design, welcome you share your creative plan with us or leave your comment below. Or if you want a designer to help you choose the right bar space style, contact us now and we will reply to you as soon as possible.