Halloween is coming! As a welcome holiday, Halloween is probably everybody's favorite moment of the year. Someone will dress up themselves as bloodcurdling as they can, act totally crazy without any bottom line. And some will renovate their home wall or floor in different way possible, creating more holiday horrific vibe. From the kitchen backsplash, bathroom to the living room, the whole interior space will bath in the Halloween spirit.
Halloween is a mysterious holiday which full of deep dark and dramatic atmosphere, so we've prepared 11 all black tones interior design inspirations:
1.Black Fish Scale Ideas
Walls are the most convenient space to arrange holiday decoration, and as we knew that, people usually use stickers like pumpkin shape or horrific spider webs. However, paving the black color fish scale as wall decor not only makes dark Halloween atmosphere but also makes your wall never go out of style.
Check out for more fish scale design: Fish Scale Glossy Metallic Print Porcelain Mosaic >>>
Featured Product: Matte Black Fish Scale Porcelain Mosaic CZM151X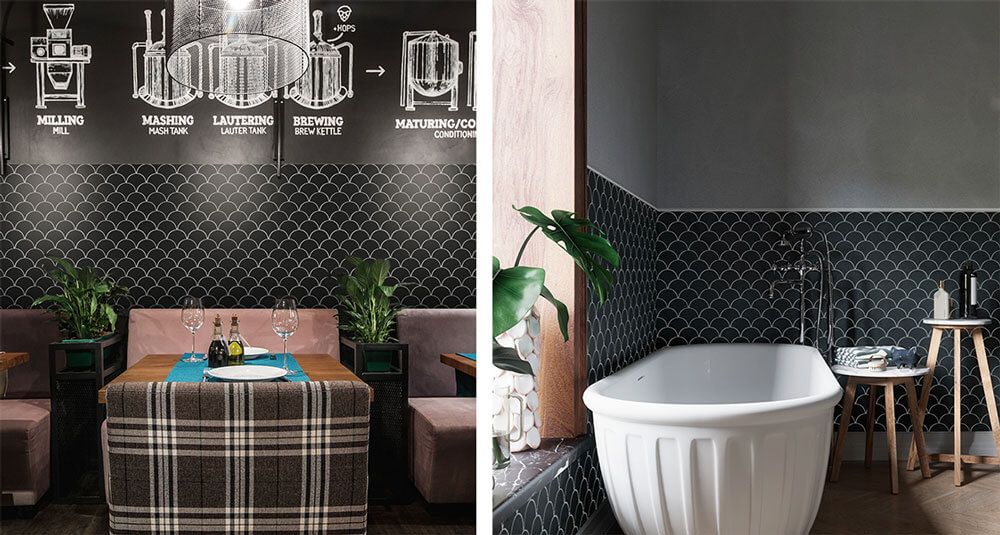 2.Mysterious Black Penny Round
How about making penny round mosaic black? If you've been following our blog, you might found that we've share white, pink and another thin shade penny round. This mysterious black one might seem to have been ignored until we looking for Halloween decor.
Discovery more penny round mosaic interior design: Why Penny Round Mosaic Can Keep Your Entryway Fantastic >>>
Featured Product: 12.7mm Unglazed Penny Round Black CZO137B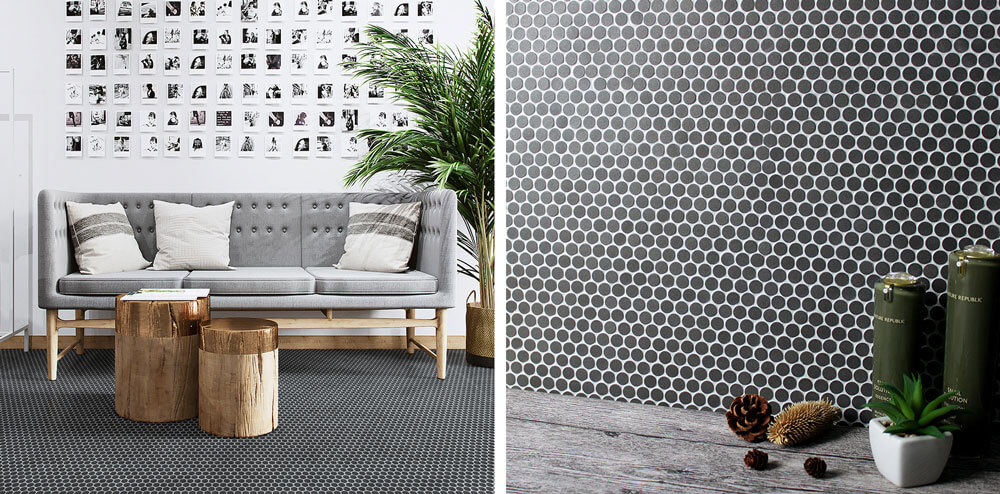 3.Dark Hexagon World
Feeling strong dark vibe when simplistic hexagon meets dark black? Why not immersed in this hexagon world?
Featured Product: 4" Matte Black Hex Porcelain Mosaic CZM128B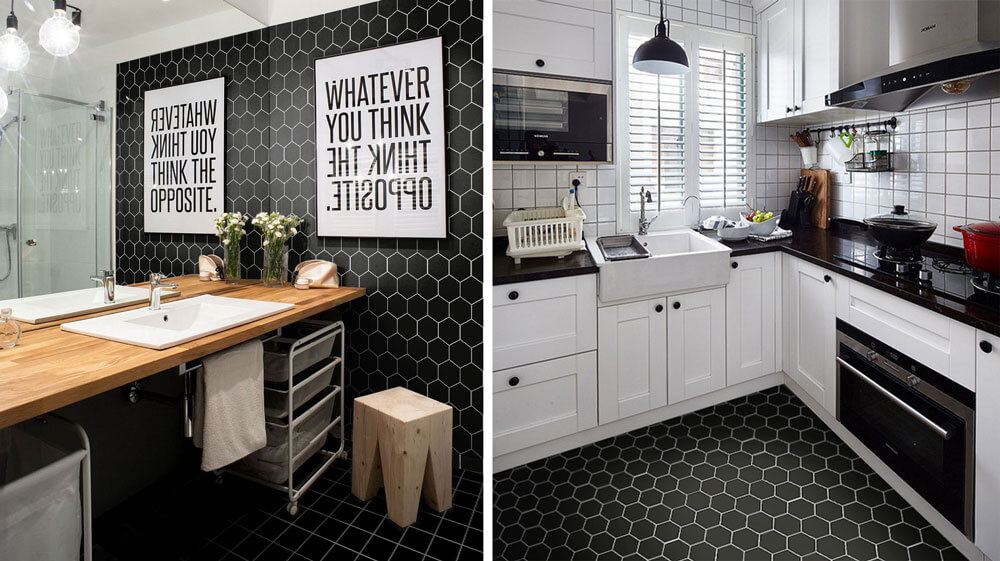 4.Spooky Long Hexagon
When we give classic hexagon a little different just like this special long hexagon, does this shape remind you of any Halloween ideas? Like a dark black spooky ghost? If you put some stickers on these black long hexagon mosaics such as eyes, mouths, and arms, you will get lots of scary but cute ghost faces on your wall.
Featured Product: Glazed Long Hexagon Porcelain Mosaic Matte Black CZM117Y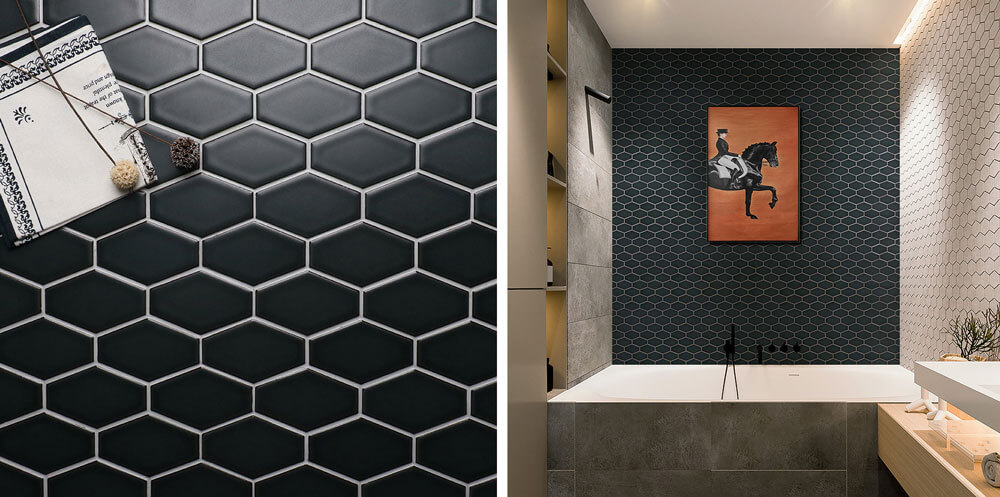 5.Secret Geometric Triangle Tiles
Don't forget your bedroom wall. If you think the above shapes are so tradition and lack of funny elements, you might full in love with the geometric triangle accent wall. Don't worry about the wall will out of date because triangles are timeless, moreover, you can put some stickers like spiders or little spiders doll on your wall. Just like some lovely spiders climbing on your wall web, so interesting!
Stunning designs of geometric tiles here: Is Triangle Porcelain Mosaic Tiles Suitable for Bedroom Wall >>>

Featured Product: 2" Glazed Triangle Porcelain Mosaic CZM126B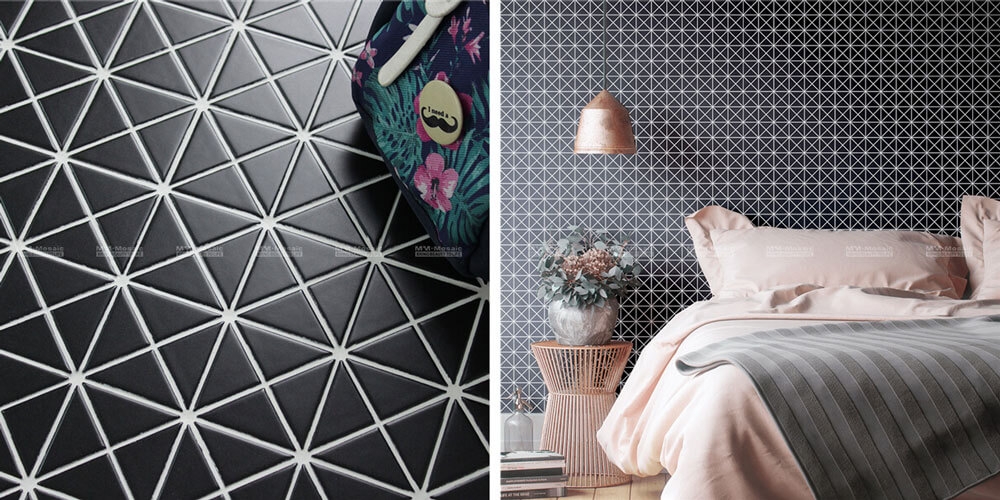 6.Marvelous Black Textile Pattern
We all love the uniquely designed textile pattern! Your friends or neighbors might come to your home for a trick during the evening of Halloween. If you paving these textile pattern tiles, place some false dead branches on your entryway, and add dim lighting to create a horrible atmosphere, they will get a tactile and visual shock as they walk in your home.
Featured Product: Textile Pattern Porcelain Mosaic Black KOC3101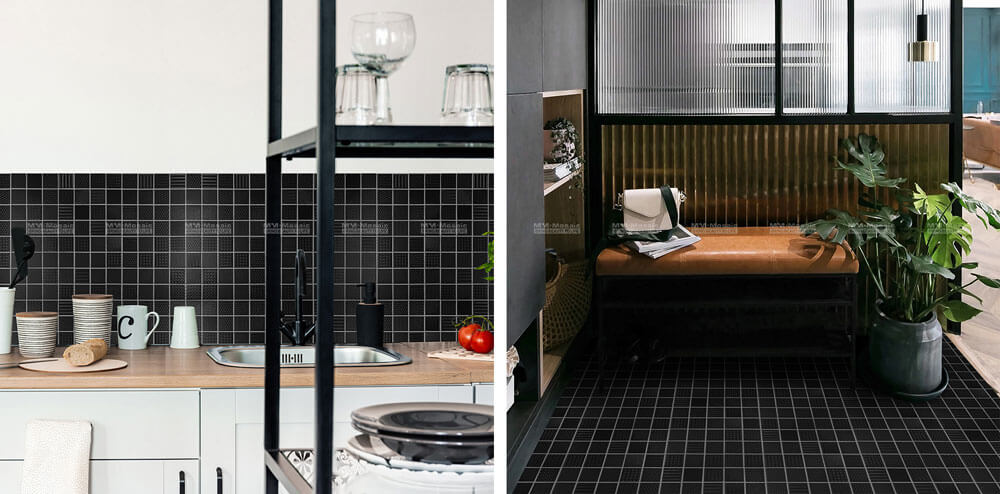 7.Creative Finger Shape Mosaic
Spiders, ghost faces and skull bones are essential Halloween scary elements. We've mentioned lovely spider triangle web and scary long hexagon ghost faces, now we want to share creative black finger-shaped wall tiles. Some black rags of textile cloth plus gloomy blue light, each mosaic might look like skull finger bones. Wow!!
Featured Product: Stackbond Finger Premium Glazed Porcelain Mosaic CZO251A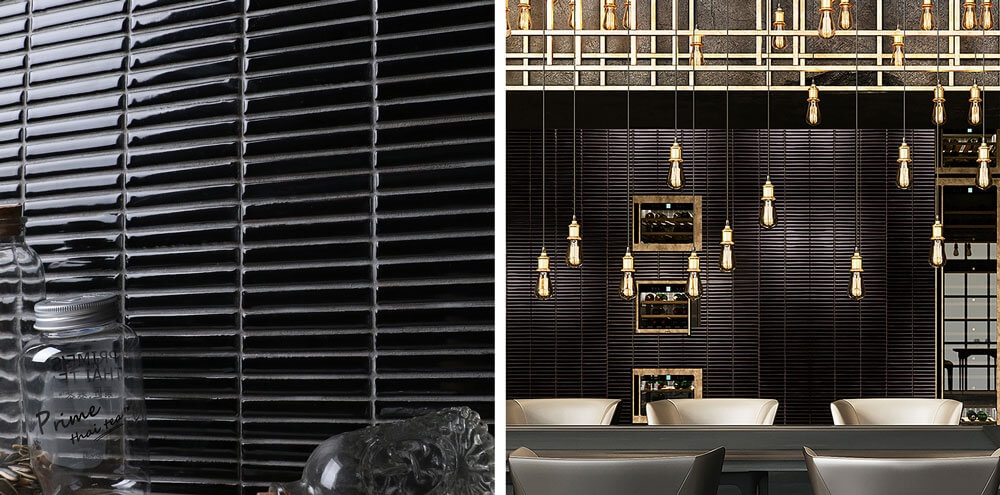 8.Irregular L Shape
Instead of regular shape, L shape wall tiles will make you think of ghost's hook. Buying some lovely ghost faces or skull bones stickers and put them on the L shape mosaic, you might see that they're like holding up the hooks. So pretty creative!
Featured Product: L-shape Weaving Design Matte Porcelain Mosaic Black CZM170Y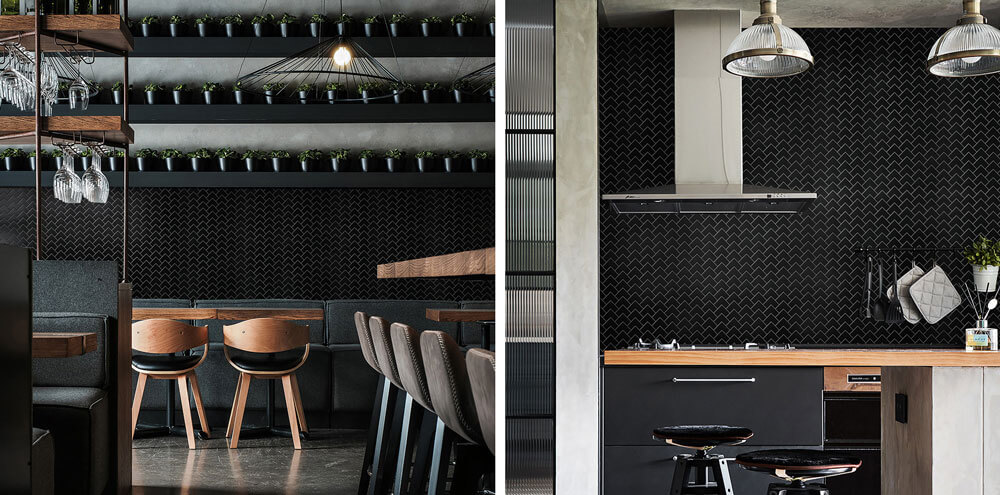 9.Creative 3D Flash Shape
Have you seen that the 3D element combines with Halloween? The black glossy 3D surface can reflect light perfectly to achieve a realistic lighting effect. What's more, the unique black wave pattern will pair well with the Halloween light and these accent wall will go to rock the holiday party.
Featured Product: Glossy Black Flash Design Tile CZG1104JM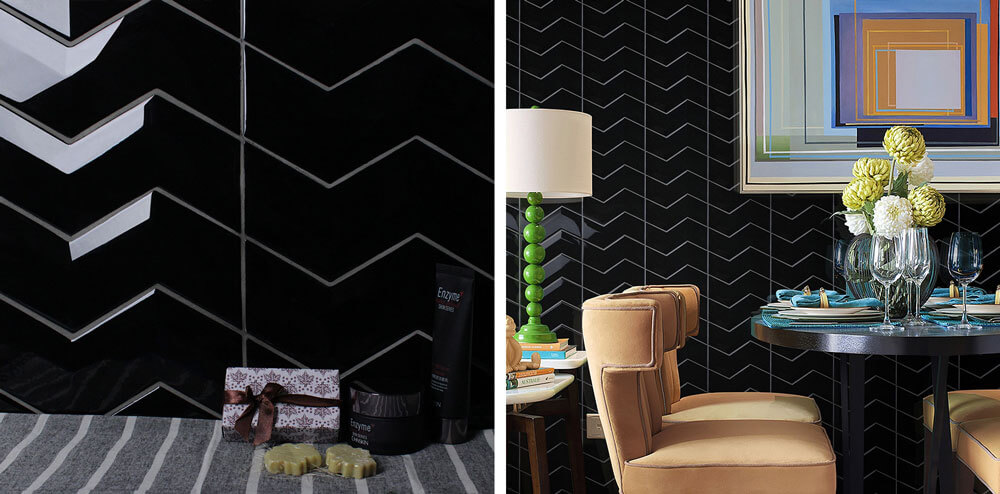 10.Blue Mix White Star Cross Chip
When it comes to ghost faces, you might need some cross elements to deal with them. Why not consider blue mix white star-cross wall tiles? They not only create a beautiful pattern for your interior space but also match well with Halloween decor.
Check this blog for more star-cross creative ideas: Vibrantly Green Premium Glazed Star x Cross Tile >>>

Featured Product: Star & Cross Porcelain Mosaic White and Blue Blend CZG080A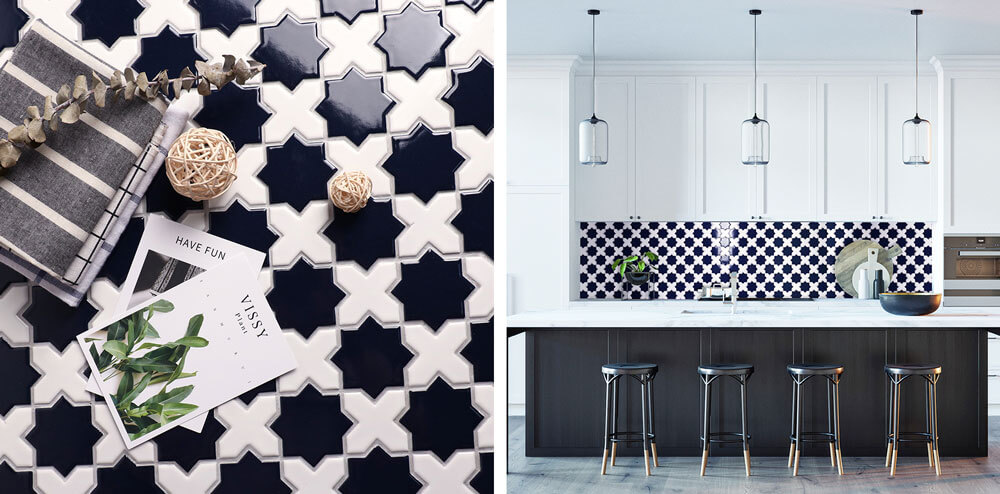 11.Trick Puzzle Shape Design
Another black mix white mosaic we can't wait to share with you! Trick puzzle shape tiles are ideal for entryway floor tile, especially in Halloween. Under the sombre light, The combination of black and white keeps it scary but cool.
Featured Product: Matte Puzzle Design Tile CZG008JM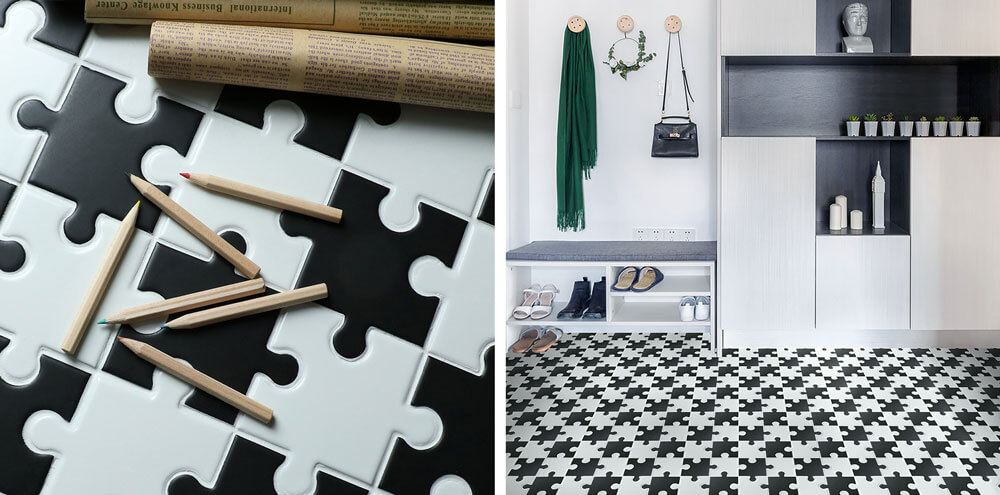 12.The Essential Pumpkin
Pumpkin is the most common Halloween decor that also holds cultural importance. Dressing up your dining room wall shows how you celebrate Halloween. To paving strong pumpkin color subway tiles, and place pumpkin color flower vase on the table, you can get the festival atmosphere around your space.
Featured Product: Bevelled Edge Subway Tiles CZG901MDQ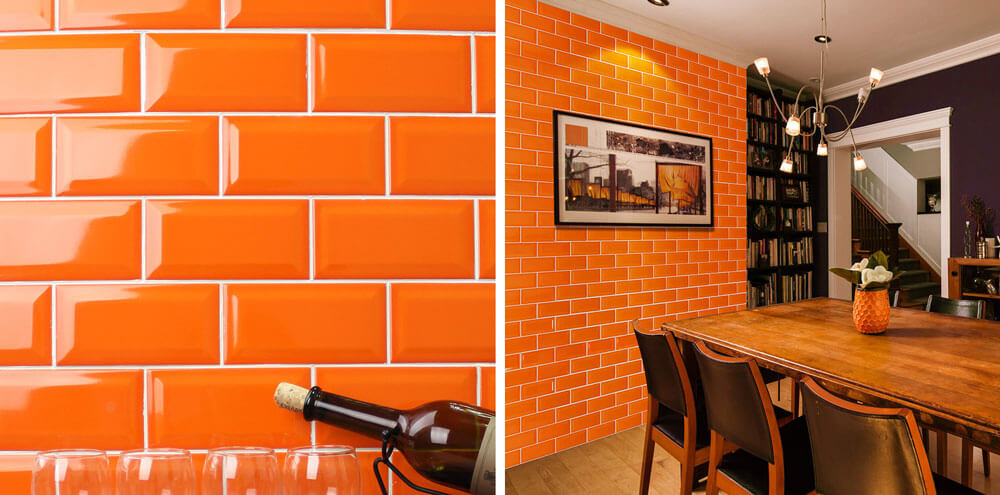 Get Any Ideas?
We are waiting to hear your interior design inspirations of Halloween style! Why not write down your comments and tell us your plans? As an experienced tile supplier, MM-Mosaic will give you a suitable decor style for your projects. Contact us and We will first give you a reply!