When it comes to choosing tiles for your interior decoration, there are variety of tile shapes, size, patterns, textures, colors and style for option. Different tile shapes and patterns can help you to get different interior styles. Below, we are going to recommend a popping-up mosaic shape - Traingle, and our newest triangle moaic tile for you. Check out the following information and perhaps you can find your style from this product.
Triangle tile is a go-to choice for those who smaller shaped tile in their spaces, filled with endless geometric beauty. And when ti comes to home decor, triangle tile is now still something rarely seen, this geometric shape is eye-cathcing and attractive in pure color or a blend. So, it is a great way to do with triangle shape if you want your space unique and different.
Take a look at our new collection - 2" blue triangle ceramic tile and get inspiration from how this tile spruce up a space, and we believe that you will fall in love with triangles.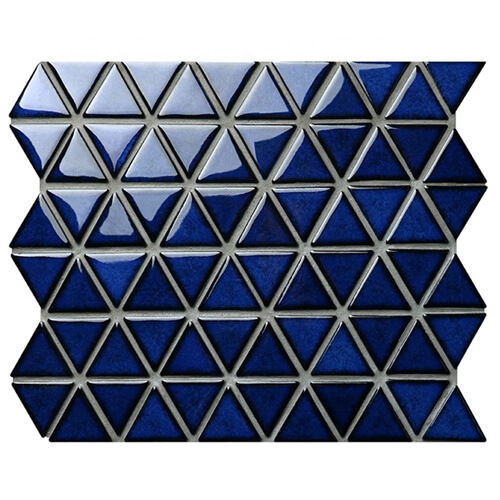 Featured product: 2" triangle ceramic tile blue mosaic tile CZO657A
This mosaic tile sheet would like to create a noble and royal style due to its high-class cobalt blue color in a crystal glazed surface. The glossy finish gives shimmers and reflective to light and shades. The design of regular triangle shape goes in a neat way, looks clean and elegant. The chip size is 45x45mm arranged in a sheet size 260x300mm, this size looks great for kitchen or bathroom backsplash and wall cladding. With mesh-mounted on back for simpler installation. Made of premium ceramics, this mosaic tile is eco-friendly, wear-resistant and durable, great performance for use.
Stylish Triangle Tile Backsplash
Never overlook the backsplash design for your kitchen or bathroom, choose a stylish triangle pattern for covering if you want the backsplash as a focal point in the space. Choose smaller tile size for delicate look while bigger size for dimension. Our blue triangle tile makes a brilliant look to your backsplash like below.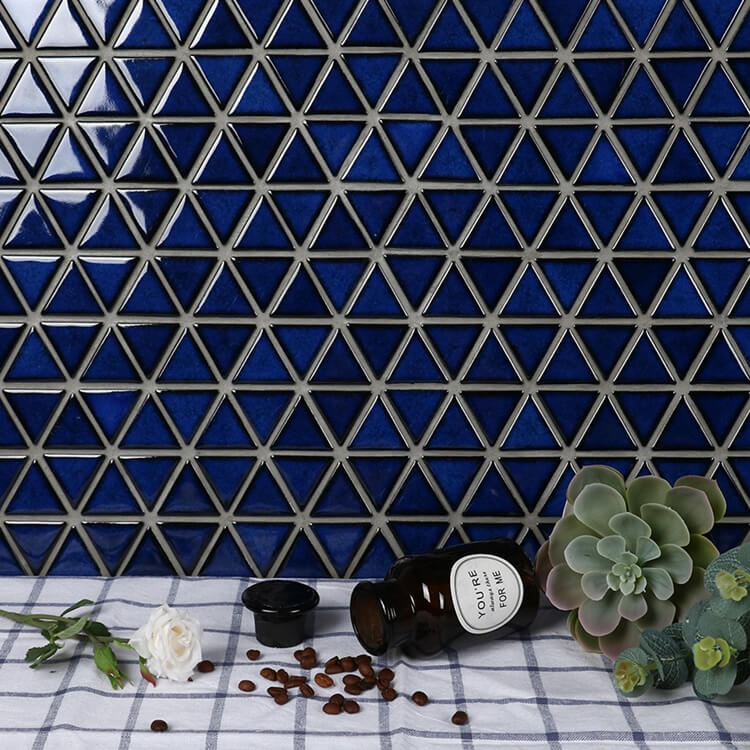 Add Peace To Bedroom
Comfortable, cozy and peaceful, these words belongs to a great bedroom decor. We like the idea of tiling the whole wall with this blue triangle mosaic tile, which refreshes this space and builds a resting space with peace and clamness, like this:
More colors to choose from:
The 2 inch regular triangle tile gives various styles in different color, other colors including dark blue, pale blue, dark green, green, blithe blue, khaki, thunder storm, and gray available. If you are in market for this product, contact us for best pricing and more details.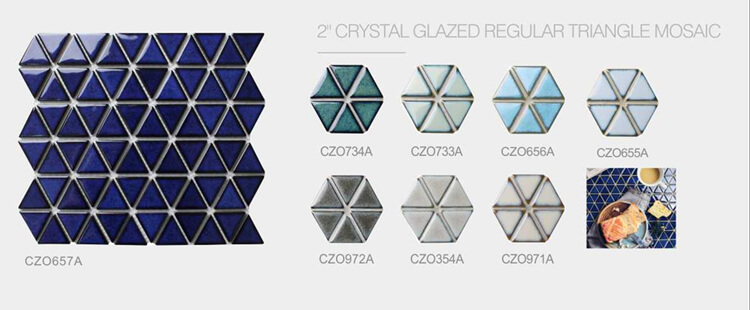 Click for more triangle tile collection >>
If you want triangle tile install a luxury home style, click to read this article: 2018 First Launch: Coffee Brown Ice Crackle Glaze Geometric Tiles
MM-Mosaic has into mosaic supplies wholesale from China for over 10 years, can produces wide ranges of ceramic mosaics, glass mosaics, mosaic art, stone veneer, other types of wall and floor tiles of high quality at lowest price. Customized-service available here.