The advantages of porcelain tile for wet rooms like kitchen and bathroom are obvious, yet many of them also make it a good choice for living room. Porcelain tile has a good performance on durability and maintenance. It can endure even high pressure and traffic without showing distinct tear and wear. The possibility of slip, scratch and other accidents would reduce if living rooms install a right porcelain floor tile. And modern printing techniques make its appearance diverse and vivid. There are porcelain tiles that look like wood, marble and concrete on the market and you will nearly not tell the difference between "real" and "imitated". Read the following passages and find the best unique to your living space.
Porcelain Tile Types
There are quite a number of options to consider when you are purchasing porcelain tile. Below MM-Mosaic have summarized 4 main features that help you to differentiate them and have a further understanding.
Porcelain tiles are usually formed in squares of 6"x6", 12"x12", 18"x18" and 24"x24" for large scale flooring, but there is a preferable choice that tiles are made in long and slim rectangular shape and coated with lifelike patterns such as wood grain, marbling and cement rusticity. Larger square floor tiles can provide visual interest to your small living room, making it seem more spacious.
For more sizing tips, you are recommended to have a further reading at one of our published article.
Take Full Use Of Tiles To Make Small Rooms Look Larger>>>

Since porcelain is an easy-coloring material, porcelain tiles come in a wide range of printed patterns. They can be printed with almost any color and image. Printing geometric patterns of contrasting colors like black and white on a porcelain tile shows Victorian style. Antique floral and botanic patterns are great to create a space of exotic design. You are free to choose one that will perfectly express your personal taste.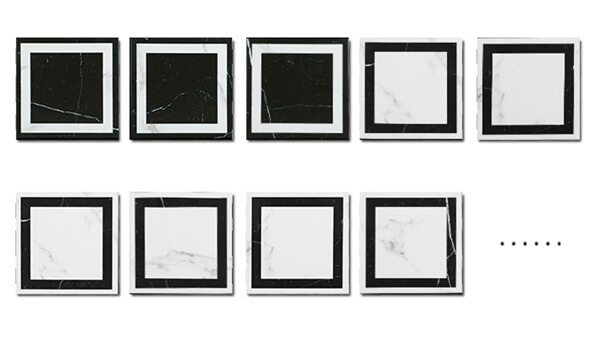 white black marble effect tiles PRM908DN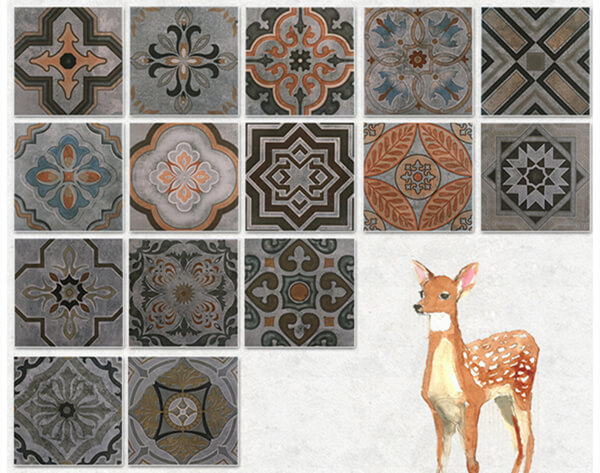 decorative floor tiles designs for living room PRM910DN

Compared with large piece of porcelain tile, the form of small mosaic tile chips (generally 1"x1" or 2"x2") joint into a mesh-backed sheet is another expression of delicate beauty. Mosaic tiles usually have a particular combined pattern, which is small chips arranged in a specific order. The purpose is to catch the eye, creating a sense of art in the pattern of the flooring.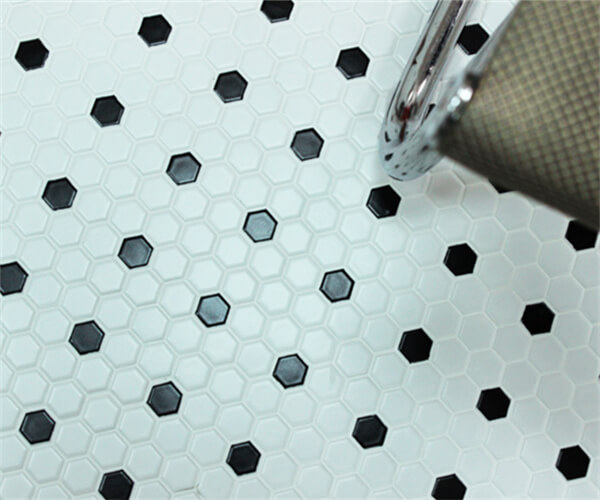 black and white hex tile CZM005Y
Porcelain Tile V.S. Wood Tile
Both porcelain tile and wood tile have some similar advantages. One of them is durability if installed properly. Also, they are mass-based tile products that can be found in almost any residential and commercial architecture. One of the major differences between the two options is the price. Porcelain tile, in fact, is less costly than tile that is made of solid wood. Porcelain tiles also tend to be easier to keep clean and maintain over time, since they are less susceptible to water damage and stain. What's important, techniques now allow porcelain tile with a lifelike imitation look of real wood, which somewhat decides wood look porcelain tile overwhelms solid wood tile in some space application.
For more wood like porcelain floor tile designs, you may like to read one of our published bloggings.
6 Ways To Enhance Home With Wood Imitation Tiles>>>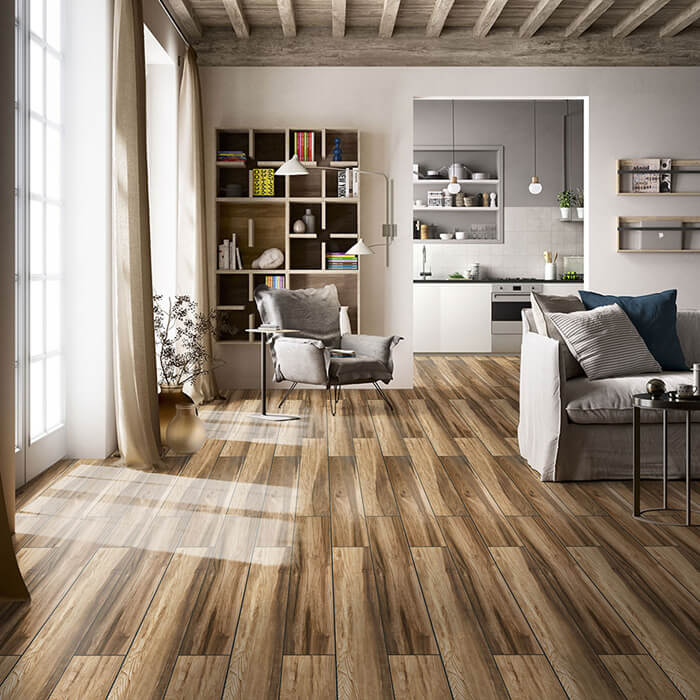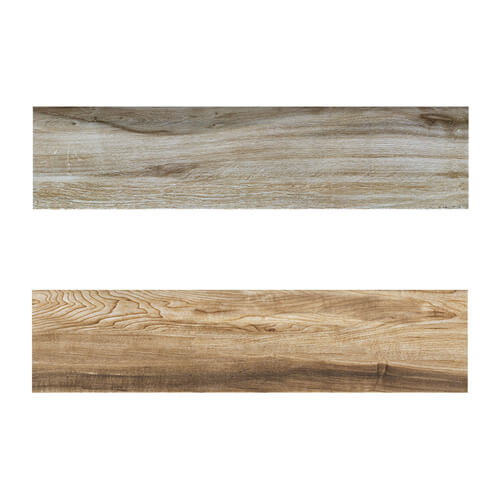 porcelain floor tile that looks like wood YMX2101DN
Porcelain Tile V.S. Marble Tile
Marble stone refers to a kind of hard material that is quarried from mountains. Carrara is a well known Italian city that can get the best. For flooring, they are commonly cut into square or rectangular tiles and installed in a manner similar to porcelain tile. These can be very natural and ordinary-looking tiles. Most of them are hard, durable and long lasting. Their natural feature is what most often causes people to choose real stone tile rather than tile that is made of porcelain. Marble tile, however, is usually more expensive, both on purchasing and installation, and it needs more careful maintenance than the porcelain. Marble tile must be sealed periodically and will stain more easily. If you would very like to own a marbleized flooring but have limited budget on hand, don't worry, there is a wonderful alternative, that is, the marble like floor tile. It not only possesses the natural look of marble but also endures a strict manufactured process of firing and glazing, which makes it impervious to moisture.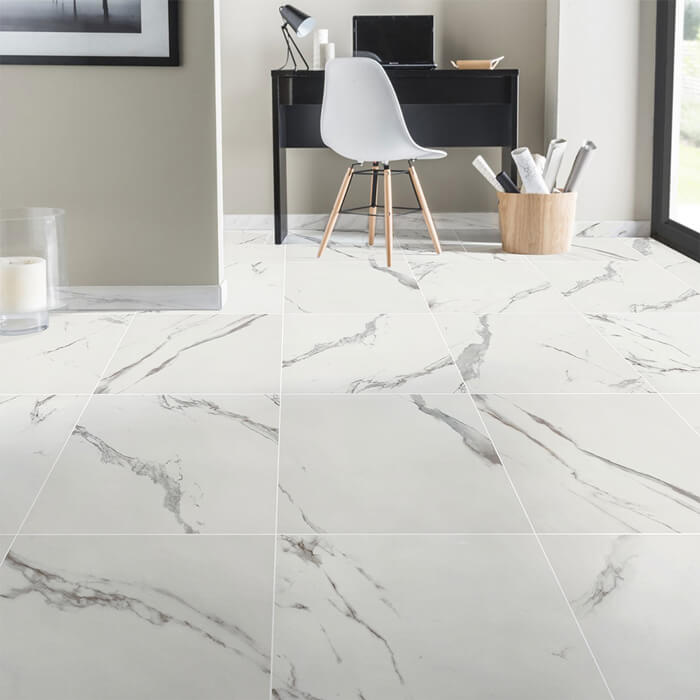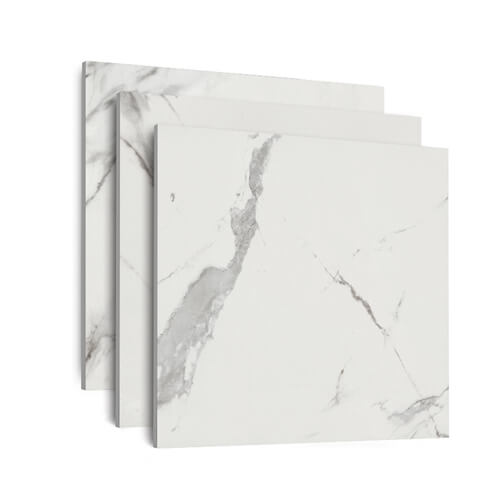 marble effect floor tiles KLK3301K
Porcelain Tile V.S. Cement Tile
Cement tile gives a feeling of rusticity and originality. The cool gray look often makes it the last choice for residential decoration. Yet, public places such as hotel and restaurant adopt a wildly different attitude as gray colored tile can add formal details to these public occasions and will not seem to appear dirt with high traffic. However, cement tile has its own defects. One of them is that it is easy to get wear and mildew because of the multihole structure. So cement tile is terrible for places that get stain and water. For porcelain tile that looks like cement, it won't be a problem. As the same as wood look and marble look porcelain tile described before, cement look porcelain tile is more suitable for modern flooring, whether on the performance or aesthetic value.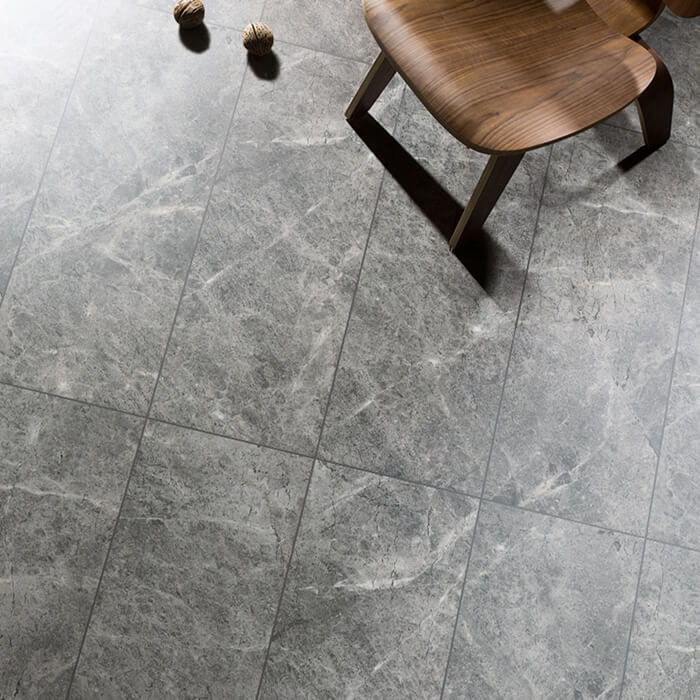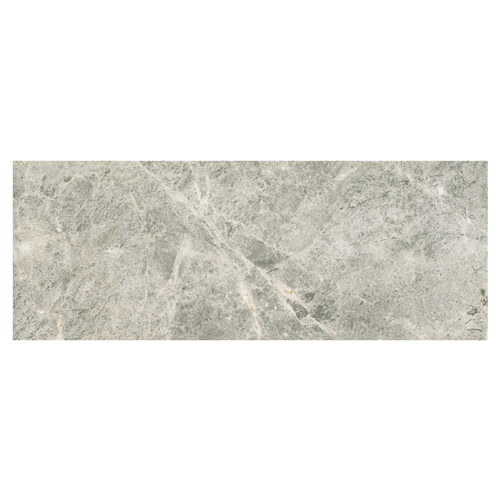 concrete porcelain floor tiles TS08301K
For most people, porcelain tiles should be strongly considered as the flooring in living rooms and any other family space because of their many great merits. From MM-Mosaic, a tile supplier based in mainland China, a great variety of porcelain tiles are available. Visit us TODAY and get a best quote.