Many households readily accept porcelain mosaic tile in kitchen backsplash and bathroom. Due to its durability and less maintenance, porcelain tiles are actually made for backsplashes. And mosaic tiles lend themselves well to bathrooms since porcelain tiles perform better than many other materials in these high-moisture environments. Not only that it also works great in living rooms, entryways and many spaces because it's easily cleanable.
Nevertheless, bedrooms are not the space that most homeowners think of using porcelain tiles since these places where cozy and comfortable are preferred. Porcelain tile is often viewed as coldness and monotonous building material, furthermore, lots of households find it antithetical to the nature of a bedroom. If you think so, you might need to change your mind. As a matter of fact, a stylish and characteristic bedroom is not only given by furniture and design elements. The various shape of mosaic wall tiles has the ability to create a unique and unparalleled space. Because of their virtually unlimited aesthetic and multicolors choice, porcelain mosaic wall tiles are ideal to bring sophisticated and popular bedroom ambiance. What's more, it can regulate the temperature whether in the heat summer or the frigid winter. With so many benefits, we highly recommend you choose this material to decor your dull wall, for example, the triangle tile.
What will happen when the stunning triangle tile meets the bedroom wall? Here are six design inspirations for your reference:
THE FIRST IDEAS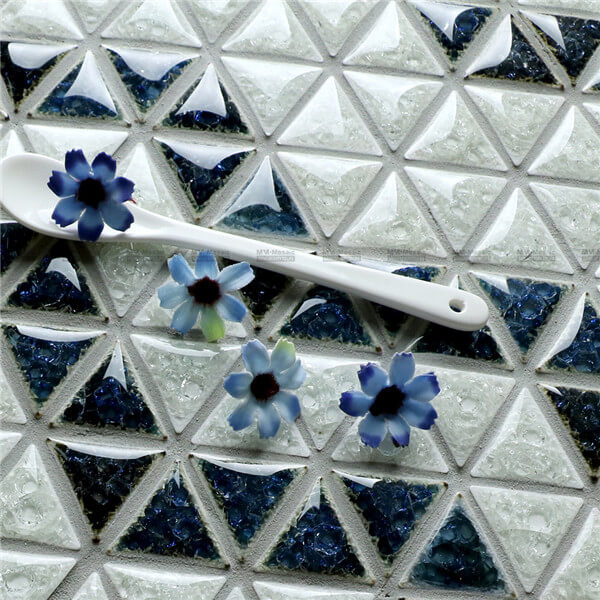 Featured Product: Shiny Ice Crackle Glossy Glazed Porcelain Mosaic CZB014JI
Even though the triangle tile has always been a popular choice, it's making a big come back. Usually, a go-to for kitchens and showers to bring a classy feel, now it is time to bring it into the bedroom wall as well. It's excellent dark blue and white color with ice crackle surface patterns, which make it marvelous to work with and this mosaic wall in your bedroom will guarantee an amazing and timeless finish - just like the painted wall won't easily spoil.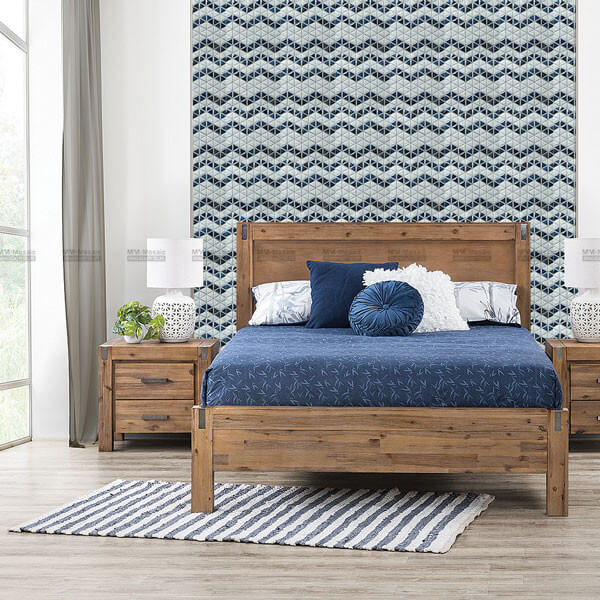 This lifelike wave pattern combines well with the blue sheet and the blue-white carpet, which makes you feel in the ocean or peaceful little lake and you can create a soft haven to unwind in at the end of the day.
THE SECOND IDEAS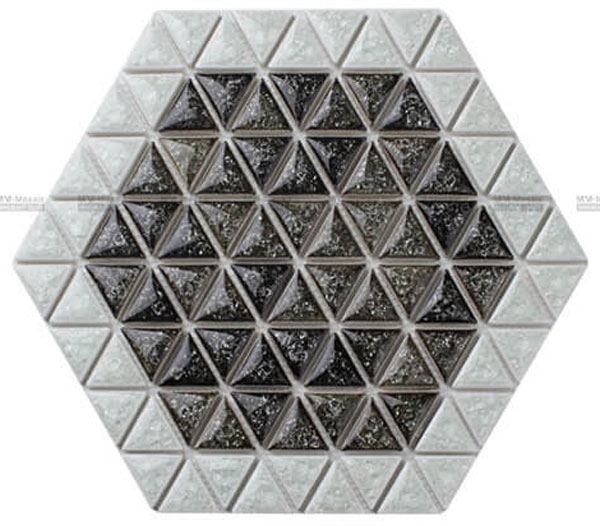 Featured Product: Handmade Heavy Crackle Texture Glossy Glazed Porcelain Mosaic CZB016JI
Creating a distinctive wall using high-gloss glazed triangle mosaic tile will bring a fresh and contemporary space, especially when contrasted with lacklustre paint and other different material.
Choosing classic black and white crackle finish mosaic is sure to make a real statement and brighten up your bedroom.
THE THIRD IDEAS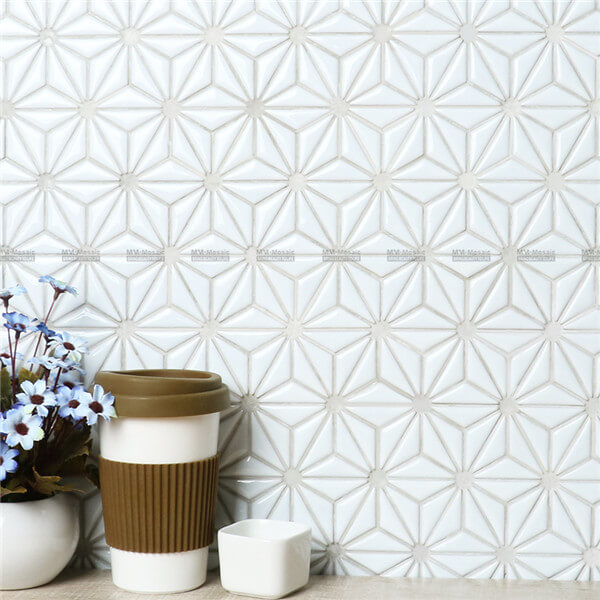 Featured Product: 48X15mm ceramic mosaic with triangle flower design CZG204CD
If you are looking for understated elegance with unique sophistication, go for this flower pattern finish tiles. In a master bedroom suite, you can carry the same tones tile theme throughout the space. It also features an icy white snow tone in a subtle pattern with a glossy finish, which creates a highly polished look and feels.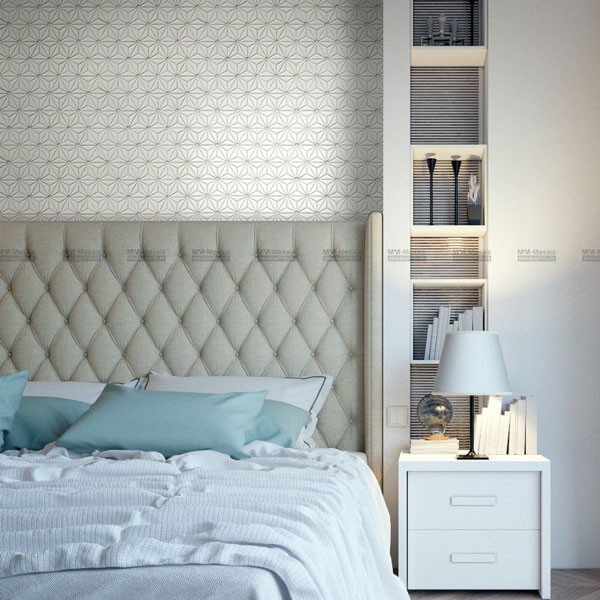 What's more, these mini triangle flower pattern tiles are especially suitable for wall tile as they tend to reflect plenty of the sunshine light and make the perception of this room more larger than it seems.
THE FOURTH IDEAS
Featured Product: 2-inch Glazed Triangle Design Classic Black CZM126B
When it comes to black, you might find that it is not a common color in most interior designs, particularly when it is laid on the bedroom wall. However, black can be a very eye-catching and bold color. What will happen when black pair with a versatile triangle tile?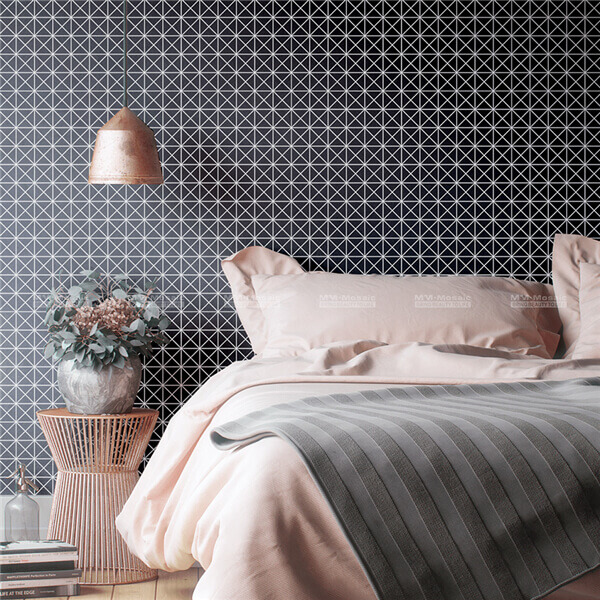 THE FIFTH IDEAS
This way a balance will be created. As for other room furniture, you could use a soft hue to decor this space, such as pink. Since black is a very strong and dramatic palette as well as a cold and dark one, it better to utilize elements that add warmth to the decoration so that it can balance everything evenly and end up with a comfortable bedroom.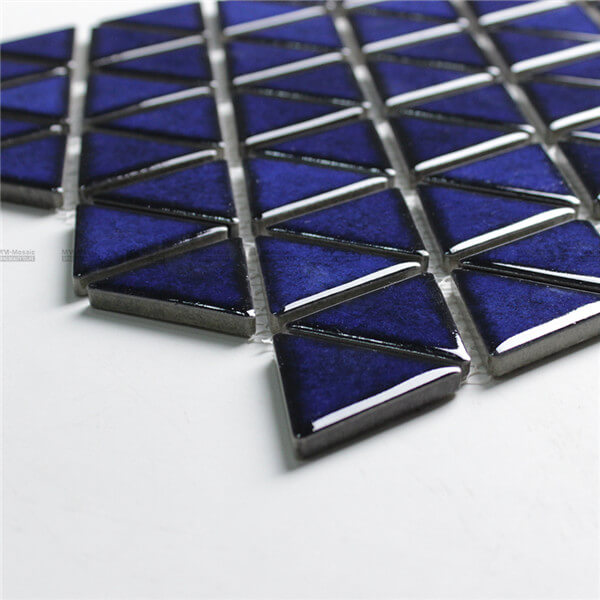 Featured Product: Delicate Glossy Glazed Surface 2-inch Triangle Mosaic CZO657A
Except for black, here is another attractive color which is luxury jewelry blue. If you want to have an accent wall in the bedroom, paving this small size blue triangle mosaic can make your space look filled with mystery ambiance.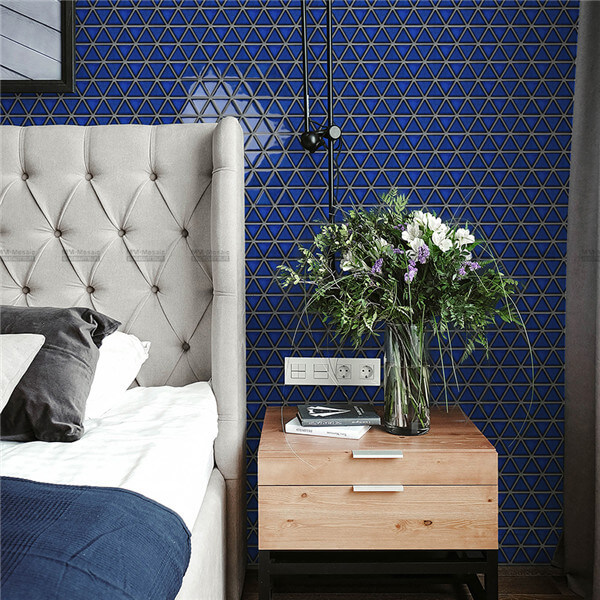 Jewelry blue hue walls bring the space an exotic atmosphere, which makes you feel like you're in the royal family. Furthermore, this mosaic wall stands out more when the light grey bedhead, pure white bed sheet, and the plain wood bedside table are contrasted.
THE SIXTH IDEAS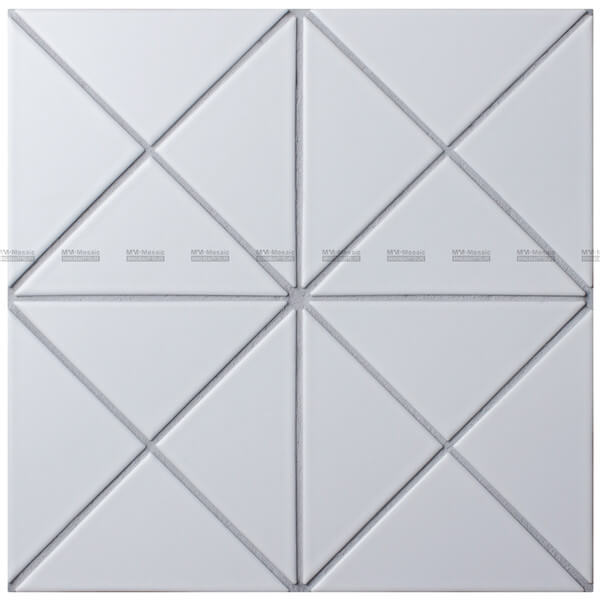 Featured Product: 4-inch Triangle Porcelain Mosaic Pure White CZM241B-A
If the triangle tiles above is a small size for you, we believe that you might fall in love with this 4-inch glazed triangle porcelain mosaic. After experiencing the cool black and striking blue tones impact, your eyes need to relieve with the simple white.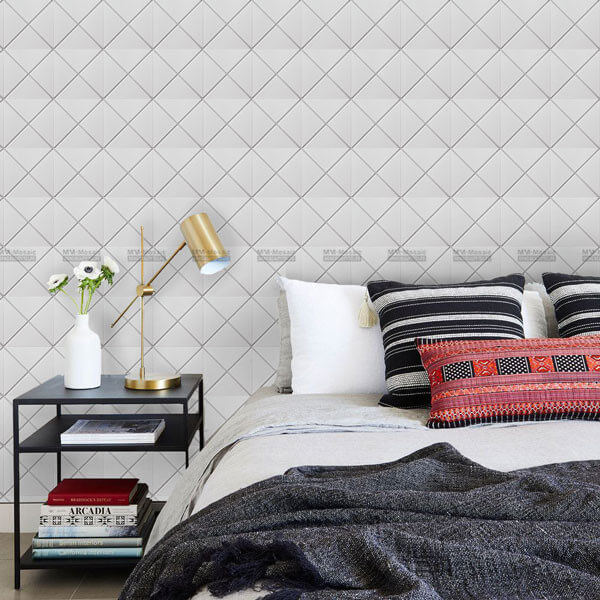 As a matter of fact, the color of fresh snow or the fluffy summer clouds works well with every decorating style and is pleasant to either play a starring role in your bedroom. When you laying on the bed and watching this pure white triangle mosaic tiles, you will take relaxation of body and mind.
For more triangle tiles interior design ideas, we highly recommend this article which might provide more knowledge for your decor: Fall In Love With The Varieties Of Triangle Tile>>>
Get any inspiration? Need delicate samples? Inquire us! As a professional mosaic exporter, MM-Mosaic will give the suitable decor suggestions what you want and we specialize in various shape porcelain mosaic design. If you have any creative tiles decor ideas, please don't hesitate to act now!