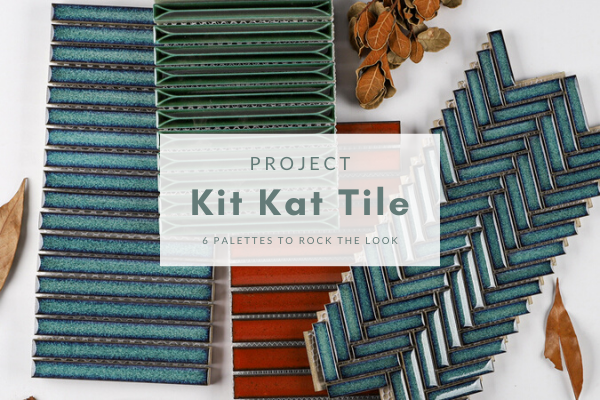 Prepare to add some stylish tile to your interior space? No need to look further than the most timeless tile shape there is Kit Kat Tile! In the past year, we've seen some of our most chic clients swap the staggered for the stacked pattern. It's a contemporary and modern twist on a classic appearance, that is sure to appeal to eyes. This beautiful kit kat tile is ideal for those who favor traditional, modern, or simple design styles. We hope you love these 6 palettes to rock the kit kat tiles look as much as we do.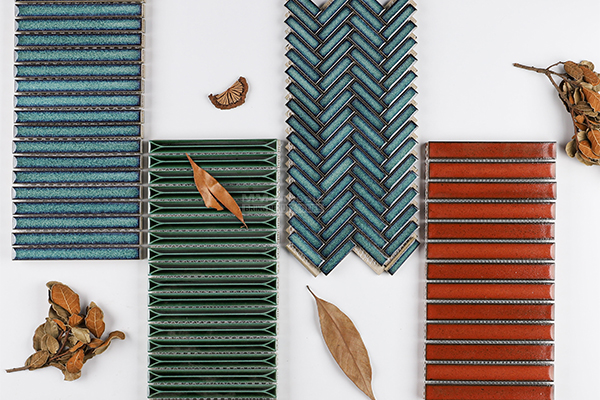 1 Greens Inspo
We are so excited to share the popular green color kit kat tile projects with you. Refreshing green color can change any room into a piece of natural heaven. With a stunning green shower, attractive green bathroom wall, creative green curve wall...this green tone is a sure show stopper.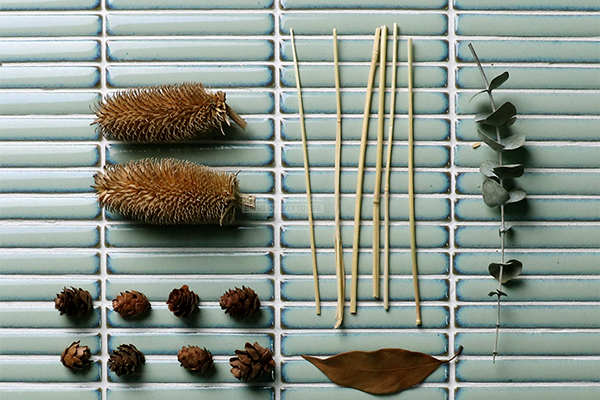 Featured Product: Stack Bond CZO717A
Dark Green Shower
Simple doesn't have to mean boring when you're using our green glaze color. This is a kiln high variation glaze, meaning each kit kat tile has a unique tone based on the different light applications. The different light combined with dark green glaze color adds to the whole fresh and airy design concept of this all green shower wall. We particularly love this glaze in our signature stacked pattern.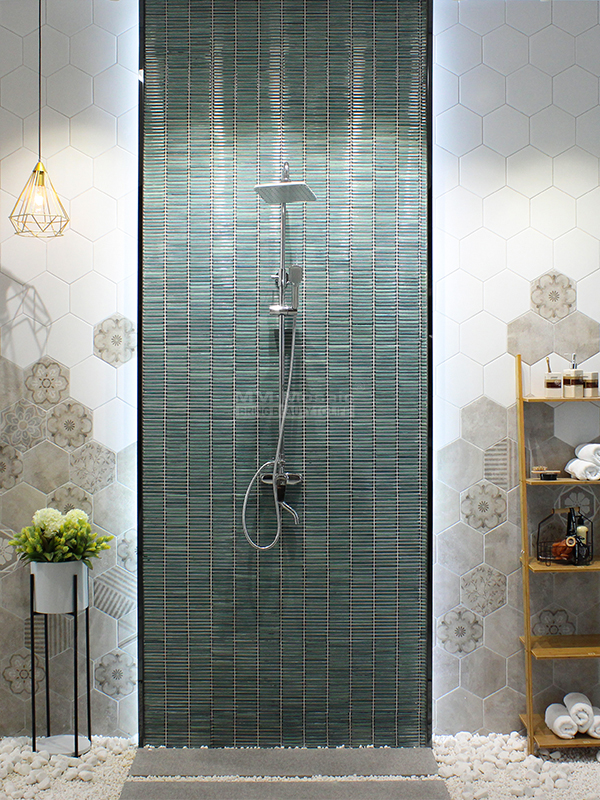 Featured Product: Strip CZO949A
Stylish Bathroom Wall
Bring on the coziness by adding a natural tone to your kit kat tile wall tile. This dark green glaze makes this finger tile reminiscent of a mountain...and it's just as dreamy! This unique variation and detail of our kiln kit kat tile are sure to have all guests touched when they walk into your bathroom. Good news? Out finger tile is durable, has low water absorption, and is easy to clean. So it's perfectly suited to be installed in the bathroom.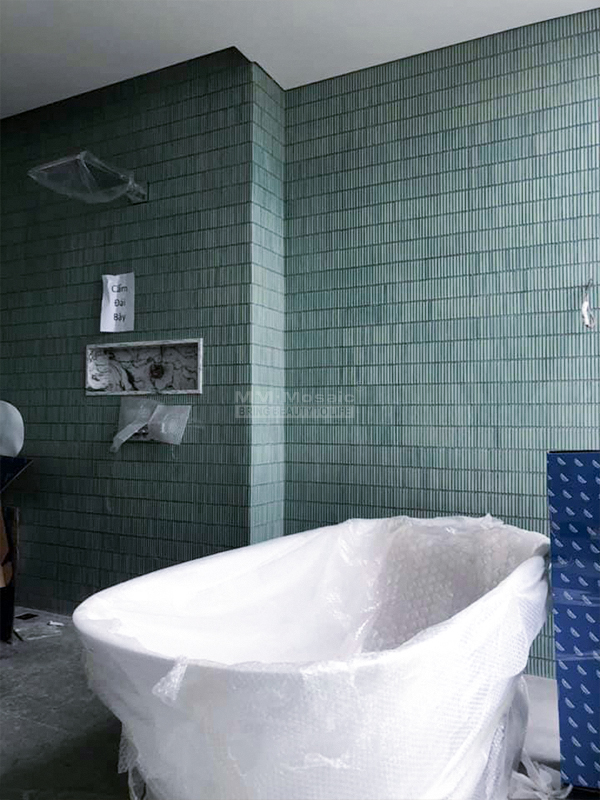 Chic Curve Wall
Sometimes simplicity is king and kit kat tile does it well. Keep it minimal by only using a neutral dark green glaze color like this curve wall at the shower below. Maintain interest by including an array of simple colors to create a variation that will catch the eye. Top off the look with a surrounding white interior for an airy atmosphere with a spa-like vibe.
For more details of this project, visit our blog "Project: Kit Kat Tile Makes Fun in The Bathroom"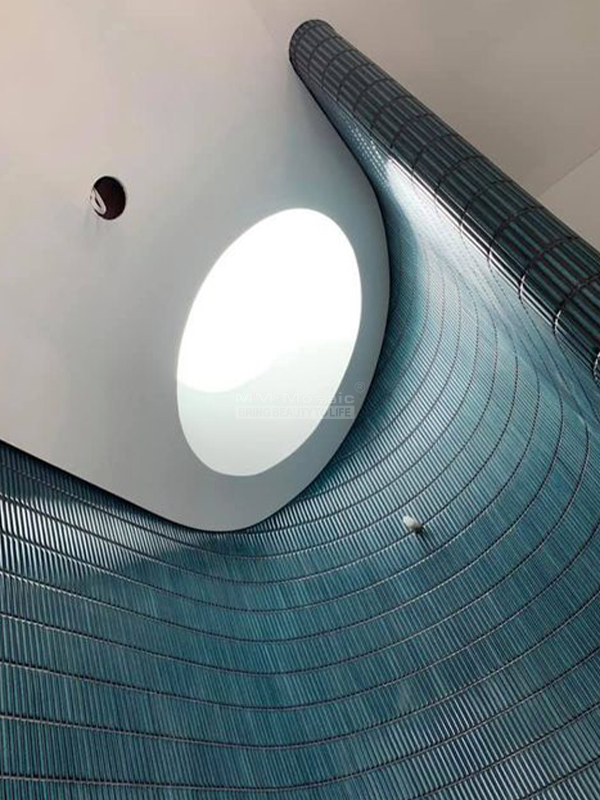 Kitchen Backsplash
Simplicity that lacks no boldness. We all like vertically stacked kit kat tile because of the strong grout lines. This creates a crisp visual feel that catches the eye instantly. Take this appearance to the next level by picking a dark green glaze and grout combination with high contrast, might even working with complementary palettes.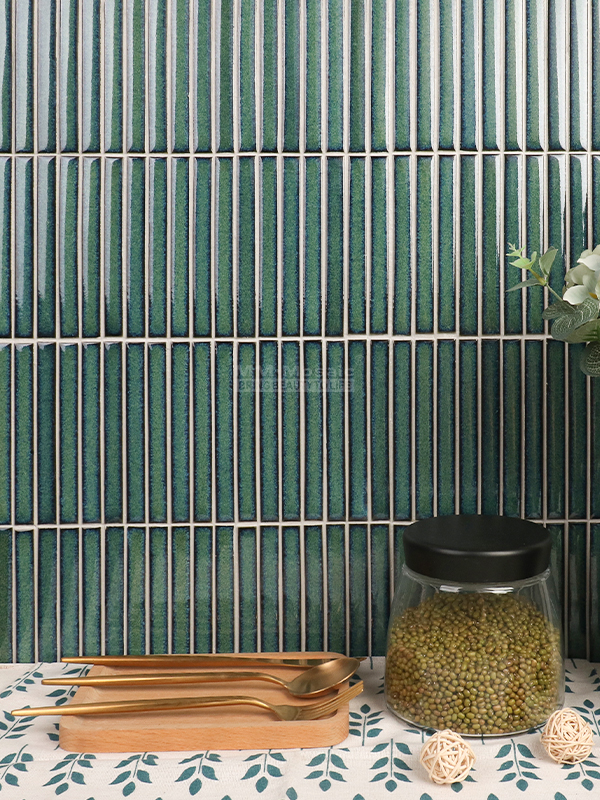 Featured Product: Crystal Glazed Finger ZOB1701
Bar Island
The bar island, an often neglected space with so much design potential. Does this project make you ready to redecorate your bar space immediately or is it just us? We all like this dark green tone kit kat tile wall style. And we always support installing bar space at home...it shows off more of your charming glazed mosaic tile.
To know more about this project, browse our blog "Projects: Green Hues or White Tones?"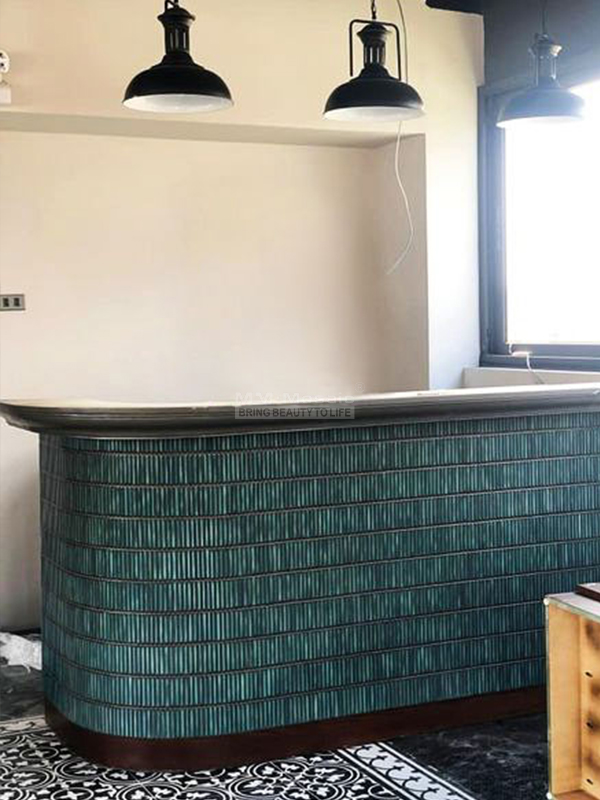 2 Simple Whites
We can't help but dream of all the simple white kit kat tiled spaces. Making your room bright and shiny has never been so easy. Pure white color is the perfect way to bring an airy and light vibe to your interior space. Here are five bright white kit kat tile installs we adore.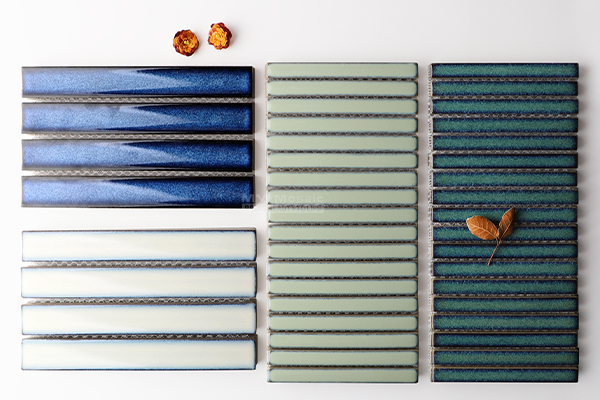 Entryway Wall
This interior palette is sure to bring a comfortable feel inside all year round. The first word that comes to mind when looking at this entryway wall is "minimalist". A tiled entryway wall is the best place to experiment with a simple white because it allows you to play with other furniture in your interiors.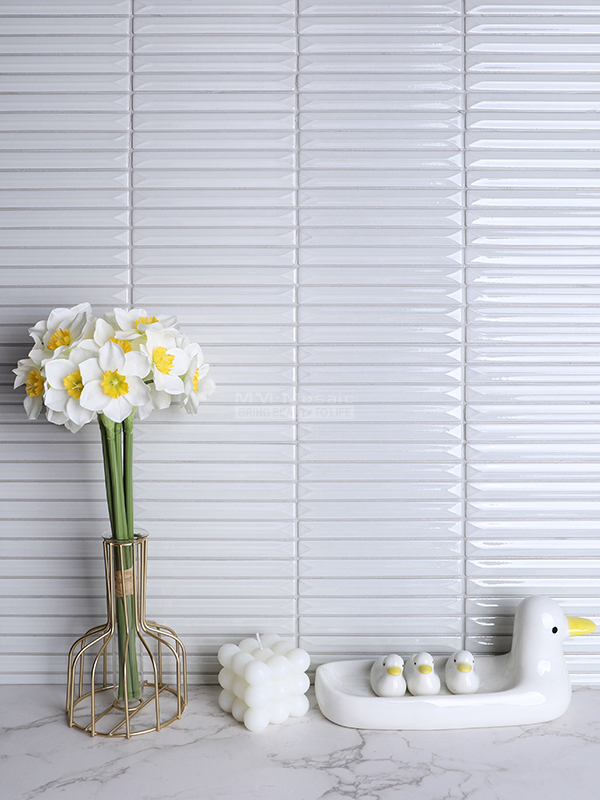 Featured Product: Moulding Surface Strip ZOB1210
Simple White Shower
Not ready for a complete remodeling yet? Now, action! This curve wall is the perfect way to bring a splash of brightness into your shower with a combination of our glossy white glaze color and creative finger shape tile.
For more white tile ideas, check out this blog "Trends: 8 Ways to Awaken White Ceramic Mosaic Tile"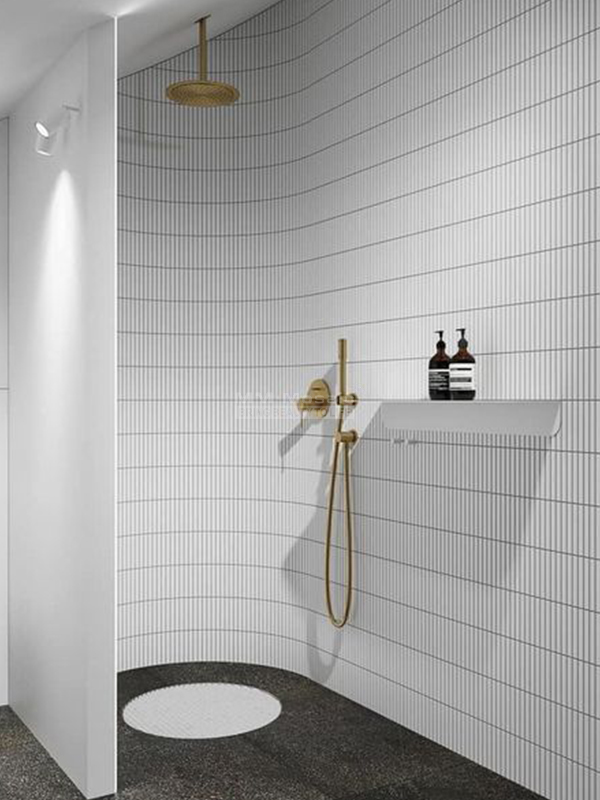 Kitchen Backsplash
One thing we're known for is our undeniable love for the vertical layout of kit kat tile. This kitchen is a wonderful example of taking a funny shape in classic glaze color and transforming your open kitchen into a bright, unique Southeast Asian style dream. Trying a contrast color grout line, black grout line might be a good partner with white glaze color kit kat tile.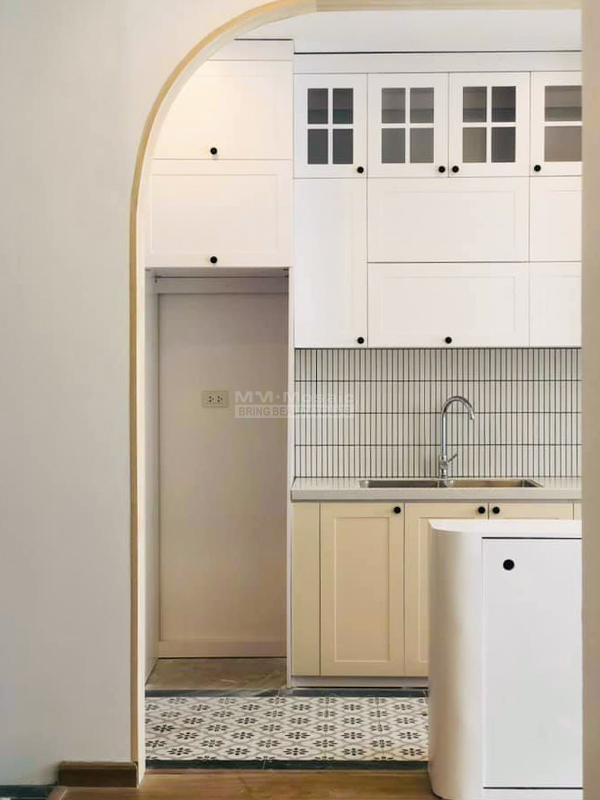 Minimalist Corner Wall
Make an undefiled statement with a glossy white kit kat tile corner wall. While working with white glaze kit kat tile, allows you more space to get creative with the layout design because you don't have to worry about possibly mismatching colors. The stacked layout makes this corner wall a minimalist statement piece.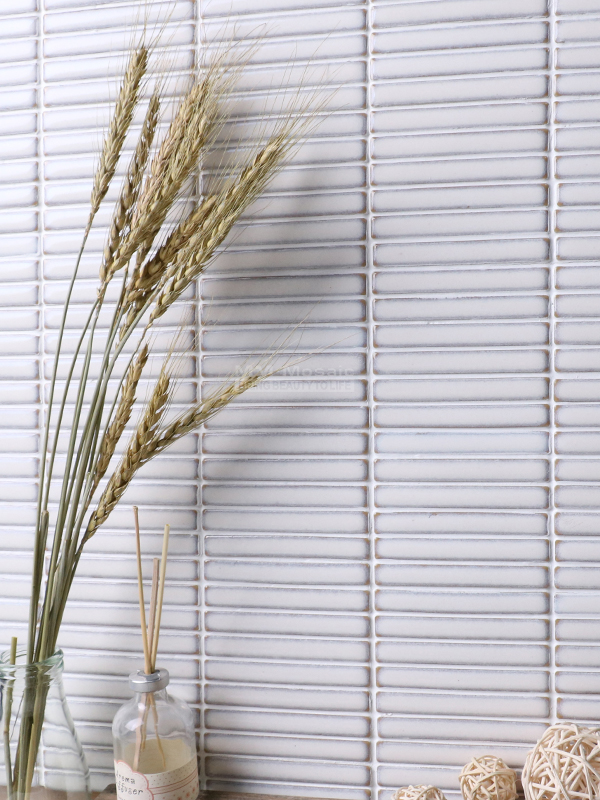 Featured Product: Stack Bond CZO251A
Cafe Shop Island
We're all for the palette but we can't help but fall for a fresh, monochrome tone. There's no better place than the island to experiment with a soft white glaze color. This all-white kit kat tile statement is an absolutely eye-catching thing. When using all one glaze color, try to get creative with the design and overall flower of the glazed tile. Laying out these kit kat tiles in a vertical pattern makes this coffee shop island seem like this island will go on for miles.
3 Dark Tones
Dark tones are a versatile hue that can be made to fit any room, design, and style. Whether you prefer to keep things classy or want mysterious, there is a dark tone design waiting for you. With creative finger shape and combination with glossy and matte surfaces, the possibilities are endless.
Mysterious Shower
Perfect for a small shower, vertically stacked kit kat tile will give the illusion that a space is large than it is. Have you ever heard that vertical layouts are more flattering than horizontal patterns in clothing? Well, the same principle applies to your tile shower! This look still has the strong geometric feel of the horizontal pattern finger tile but brings a more delicate and sleek atmosphere.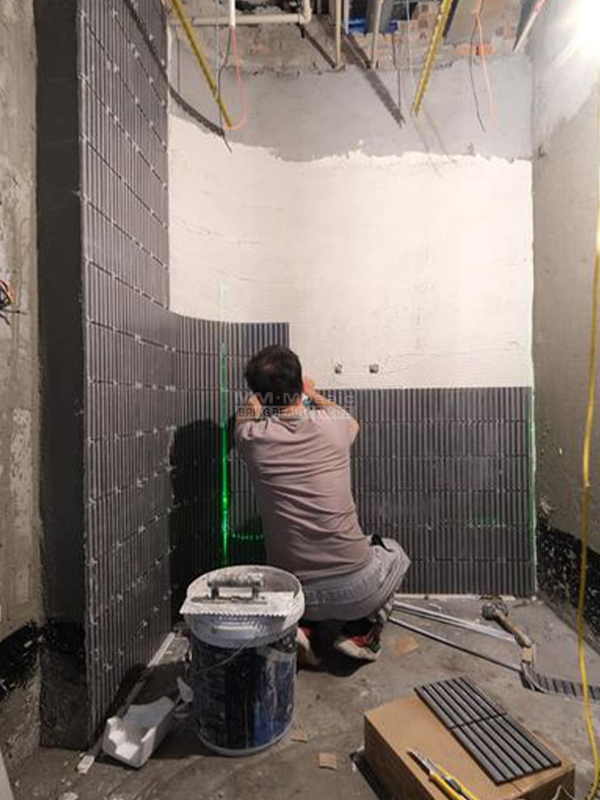 Kitchen Backsplash
All-black kitchen backsplashes give you the power to bring your tile dreams to life. Kevin, the homeowner of this kitchen, did just that by keeping things chic and stylish. The combination of kit kat tile and kiln black glaze creates beautiful movement and an appealing statement. We love the pops of black glaze color and vertical layout throughout this masterpiece.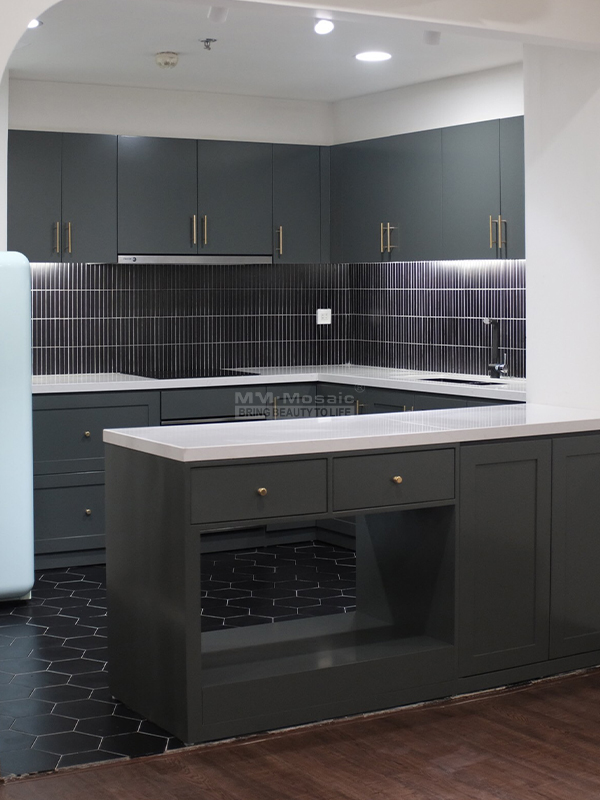 4 Sweet Pinks
If you're really looking to think outside of the box, our kiln baby pink glaze might the perfect color for you. Not usually seen as a typical tone choice for kit kat tile, this light pink tone is a soft and pleasing choice for a wedding dress store. This commercial project is one of our new favorites - it shows that you can bring pinks and warm colors into a wedding dress shop and still give off "happiness" vibes.
For more details of this project, visit our blog "Project: Pink Palette Finger Stackbond Mosaic Makes Dreamy Wedding Dress Shop"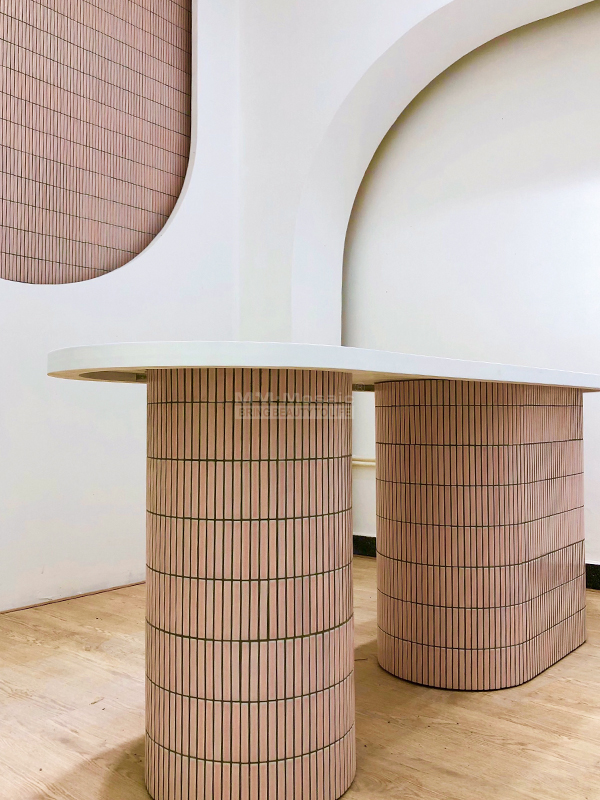 5 Bold Reds
This simple finger shape with a cold red glaze does wonders as a living room accent wall. This passionate accent wall is everything we've dreamed of in a living room. This dark red accent wall - it's clean, dynamic, modern, and just plain beautiful. The horizontal grout lines give dimension to the wall, while the white tabletop breaks up the space, balancing the boldness of the glaze color and design.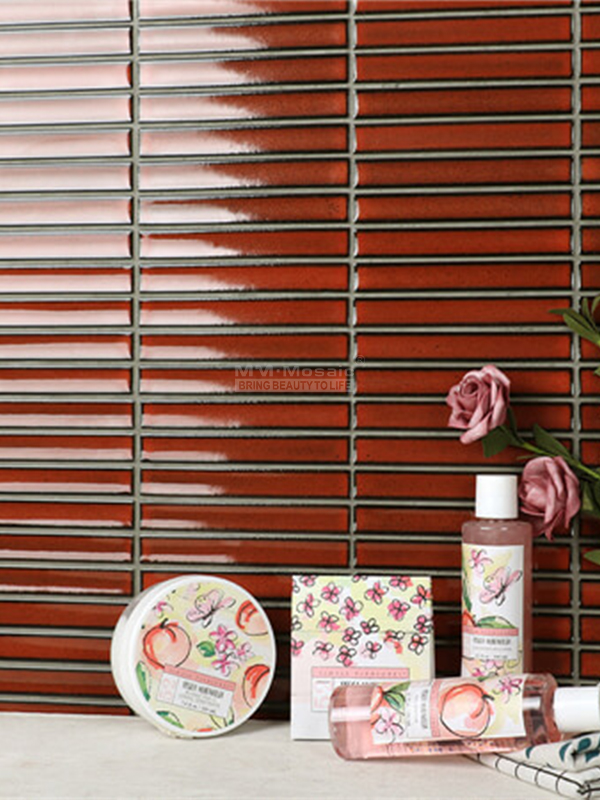 Featured Product: Strip CZO401Z
6 Cozy Blues
Selecting a pastel tone with high variation might be another way to safely bring glaze color into your home. This pale sky blue glaze has a rustic quality that keeps it from being over-the-top. For this appealing look, we used a light blue kit kat tile stacking vertically, making a statement wall.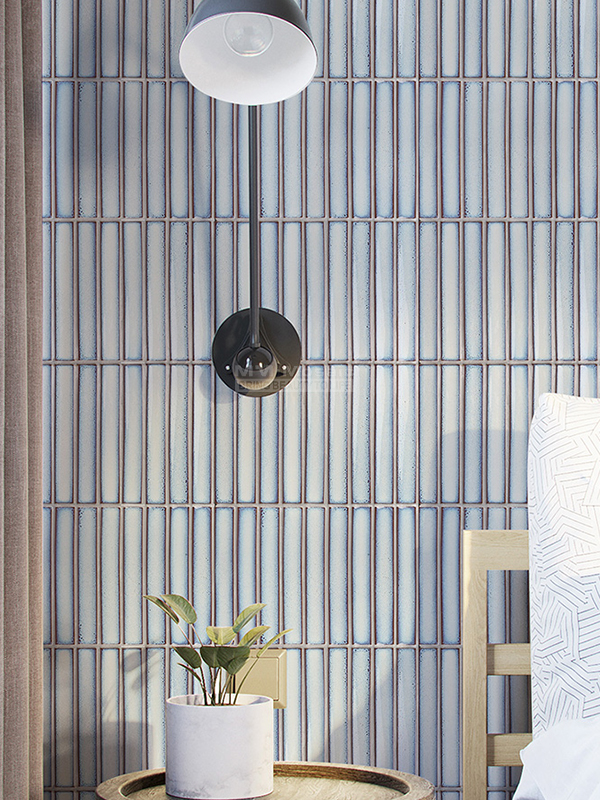 Featured Product: Strip CZO902DX
Get Inspired?
We believe that kit kat tiles are forever, and this tile shape is just as timeless. Sometimes a little orientation switch is all you need to thoroughly change a style. For the above projects, we simply horizontally or vertically stacked kit kat tile, and they become masterpieces! Ordering Kit Kat Tile samples to see and touch right now, you might fall in love with them. MM-Mosaic is excited to hear your ideas for the future project!