Living room, bedroom, bathroom and kitchen are the four top places that should deserve your deep concern in residential design. Many homeowners think it as a matter of course that only house in a spacious size is worth using a masterly design. However, that is just partly true, for smaller room might as well be decorated to look warm and sweet. As trend of interior decoration changes, emerging ideas are applied to create innovative spaces that are considered new to most people. Though it is hard to swallow at the very beginning, the following four examples will prove you they are not that bad. New things need time to digest.
One of the latest trends in decorative art is mosaic tiles. It is a beautifully assembled sheet of mosaic chips that are made of ceramic, porcelain, glass and natural stone to present a tasteful background of colors and patterns. They are available in an almost never-ending collection of shapes and designs. Size and color play a very significant role in selecting an ideal mosaic tile for your house and that should well blend into the space where you are going to lay them.
Living Room
Living room is the region where your family spend most time in and the place you would love to invite friends for afternoon tea and chat. Every decorative detail embodies your habit and taste. That will exert great impact on the first impression of whom new to your home. Therefore, it needs to be presentable and most charmingly decorated. The ideal premium mosaics tile for living room include luxurious materials with glaze and well-polished surface like marble, porcelain, ceramic, etc. The ideal color should be in bright shade such as yellow, blue, red, which can give you a positive attitude against exhaustion of daylong hardworking. You can also pick some colors for experiment to add certain uniqueness to the overall ambiance of the living room. But if you want simple design and fresh touch, then resist on pure light colors such as white, beige, grey, etc. Full body tile is often used as flooring in shower because of its non slip feature. Yet, you also can think outside the box here. Why not try it on wall? The wonderful texture will show you new surprise, as the attached living room penny tile wall presents.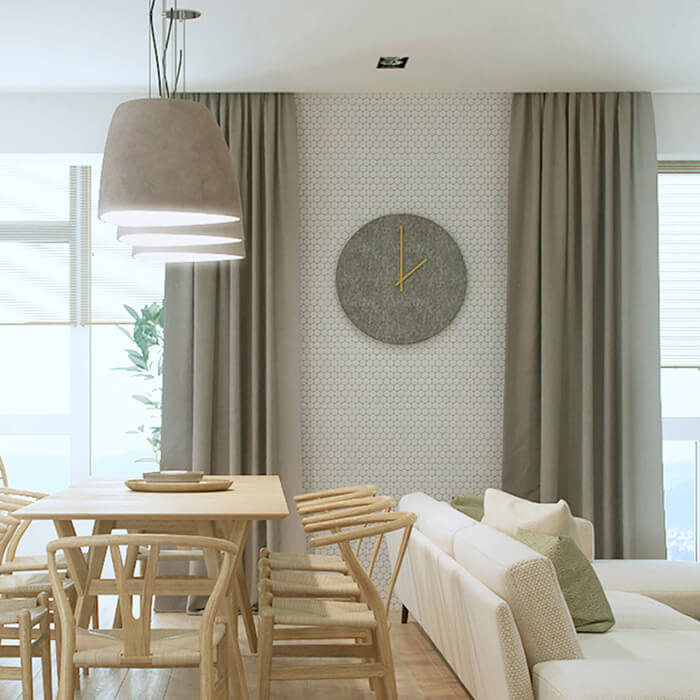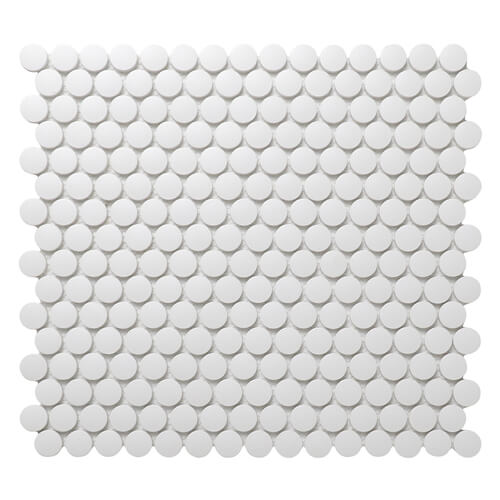 full body white penny round tile CZO235B
Bedroom
The color of the mosaic tiles applied in bedroom should ideally be pure and have an eye-pleasing look. Bedroom is the most private place where one enjoys his/her personal time and relaxes with no interruptions. So the soft colors like white and creamy are highly recommended. Apart from their soothing effect of spirit, these colors can make the room look more spacious. Speaking of visual interest, larger tiles are better then the smaller. Tiles in large dimension, whether it is square or rectangular, are enlarging the space effortlessly, so they are excellent for small rooms. Besides, large mosaic tiles have the visual impact and even can add more exquisite details. Attached bedroom headboard backsplash design is adopting 30×220mm decorative mosaic tile strips. It is a wise way that owner puts the strip tiles on, vertically, the store looks higher than it truly does.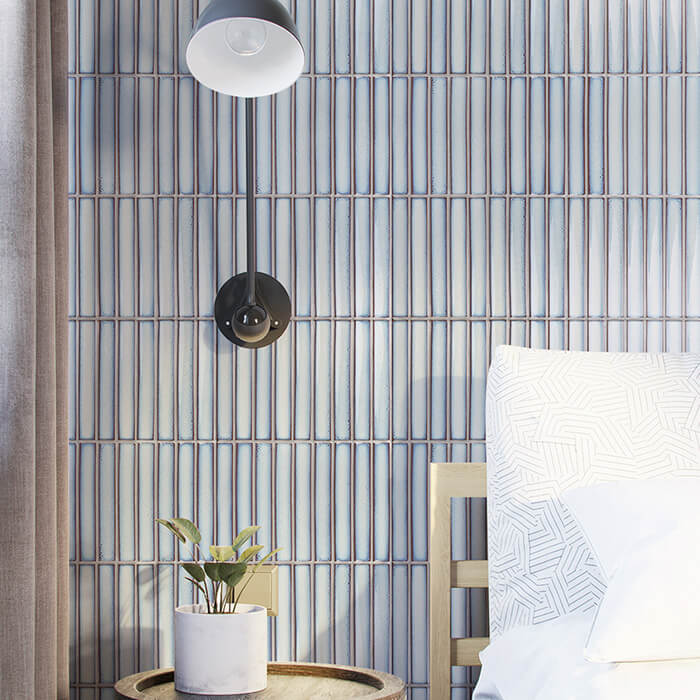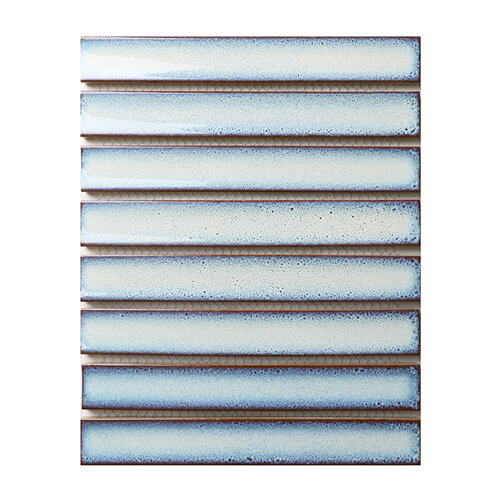 blue grey mosaic tiles strip shaped CZO902DX
Bathroom
If your bathroom is grouted with grey color giving a depressing feeling then you can embellish the wall by installing colored glass mosaic tiles, which are durable and easy-cleaning in the moist environment. Besides, porcelain is a great material for bathroom tile. Choosing grey pink, the most trendy color this year in interior design, and combining it with herringbone pattern, that turns out fabulous as a wall backsplash. It is ingenious for half tiling, that is, only covering thorough the higher half the wall in bathroom. As attached picture shows, it is an interesting and soothing space. And there is no competition to pebble-shape mosaic tile that can be used both for wall and floor. Taking a bath standing on concavo-convex surface will give you a precise feeling of taking a bath in natural falls. Apart from its artistic value, anti-slip pebble flooring also massage your feet and relieve your stress.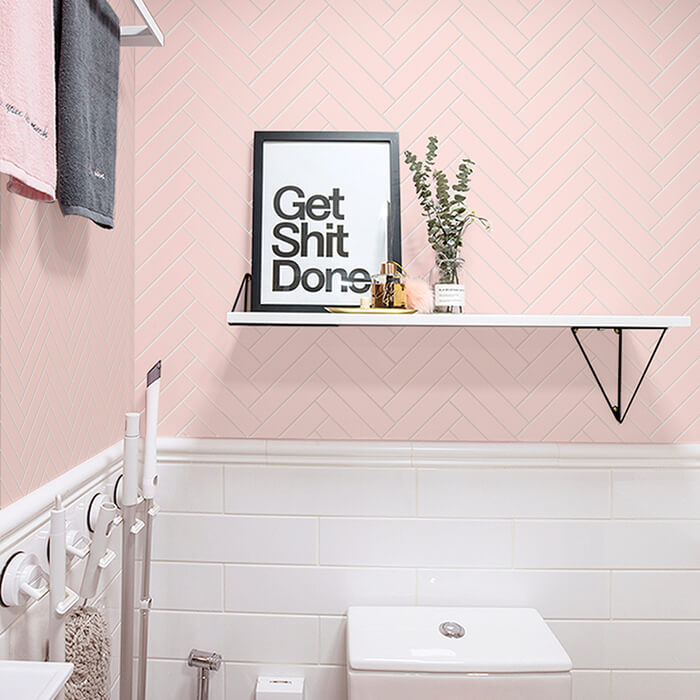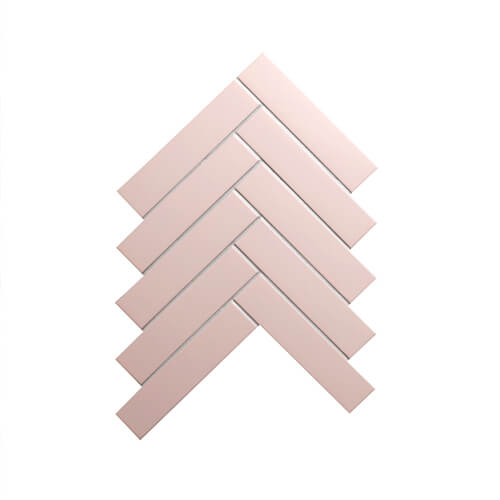 herringbone matte pink mosaic tiles CZM904B
Kitchen
If your kitchen is narrow and congested, you can use white wall tiles to add a backsplash over the top of your dim, dark-brown kitchen cabinets. For brightening your old and oily kitchen wall you can use small glass mosaic tiles of various shades of bright colors such as green, sky blue or bright yellow. One thing to look out for is to avoid using garish and dazzling colors. To go with the wall, bright colored floor tiling is strongly suggested. And if you are looking nature for inspiration, then green color is a nice option. This green strip mosaic tile takes peacock green and because of the special surface treatment, it looks a little vintage. Installing such a mosaic backsplash can effortlessly transform your kitchen into a tasteful cooking place, which is both functional and decorative.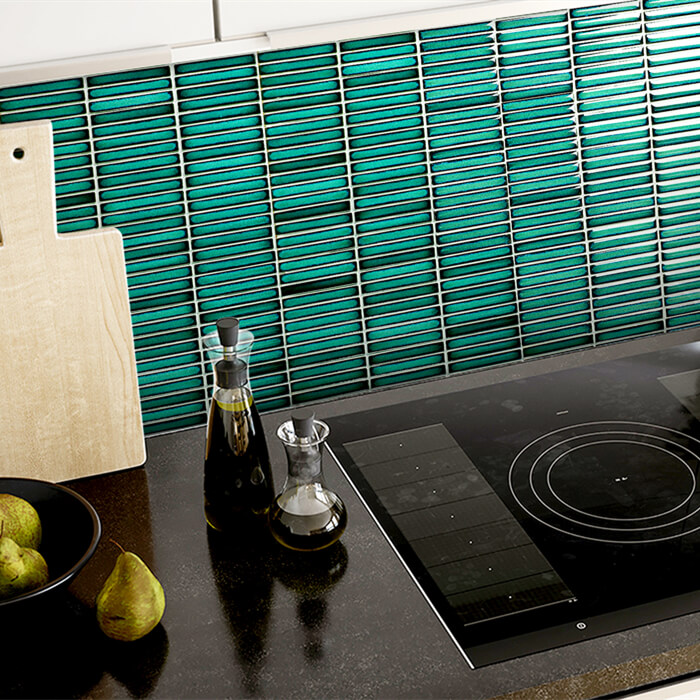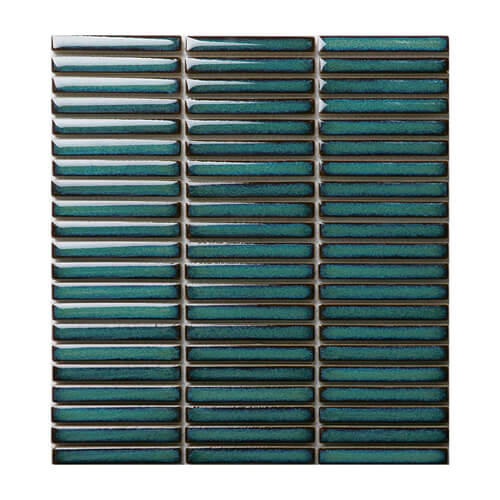 fambe emerald green mosaic tile CZO949A
There are emerging mosaic tile ideas for your living places, including living room, bedroom, bathroom and kitchen. You should never say no to what you have thought impossible. Nothing is impossible. There are many more tile designs waiting for you to dig out and use in your home. Visit MM-Mosaic TODAY, you will have unexpected discoveries.