Patterned mosaic tile is always a popular choice in interior decoration, arabesque included. Arabesque tile has a long history and widely used to covering walls before. And nowadays, this pattern tile is common to find as backsplash tile in a kitchen, a featured wall tile for hallway or bathroom. Due to the variety of colors, size and finish for option, this mosaic tile works wonderfully to fit different home style from the traditional to modern, adding elegance, beautiful look to any spaces.
Today we are showing you one of our new collection to our Arabesque series, an unique lantern shaped features 3 fresh colors (Super white, green & blue), glossy finish, 75x105mm long lantern chip size, 275x260mm sheet size. We arrange the gap at 4mm, which can enlarge the space visually. The thickness is 6.6mm, high quality and good touch. All is mesh mounted on back, easy for installation and cutting.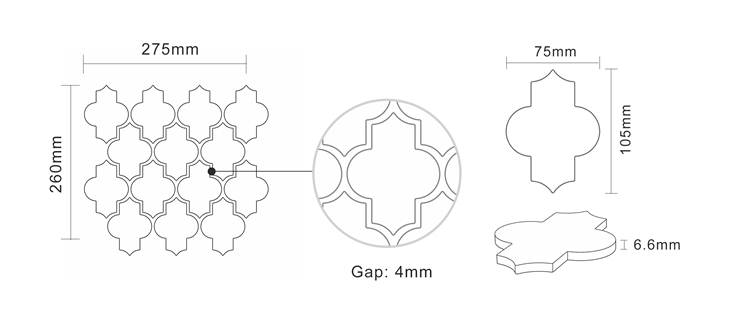 Super White Ceramic Arabesque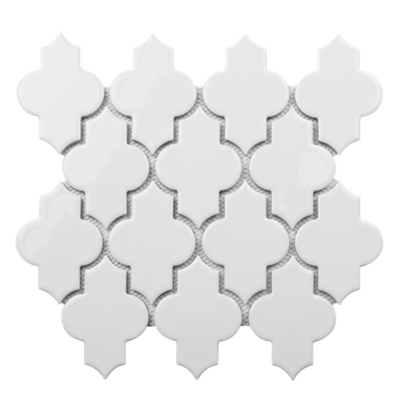 Featured product: Moorish Style Ceramic Arabesque Tile CZG201Z
Classic white arabesque with glossy finish can be used to add simplicity and brightness to any spaces. This tile is unique in shape, the long lantern can add more characters to a wall design. Take a closer look at the surface, it is solid and high-gloss to be reflective to light. It is created at a smooth edge, wear-resistant, waterproof and handy cleaning.

Take It As Backsplash Tiles
Undoubtedly arabesque tile is one of the best pattern for a backsplash design in traditional or contemporary kitchen. To lay the tile seamless, you can choose a white grout color for installation. This glossy white mosaic tile can make your home filled with pureness and cleanness, bringing a more comfortable life to you.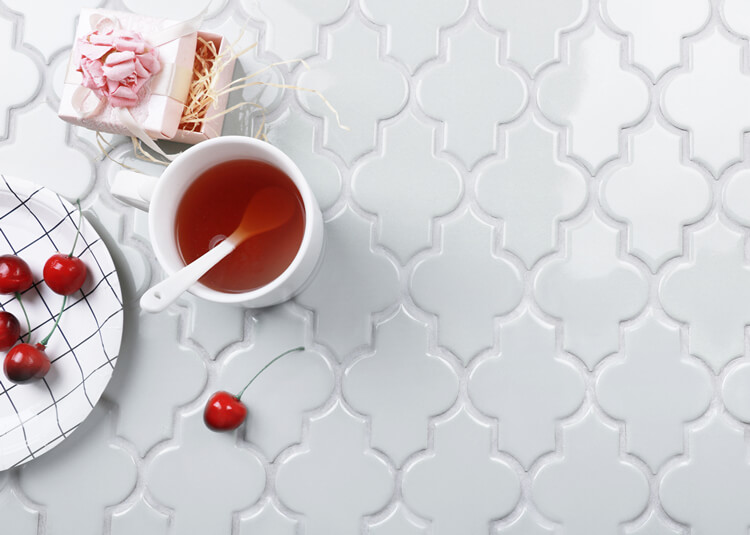 We also recommend you to use a contrast grout color if you want the lantern shape to be a focus. Look at the backsplash below, the gray grout highlights the shape properly, it is not too overpowering. This kitchen backsplash builds a warm and elegant style, timeless beauty and practicality. Also, if you are bold enough, you can choose some bright colors such red, gree, blue and orange, which can make an entirely different appearance.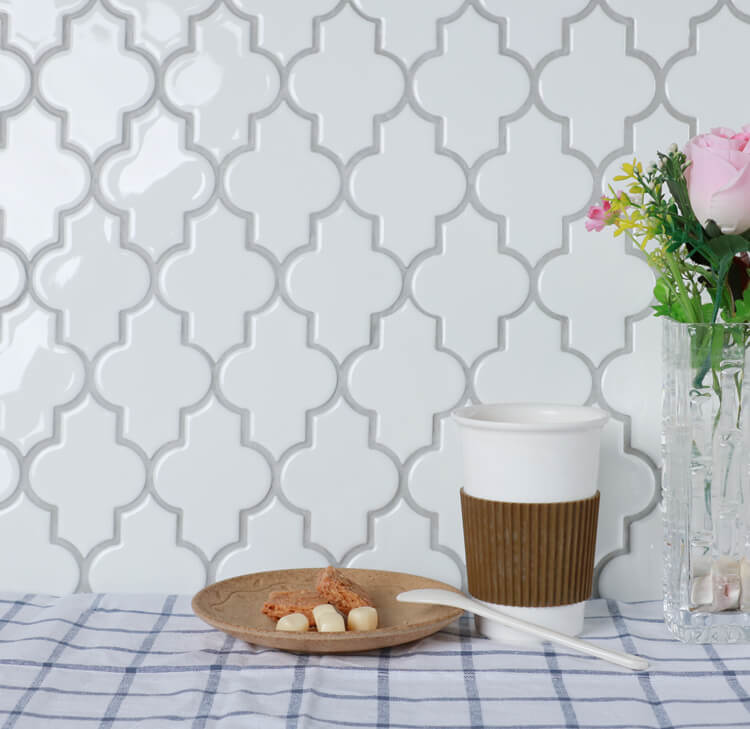 Make A Featured Wall
Arabesque tile also works beautifully when used on wall design. This arabesque mosaic tiles give your bedroom place charm and chic with pure white tone and glazed surface. Look at the space below.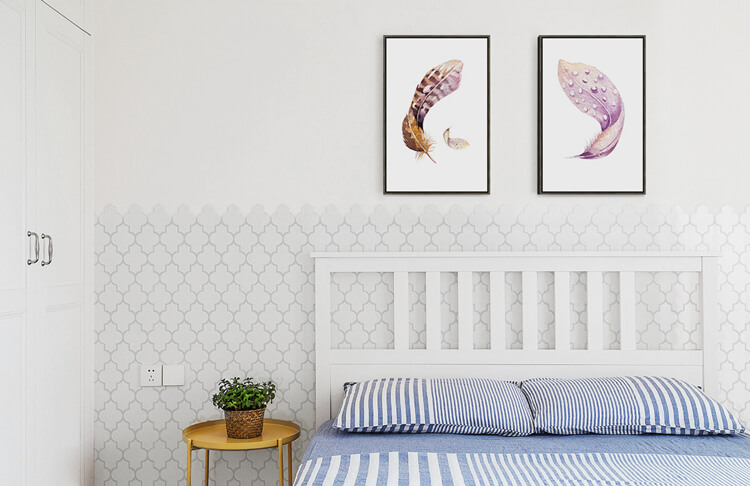 It is also a good choice for any commercial space uses. Decorated with some handicrafts, this mosaic tiles has install a featured wall, making your store more inviting and individual.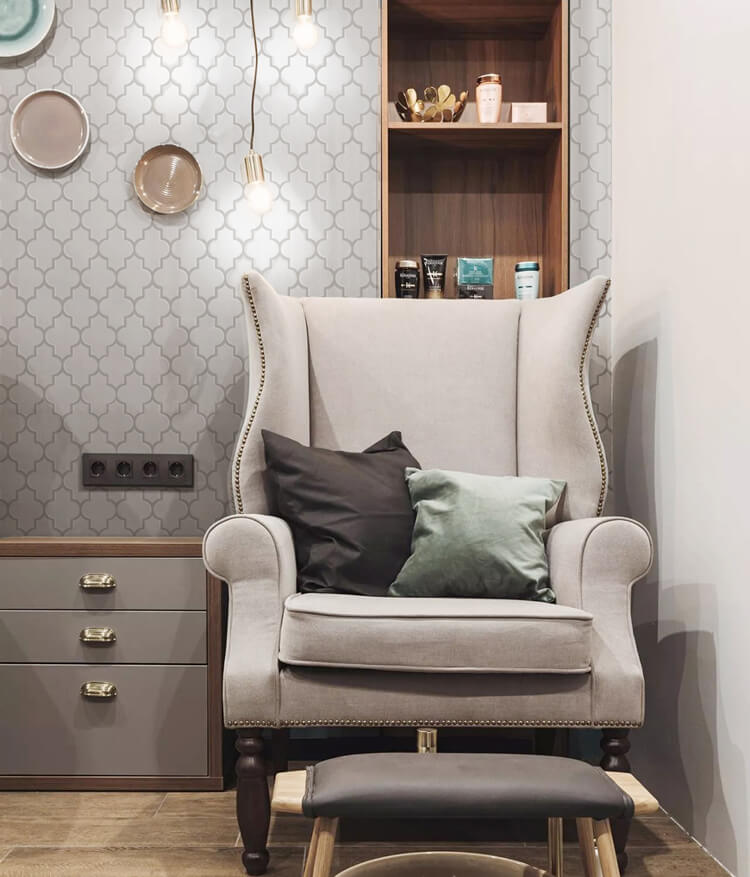 If you desire an arabesque with fresh hue, we also collect blue and green color for you.
Light Blue Ceramic Arabesque Tile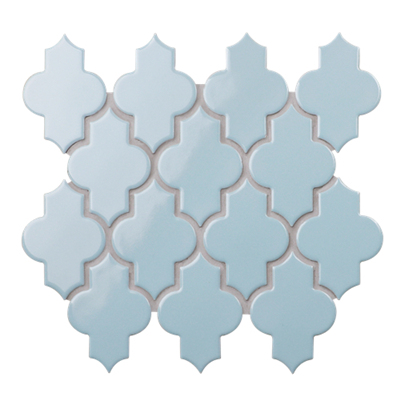 Green Ceramic Mosaic Arabesque Tile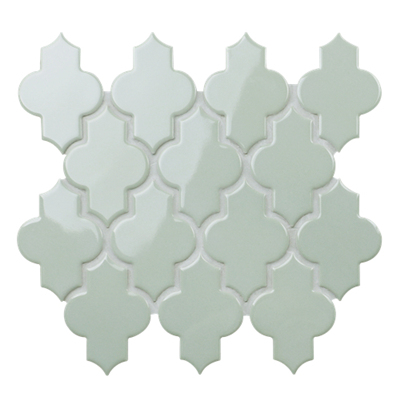 If you love this lantern mosaic tiles, welcome to contact us for best wholesale price and samples. MM-Mosaic is specialized in wholesale mosaic tiles for over 10 years, we can supply high quality ceramic mosaic tile, glass mosaic tile, mosaic art, pool tiles, stone veneer products, customized service is available here.