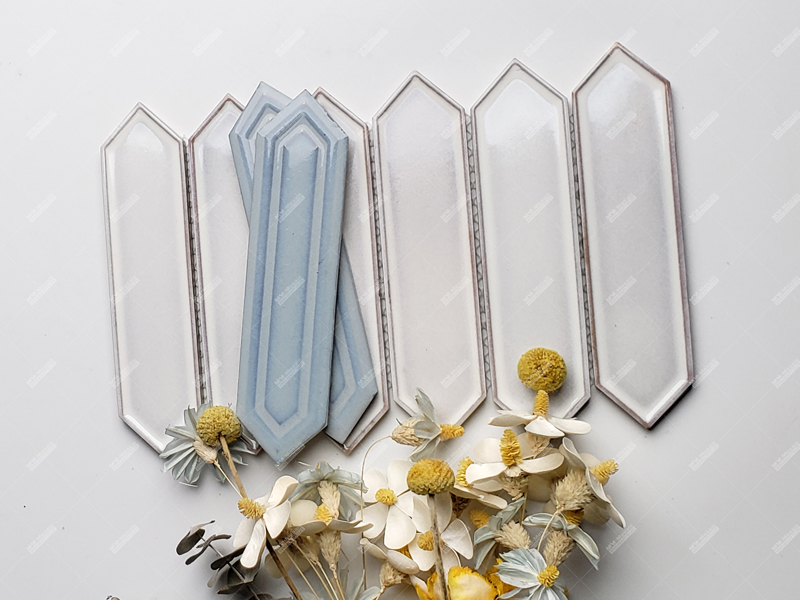 Featured Product: Long Picket Shape ZOB2614, Light Blue

The beauty of kiln glaze colors no limits when it comes to wall tile. Whether it's a normal tile shape or an irregular shape, we want you to choose the perfect color that matches your characteristic style. Try combining interesting picket shapes, chic kiln glaze palettes, and different surfaces, going totally monochromatic or playing with accent walls. Now in order to get the gears turning, we prepare 10 beautiful kiln glazes picket tile for your choice, and available customized personal color, let's keep on reading this blog:
It's time to brighten up your interior space with kiln glazed tile! Yes, you read that right, we choose two simple and plain colors - white and light blue from the Picket Shape Series. In common gathering areas like the living room or kitchen, you can't go wrong with white color. Both classic and versatile, it provides the ideal wall for any room, allowing you to continuously update the space with new decor over time. And for the private areas like bathroom vanity or shower, light blue picket tile will make your eyes release and get out of the all-day work.
For more new thing, visit our blog: 3D Plumage Tile Enhances Your Walls >>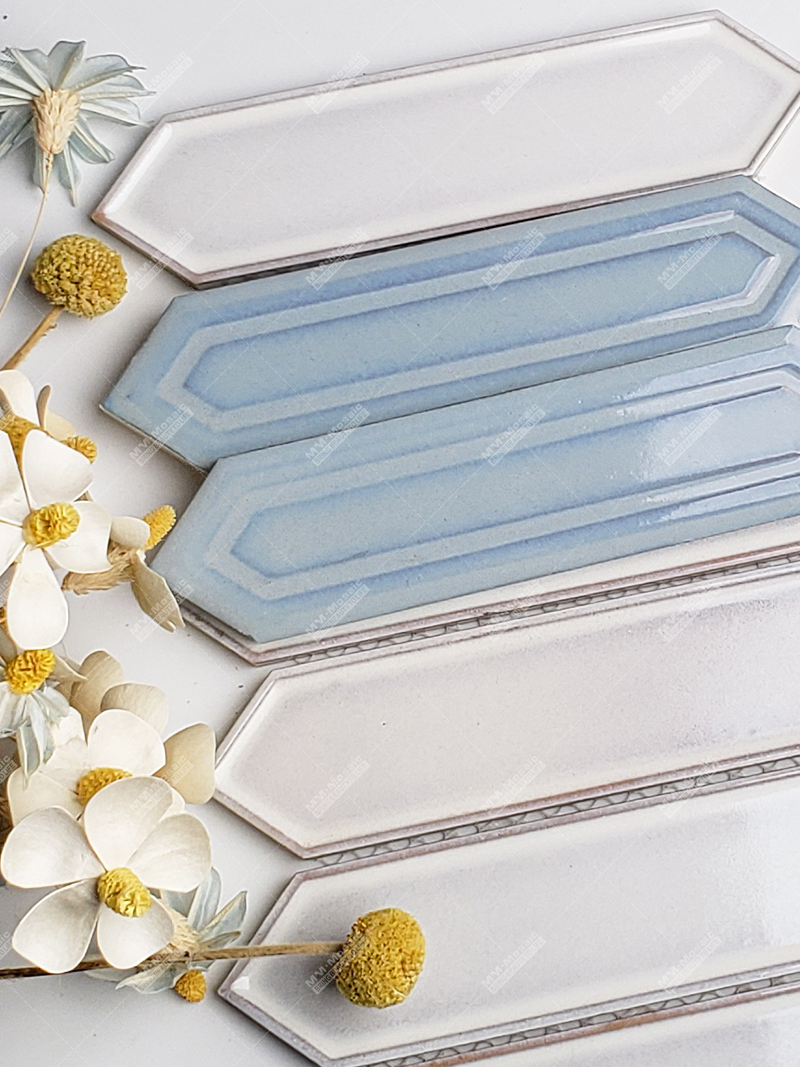 We talked a bit about the white and light blue glaze of picket shape tile, but how great is the wall covered in dark green color tile? Perfect for the forest and mountain look. Again, we think the contrast color only lets that dark green tile shine brighter. For example, tiling this tile as your kitchen backsplash, and will be a focus while combining with the wood color cabinetry.
Learn about more ways to finish your tile with our blog: White Stacked Subway Tile For Kitchen Backsplash >>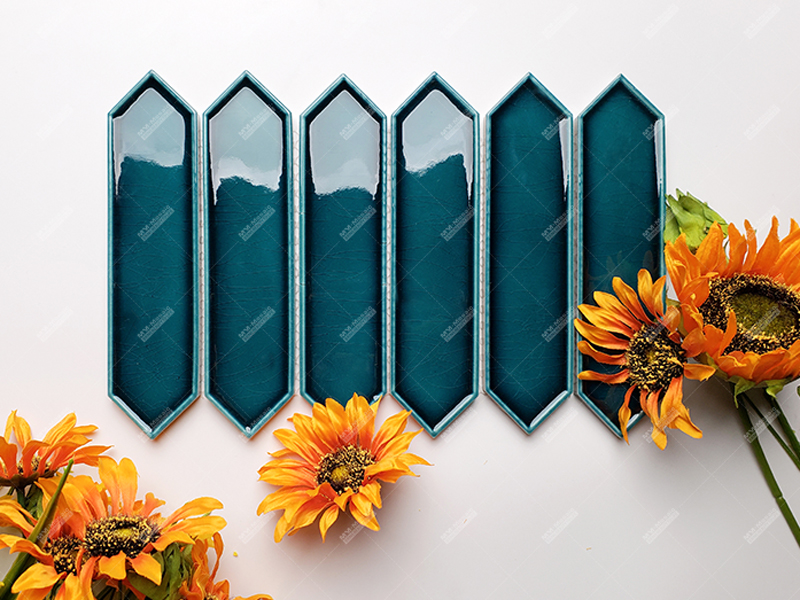 Featured Product: Long Picket Tile ZOB2705, Dark Green
What's more, one of our favorite details is the special liners along the tile side. They provide a clean and sophisticated transition to the accents. They also play well with the shower niches, kitchen backsplashes, and entryway accents. As mentioned before, we only used one glaze color and one shape. So we consider adding something different on the tile surface, which is one of the most affordable and quickest choices with our tile! Like this dark green picket tile, if you look closely at the finish, you might find that we add the exquisite and attractive ice-crackle pattern to the tile surface, which not only makes the tile chicer but also make the tile not monotonous. We love to talk glazed tile!
Ready to fall in love with a dark green tone? Browse this project blog for more ideas: Dark Green Kit Kat Tile Makes Fun in The Bathroom >>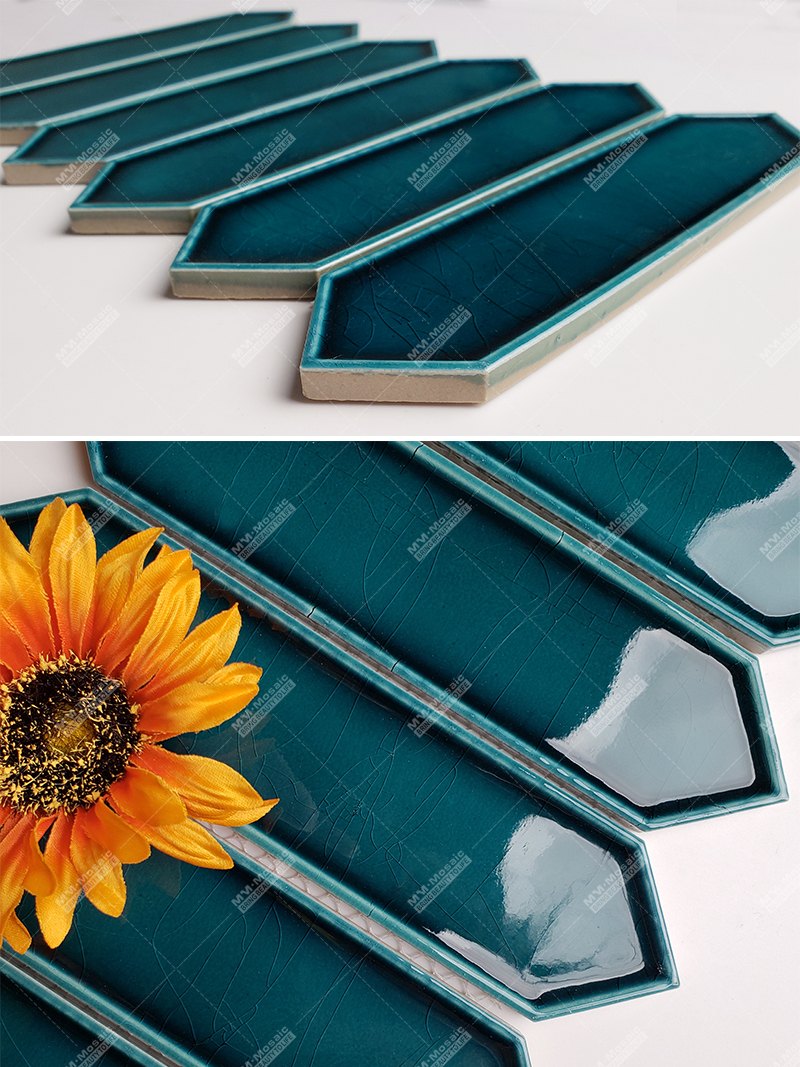 Filled with character, variation, and personality that you just won't see in other cobalt blue tile, we would like to formally introduce our 2x8 Long Picket Shape Tile in Cobalt Blue!
For more ways to use this cobalt blue glaze color, visit our blog: 11+ Mosaic Tiles To Bring Pantone's Classic Blue Into Your Space >>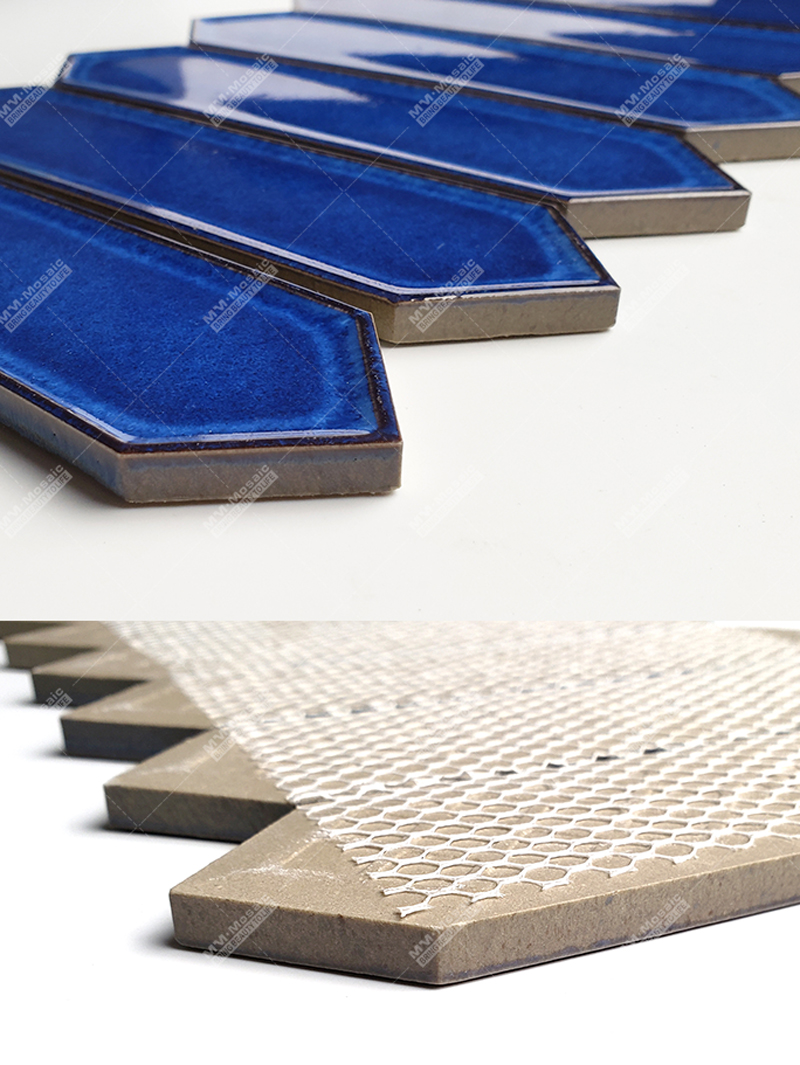 Featured Product: Long Picket Tile ZOB2606, Cobalt Blue

In order to let a kitchen backsplash pop like this one does, make sure that the rest of the space is mostly similar with plenty of simple blue colors. The adjacent wall uses light blue paint with several white open shelves. We think the similar blue tone and neutral white only amplifies the beautiful detail of our cobalt blue picket tile. The white cabinetry lends itself to the clean and modern look of the rest of the kitchen.
For more tiled kitchen backsplash ideas, visit our blog: 10 Projects That Show Monochromatic White Stand Out >>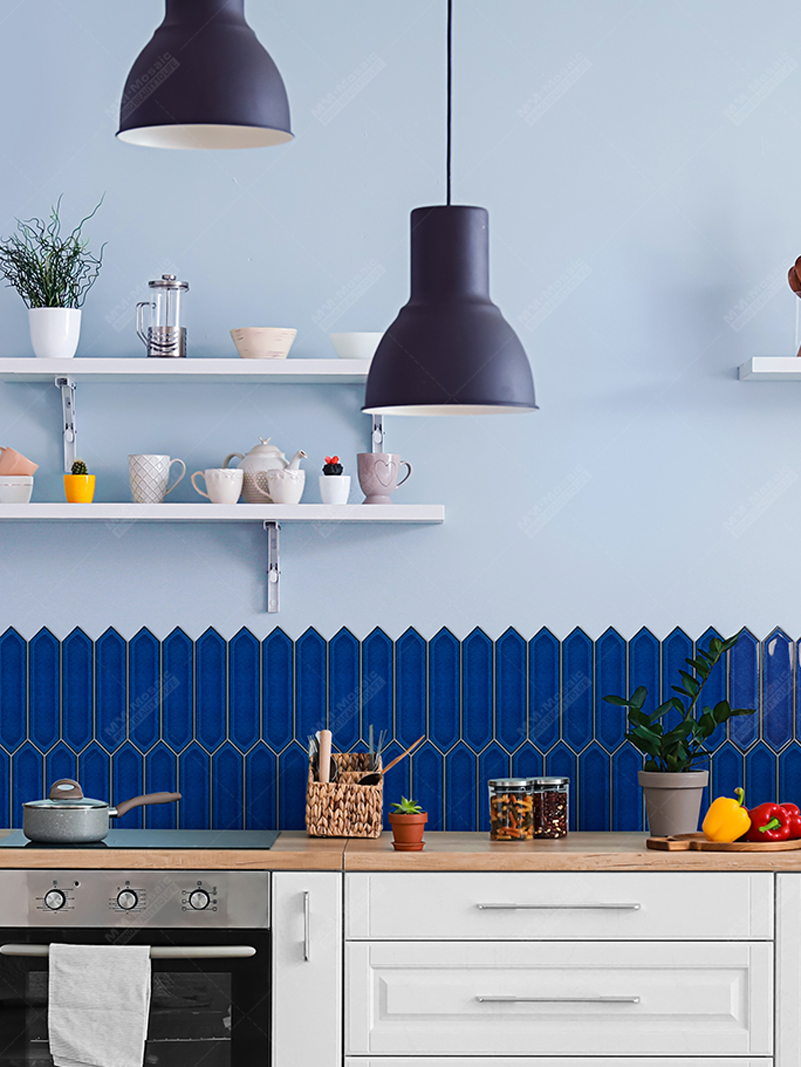 One of our favorite parts of this kitchen? The cobalt blue kitchen tiles. The crackle pattern works well with the special picket shape and the glamour cobalt blue glaze. If you are going to make a beautiful kitchen backsplash, we think you better show it off! No more hiding behind closed cabinetry, okay?
Learn more about accents design ideas with our blog: 7+ Festival Interior Projects For The Coming Holiday >>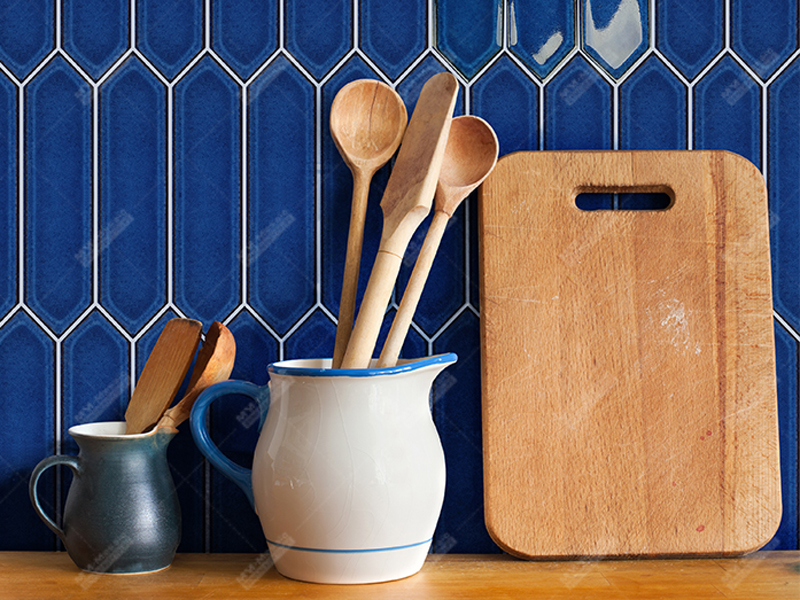 Nothing makes us happier than a space decorated to complement the final tile installation. For this bathroom vanity area, the wall tile is complete perfection! Picket shape tiles matched a dreamy light blue wall paint color? We all feel amazing. We are also loving the complementary color of white hue as the bathroom floor tone. From the towel to the vintage mirror, to the dreamlike light blue paint color, to the stunning bathroom vanity wall, to the simple white floor - there is a wonderful amount of contrast while maintaining an air of stylishness. So much to love with this blue-style bathroom vanity area and such a great mixture of ocean and blue sky.
For more on styling bathroom with our tile, visit our blog: A Shower Room with Sweet Breeze Pink Tiles >>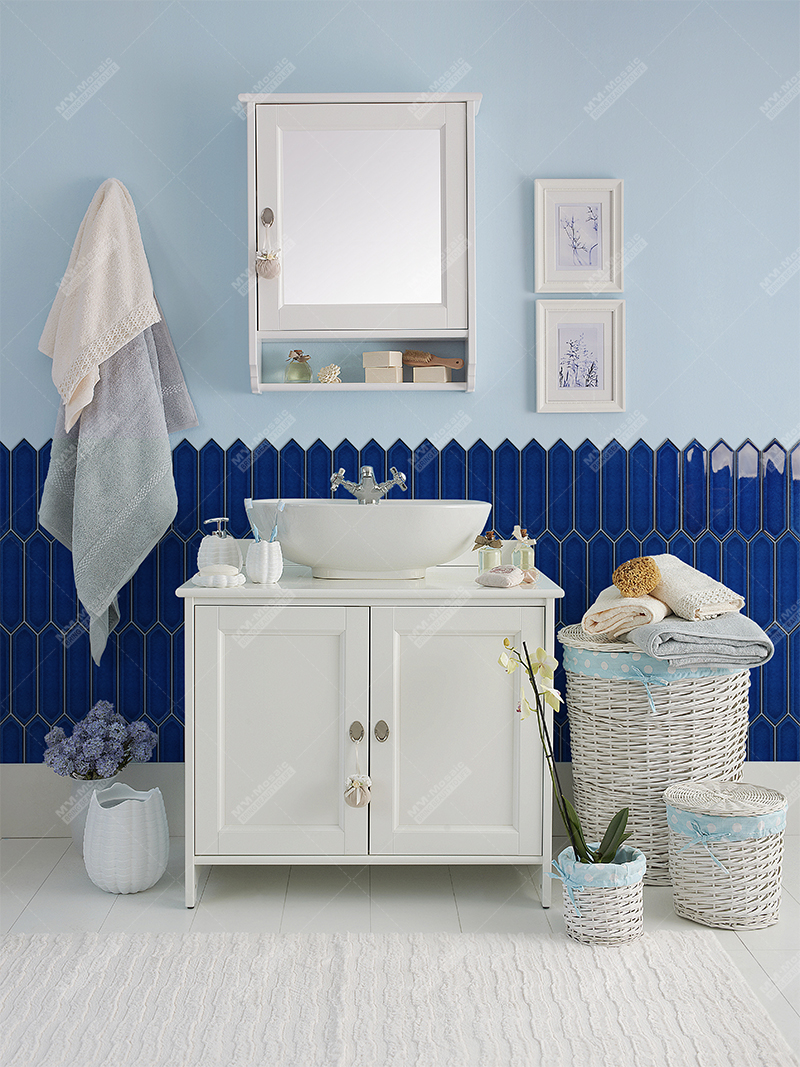 Get Inspired?
Fall in love with the Picket Tile Series? Love our tiles? Why not order tile samples right now? Let's see, touch and feel this appealing pink tile and tell us your future project ideas. Not only that, but you can also share your ideas about tile shape, color, size, and anything else you want to share. MM-MOSAIC will get back to you immediately and support you with your home or commercial remodeling plans.
Shop New Things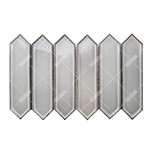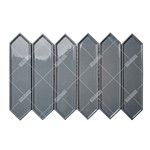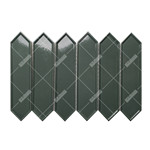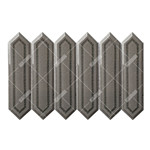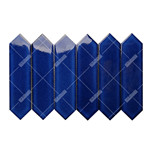 ZOB2205/ ZOB2303/ ZOB2304/ ZOB2305/ ZOB2605

ZOB2606/ ZOB2610/ ZOB2614/ ZOB2704/ ZOB2705