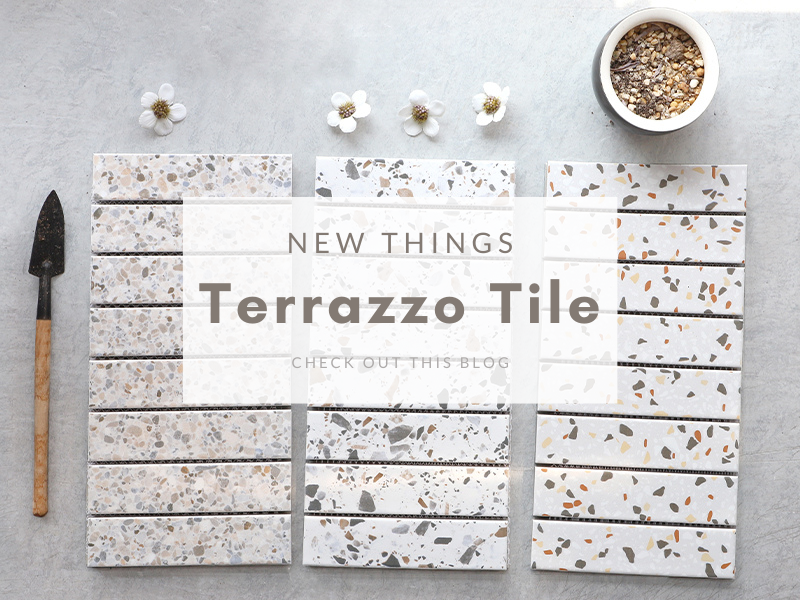 Finger Tile is one of our most popular tile styles, and for good reason! It's sophisticated, simple, yet interesting enough to catch the eye every time. This versatile style provides something for everyone and looks great in a variety of areas in your space. For this blog, we are preparing to show 3 styles of new arrival Terrazzo pattern finger tiles for you. Get ready to fall in love with this new thing.
What's the Terrazzo?
The conventional terrazzo tiles are made of small chips or pieces of natural marble and colored glass, or quartz. These chips are then embedded in concrete to form a uniquely patterned tile that can be used in many applications, from walls decor to floors. The natural marble chips and the concrete body of the tile are porous materials and as such, will require sealing to make their longevity and their ability to hold up against liquid spills and staining throughout their lifespan.
Featured Product: Terrazzo Finish Finger ZOF8901
Terrazzo Pattern Porcelain Tile Series
New arrival Terrazzo Porcelain Finger Tile Collection perfectly simulates the look of a natural terrazzo while offering all the benefits that porcelain tiles are known for. The series includes a matching commercial option to help you effortlessly create an appealing connection between commercial and residential spaces.
Although the natural Terrazzo Tile offers an impressive surface, the additional maintenance and tile thickness may not always be ideal for preferable in every situation. Thanks to contemporary porcelain mosaic tile manufacturing techniques, Ink-Jet Technology. We now have the freedom to choose from a variety of different choices, including tile series that is specifically designed to simulate the appearance and feel of an original terrazzo product while taking advantage of all the incredible advantages that porcelain materials provide.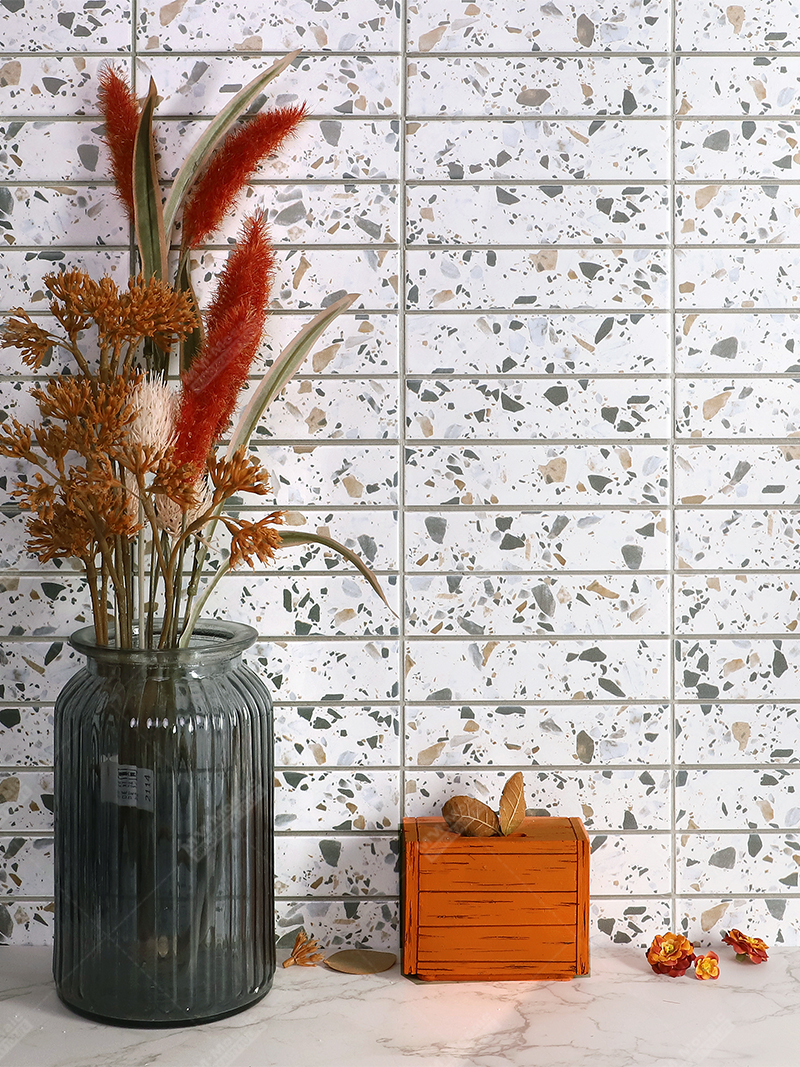 Why Choose Terrazzo Porcelain Mosaic Tile?
As we know, porcelain mosaics provide various benefits. They're non-porous as well as will not require sealing, they have an immense capability to hold up against staining, and scratching or marking when also offering a waterproof finish that is suitable for both walls and floors. Generally speaking, you will find that porcelain tiles show the ideal low maintenance surface for any project, including for commercial spaces. These features make porcelain mosaics particularly attractive for use, paving the way for exciting tile designs that simulate the look and pattern of natural materials that often require more care and maintenance, like marble, timer, and of course, terrazzo.
Finger Tile Meets Terrazzo Pattern
Terrazzo look mosaic tiles are most often made using porcelain material, taking advantage of the renowned benefits of this material and eliminating the need for any additional care that a natural product would normally require. Our terrazzo porcelain mosaics will not require sealing and will stand up against staining, scratching, and marking, making them an incredibly low maintenance option for the next interior space remodels. There are various choices available in the terrazzo look mosaic tile series that will suit every application, from chic kitchen backsplash tiles to highly versatile and waterproof bathroom vanity wall tiles in a range of styles that will suit your personal taste.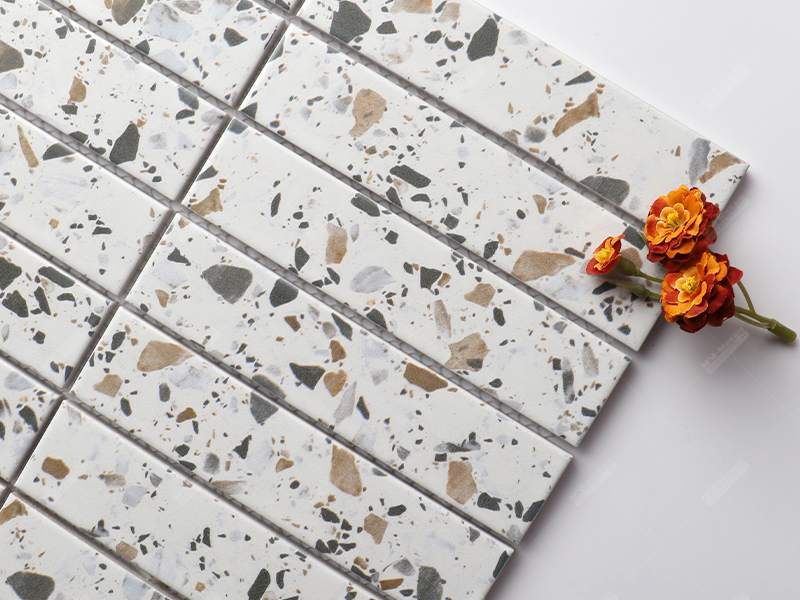 Unique Touch Feeling, Chic Retro Texture
Available in 3 vividly patterned color choices, our Terrazzo Pattern Finger Tile Series accurately represents the natural appearance of a conventional terrazzo material, allowing for the creation of many different design styles in your interior space, from present and contemporary to timeless and traditional schemes.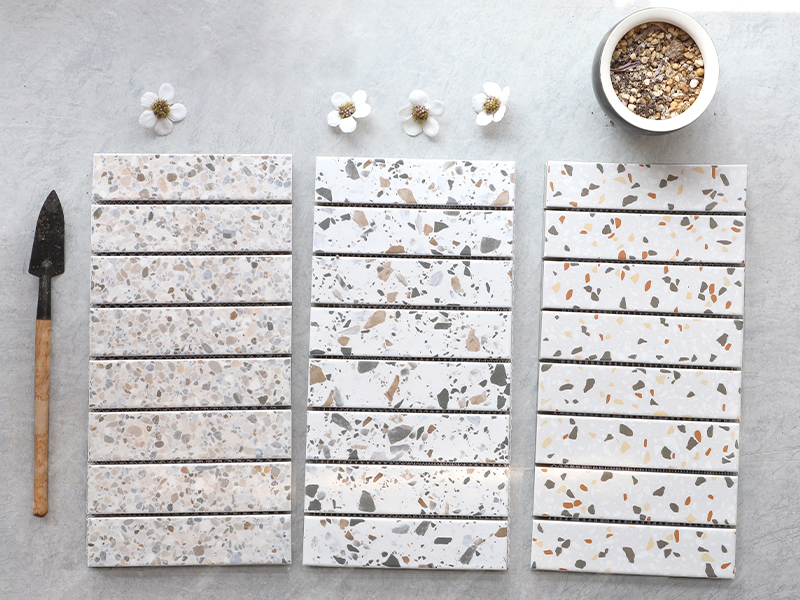 Terrazzo look mosaic tiles offer a wonderful option for busy spaces of the home such as the kitchen or bathroom because they are made of durable and easy to clean porcelain. They can be used as a wall option, making them a flexible option while also providing a low-maintenance surface that is particularly favored in the kitchen. Thanks to the uniquely speckled and pattern surface, these mosaic tiles can easily be integrated into just about any color list, effectively tying all your chosen surfaces together while also being incredibly forgiving when it comes to disguising crumbs, dirt, and splatter in the busy vibes of the kitchen space.
Make a Terrazzo Backsplash
Make cooking time more exciting with a terrazzo tile that keeps things upbeat and interesting. This chic terrazzo pattern finish has tons of touch feeling and is low waterproof and is easy to clean and maintain. One perk of terrazzo tile is that you can see the rich pattern finish which adds a touch of charm.
For more kitchen backsplash ideas, with our blog "Trends: 14+ Minimalist Kitchens to Inspire Your Next Project"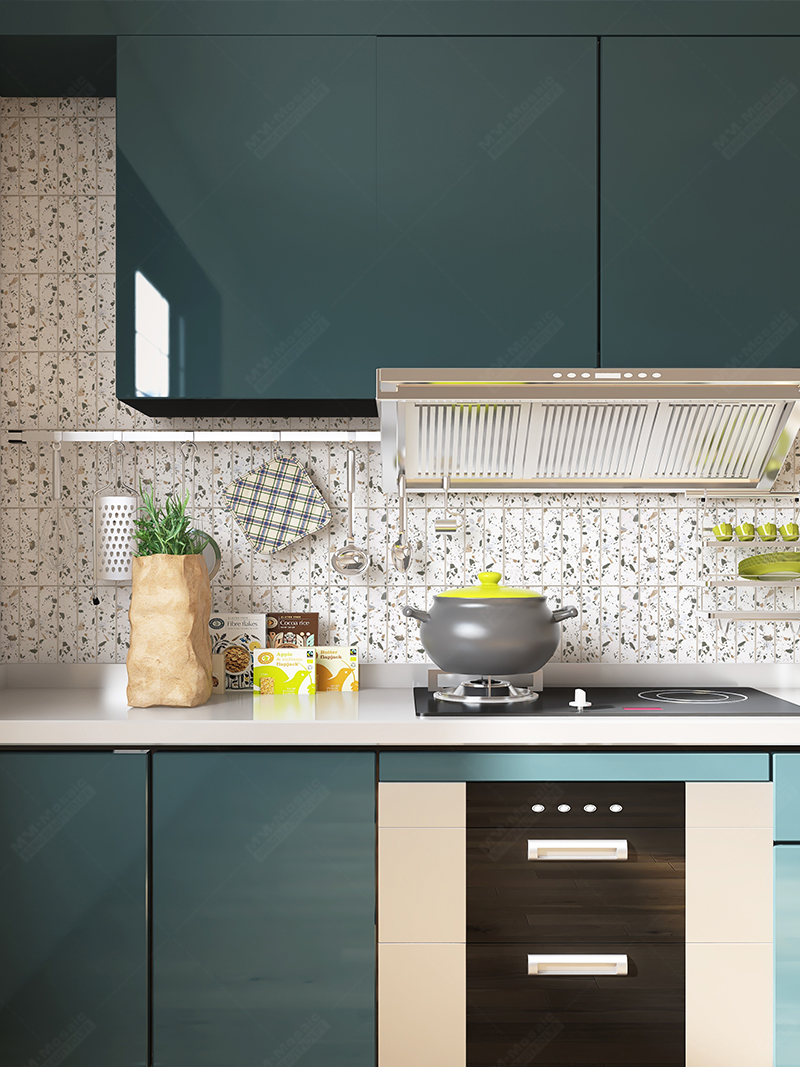 Bold Red Pairs Well with Terrazzo Pattern
Retro red and terrazzo patterns go so perfectly together, it's like a match made in heaven. This bathroom vanity wall feels sophisticated and stylish with the terrazzo tile and gold light detailing. If you want to see less tile or have to stick to a strict budget, then having an accent tile is the way to go.
For more bold style bathroom design, browse our blog "Project: Kit Kat Tile Makes Fun in The Bathroom"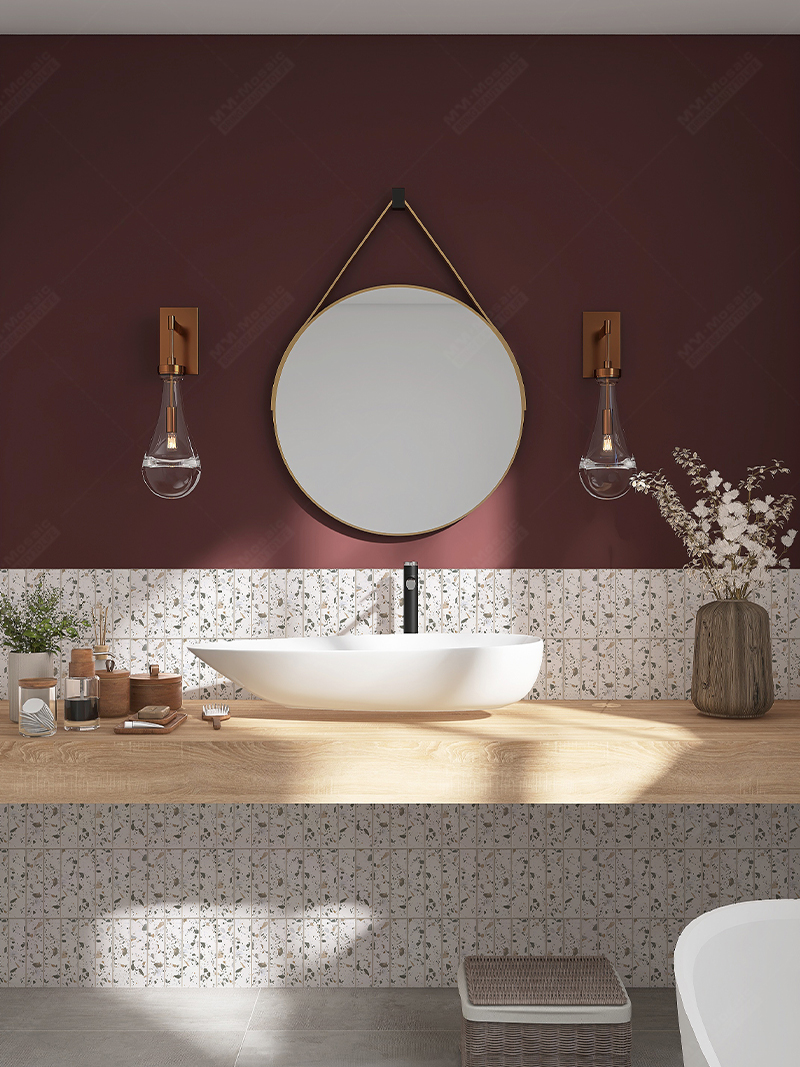 Get Inspired?
Fall in love with our new things? Using a porcelain mosaic instead of natural material is often favorable in projects where additional care and maintenance are of concern. With the great advances made in tile manufacturing technology, the doors have been opened to allow for a world of different design solutions that completely simulate natural materials, offering a sustainable and more versatile choice for any interior design project, whether it be a residential space or commercial application. Tile samples are available here! Let's share your future project ideas and inspirations with MM-Mosaic right now.
Shop New Things