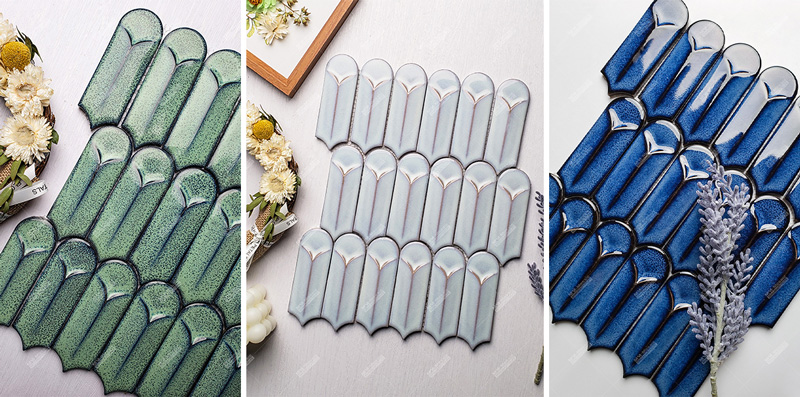 We know that Plumage Shape is actually full of character and personality in glazed tile, full of depth and variation, various tones. With many different color glazes to choose from, our designers are more than happy to guide you in choosing your best 3D Plumage tile! Natural green, vintage cobalt blue, simple white...we will help you discover what you love to kick your interior space, such as kitchen backsplash, bathroom vanity wall for a fresh and inspiring makeover! Keep on reading: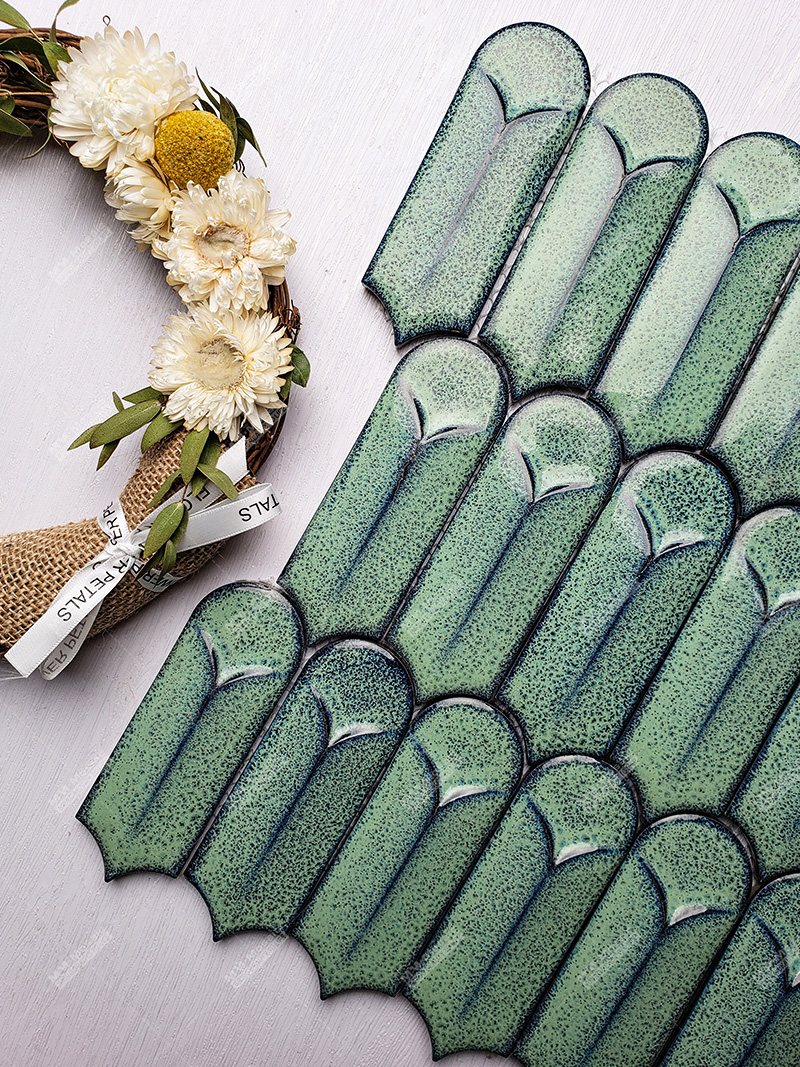 Green is a versatile palette that combines effortlessly with cool and warm tones. From kiln sage to pale mint to deep forest dark green, there is a shade for traditional, contemporary and vintage styles. What's more, our emerald green glaze can be prominently featured with shades of simple white walls.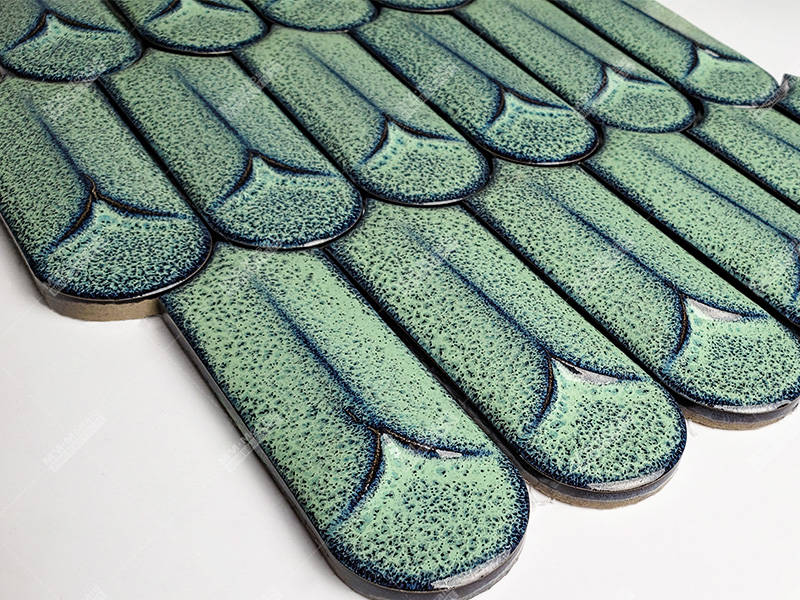 Featured Product: 3D plumage shape porcelain mosaic tiles ZOB2706
Add stunning and amazing green artisan 3D plumage tile to your next remodeling interior project! Our emerald green plumage tile, creative 3D surface, charming kiln touch feel will enhance your whole style. Kiln green is energetic and bright at the same time. We have made a few great style concepts for this tone and feather shape that we hope will inspire you to start a porcelain mosaic tile renovation job!
For more new things, with our blog: 15+ Tunnel Series Tiles Make Your Space Pop >>
Cobalt blue is a simple way to add a refreshing atmosphere to your home, with a variety of tones that pair lightly with any decorative style. 3D plumage porcelain mosaic tile can provide a lived-in, vintage feel, perfect for adding character to walls. Cobalt blue tone mosaic tile with a kiln glazed surface is a beautiful appearance for a bathroom vanity wall and kitchen backsplash. From middle blue to dark hue, you will love exploring our new 3D plumage collection of outstanding blue hues.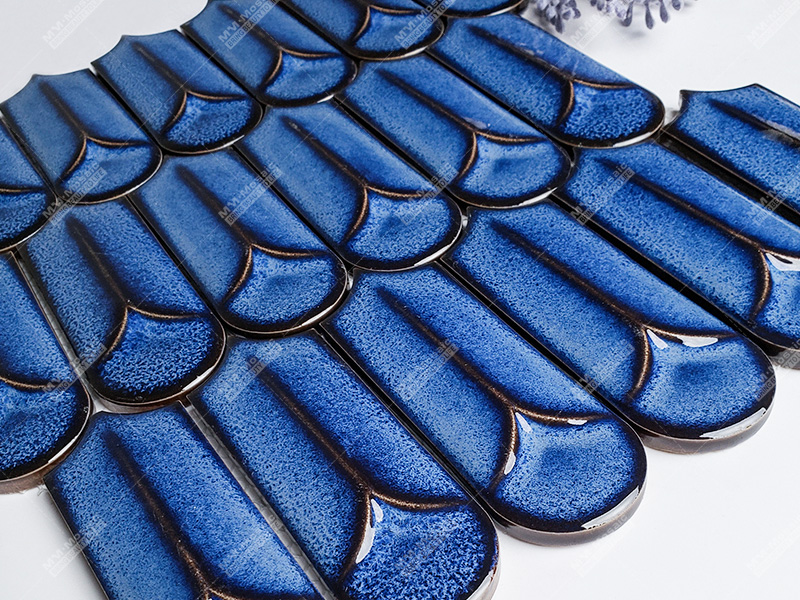 Featured Product: 3D plumage shape porcelain mosaic tiles ZOB2609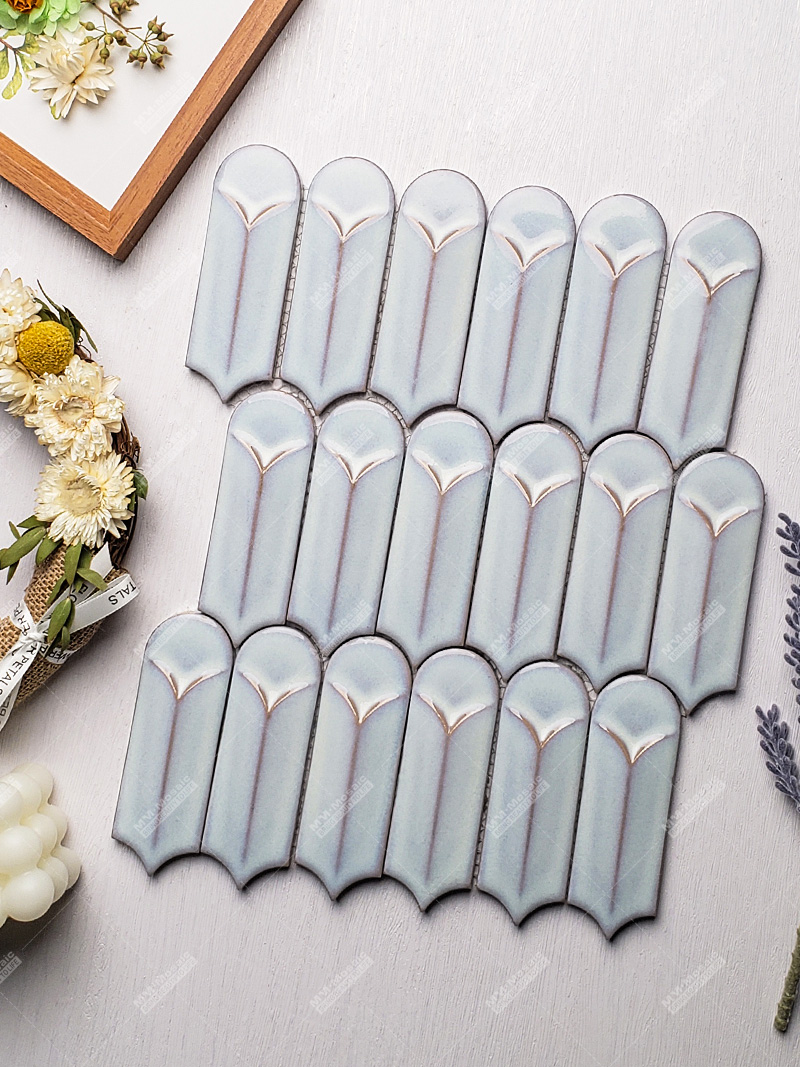 Nothing makes a space more bright and vibrant than a white wall tile. From pure white to kiln white glaze, traditional to modern, it can be showcased in a variety of environments. A 3D finish feather shape tile enhances the whole style and creates a clean and reflective surface, while a glossy tile provides a unique look that absorbs light. An imaginative shape design, white 3D plumage is a perfect way to add a touch of timeless style to your interior space.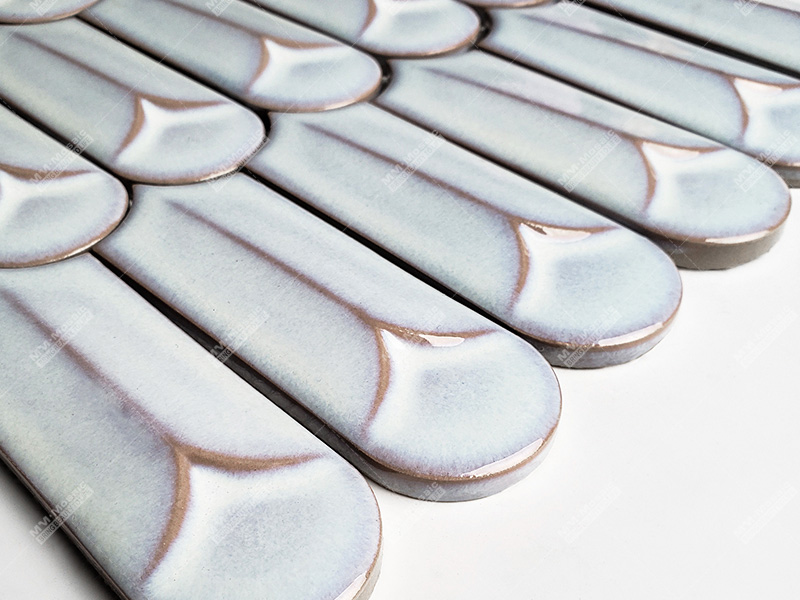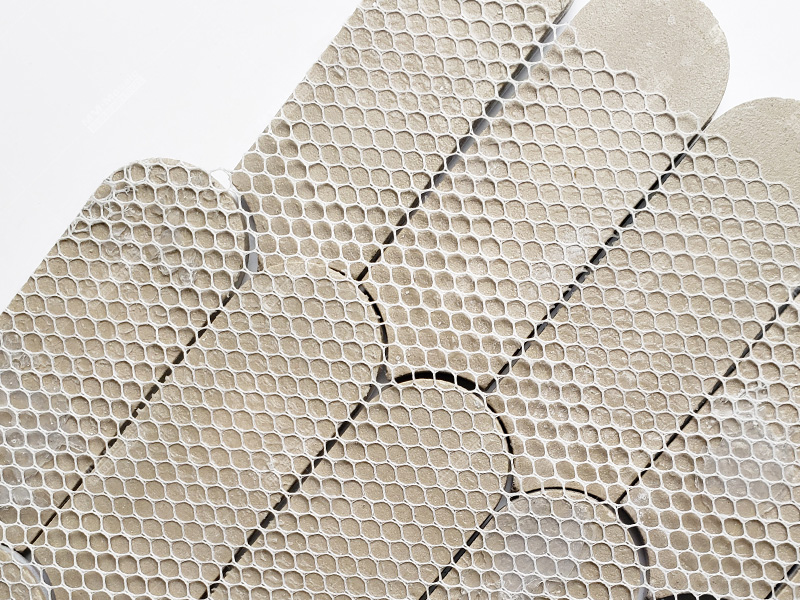 Featured Product: 3D plumage shape porcelain mosaic tiles ZOB2203
The addition of MM-Mosaic tile has made this bathroom never out of style. As a private space used to get ready for the wind down from the day, the bathroom requires tranquil vibes and versatility. The understated and peaceful kiln white glaze can be either energizing or calming, ideally matching the color of the moment. Bathroom vanity wall, each sparkle with exquisite 3D plumage mosaic wall tile.

Check our project blog for spectacular shower wall: Project - Kit Kat Tile Makes Fun in The Bathroom >>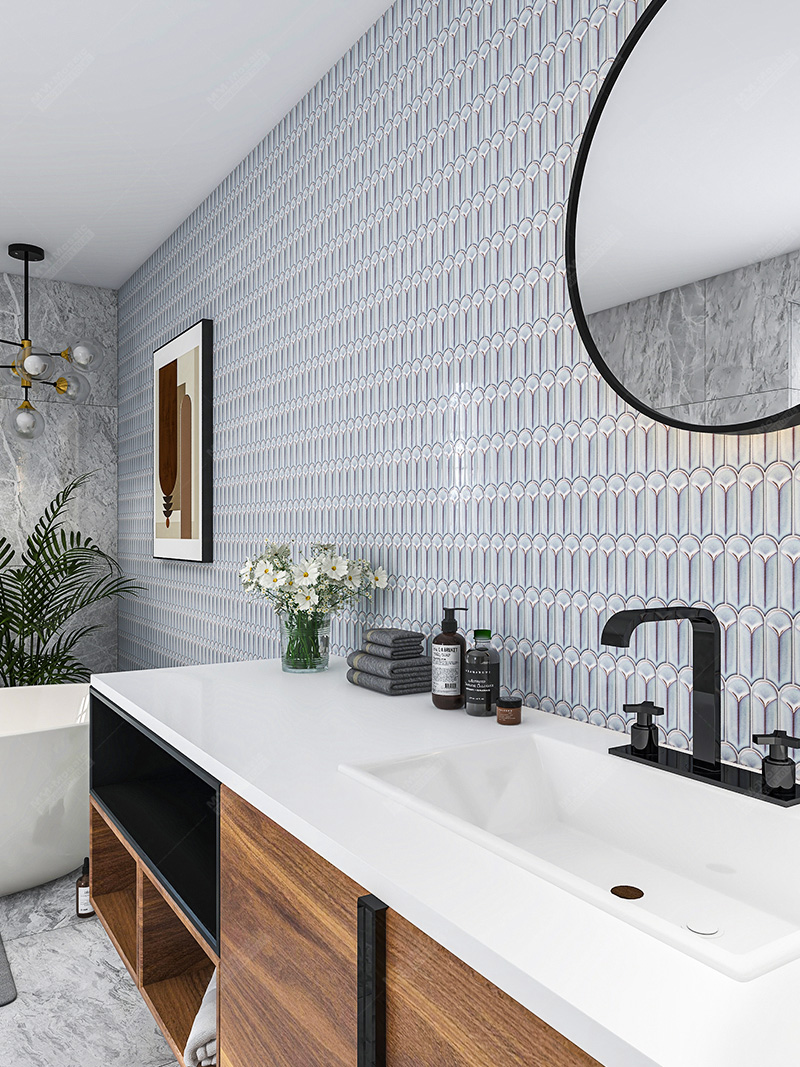 The kitchen is the significant and heart of your home, it beats in between all of the meals that you cool, dishes that you wash, memories that you make. The 3D plumage kiln backsplash tile that you choose should reflect how you want your kitchen to make you feel. This complements the natural wood tones above the cabinetry above, the dark green vintage of the below cabinetry, and the larger dining table used in the decor adds texture and dimension to this already impressive kitchen space. This stylish and modern kitchen feel is inviting and chic.
For more kitchen backsplash project, with our blog: Project - White Stacked Subway Tile For Kitchen Backsplash >>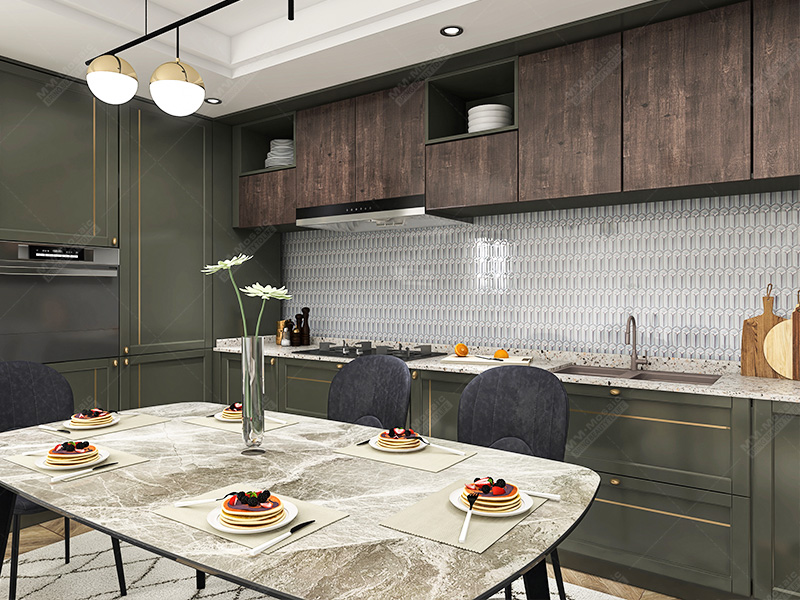 Get Inspired?
Falling in love with our 3D Plumage? Inspired by our interior design with new things? Order tile samples to see, touch and feel in person. We're so excited to hear your ideas with our new things. MM-Mosaic will design more creative and fun tile for your future projects!
Shop New Things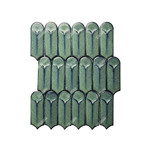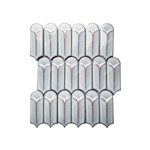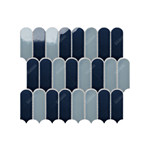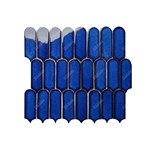 ZOB2001 / ZOB2608