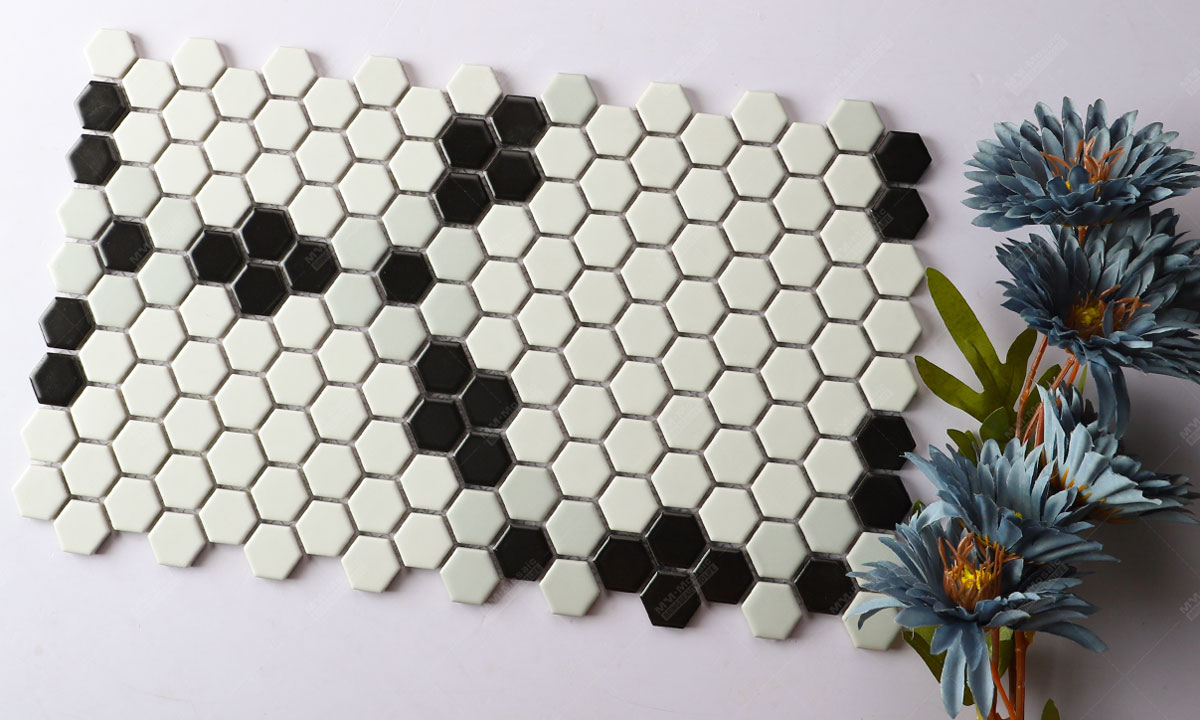 Small size is a versatile thing that can be made to fit any space, design, and style. Whether you like to keep things classy or want unique and bold, there is a small size tile design waiting for you. With endless tile shapes and combinations with matte and glossy surfaces, the possibilities are infinite. Continue reading to see 3 of our favorite designs using small tile and get inspiration for your future projects.
Hexagon
Although Hexagon floor mosaic tile is becoming a trend this summer, we knew it to be a perfect choice. The hexagon shape can be designed to look minimalist, sophisticated, chic, or vintage. Whatever your personal style, we're ready to show you how wonderful and versatile this classic shape really is. Whether you're going to renovate the floor of your kitchen space, bathroom, or living room, get ready to obsess with these appealing hexagon floor tile.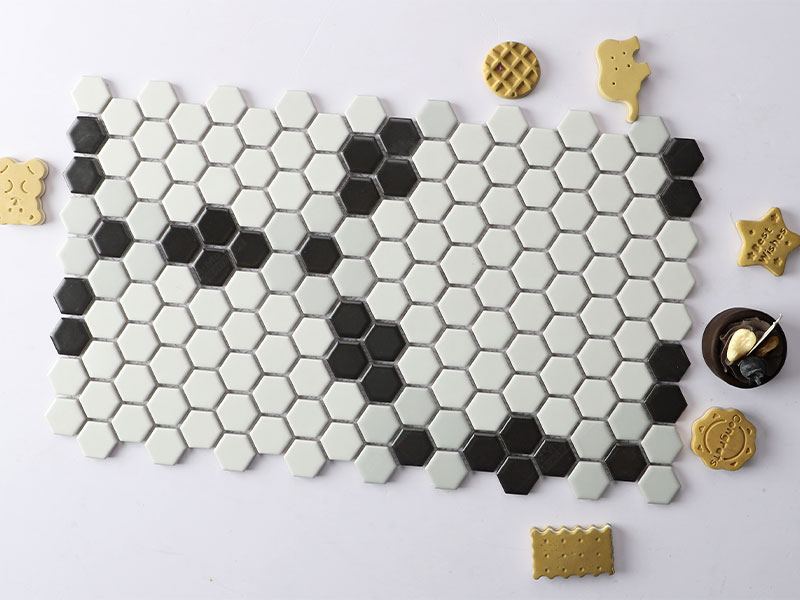 Featured Product: Hexagon Pattern ZMB3002
You can never go wrong with a neutral color, like black mixed white and gray, knowing that it will stay for years to come. For this understated hexagon mosaic tile, we simply added clusters of black hexagon tile in no random arrangement. It's simple, attractive, and eye-catching, something everyone can and will love.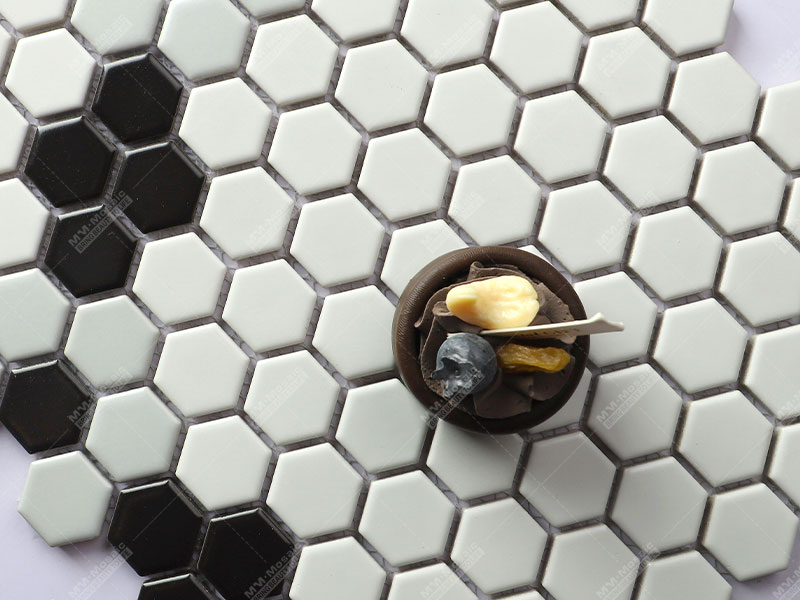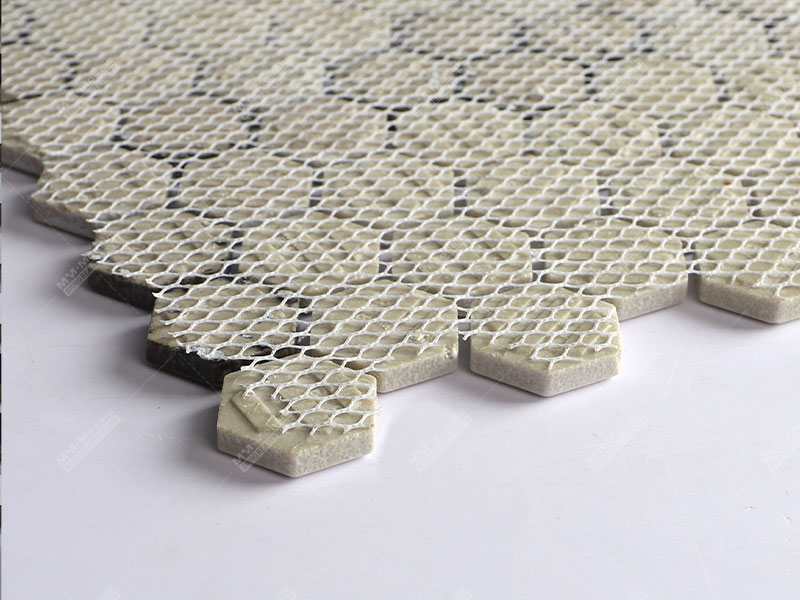 Who says you can't pave your kitchen floor with small size tiles? These customized neutral hexagons are the perfect centerpiece for this adorable kitchen and the curve door! Going with a bold and unique design for your kitchen floor is a nice way to keep it looking voguish without going over the top. We also love how the homeowner chose an aesthetic curve door as the kitchen entrance.
Get more interior design ideas with our blog: 7+ Festival Interior Projects For The Coming Holiday >>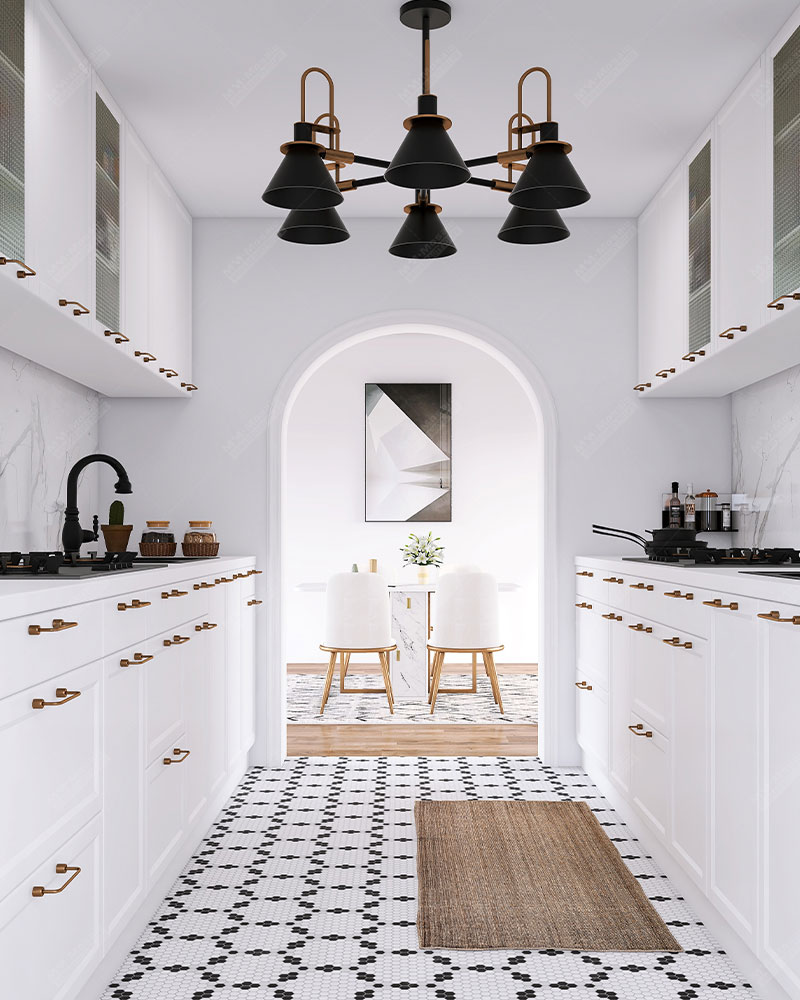 Round
Transform your space into a tribute to retro design with our penny rounds tile. As a modern deviation from the traditional mosaic, this fresh choice is a throwback to classic retro design with a modern feel. Matte white small hexagons are accented by contrasting matte black and gray hexagons arranged into the shape of a chessboard pattern on an interlocking mesh to create a seamless installation. This charming geometric porcelain mosaic is unique yet simplistic enough to integrate into any room, ranging from classic style renovations to modern house projects.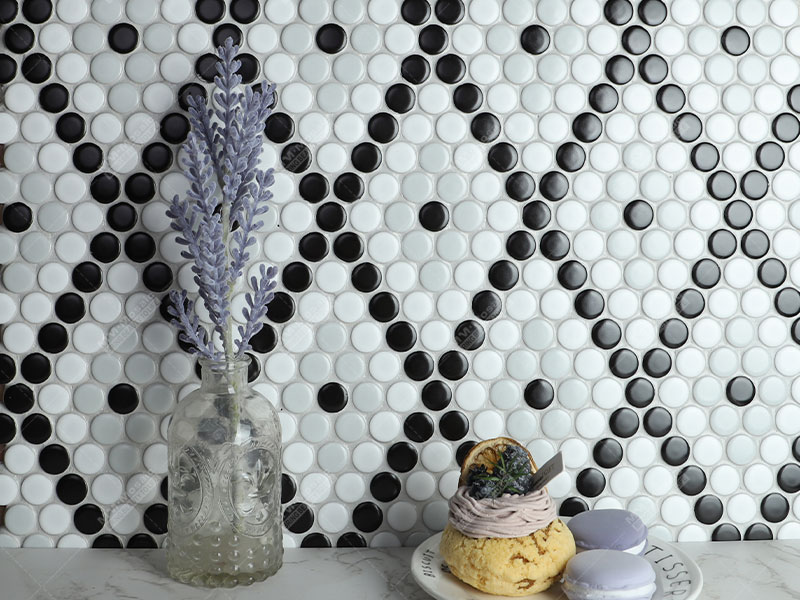 Featured Product: Penny Round Pattern ZMB3001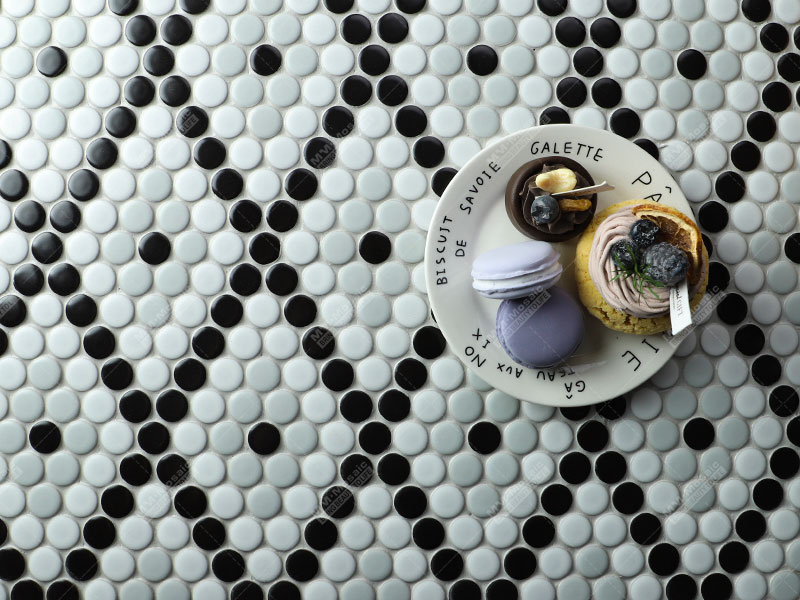 The beautiful ceramic mosaic tile comes out in the form of a classical penny round shape with the color matching of white, gray, and black. Our new arrival round tile is perfect for use as a backsplash tile, floor tile, shower tile, or to create a countertop. The graphic nature of the pattern, shapes, and colors allows you to create a statement in any room.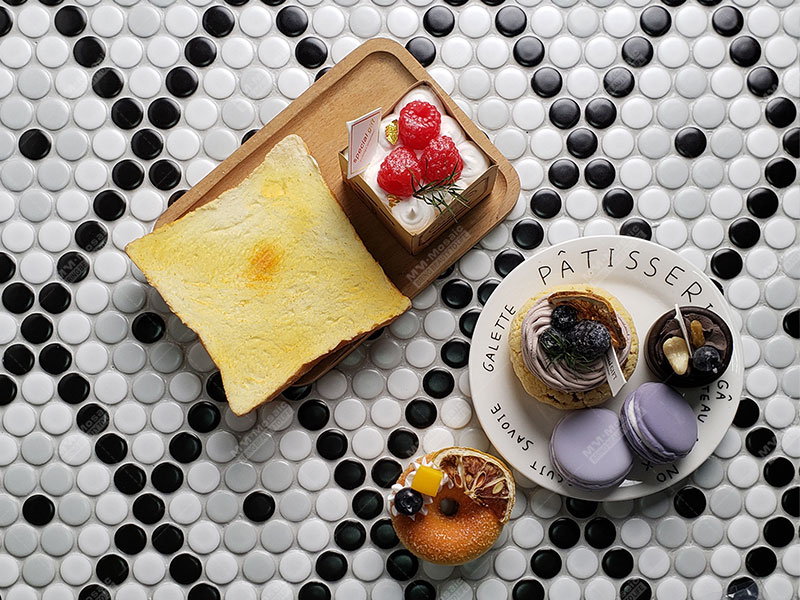 Custom accent walls give you the power to bring your tile dreams to life. Jane, the designer of this children's play space, did just that by keeping things modern and innocent. The custom penny rounds with a neutral palette create beautiful movement and a stunning visual feeling. We love the pops of white, gray, and black tones throughout this masterpiece.
For more appealing interior design ideas, visit our blog: Top 10 Residential Interior Projects >>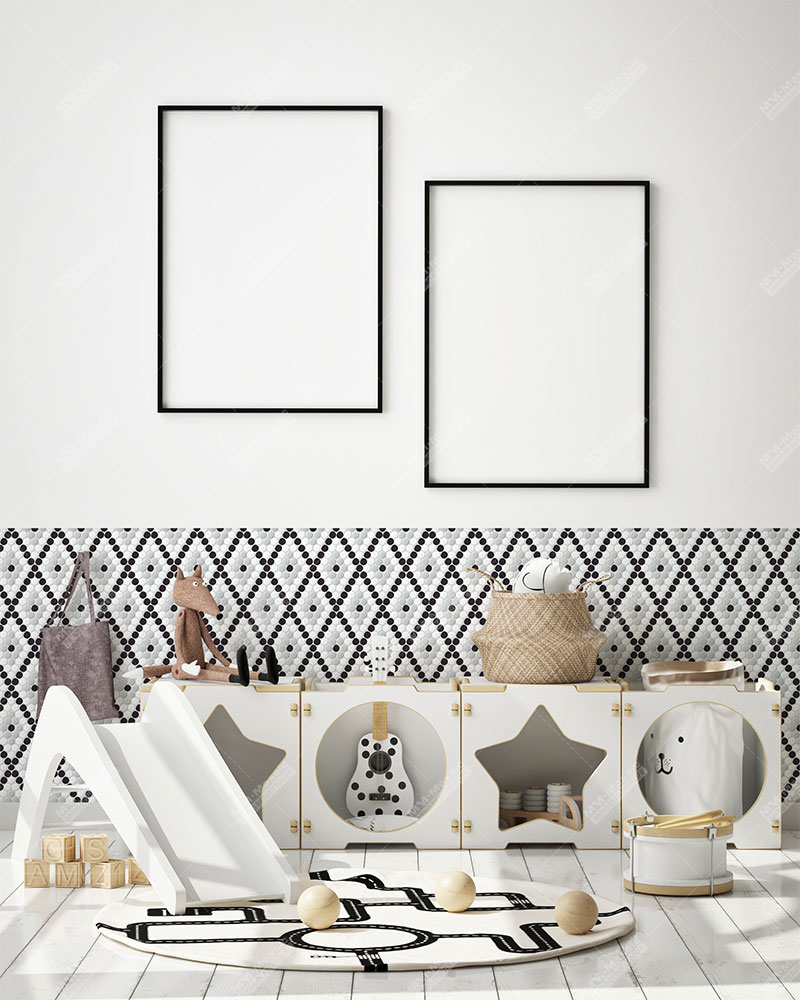 With a whole custom and personalized tile mosaic, your entryway will turn into an unforgettable experience for your friends and family members. For this stylish floor, we combine black penny rounds with a large area of pink rounds to create a new and interesting unique pattern. We also make a little cool black mix large area sweet pink color throughout the layout turning this entryway floor into a piece of art.
For more details of this project here: Why Penny Round Mosaic Can Keep Your Entryway Fantastic >>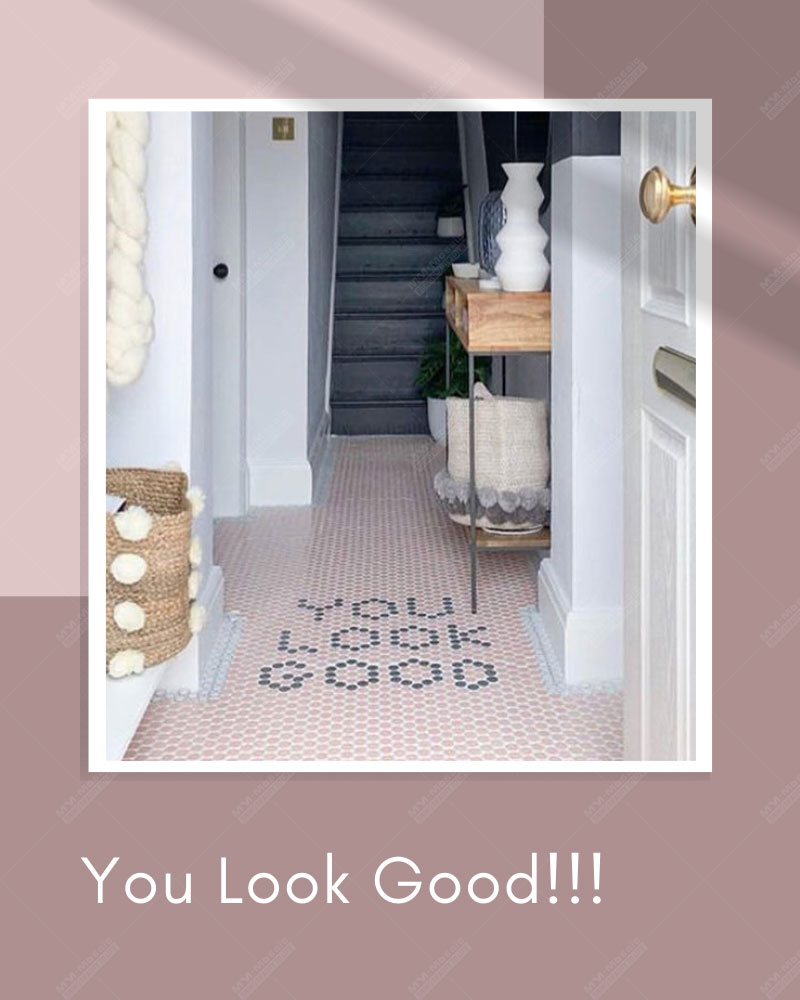 Bold penny round tile combination transformed this coffee shop floor project from a boring space into a glamour place. While this look appears extremely custom, it's all shoppable on our online store. This extraordinary penny round pattern comes in easy-to-install mesh sheets, making installing our porcelain mosaic tile a breeze.
For more coffee shop design ideas, browse our blog: How Green Glaze Plays in Cafe Shop and Rest Room >>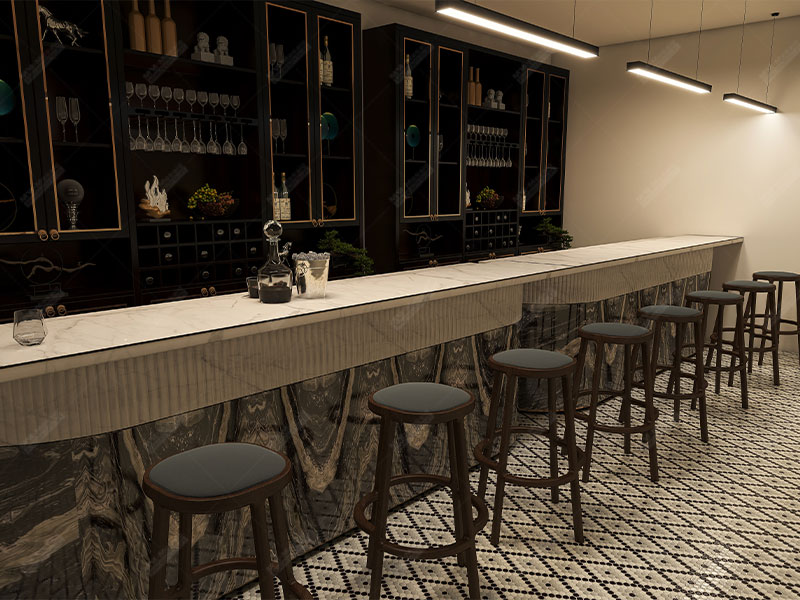 A lot of people envision mosaic shape tiles when they think of Hexagons, but we love the idea of redefining that conception. Going for a unique shape to make up the Hexagons, like these penny rounds. Our new arrival Hexagon Mosaic features porcelain in a small size rounds pattern. Perfect for wall, floor, and wet applications.
Featured Product: Penny Round Pattern ZMB3003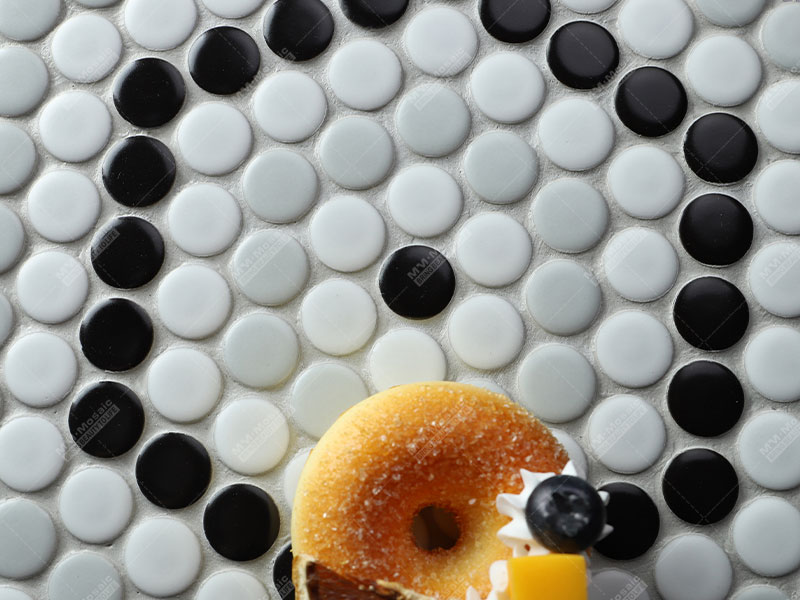 We'll put a hexagon on your floor or wall - as in hexagon tiles, of course! Make a creative and bold statement with the color contrast of black, gray, and white tile, arranged here in an abstracted large hex pattern. This look is perfect for achieving a contemporary victorian floor for your historic remodel.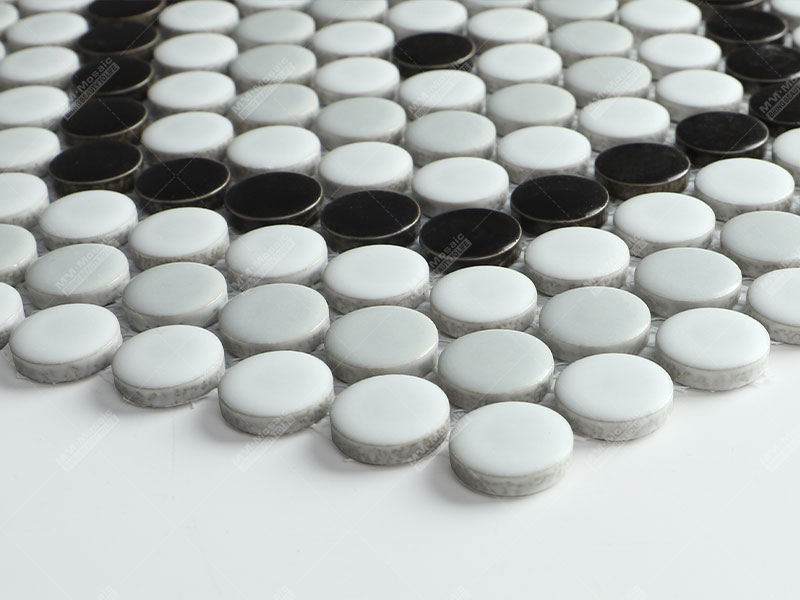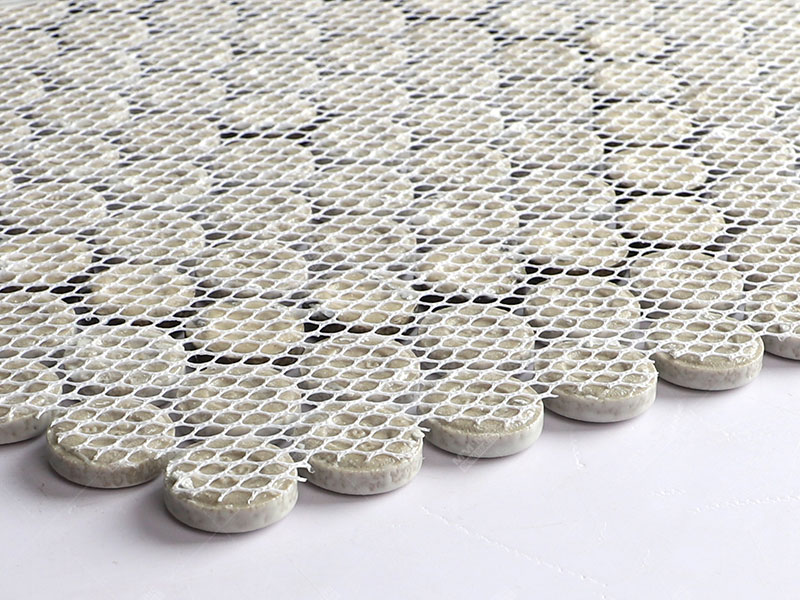 Keep it sweet and simple with a custom pattern small round floor. For this project, we used our neutral glaze color, which shows off the variation of our little penny-round tile. When choosing colors from simple white to mysterious black you will see the beauty of the artisan process. Let's feel the amazing bathroom floor design.
For more bathroom design inspirations, visit our blog: How to Realize This 13 Small Bathroom Inspirations >>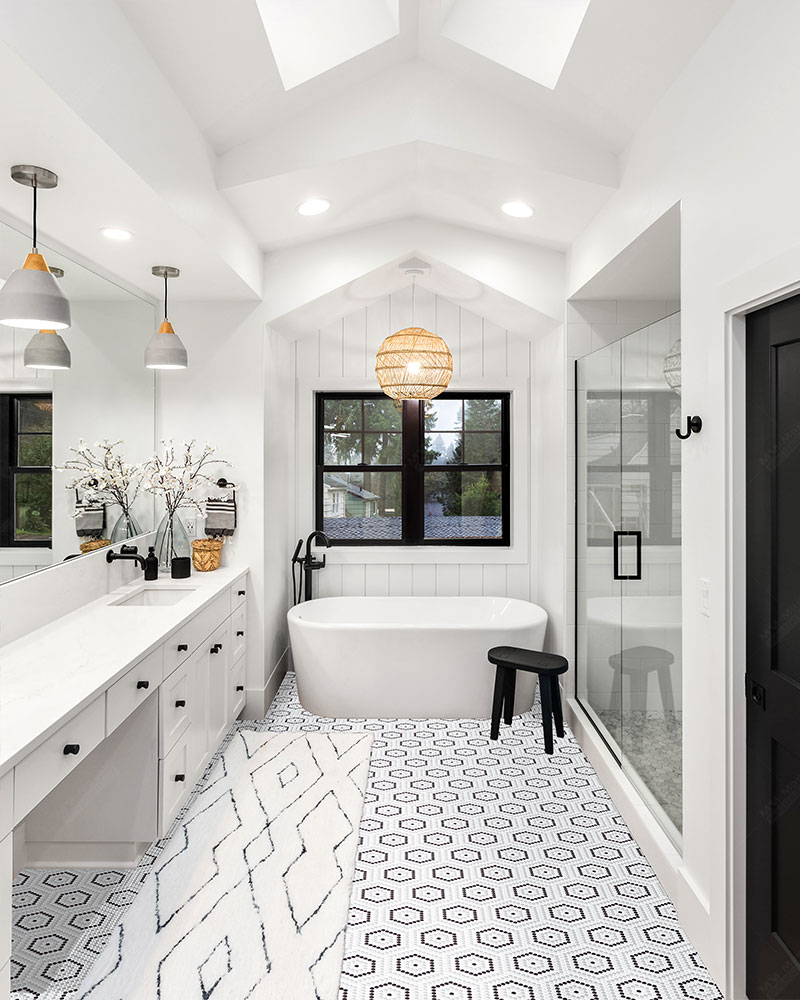 Get Inspired?
Fall in love with our Hexagons & Penny Rounds collection? Love our new arrival things? Let's order tile samples to see and touch right! We're so pleased to hear about your future renovation projects. Don't be shy to share your ideas about tile shape, color, size, and anything else you want to share. MM-Mosaic will get back to you immediately and support you with your home or commercial remodeling plans.
Shop New Things