Finger mosaic tiles are one of our most popular tile shapes - and for good reason. This chic, versatile, and highly effective shape is an interior designer's dream thing. From elegant bathroom showers to kitchen backsplashes, our finger mosaic tiles make just the right amount of design, when bringing endless possibilities. Read further to check out the 2 new arrival finger mosaic tiles right now:
Oval Finger Series
Adding an oval finger shape to a bright and clean wall is always satisfying, let alone when you can improve the interior design by using our Oval Finger Series. This kiln surface is the perfect way to showcase such a strong look while keeping it super!
For another style of oval shape mosaic tile, visit our blog "Style Collection: The Glamour Of Oval Porcelain Mosaic Tile"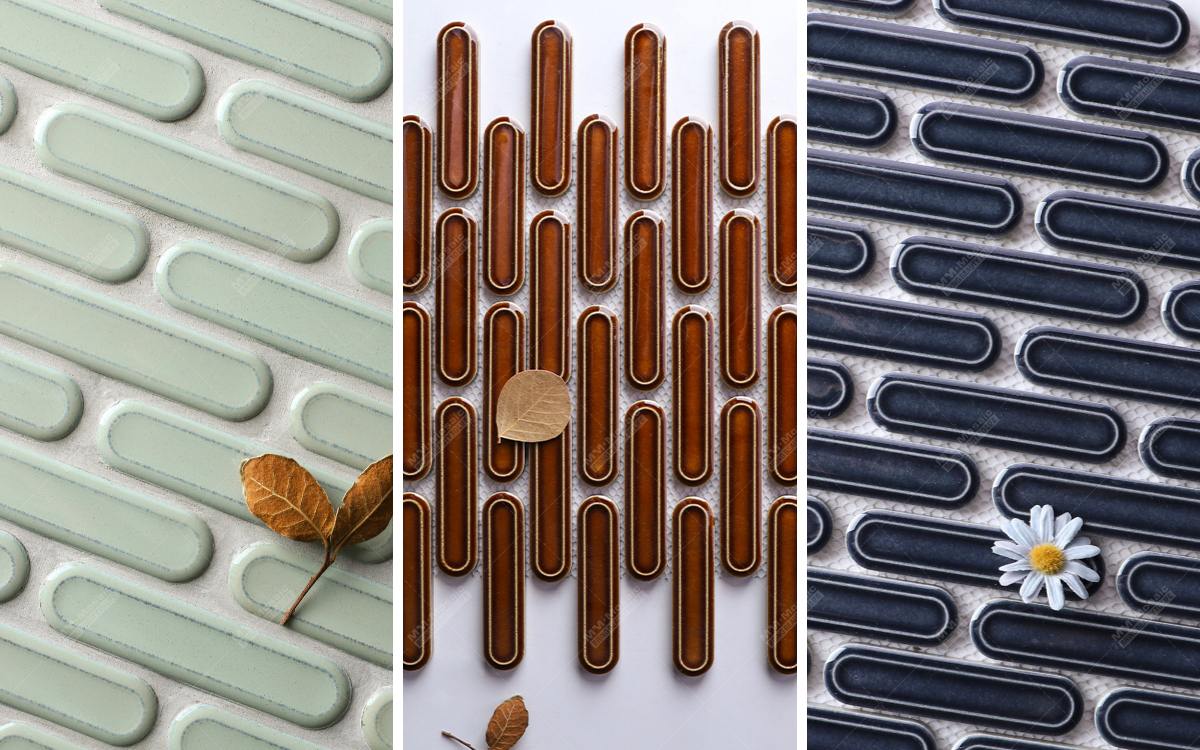 Maple Tone
If you're searching to really make a statement with glazed porcelain mosaic tile, this fascinating tile is a bold and wonderful choice. The high variation of this glaze on our Oval Finger Mosaic Tiles brings an incredible amount of depth that makes it an instant modern.
For more on bold glazed mosaic tile ideas, visit our blog "New Things: 10 Favorite Palette Glazes and Picket Shape Tiles Combo"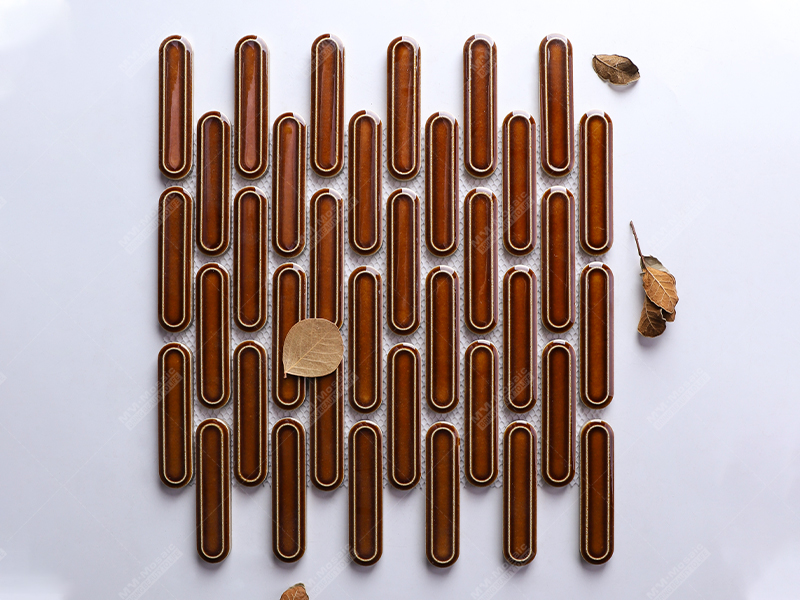 Feature Product: Oval Finger Tile ZOB1907
White Bathroom With an Attractive View
The timeless and creative finger tiles can form two different mosaic patterns - vertical and horizontal style. We all love the beautiful vertical pattern, which takes the amazing visual effect in a bathroom wall. The grout lines of this accent wall add an element of intrigue to any wall as well as the countless possibilities with color and layout style.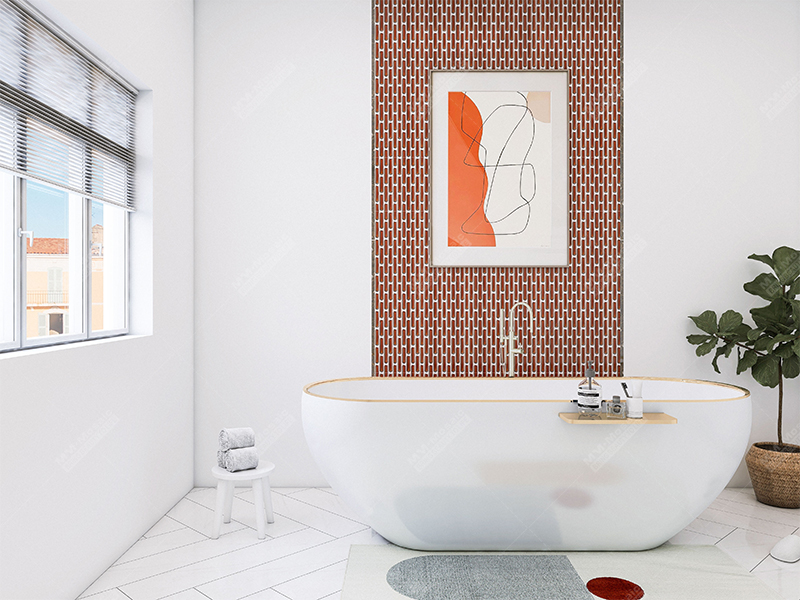 Bathroom Vanity Wall Ideas
A unique vertical pattern on a creative shape, our oval finger tile pattern is the perfect way to let your creativity shine with lovely finger tile. Each piece is sized and glazed by our professional workers, giving it appealing depth, variation, and kiln surface. Do you obsessed with this bold bathroom vanity wall design?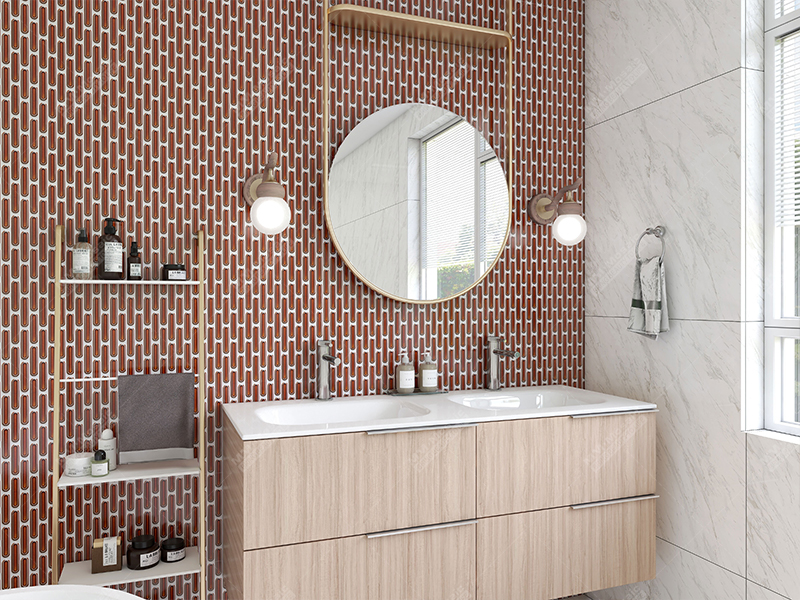 How to Add Glamour to Your Backsplash
Your kitchen backsplash is sure to shine with this kiln-glazed finger mosaic tile! The stunning shape and maple color were literally made for each other, and they come together in a perfect mosaic tile kitchen backsplash. This tile pattern gives a bold, fresh, and modern appearance.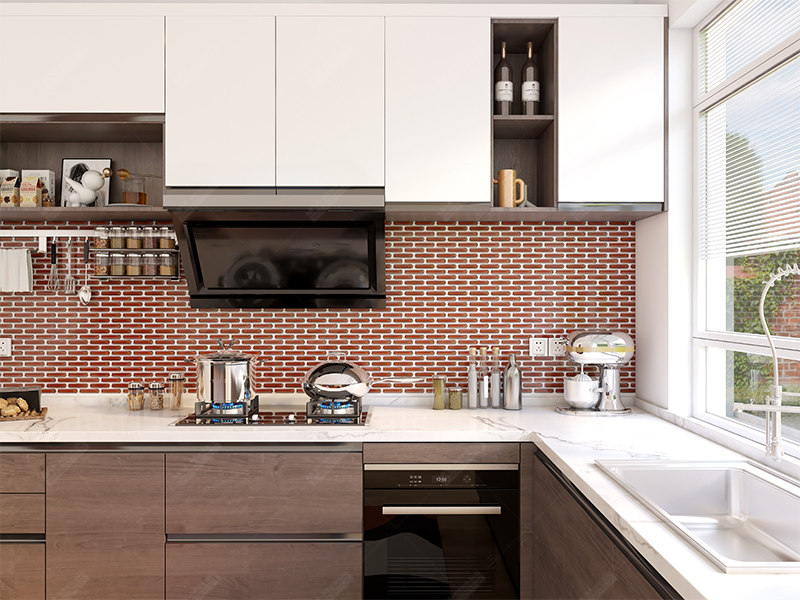 Warm Up Natural Color
We couldn't be more excited with what is becoming our signature light green finger shape tile design: breezy light green tone, kiln glazed surface, oval finger shape. Using this appealing mosaic tile as your kitchen backsplash can create a soft and airy feel to the modern and trendy kitchen. Just imagine the possibilities of tone to make this tile design your own.
To see more green tone design ideas, visit our blog "Project: Kit Kat Tile Makes Fun in The Bathroom"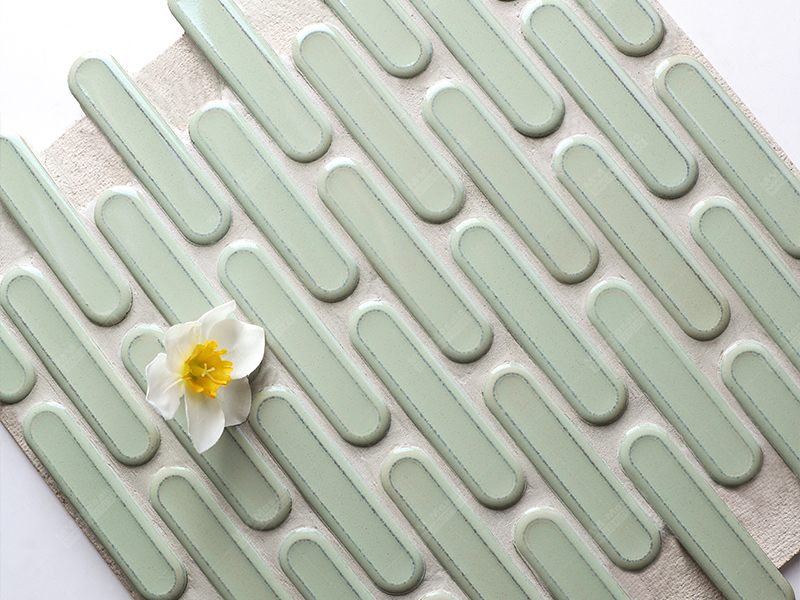 Feature Product: Oval Finger Tile
Easy to Install Back Design
Let's check the back design of our finger mosaic tile. Mesh design not only makes the tile arrangement tidier but also saves your time and money while installing these wall tiles. Going stylish with our new arrival Finger Tile Series is a great way to offer a subtle backdrop to any wall. While improving the whole interior design.
For more creative tile design ideas, visit our blog "Style Collection: 15+ Tunnel Series Tiles Make Your Space Pop"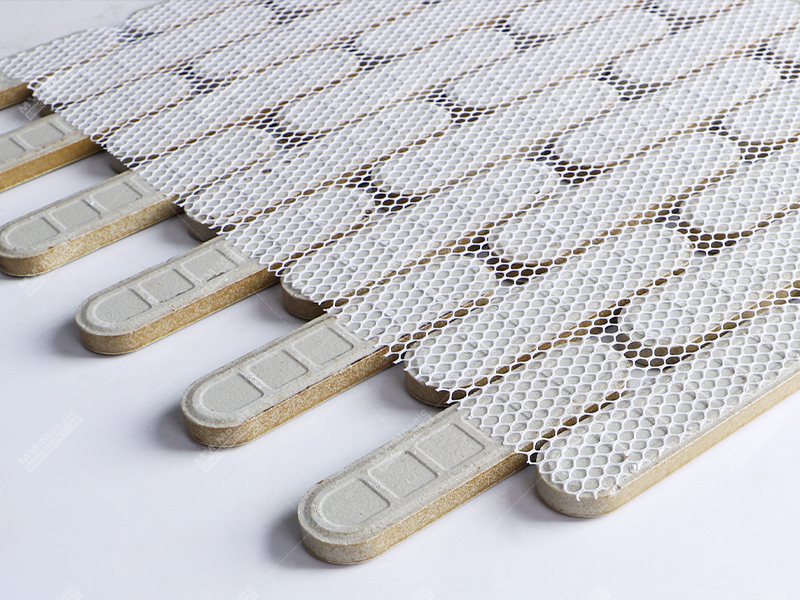 Mysterious Black Hue
This 3D moulding surface shape mix charming black tone elements have all of the character and hue you could want in a kitchen backsplash. The combination of black color, kiln moulding finish, and oval finger shape keep the whole style tasteful and glamorous without reading too boring. Black can be the perfect way to provide a mysterious vibe to your walls.
For more black wall design projects, visit our blog "Project: How To Design Herringbone Mosaic Tile Accent Wall In Office"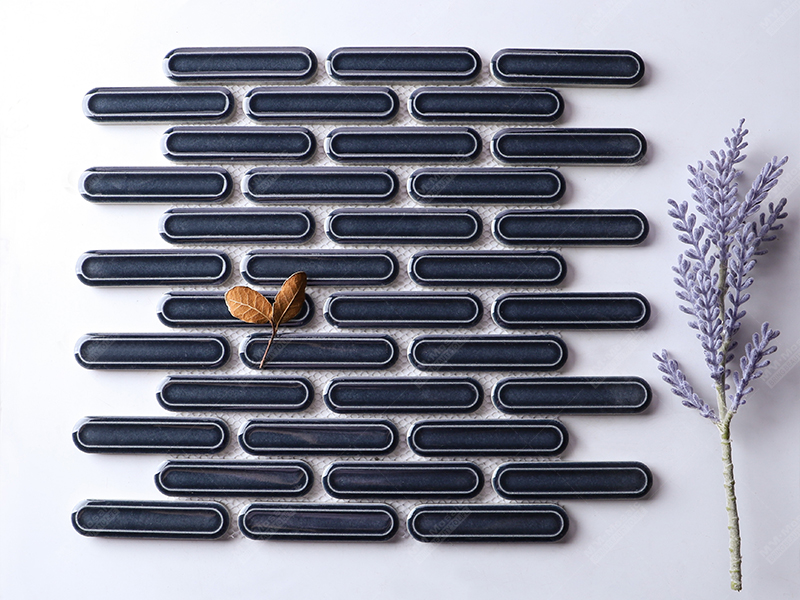 Feature Product: Oval Finger Tile
Black Finger Tile as Kitchen Backsplash
The practical layout variation of our Finger Series is the horizontal pattern. This classic and contemporary arrangement makes a truly incredible and stunning look, and the accent wall design possibilities are endless. Whether using the vertical pattern or horizontal style, you can play around with this Finger Series to create your dream walls.
For more ways to use finger tile, visit our blog "Projects: Green Hues or White Tones?"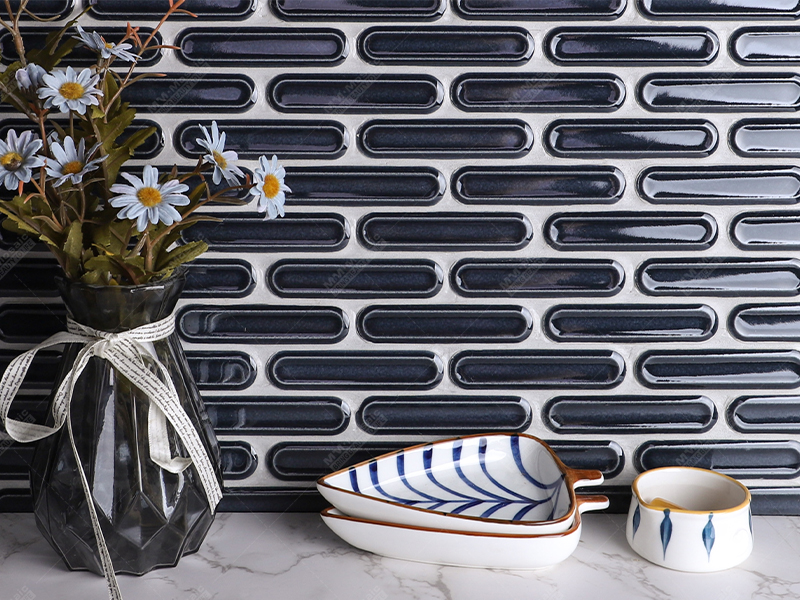 Moulding Surface Finger Series
Finger mosaic tile is a versatile material that can be used in endless ways throughout your home. Whether utilizing tile for utilitarian purposes in a bathroom shower or living room accents, or for decorative reasons, like on a bar island or kitchen backsplash, our 3D Moulding Finger Series is the ideal fit for your next renovation. Take a look at some of the tones right now: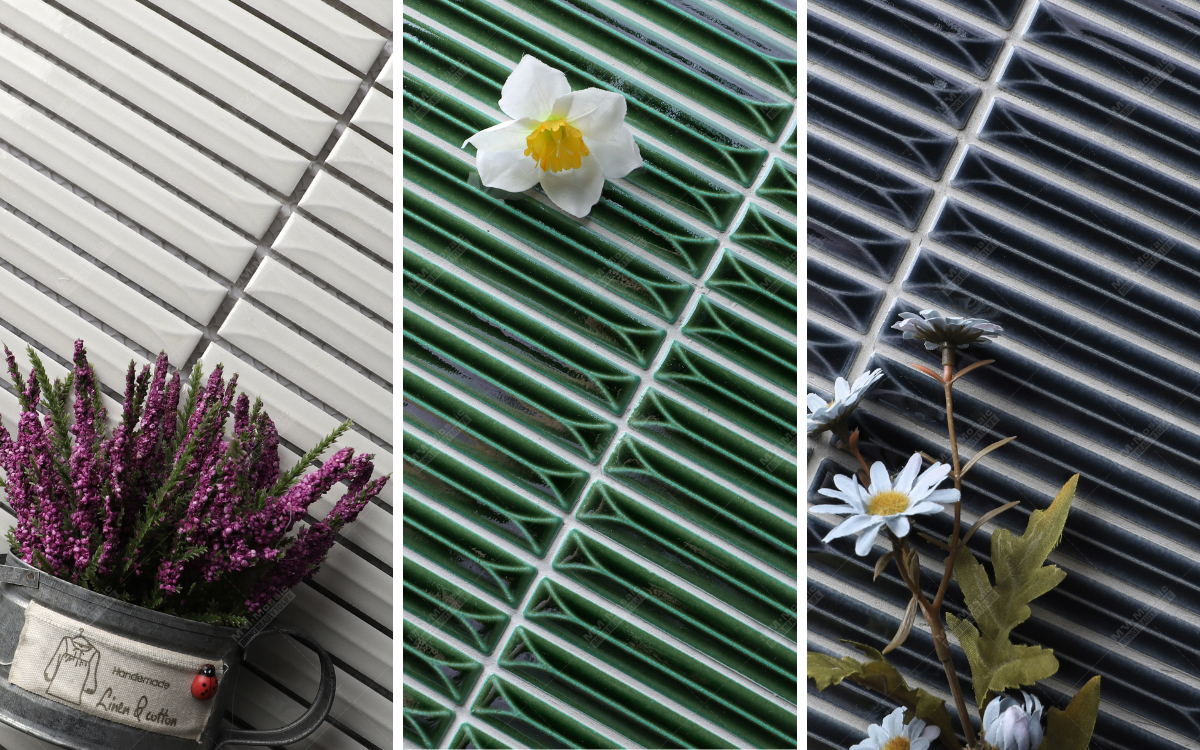 Finger Shape Tile Statement Wall
Available in a vertical and horizontal pattern, Finger Tiles always take the prize in the sleek and trendy category. This simple geometric strip shape with a bold 3D moulding finish and minimalist white glaze does wonders as an accent.
Feature Product: 3D Moulding Surface Strip ZOB1210
Pop of Moulding Finish
Trying shades of pure whites in your wall is another way to add a calming feeling to any high-traffic area, like kitchen backsplash and entryway wall. Particularly when used in a wall with a great amount of natural sunlight, simple white can offer a sense of minimalist that promotes airy, health, and comfortable. We're completely in love with this chic and stylish new tile!
For more 3D moulding finish tile ideas, visit our blog "New Things: 3D Plumage Tile Enhances Your Walls"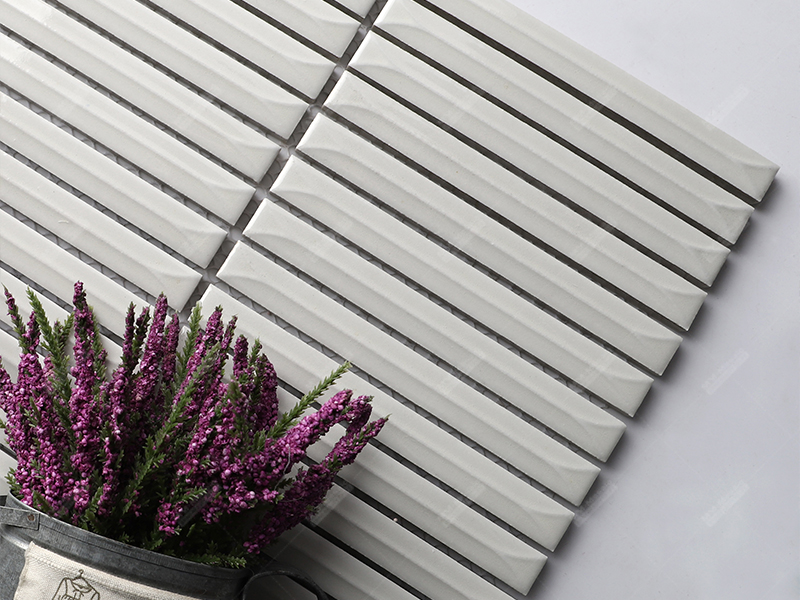 Waterproof Wall-to-Wall
Although 3D moulding surface design is technically finger tile, we wanted to give it its own category because we just can not get enough of it. We love this high variation 3D moulding finish wall decor because it proves that bathrooms aren't limited to porcelain tile. In fact, we almost prefer a tiled vanity wall because you get to take in its glamour every time you walk in.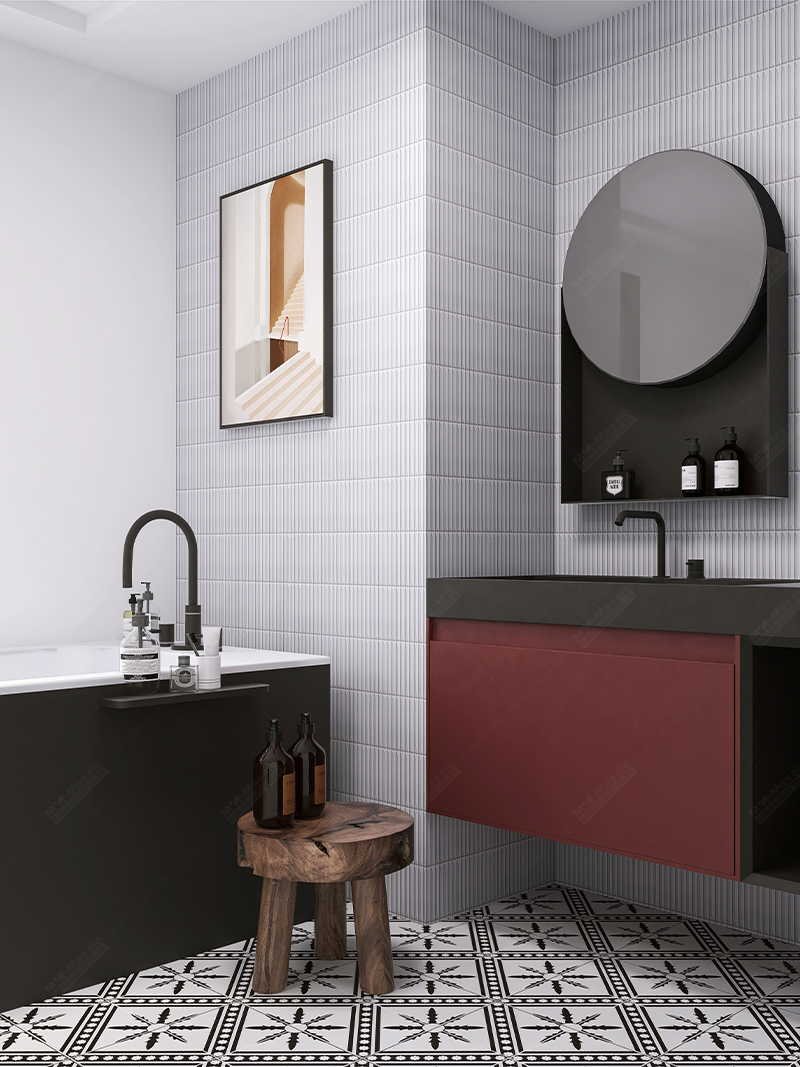 Try a 3D Moulding Surface Kitchen Backsplash
Minimalist backsplash gives you the power to bring your tile dreams to life. Jane, the designer of this kitchen, did just that by keeping things modern and simple. The harmony of the glossy white tile with a 3D moulding finish creates beautiful movement and an eye-catching statement. We love the pops of white and natural wood tones throughout this masterpiece.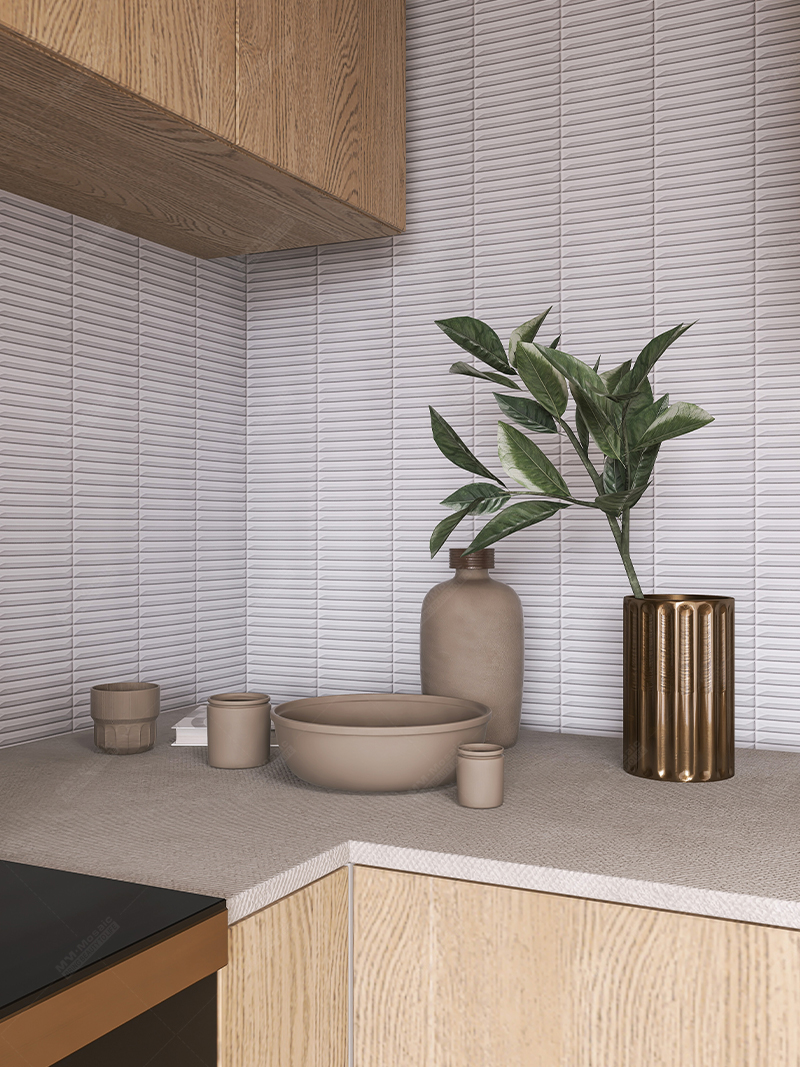 Earthy Color
Utilizing color in the kitchen backsplash does not have to define the wall through distinctive color. This glazed black earth-tone 3D moulding finish finger shape design is a more accessible way to provide color into your kitchen through the use of a textured, high variation kiln glaze.
For more tiled kitchen backsplash ideas, visit our blog "Projects: 6 Trendy Backsplashes Awaken Your Kitchen"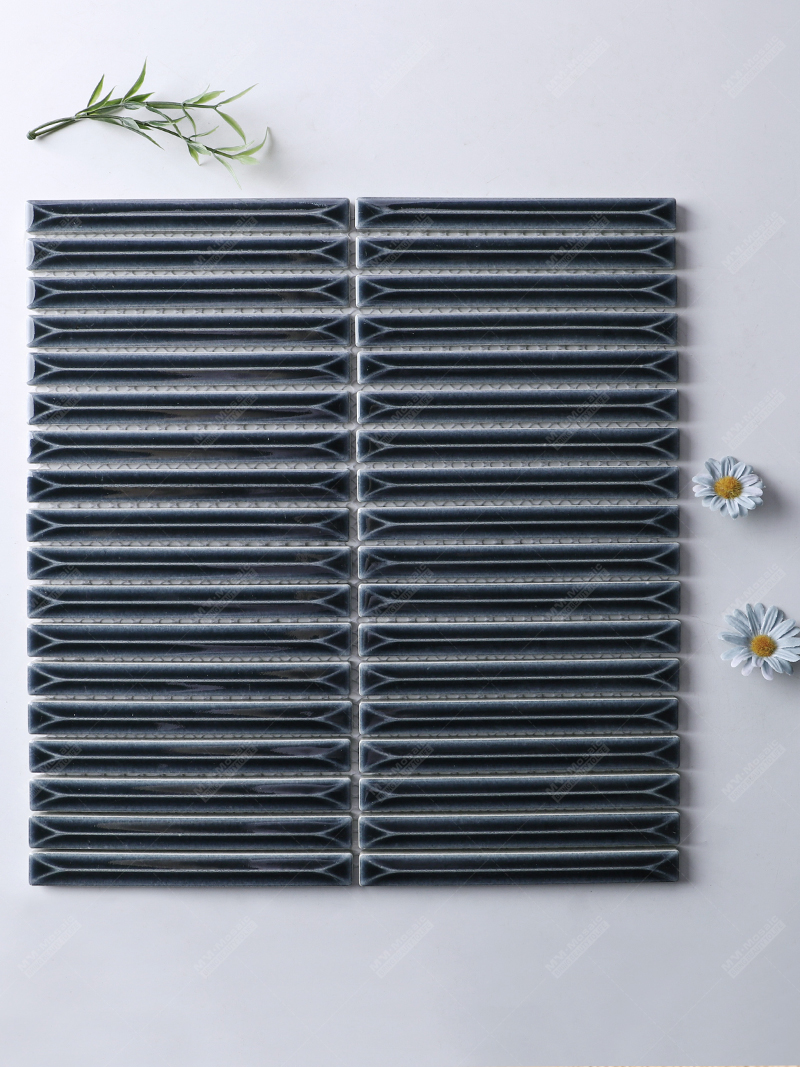 Featured Product: 3D Moulding Surface Strip ZOB1104
Obsessed With Green
Soft green is the color of nature and brings a tranquil atmosphere to any wall. Here, the mountain green moulding finish finger tile is the ideal contrast to the neutral cabinets and metal fixtures of any kitchen style. It adds a mild sense of drama while bringing a whole calming effect to your room.
For more green backsplash inspiration, visit our blog "Project: How Green Glaze Plays in Cafe Shop and Rest Room"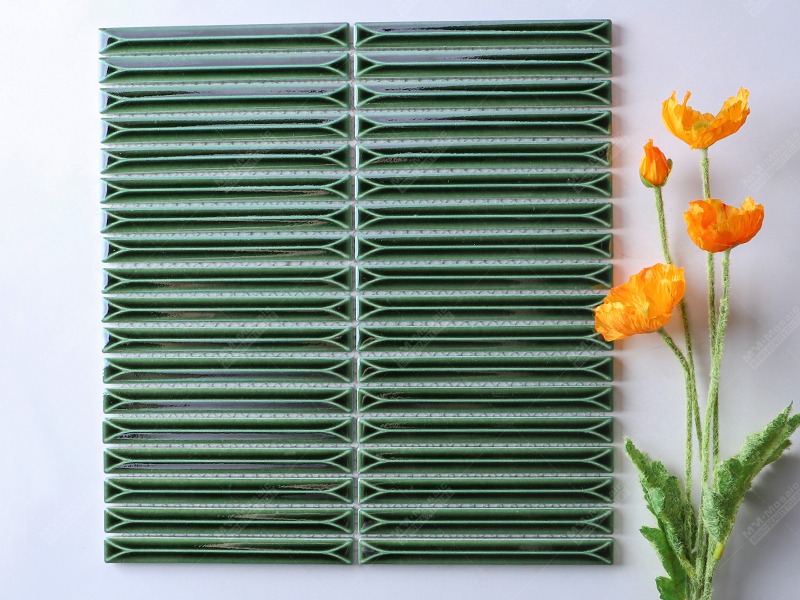 Featured Product: 3D Moulding Surface Strip ZOB1712
Get Inspired?
Fall in love with our new Finger Tile Series? Let's order tile samples to see and touch right! We're so pleased to hear about your future renovation projects. Don't be shy to share your ideas about tile shape, color, size, and anything else you want to share. MM-Mosaic will get back to you immediately and support you with your home or commercial remodeling plans.