We couldn't be happier to hear our two Vietnamese customer's message about finishing his backsplash renovation projects recently. Keeping on reading this project style, work process and experience learned from this unexceptionable kitchen renovation.
1.Monotonous Kitchen Need Energy
As we all know that we will spend plenty of time in these cooking spaces just like we will spend most of our lives in the bedroom. While your family and guests gathering in the kitchen, you might know it is not only a place to make a meal but also a central spot where you create memorable things, which makes your kitchen the heart and soul of your house.
When it comes to kitchen renovation, you might first think of changing the original white paint wall that you start to feel bored. The backsplash is one of the perfect places in the kitchen space to add some energy to an otherwise boring space just like these remodel plan shows. From palette, shape and even glossy surface, the effectiveness of shield shape tiles are endless, which might bring something unexpected to your kitchen.
2.Why Mosaic Tile As Backsplash
When they started the renovation process, they reached out to our professional designer about adding creative mosaic tiles to their backsplash and we're excited that they did it. Because mosaic tiles are practically made for kitchen backsplashes, not only they are being installed easily and not need lots of cutting but also enliven gloomy spaces below cabinets.
If you live in not large space home just like one of our customers, literally every inch matters and you might need an open kitchen that was both multifunctional and highly perceptive to reflect your free-spirited disposition. Or you have a large spacious kitchen just like the other one of our Vietnamese clients, utilizing these pure white shield shape paired with the marble countertop to balance the whole tones.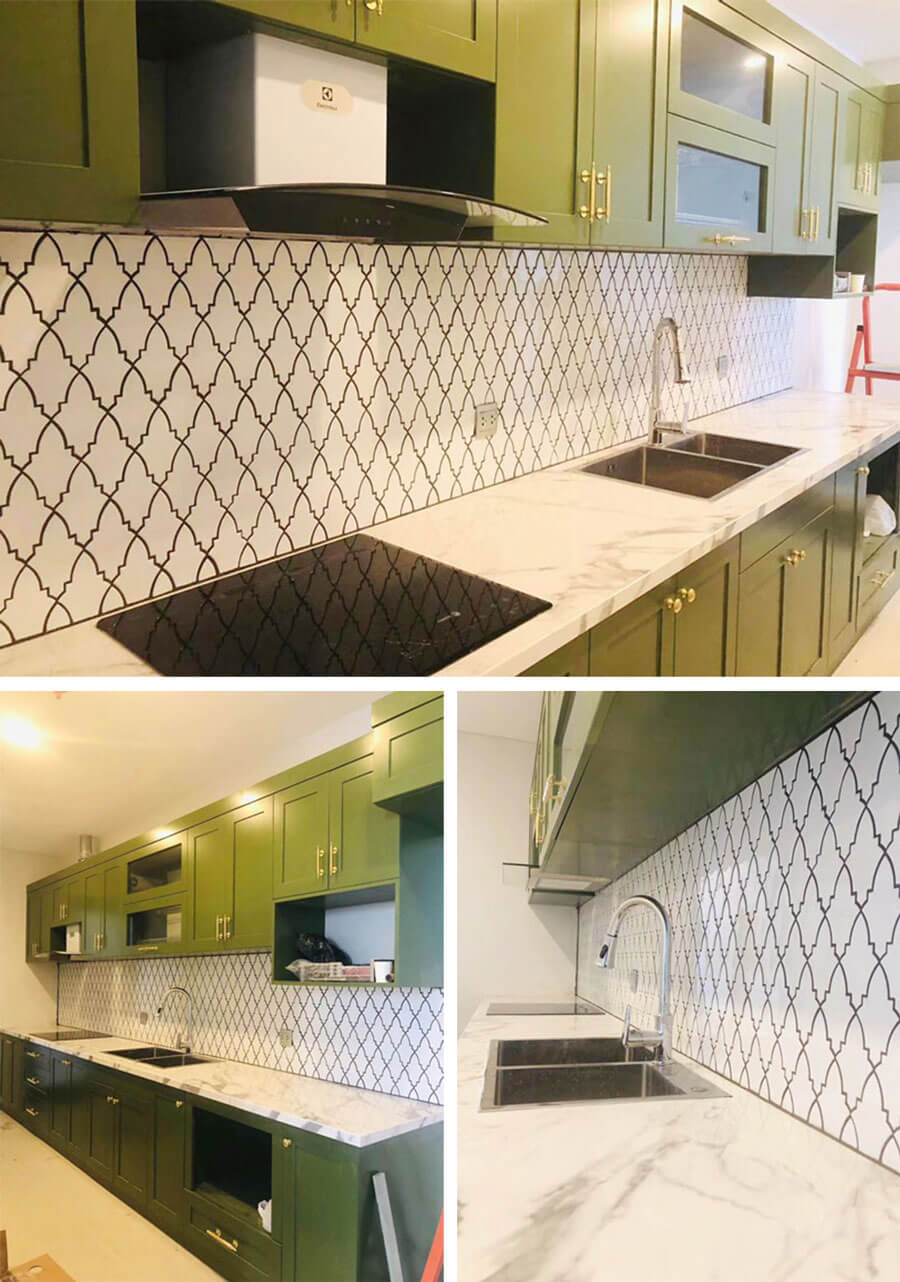 3.Color and Shape
When you want much space to work with, be bold with your color choice, and choose a characteristic shape. A classic and bright palette will add individuality to your space and make it appear larger, while a vivid shape will give an attractive element. They all concerned about everlasting style, a traditional pure white backsplash will stand the test of time. To spice things up, add a few natural elements that will liven their space such as emerald potted plants or oyster green cabinetry. We have not only a white one, but also granate and tale blue. More details of these amusing shape and colors info, visit this post: 268*222 MM Glazed Shield Shape Porcelain Mosaic >>>
4.Installation
While installing mosaic tile ( particularly irregular shape), incompact chips flying around might be a nightmare. However, they don't have this problem due to our mosaic all have the back mesh. There are eight chips in one sheet so instead of having each chip of mosaic to deal with, our customer had only deal with easy-to-install sheets of mosaic tiles.
Rather than keeping an original edge at the top, they choose to cut that border straight in order to combine well with the above cabinetry, which creates a consummate and impeccable edge. These transitions are wonderful and bring modernistic design elements. If you prefer to do this by yourself, this article about installation knowledge might help you: How to Tile Your Backsplash with Porcelain Mosaic >>>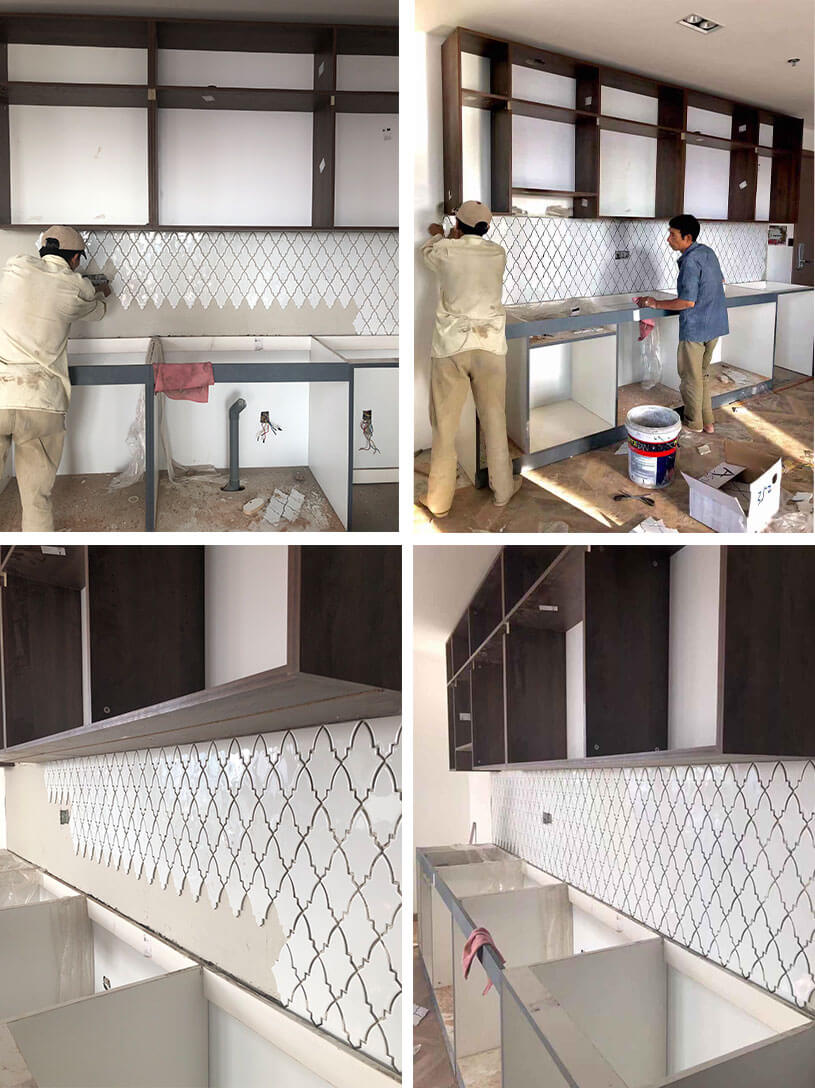 5.The Results
The results of Vietnam customer's kitchen backsplash were more splendiferous than we ever could have thought. This unique shield shape mosaic backsplash is the best choice for their renovation projects. One piece of suggestions for someone who prepares to select mosaic tiles as a backsplash is don't refuse the irregular shape. Sometimes an individualistic and unusual shape is just what space needs to come dramatic! See other awesome projects, this blog might show you more: Voguish Mosaic Designs Inspired By Our Vietnam Customer's Store >>>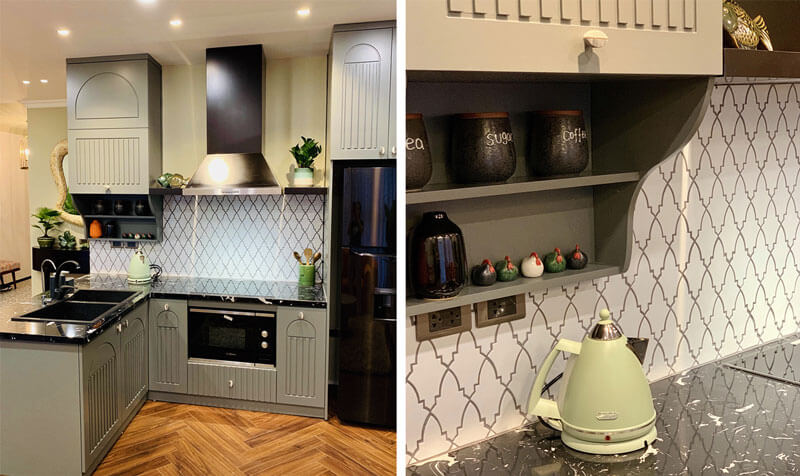 Get any renovation idea? Contact us for shield shape mosaic to feeling its smooth glazed surface. MM-Mosaic has been working to develop a more creative shape mosaic and design stylish backsplash for global customers. Why not share your imaginative inspirations with us now!