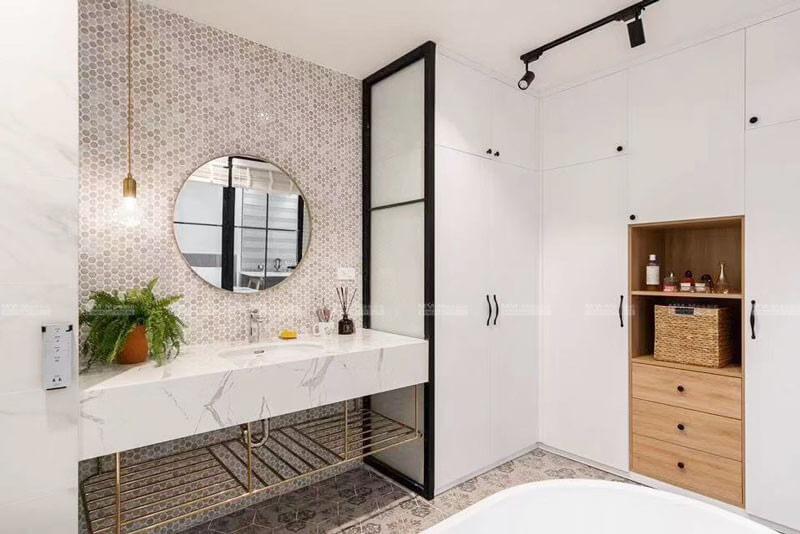 Tired of cookie-cutter hotel rooms while you're traveling? Our customer at Vietnam sure knows the value of a uniquely designed interior space that represents the heart of the hotel. We were so pleased to be a part of their hotel's decorating project, which showcases our beautiful mosaic. For this project, our exquisite mosaic creates a contemporary and Moroccan style, from bathroom wall to bar countertop, exudes a charming modern design aesthetic. Cloudy color small hexagon, heavy ice crackle fish scale, emerald tone star cross, and lovely fresh hue finger shape, all of them complete this amazing space.
We can't wait for the finish! Continue reading to seeing this creative decorating project and how the details turned the rough house into a dream room.
Cloudy Cream Tone as Bathroom Wall
We're all easily full in love with the color but we can not help being fond of a dream-like cloudy cream palette. This all small size hexagon statement wall is absolutely attractive, which not coordinate with the tone of the whole space but gets imaginative with the design and overall flow of the mosaic.
For more interior designs of the bathroom, click our blog "How to Realize This 13 Small Bathroom Inspirations"
Featured Product: 1-inch hexagon glass mosaic tile BGZ033
Emerald Star Cross Goes On Corridor
Mixing different mosaic shapes together will bring an impressive custom-look without costing custom-look money. The special star-cross pattern, as one of our popular patterns, make the monotonous white wall more vivid. We arrange the star shape and cross shape in an orderly manner that you won't be dazzling while looking at the wall. It's also a wonderful way to redecorate the common wall of your home.
For more stunning star-cross mosaic inspirations, read our blog "Vibrantly Green Premium Glazed Star x Cross Tile"
Featured Product: 48X67mm Star Cross CZO732A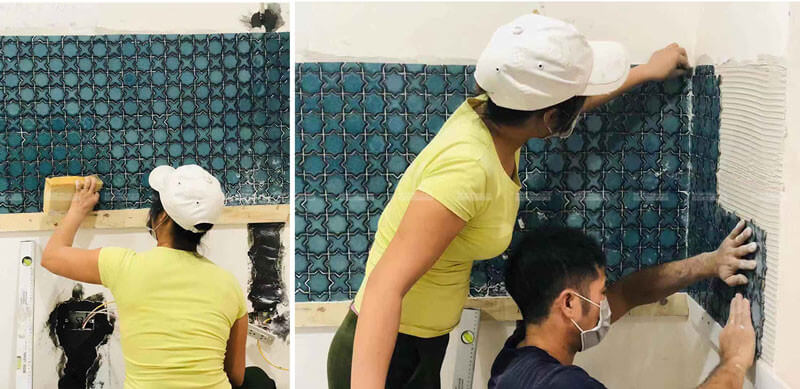 Moroccan Style Bar Counter
We all know the fact that fish scale shapes can make a statement no matter where they're placed and their flawless rounded tops look cozy with a natural edge finishing. This heavy ice crackle mosaic choice combined well with the shape of the bar countertop, Moroccan style of the space resulted in a bar area that's both eye-catching and creative.
While looking down at the below, you will find that many fresh green color finger shape mosaic. Usually, people use mosaic on the wall or floor, but why not give them the attention they deserve? Just like that! Paving them on the bar counter.
Learn more about imaginative fish scale tiles used in commercial space, for example, coffee shop, check out our blog "Voguish Mosaic Designs Inspired By Our Vietnam Customer's Store"
Featured Product: Heavy-Crackle Wave Pattern Fish Scale CZB621X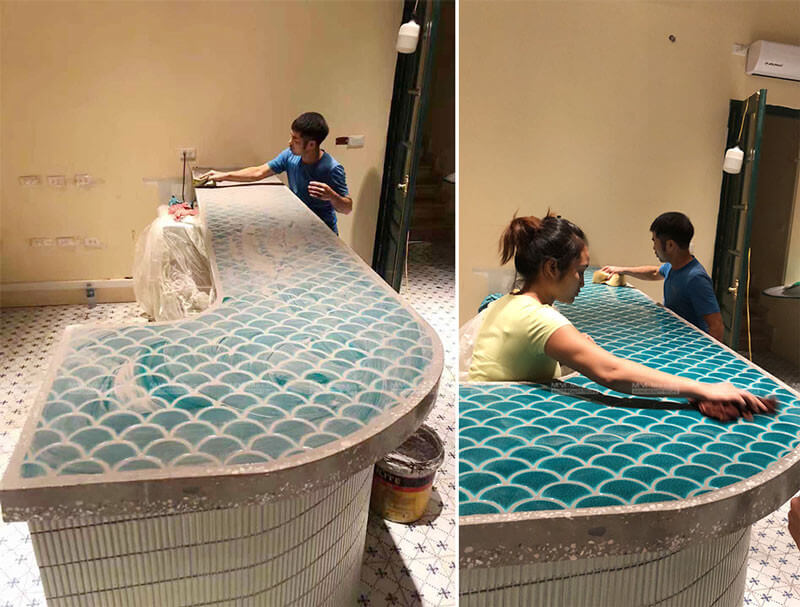 Get Any Ideas?
The result of the hotel project speaks for themselves. As a professional mosaic tile supplier, we're so glad to receive our customer's share of their project because we can't wait to continue showing our high quality and uniquely designed products to the global clients. The direct way to see and touch the mosaic tile is by contacting us for samples!