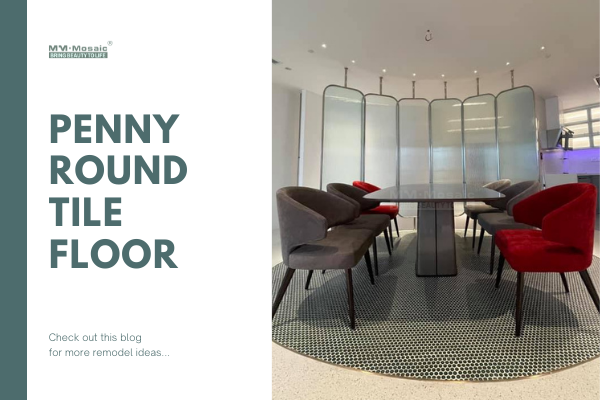 Our client Anne at Vietnam sure knows the value of a dining table floor that represents the kitchen and people inside the home. We were so excited to be a part of their dining table floor remodel project, which showcases the style highlights of her home. For this project, we made a monochromatic and modern dark green floor for her dining table space. This 19mm penny round beauty features a subtle ombre, transparent glass screen, comfy chair, unique dining table - four of our favorite things in this space. Continue reading to know about the amazing concept behind this space redecoration project and how the details turned the ordinary space into an outstanding room.
The Unique Concept
Anne's family is warm and happy. Her family members are focused on promoting a joyous vibe to their guests. Naturally, they wanted their dining area to showcase what makes their family great. As their friends walk inside they are greeted by a refreshing and chic floor of all of the things that show what this family's atmosphere is. Then they used Vietnam local companies to remodel the dining area including the airy transparent glass screen, porcelain floor tile, and of course, our dark green 19mm penny rounds! We couldn't be happier to be included as a representation of the loving family of artists and tile suppliers that Anne's home offers.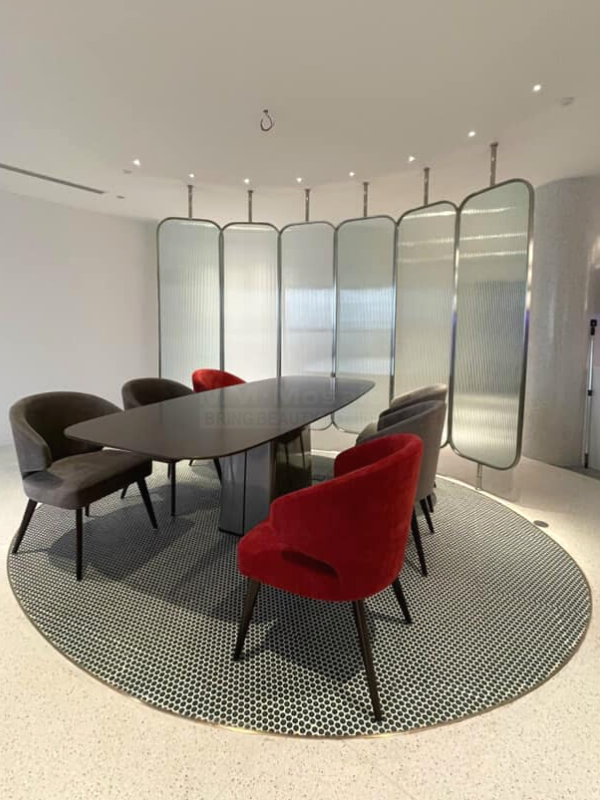 The Design Process
Sometimes people come to us with a particular style they love, sometimes it's much more conceptual. In this case, Anne wanted her dining table floor to match their home style. Her home style is natural, free, and relaxing, moreover, Anne wants a natural floor style with a dark green tone. We had fun finding ways to depict their family-style in handmade tile and landed on this lovely design in Penny Round Tile. The tile glaze palette includes their family represents color - dark green but then expands to more subtle tones that you would see in the tile surfaces to amplify the kiln tile finish.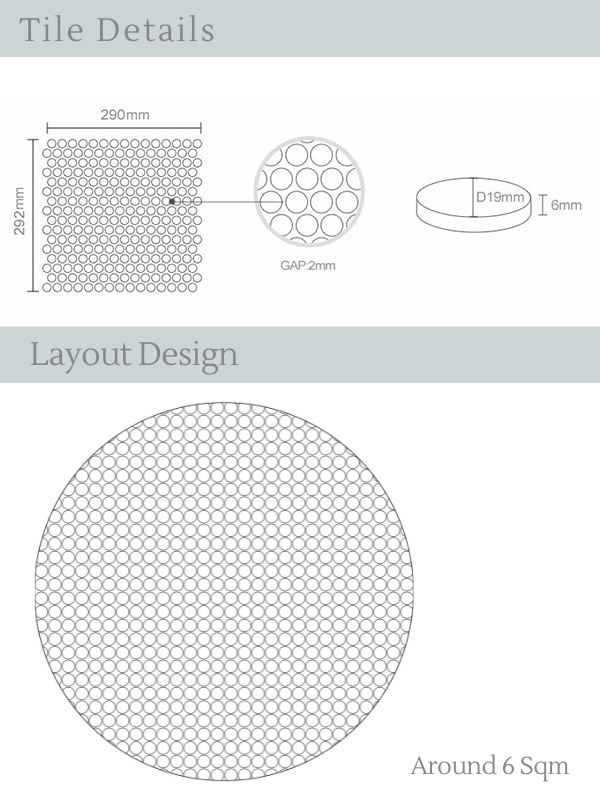 Tile Overview
Penny rounds are one of our favorite tile shapes because of the characteristic round patterns you can create within them, such as a word you like, an emoji, a pet pattern, etc. One of our design team's favorite designs is what we call the "forest tone." It is made of many monotonous dark green penny rounds that cover the whole round area. It's a custom option that we like to do, always creating a forest vibe to your dining table floor, in order to create the natural atmosphere and eyeful space possible. The illustration below is an example of how we mock-up a tile floor design digitally before we begin making it.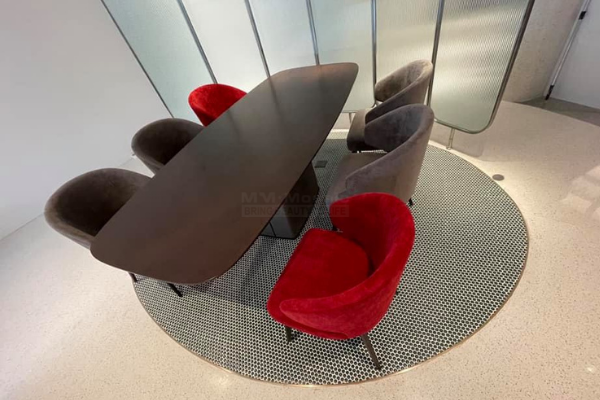 Featured Product: 19mm Blossom Penny Round Peacock Green
The Making of Penny Round Floor
This floor remodel project was one that came to life in our layout department. When we have custom penny round tile floor projects like this we lay it out in our technical factory and glue it onto mesh sheeting for easy to install, can you imagine if we didn't? It's such a particular skill set, both creative and professional. After many years of making it perfect, our workers are some of the most skilled layout artists we have ever met. In this project, they according to the designer's drawing to create the stunning tile look.
Love penny rounds? More funny ideas here "16 Types of Penny Round Mosaic Meets The Mid-Autumn Festival Day"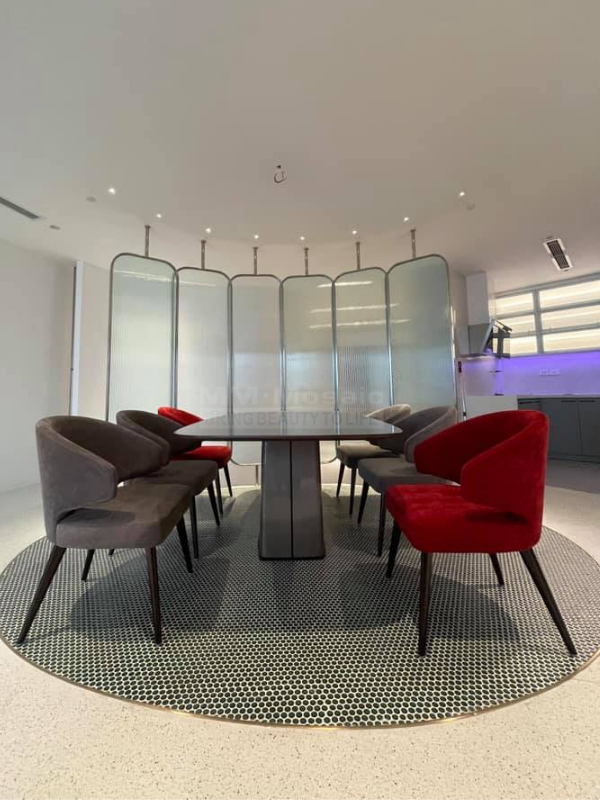 A Natural Floor
An understated dining table floor isn't typically an eye-catching and attractive space, as well as at only 6 square meters it would be easy to write this floor space off with a dull design. By adding a natural and fresh floor mosaic tile, this space grew to look almost twice as large and appealing. Never forget, no space is too small to make a huge impact on your whole residential or commercial area. These seductive dark greens and soft tile shapes are the ideal examples of how a little mosaic tile can go a long way.
For more penny round tile ideas, visit our blog "Why Penny Round Mosaic Can Keep Your Entryway Fantastic?"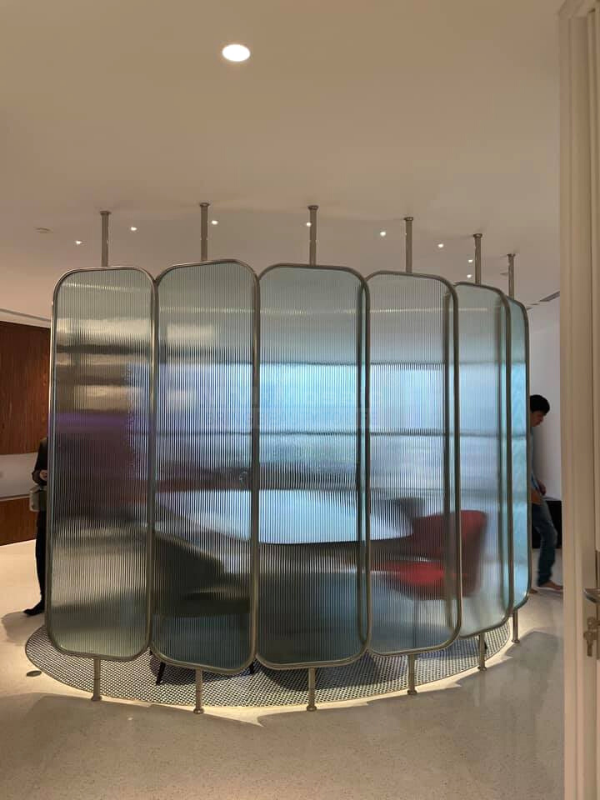 Remarkable Finishing
Completing the whimsical energy of this floor tile installation is one of our favorite finishing techniques - a clean edge. Rather than organic edging, let your tile gather and stand out on the dining table floor. To create this wonderful look we glaze the edge pieces of the floor mosaic tile that will be exposed and do a special custom layout on mesh sheeting for easy to install. This finishing design adds a bit of contemporary spice to any project and is a simple custom choice.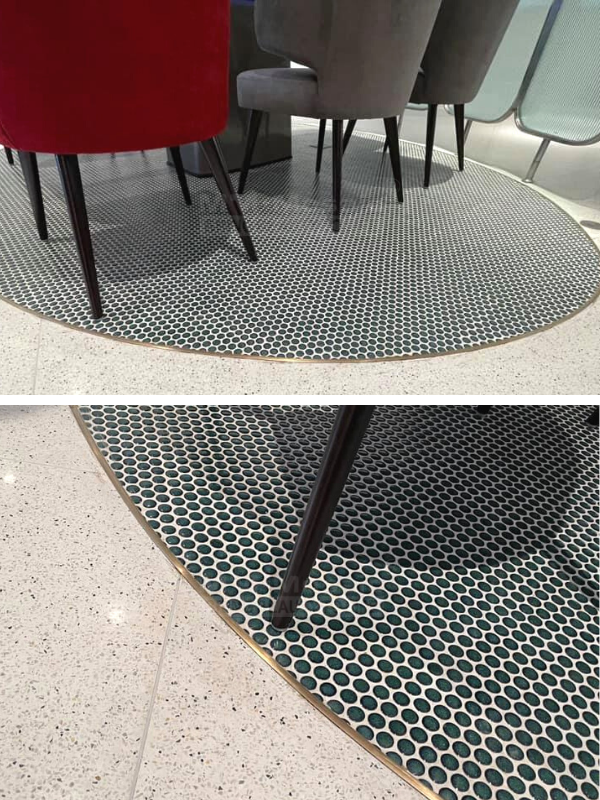 Ultimate Touches
There are some other details that make this project a winner. One option that we appreciated deeply is how the white tone porcelain floor tile combined with the grout color for a natural transition from the dining table area to other spaces. Understated options like this can make a big impact on the final install, and this project gets a great grout effect from us. Furthermore, the transparent glass screen, the unique dining table, the comfortable soft, and the small shoot the light gave space for this project to pop. Eventually, nothing makes us happier than finishing touches for Anne's dining table floor redecoration project. All of these things made for the deepest impression dining area we have seen in a while.
Learn more about kitchen design, check out our blog "Trends: 14+ Minimalist Kitchens to Inspire Your Next Project"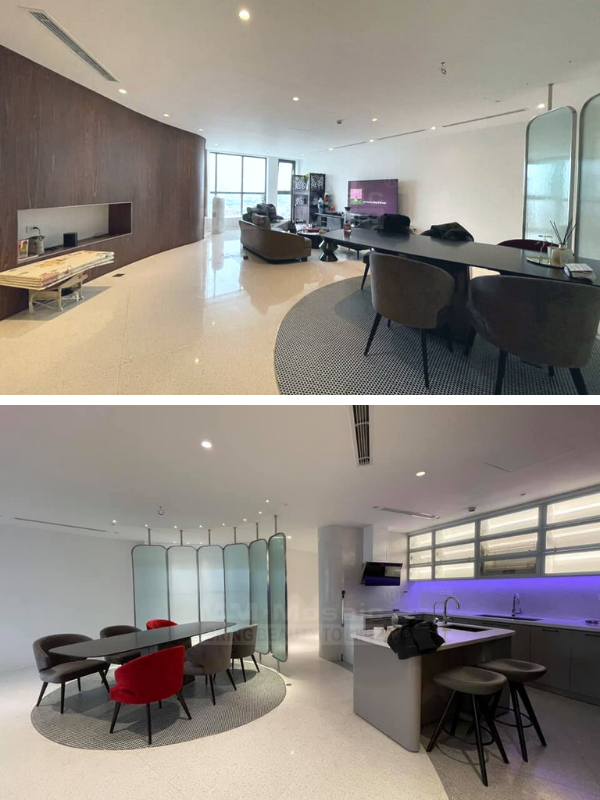 Get Inspired?
Because custom projects mean MM-Mosaic gets to work with our clients to create the exact tile of their dream spaces, we love it! Head over to our other custom projects for more amazing inspiration!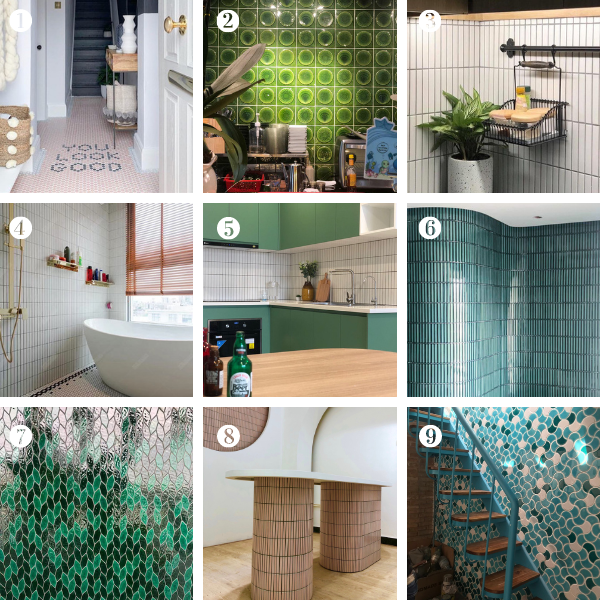 If you're interested in our handmade tiles, you can order tile samples to see and touch in person. We believe that you might fall in love with these beautiful tiles! We are so excited to hear what inspires your future project. And we want to know this natural dining table floor project gives you any ideas? Share your ideas with us or comment below right now!