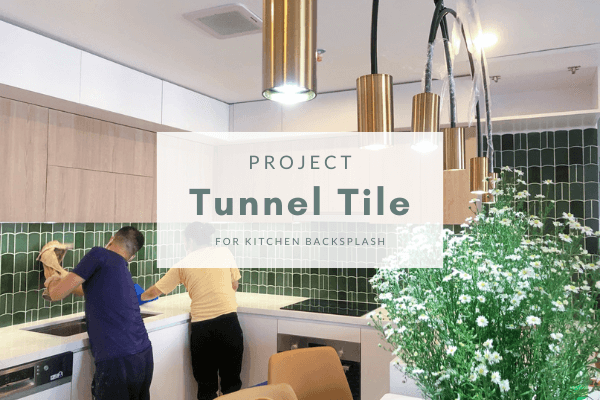 A kitchen area can be so much more than a space to make meals. It can also function as a spot to have a delicious meal, a place to gather with guests and family members, or even a workstation. With so much inspiration out there to pull from, it can be hard to know where to start - particularly if this is your first kitchen renovation.
The ballots are in and customized handmade tiles are taking the lead in the tile world. We helped our client to design a kitchen backsplash for their home that is certainly something to home about. One part peaceful and airy natural atmosphere and another part just vibrant pleasant vibes, keep on reading to get the full scoop behind the green mountain place kitchen.
1. Thinking Your Style
With consideration for your lifestyle needs and develop a set of aims for your kitchen space. Are you someone who makes a meal often? Do you imagine this will also be a space to entertain? Or for your children to focus on homework? Pay attention to other factors such as storage space, and ease of clean work. Complement your aims with a folder or a mood board for kitchen redecoration inspiration. This will not only help you to design the layout but also help you narrow in on a tone or personal style.
For more kitchen design ideas with our blog "Trends: 14+ Minimalist Kitchens to Inspire Your Next Project"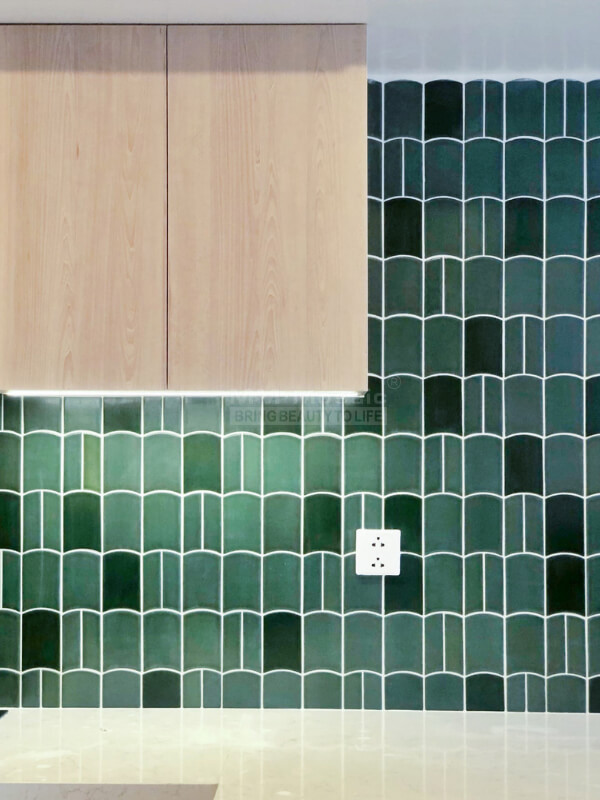 2. The Tendency
We prefer to make a statement with handmade tile and this mood board created by mm-mosaic sums it up pretty well with a "stunning and unique backsplash". They wanted a space that was tranquil and peaceful to contrast with a pop of green tile. The tendency for this project was inspired by our customized handmade tile. It's the perfect combination of natural and simple style. We adore their attention to detail by incorporating wooden cabinetry to show off more green tile and silver fixtures to complement the wooden elements. This mood board made our designer desire to get started making something special.
To know more about the process of creating a kitchen backsplash, browse our blog "Project: White Stacked Subway Tile For Kitchen Backsplash"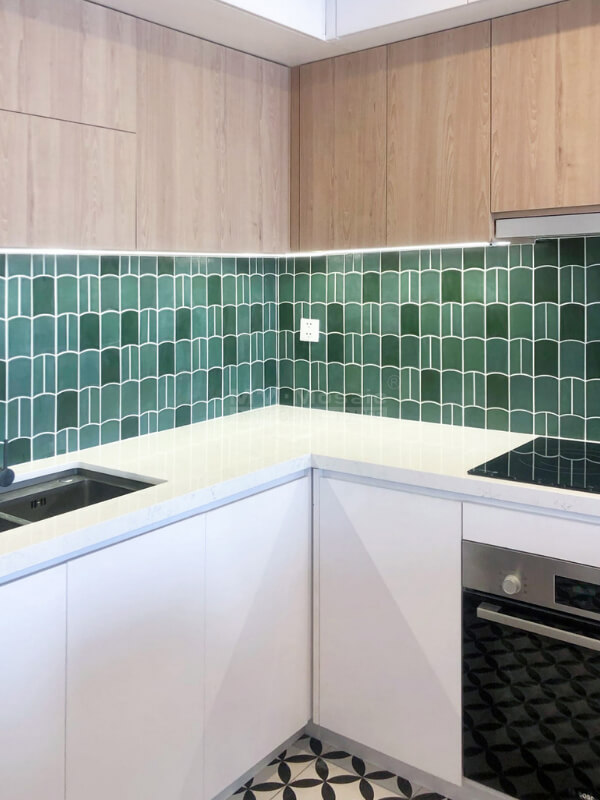 3. Make a Backsplash
The backsplash design process is always one of our favorite parts of a renovation project. It brings us a chance to make that one-of-a-kind project just for you. Like this case, our client said her own custom kitchen backsplash not only makes her relax every day but it's a dose of daily inspiration and she wanted everyone to come into the kitchen to feel the same.
Since our client loves the forest, she wanted the kitchen backsplash to show these natural green tones and tranquil vibes. We got to work on making the ideal blend inspired by the outdoor forest and ended on a mixture of green colors that was nothing short of irresistible. The blend is made up of the comfy forest palette of cool tones with a mixture of different patterns and kiln variations. It's even the debut of our latest glaze colors!
As for the handmade tile shape, the Tunnel Collection is a must. They're chic, trendy, and timeless. What's more, did you know that our Green Tone Tunnel Collection symbolizes rebirth, renewal, and immortality?
For more of our Tunnel Collection, visit our blog "Style Collection: 15+ Tunnel Series Tiles Make Your Space Pop"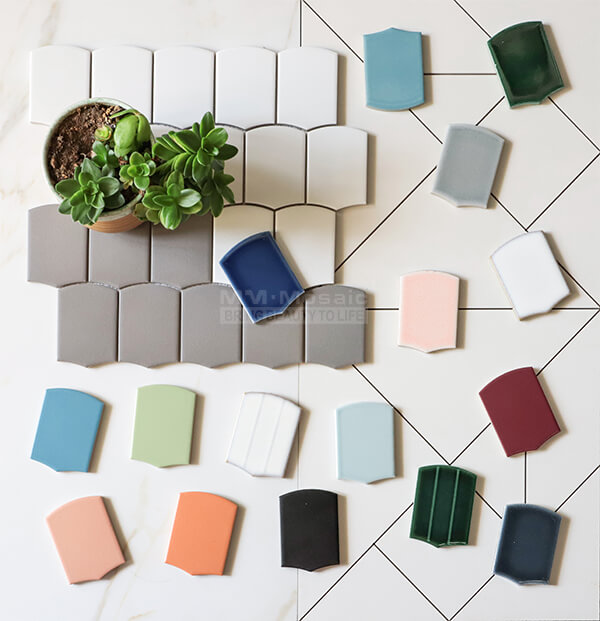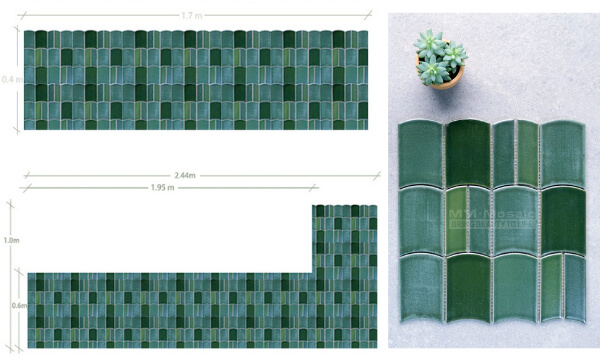 4. Installation Process
Did you know that our layout workers punctiliously lay chip by chip onto mesh sheeting to ensure an easy installation? Although our client called the professional installers, having mesh sheets makes the process a breeze. Our kitchen backsplash remodels projects range from standard one shape or glaze combinations to more shape or glaze combinations. No matter the degree of complexity, we will try our best to make it easy for you. Every piece of handmade tile goes through many experienced workers' hands before it's ready to ship, which means your wall decor will have a characteristic and unique feeling that you just can't find elsewhere.
To learn more about our backsplash layout process with our blog "Project: Creative Vietnamese Backsplash Inspired By Shield Shape Mosaic"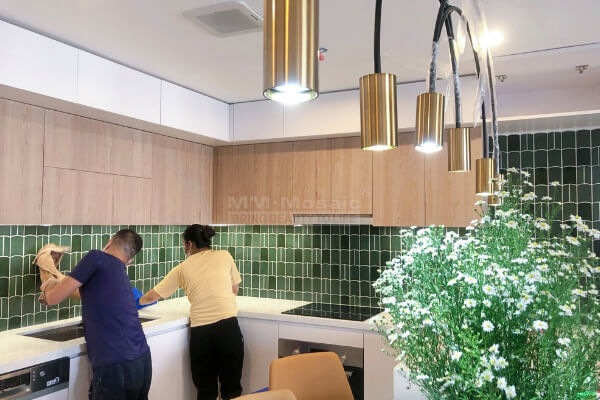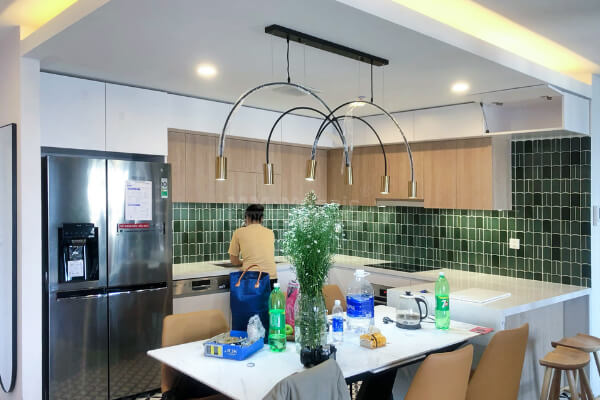 5. The Result of This Project
Bather than we ever could have imagined, this kitchen remodel blew all of our expectations out of the water. The gorgeous geometry of our beautiful Tunnel Collection in the green blend is a match made in heaven for this space. This charming backsplash is the ideal complement to the gorgeous wood cabinetry and white natural marble countertop with soft greenery from the forest. Moreover, the customized light in golden color has us swooning. It's all in the details for this masterpiece of the whole open kitchen.
To read more about the chic projects in 2022, visit our blog "7 Projects To Inspire New Year!"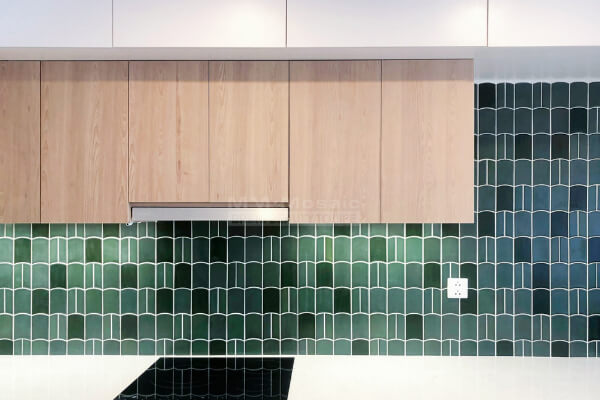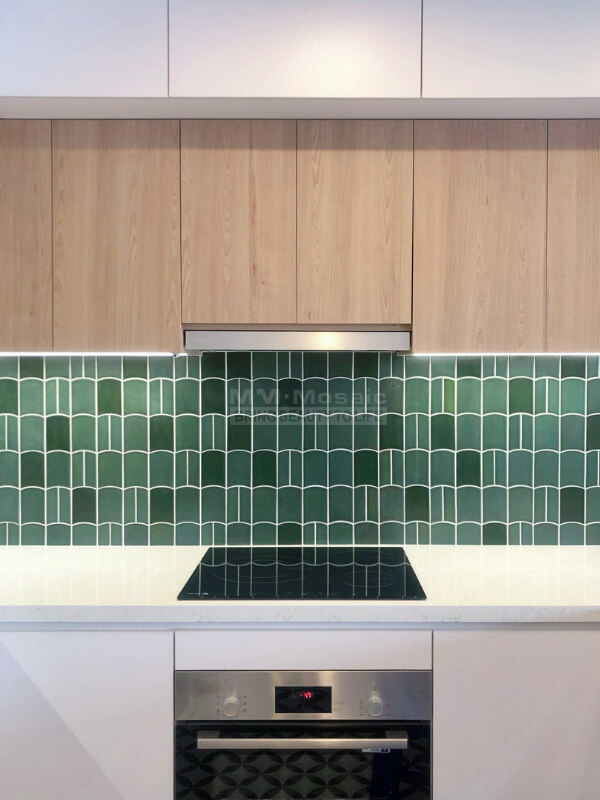 Get Inspired?
We all agree that no two personalities are the same so why should their spaces be? MM-Mosaic is on a mission to break the barrier of bland handmade tile, as well as give our clients accurately what they have been dreaming of. So we want to know - What does your personal blend look like? Check out below and feel free to contact us for free tile samples to see and touch right now!