When it comes to cafe shop entry wall tile, this understated coffee shop changes the dull concrete wall into an eye-catching glazed mosaic! Get your smooth touching, chic, kiln effect surface leaves shape handmade tile at this entry. We're so happy to be able to create the unique and imaginative shape and lifelike leaf texture that helped support the design vision of this cafe entry. And the workers did it turn out wonderful! Everything in this wall was good planning and well thought out, so we were especially excited to have our dark green series for this Vietnamese cafe shop's entry which acts as the focal spot of the whole space.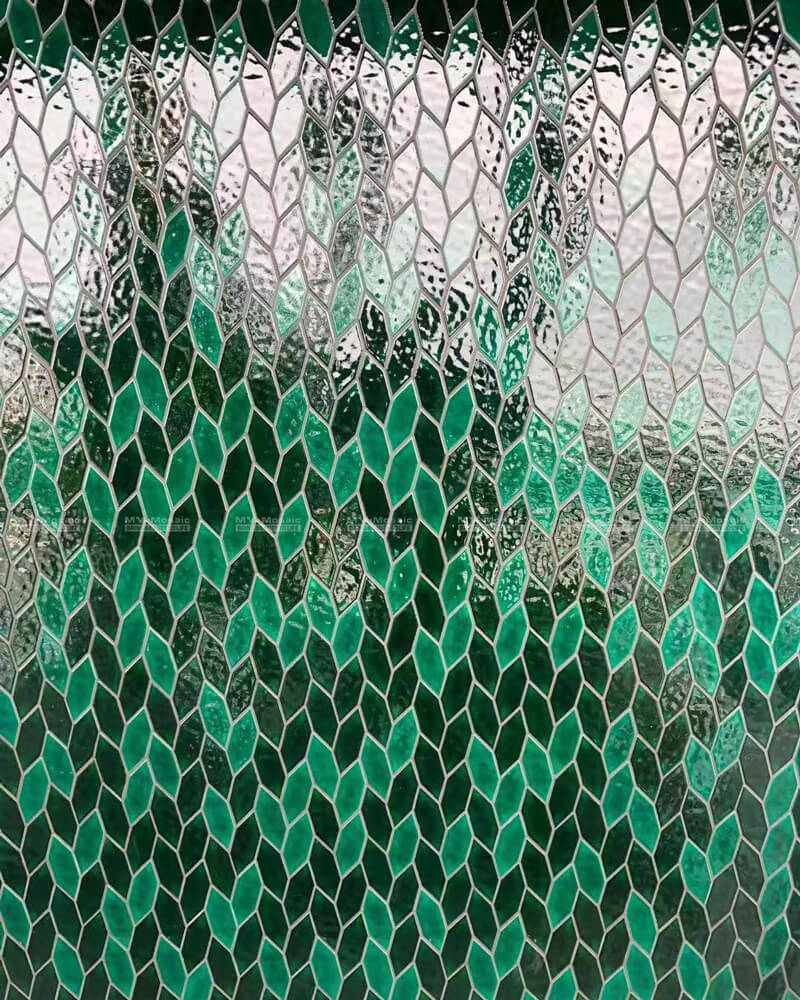 Dark Green, Picket Leaf Shape ZBC5001
Let's keep on reading to know about how the shop owner transformed this monotonous concrete into a surprising wall filled with tranquil color, and most significantly, a big accent wall filled with personality!
Before and After:
This old gray palette concrete wall started out with a shabby and timeworn shop feel. It's hard to believe that this is the same entry in the cafe shop after its renovation! They placed more green plants behind the wall, make this leaf shape tile combining well with the natural ambient, got the fresh feeling, and added perfect contemporary decor. We mean, the entry looks twice the size and attached more refreshing green leaves! From the below photos this space got the wow-factor to the next level by getting some design inspirations from our designer Jane.
See more commercial space project with our blog: Pink Palette Finger Stackbond Mosaic Makes Dreamy Wedding Dress Shop >>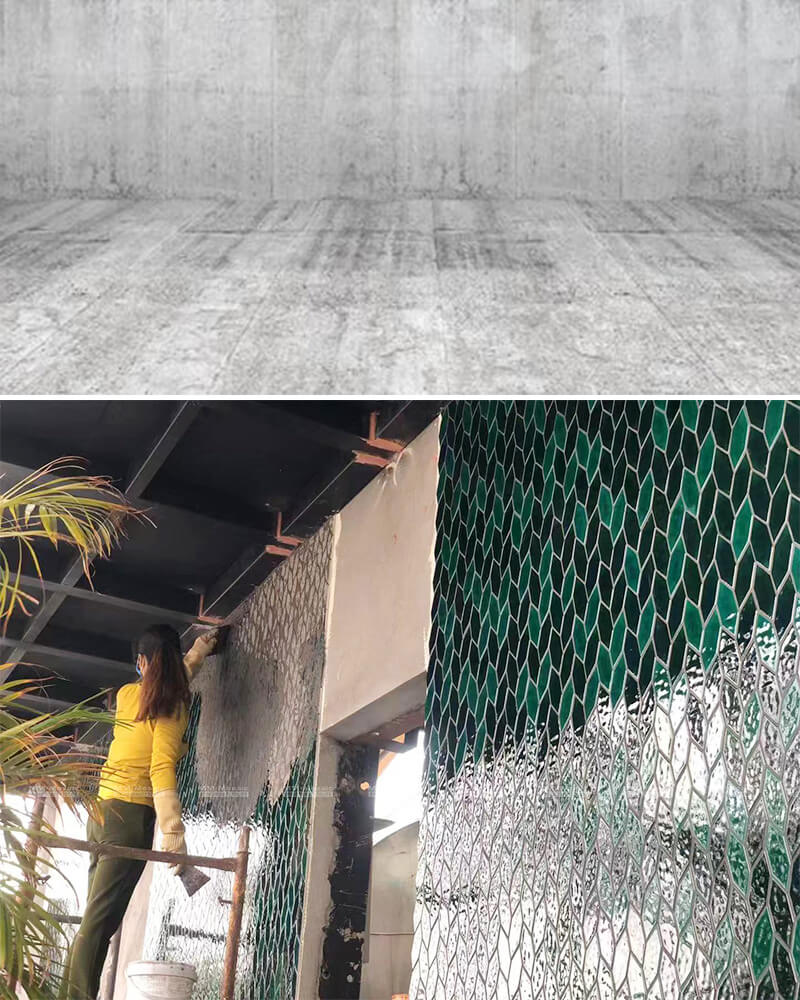 The Accent Wall:
Between times, you might think about how to fall in love with a palette and we believe that the best way is to inspire an awe-inspired space. Just like this entry project, the palette was Tranquil Dark Green. This is the main tone pop of the otherwise natural feel space and it's the color of the greenery. We mirrored that color with a mixture of Viridis breeze and emerald glazes. It was a characteristic twist on a design that's become a collection here at MM-Mosaic. We call this accent wall "The Original Tone" and there are various ways to make it your own entry accent wall.
Look more examples of cafe shop projects with our blog: Coffee Shops with Amazing Scallop Backsplash >>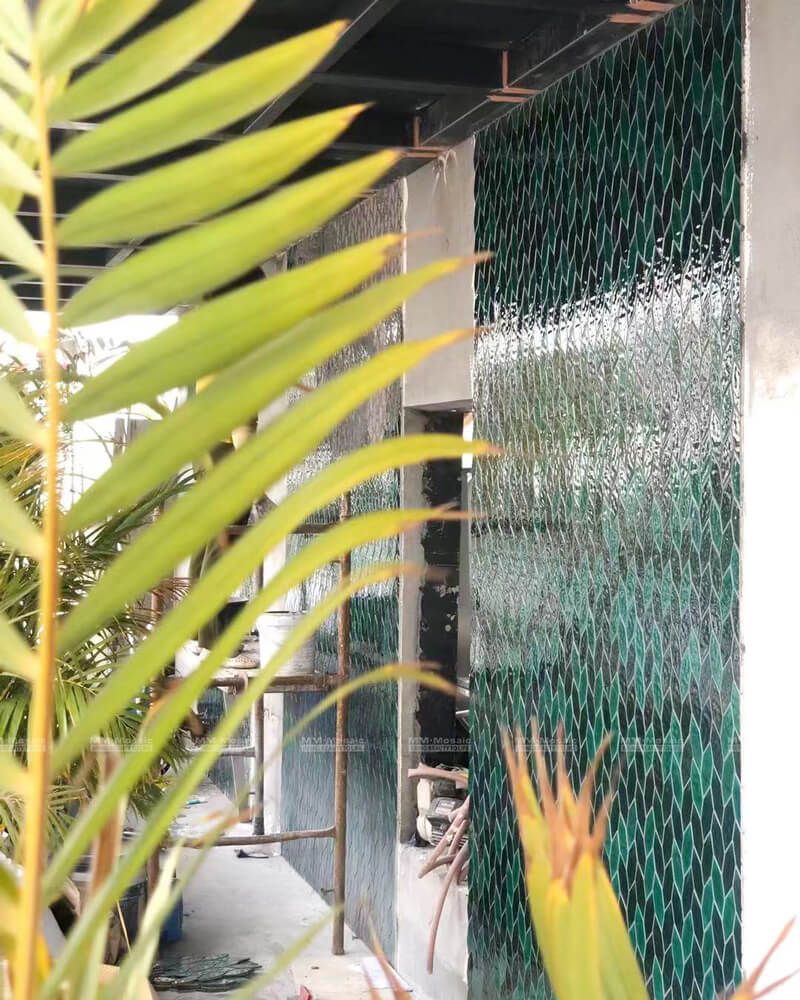 The Leaf Shape
This cafe shop is in Vietnam therefore we meet online and plan for the accent project by video chat together. If you're able, no matter where you're from, we welcome you to visit our factory online to see the professional tile-making production line, meet our team, and get beautiful samples online immediately! Here's what the shop owner had to say about his experience:
"determining the accent wall material, I contact the MM-Mosaic to see their factory and large showroom through live streaming. Therefore, I begin to work on a tile shape and color hue. They have various styles of wall decor that make all by professional workers. It's unbelievable! With tile samples in my hand, I spent a few days to choose this dark green leaf handmade tile that we loved. From there, an MM-Mosaic designer created the general layout, and within 30 days, we had our tiles. The workers installed this beautiful accent wall within a week."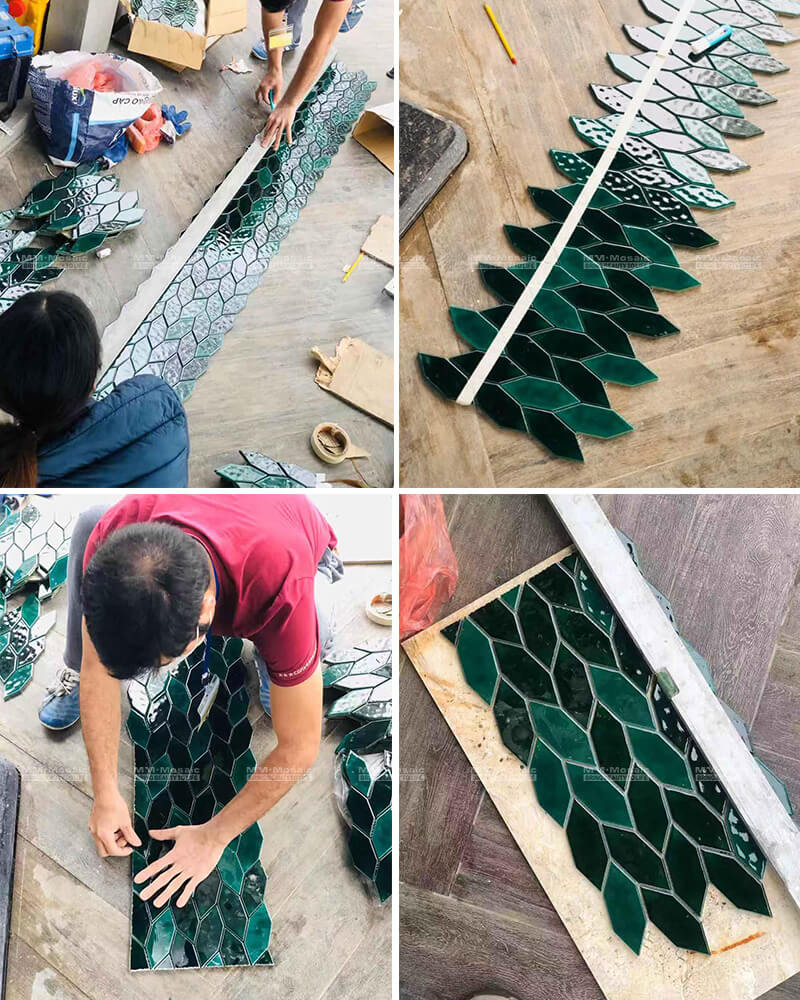 Sure! You read that right: the cafe shop owners installed this unique leaf shape accent wall. We make this happen by checking all the ceramic mosaics before delivery in our factory and chat with the shop owner by online video. Then we transport the mosaic into the ship and all of our mosaics have the back-meshed design, so you can install it easily! It's easy-going to get a mosaic project of decor on a large scale.
Learn more about our other accent wall project with our blog: How To Design Herringbone Mosaic Tile Accent Wall In Office >>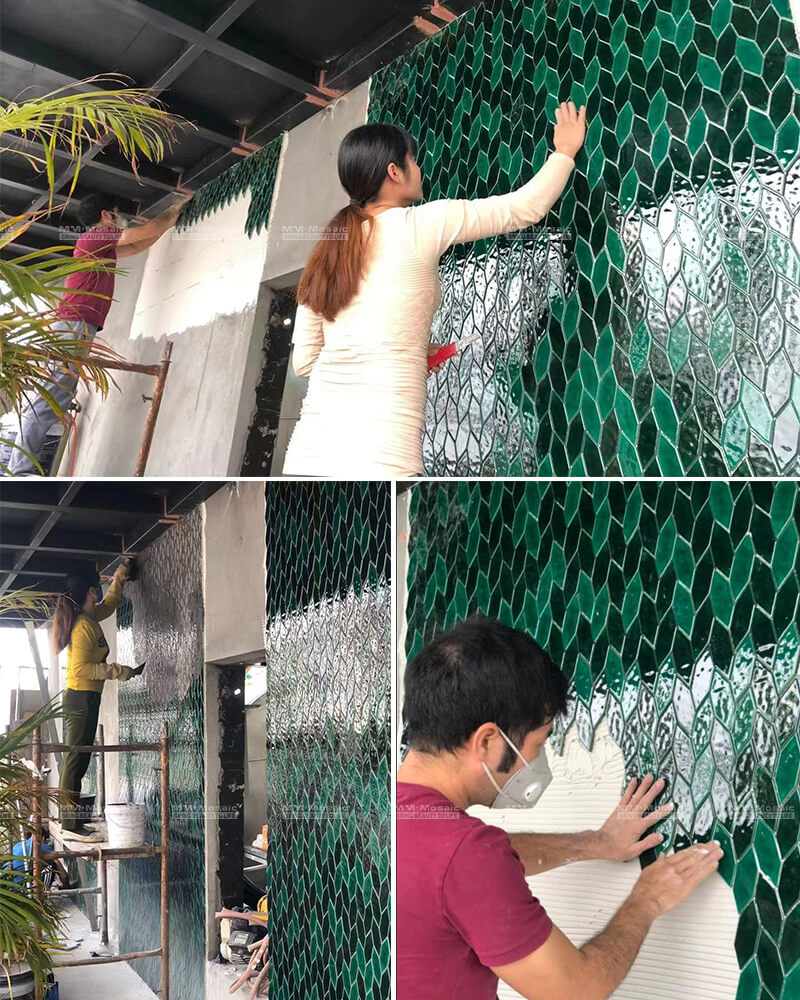 Get More Inspirations:
Learn more details about the interior design of this leaf tile, this blog will tell you: 16+ Dark Green Palette Refreshes Your Space >>
Are this cafe shop entry wall design inspired you? Why not order leaf shape handmade tile to touch and see in person? You might fall in love with its vivid leaf texture and tranquil dark green glazes! MM-Mosaic would also love to hear what inspires your future project! Contact us and tell us more creative ideas with us!
Any Ideas? Let's take this leaf home!