There is a reason green is associates with freshness. Any shade of the irresistible hue can instantly make any space in a home more inviting, which would make anyone not living under the same roof space easily relaxing. But that doesn't mean you can't jump on the green bandwagon too. There are several ways to bring green in your interior space - even better, pretty much any hue under the sun goes with green if you keep contrast in your mind.
Not only green, but the white tone is also very popular in up-to-date interior space design. The color white is the presence of all the colors of the light spectrum. It's highly reflective and white can perfectly brighten up and expand a room visually and energetically. The best part about white is that the color works in all types of rooms and styles. White is a versatile and timeless palette.
Here are some room projects to use green and white separately, read on this blog and you might get some inspirations: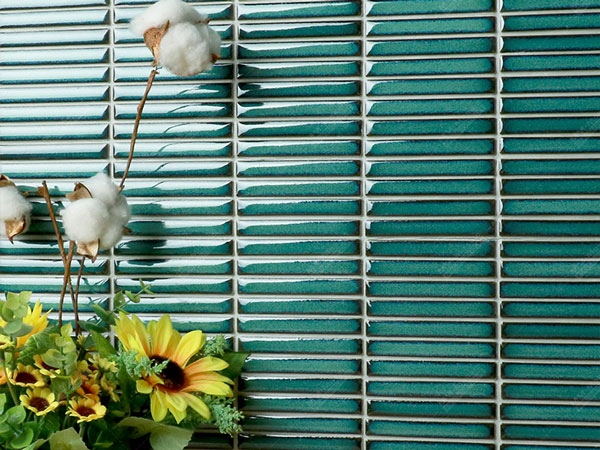 Product Featured: Dark Green, Strip CZO949A
1.White Curve Door
The kitchen door is a wonderful place to utilize the color white. You can bring in white with the built-in parts of the kitchen such as cabinetry, countertop, and floor. A white kitchen door is also great for your simple home style. The curve shape design makes your kitchen more contemporary. Modern Curve door represents cleanliness, purity and is a nice canvas for all the lovely elements you can bring in with your food.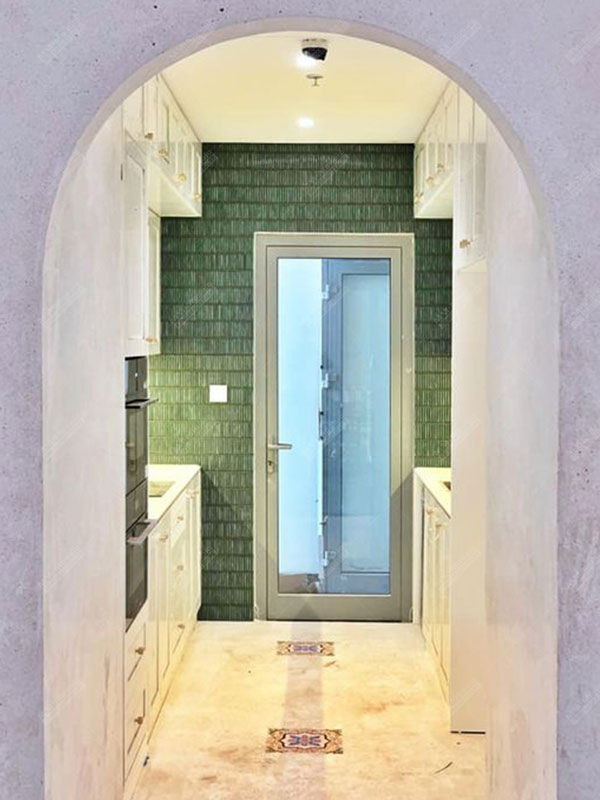 2.Decor with Kit Kat Tile
The stripe and green collaboration doesn't end there: meet the Kit Kat Tile. This welcomed green hue finger mosaic tile turns the common stripe shape into an orderly and clean visual marvel. With kiln glazed dark greens and charming finger shapes, this unique kitchen backsplash is 100% eye-oasis.
For more ways to use Kit Kat Tile, visit our blog "Project: Kit Kat Tile Makes Fun in The Bathroom"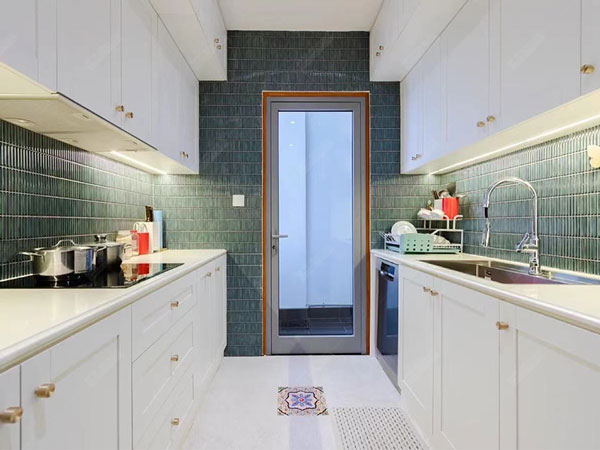 3.The Oasis Green
Our client is inspired by his travel to an oasis and wanted the palette to have a refreshing feel. We played with a variety of green glaze colors including traditionally light greens, middle greens, olive greens, and mountain greens but landed on one custom oasis green that we just couldn't resist.
For more green tone design ideas, visit our blog "Interior Trends: 16+ Dark Green Palette Refreshes Your Space"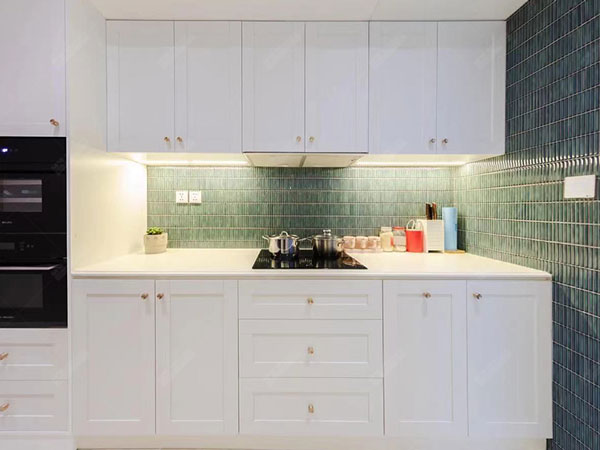 4.The Final Result of Kitchen
Needless to say, we were completely shocked by the result of this kitchen backsplash. This eye-oasis kitchen is absolutely something to write home about. This backsplash will be a focus from the ideally added curve door to the minimalist white kitchen fittings contrasted with the refreshing green color, this backsplash will be a focus! The green fairies are true craftsmen when it comes to designing a detailed space and we are so pleased that our Kit Kat tile fit right into this space.
To see more green backsplash ideas, browse our blog "Project: How Green Glaze Plays in Cafe Shop and Rest Room"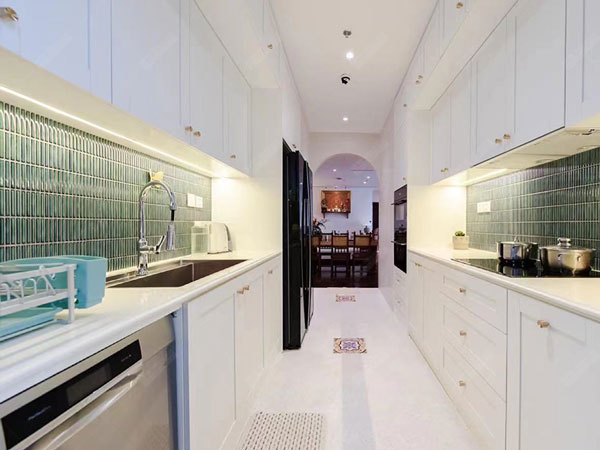 5.Add Green Kit Kat Tile
We cannot get enough of this cheery bathroom wall from mm-mosaic. Not only does it feature a comfortable shade of oasis green on the wall, but the lovely Kat Kit Wall Tile provides a wonderful contrast and acts as a focal point in the bathroom.
For more interior design projects, visit our blog "7+ Festival Interior Projects For The Coming Holiday"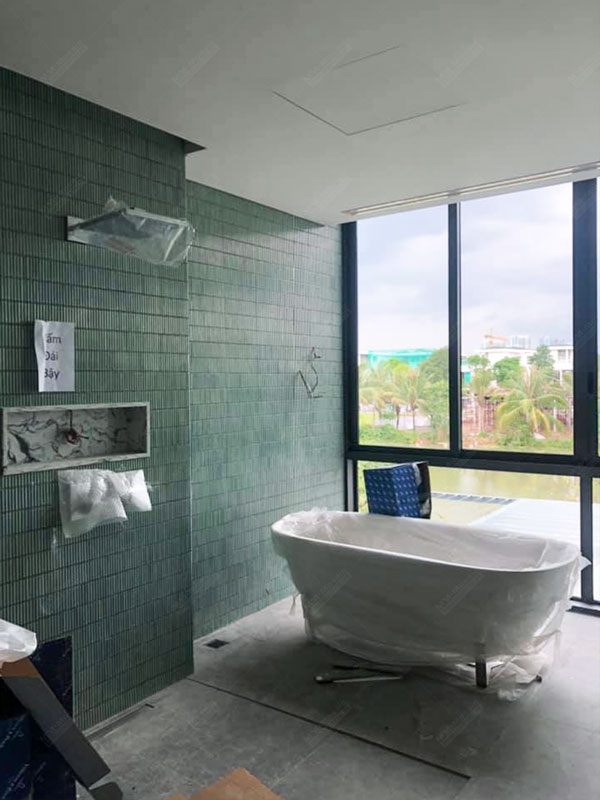 6.Seductive Green Go Into Shower
These natural dark green shower walls from mm-mosaic design offer a sophisticated appearance and feel with a contemporary space. We love how well this tranquil green color works with the large white bathtub and the bright windows.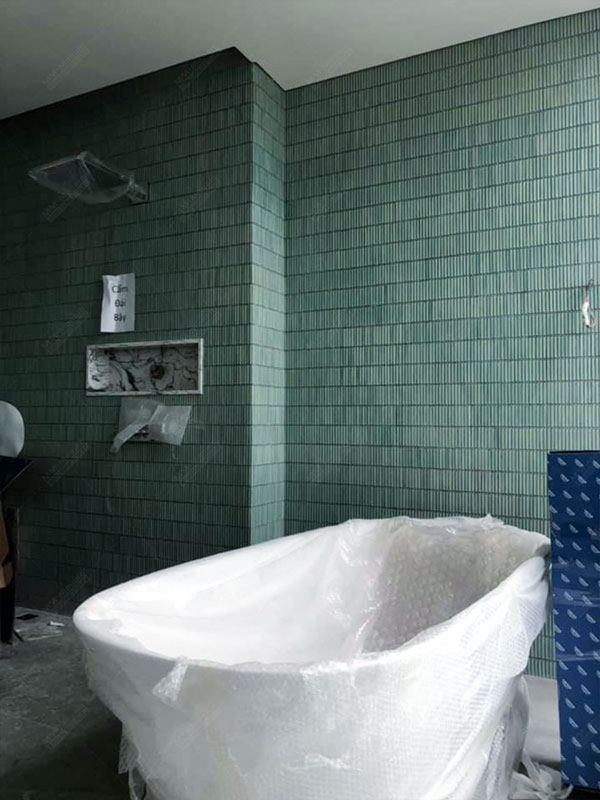 7.Go Green Boldly
In some ways, dark green is one of those "go big or go your home" palettes. Even in the most subtle shade, dark green simply stands out in a great way so why not take the appearance to the next level with a refreshing vertical-style Kit Kat Tile, like the below show:
For more on our green glazes, visit our blog "Project: Tranquil Dark Green Leaves At Cafe Shop Entrance"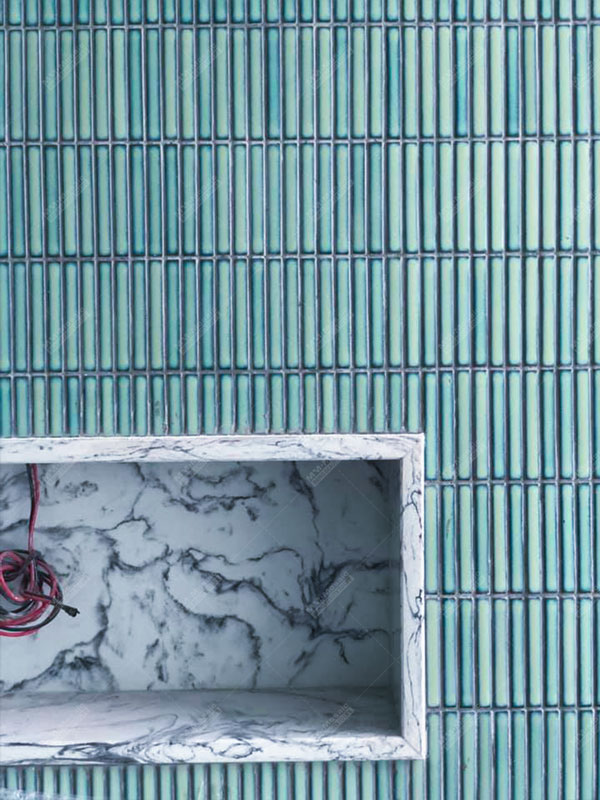 8.Chic Green Bar Island
While we tend to think of green as a trendy, modern tone, this bar area from mm-mosaic proves it can work in nearly any bar space. This bar island is a bit more vintage-inspired and refreshing than some others on our project list, but the creamy white background wall gives it that perfect pop of color contrast to the dark green bar island.
For more bar space design projects, visit our blog "Trends: Top 10 Residential Interior Projects of 2020"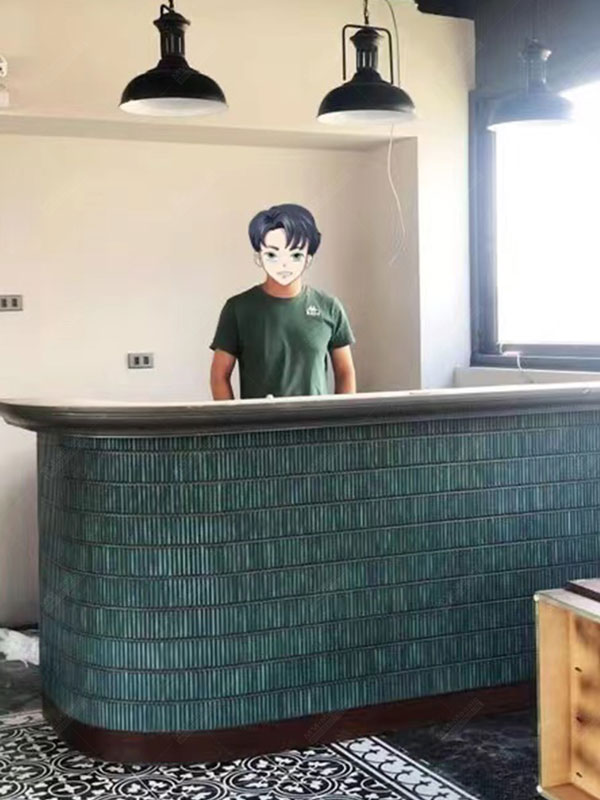 9.Perfectly Curve
A tiled bar island is a perfect place to experiment with green Kit Kat Tile because it allows you to play with a unique glaze in your design. In this bar island, our dark green glaze is filled with personality and character. This glossy and perfectly glaze mix lovely shape creates an amazing look that's the perfect option to complete this leisure space.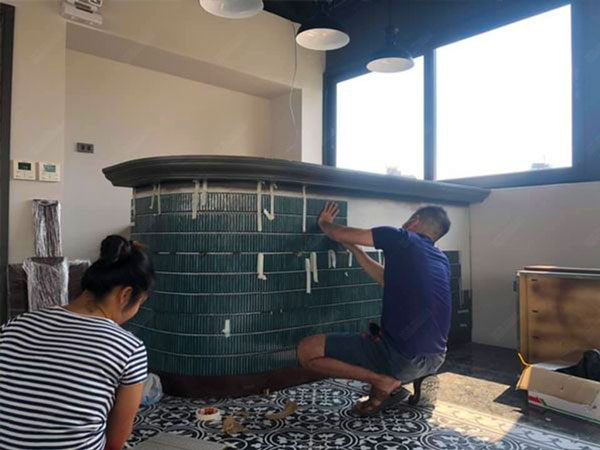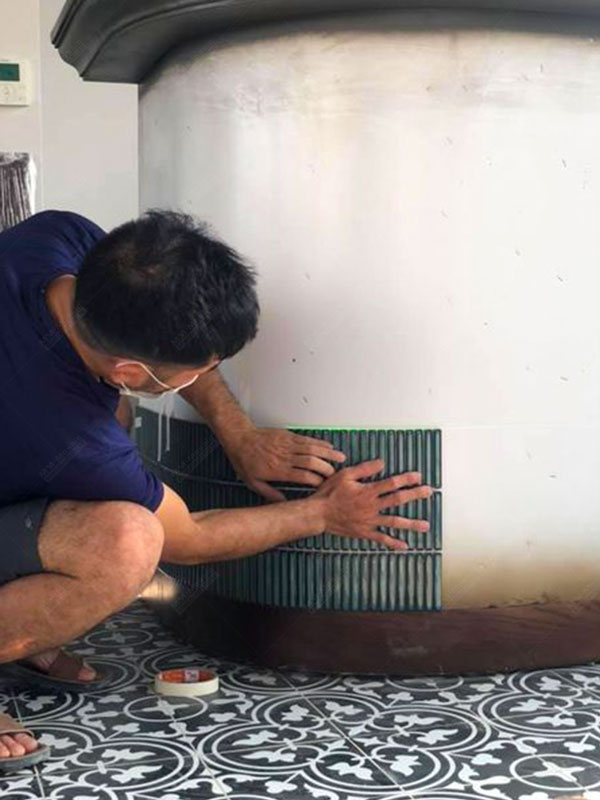 10.Realign The Backsplash
When it comes to backsplashes, white is timeless, chic, and stylish all the time. If you are sick of the boring white wall look, consider realigning the kitchen backsplash to create a more vertical look.
To see more of this project, visit our blog "Project: White Stacked Subway Tile For Kitchen Backsplash"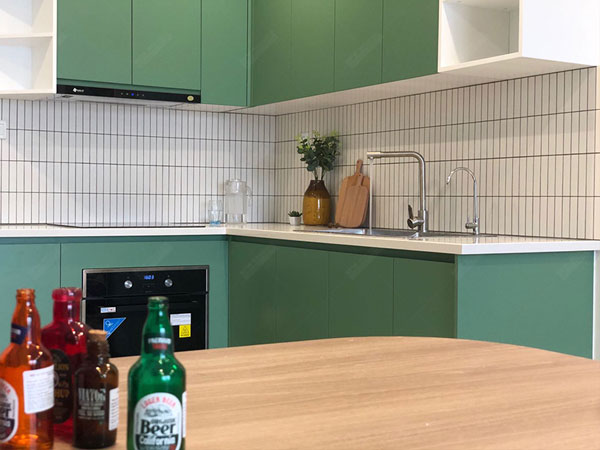 11.Adding Some Greenery
If you decide to create a Scandinavian-style, natural, and eye-catching kitchen backsplash, take the appearance to the next level and adding some greenery, too. Our designer predicts our clients will embrace nature, like bring some green plants that blend in with the green cabinetry.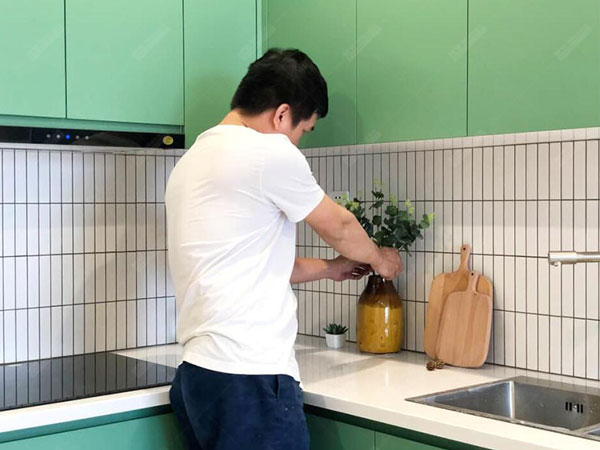 12.Keep it Vertical
A vertical-style mosaic tile backsplash in this kitchen can be spectacular. That is why we wholeheartedly endorse a white color or mostly white palette scheme. Unlike bolder tones, the neutral shade will never be out of style. To inspire you to create a white kitchen that will get your ticker thumping, checking out our project below:
For more white tone kitchen backsplash projects, visit our blog "Projects: 6 Trendy Backsplashes Awaken Your Kitchen"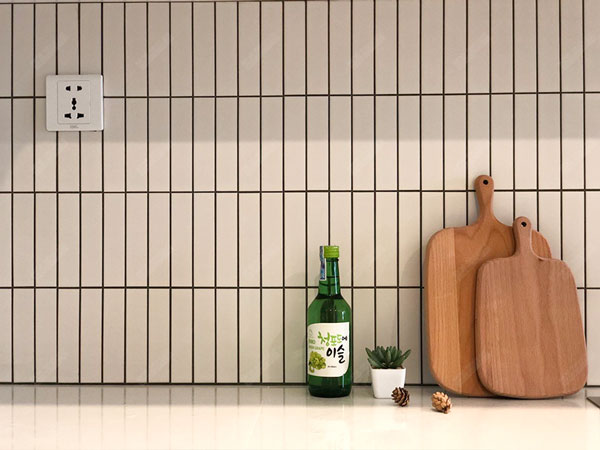 13.Simple White to Bathroom
Another space where white works well are the bathroom. The bathroom is connected to the ritual of cleansing and purification, and pure white goes hand-in-hand with that feeling. There's a reason why most bath fixtures like tubs, sinks, and toilets are white. But, the whole bathroom doesn't need to be simply white. You can bring in complementary palettes with tile and accessories.
For more white hue backsplash projects, visit our blog "Projects: 10 Projects That Show Monochromatic White Stand Out"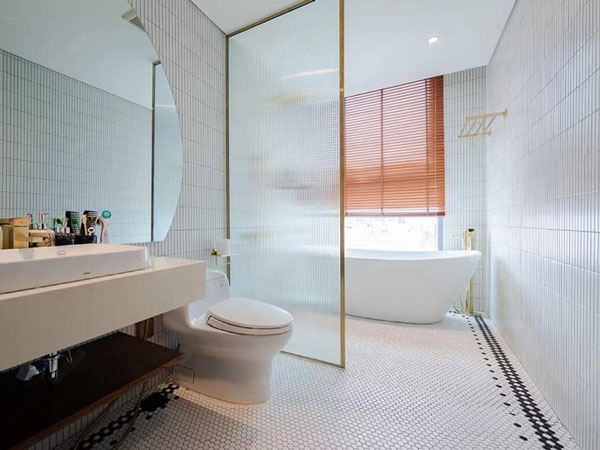 14.White Color Plays Well With Sunlight
It's actually a wise choice to use white color for a small bathroom with enough natural sunlight. The white color on the walls and floors will specifically brighten up and expand this bathroom. White is highly reflective, which brings more sunlight into a room. Lots of sunlight means a pleasant mood.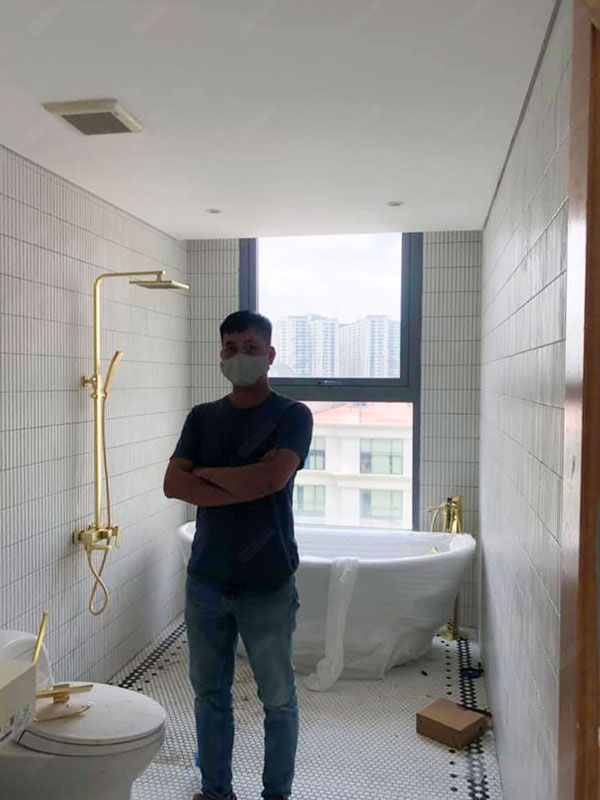 15.Hexagon Flower Pattern
Let's start with a Hexagon: the classic flower pattern design. This mosaic tile floor tile pattern enhances a lot of glamour with little complexity. It's clean, not too busy, but can make the bathroom floor stand out from a more monotone design. Just like that, black and white hexagon tile in this pattern is certainly a classic look, try experimenting with different patterns. Choose your own patterns according to your unique taste to use our recommended black and white glaze to improve your home design.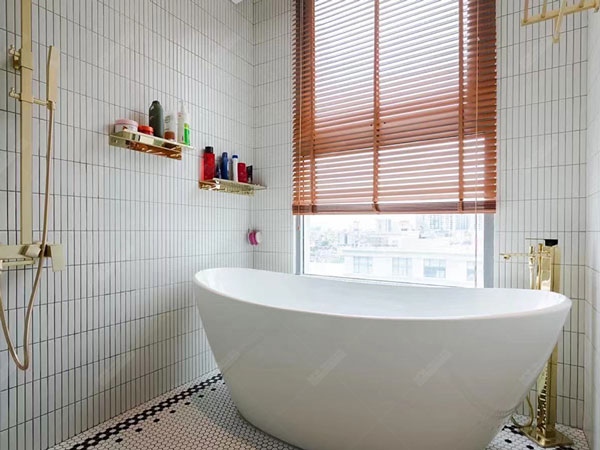 16.Go Vertical Style
Your space is sure to be minimalist with this vertical arrangement of tiles! Our white vertical styles and rectangles were literally made for each other, and they come together in an amazing mosaic tile backsplash. This tile arrangement gives a simple, pure, and clean look. We call this vertical style, for obvious reasons.
For more hotel bathroom design projects, visit our blog "Project: How Mosaic Goes From Bathroom To Bar Counter"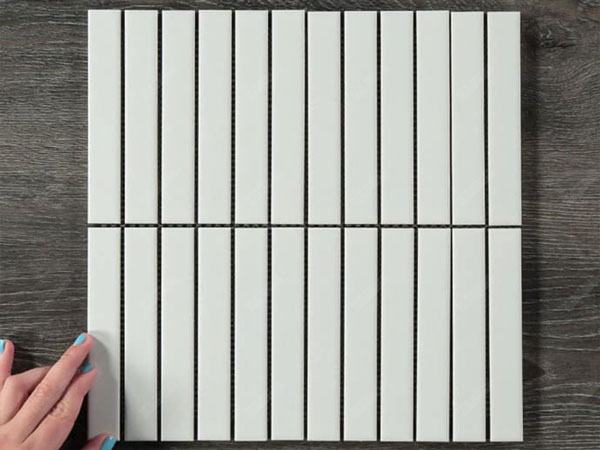 Get Inspired?
True high-quality glazed tile is hard to come by nowadays. That's why we want to pay tribute to this simple and minimalist style by helping you create the perfect palette that your modern space. MM-Mosaic will share more interior space projects for your reference and we will help you find the right one. By the way, you can also order tile samples to see and touch, you might fall in love with them.