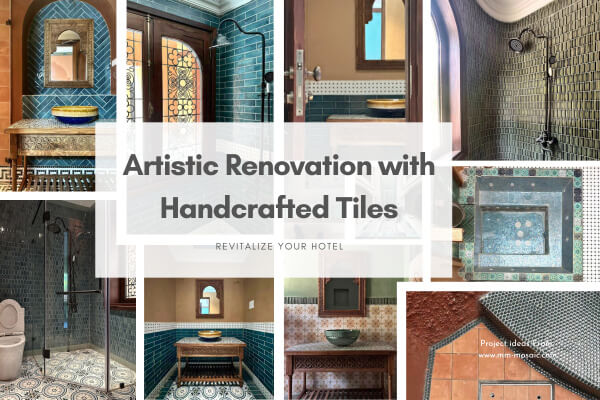 Embarking on a journey that redefines luxury and elegance, we're thrilled to share the transformation of our client hotel project spaces – from the meticulous selection of tiles to the breathtaking completion. Let's take you through the fascinating journey that brought this vision to life. Continue reading to see 8 stunning spaces that use handmade tile to create impressive modern spaces...
#1 Chic & Unique Spa Pool Vibes
Imagine stepping into a world of tranquility and opulence at the hotel's spa pool. The poolside is adorned with captivating Moroccan tiles, featuring stunning gold and deep green patterns. As your gaze wanders, it falls upon the pool itself, shimmering with the iridescence of square iridescent crystal glass mosaic tiles. And right before you, an extraordinary curved wall adorned with dark green subway tiles forms a centerpiece. The design deviates from the ordinary, featuring a captivating herringbone pattern created by rotating the subway tiles, seamlessly complemented by the surrounding Moroccan tiles. This spa pool set is a harmonious blend of luxury and artistry, where tiles are not just materials but stories waiting to be discovered.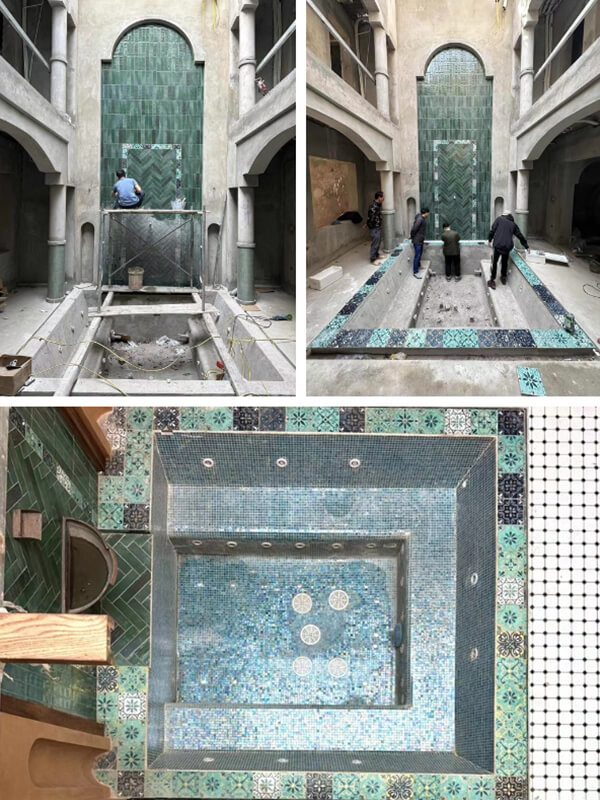 Featured Product: 75x300 handmade subway tile
Featured Product: 20x20mm iridescent clear glass aqua blue pool tile
Featured Product: 8"x8" blue gold Moroccan tiles ROD1906
#2 Timeless and Modern Shower
The journey takes us to a series of uniquely designed showers, each telling a distinct tale of elegance. In one, dark green hexagon tiles grace the walls, exuding sophistication. The floor beneath features captivating Moroccan tiles, bridging the wall and floor with a row of grass green kit kat tiles that serve as both functional and decorative elements. But it's the wooden window frame with intricately patterned glass that truly catches the eye, adding a touch of old-world charm to modern comfort.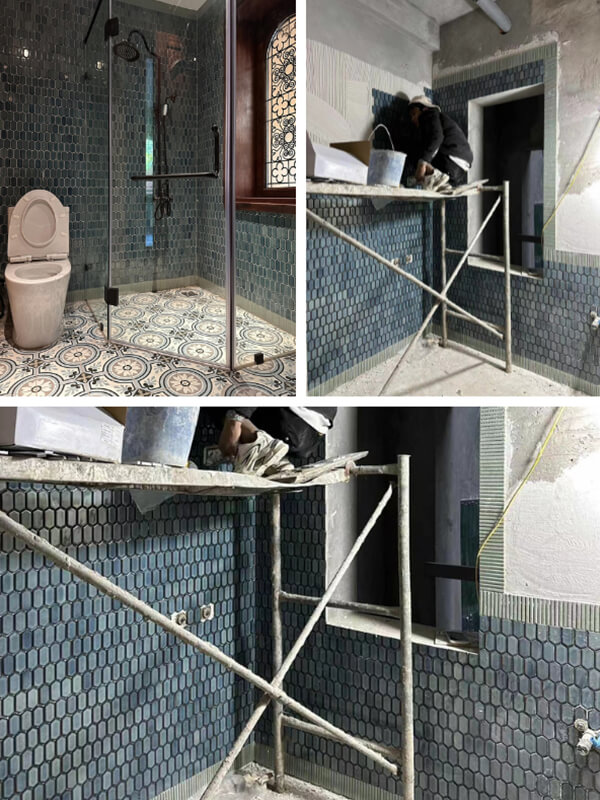 Featured Product: 170x170mm Moroccan tile
Featured Product: Dark green hexagon mosaic tile
#3 Retro Subway Tile Shower
Another shower space showcases the impeccable harmony between classic and modern elements. The dark green subway tiles, handcrafted with precision, cover the walls, creating a cocoon of luxury. A playful twist emerges as a weave pattern of white ceramic mosaic tiles inserts itself into the arrangement, adding an element of surprise and delight. The wooden window frame and uniquely patterned glass continue their subtle dance of nostalgia and modernity.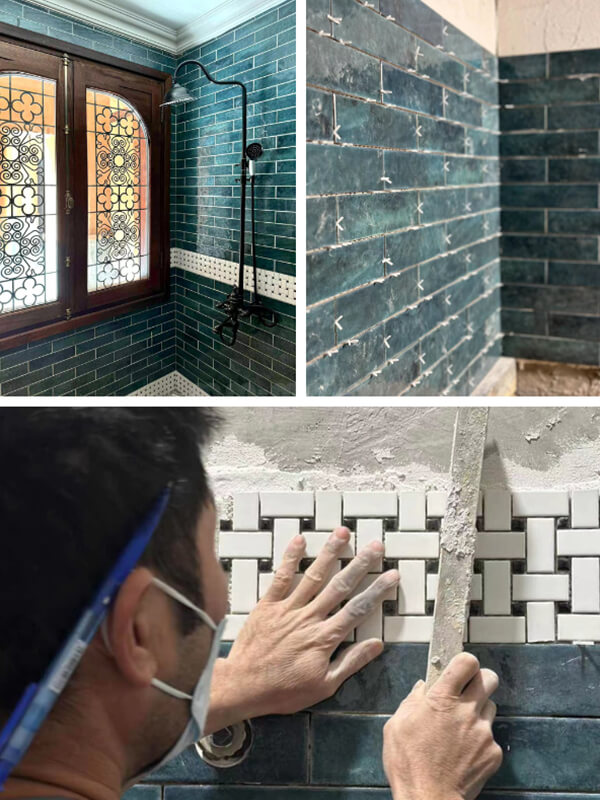 Featured Product: 60x250mm handmade subway tile
Featured Product: Weave pattern white and black mosaic tile CZH018D
#4 Walk into Forest Shower
Welcome to a shower space that encapsulates rustic elegance. The walls come alive with the warmth of fambe dark olive green kit kat tiles. These tiles not only envelop the shower in a comforting hue but also add an element of grounding with their earthy tone. The wooden window frame, adorned with intricately patterned glass, offers a glimpse of the outside world while maintaining an aura of privacy. This shower experience is elevated by the selection of a vintage-style black showerhead that completes the picture of nostalgic luxury.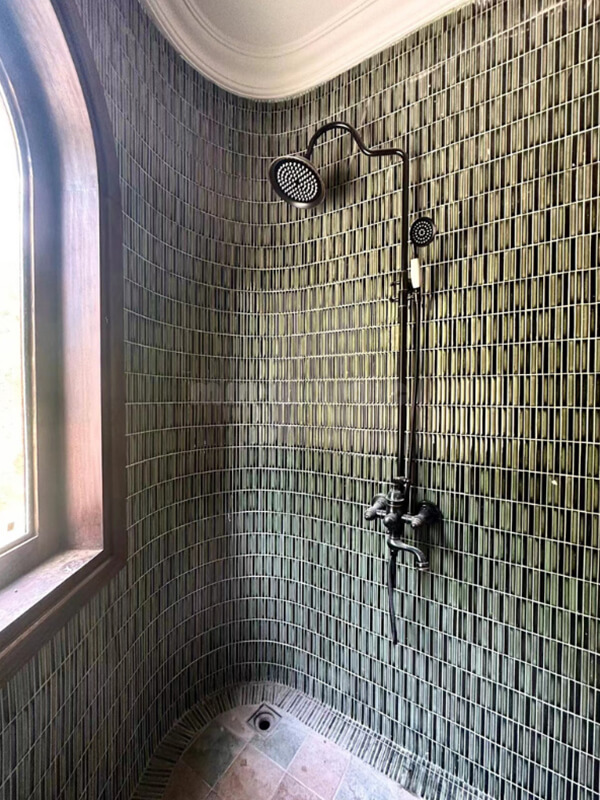 Featured Product: 12x92mm dark green kit kat tile ZOH3704
#5 The Magic of Tile Combo
In this mesmerizing bathroom, your eyes are immediately drawn to the captivating emerald green wall paint that adorns the upper portion of the room. Just beneath it, a dark green finger tile acts as a sophisticated divider, creating a visual transition. Below, a splendid mosaic of Moroccan tiles unfolds, featuring meticulously designed patterns that echo a rich cultural heritage. As your gaze shifts downward, a second section of dark green finger tiles marks the transition to the floor. Here, retro matte square tiles take center stage, creating a cohesive design that is both inviting and charming. The bathroom mirrors, washbasin, and vanity boast a vintage wooden finish, artfully harmonizing the space's overall design aesthetic.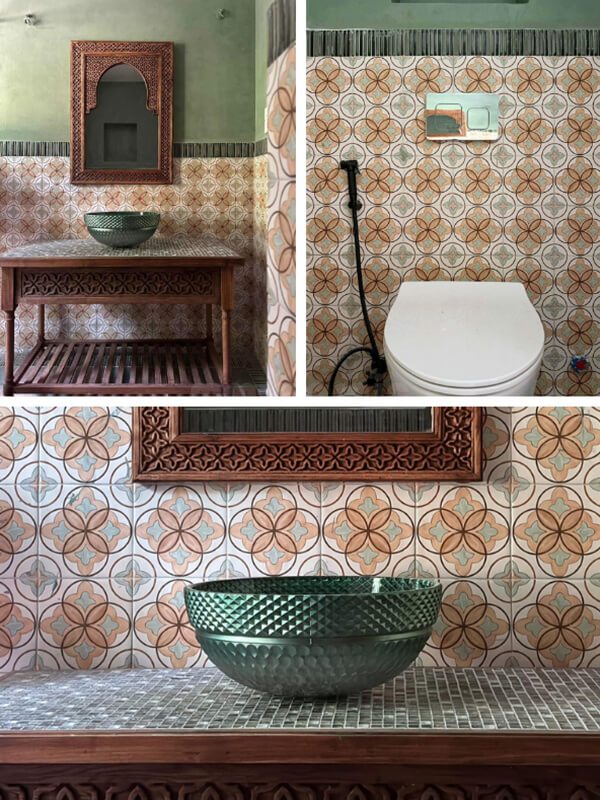 Featured Product: 12x92mm dark green kit kat tile ZOH3704
Featured Product: 170x170mm Moroccan tile
#6 Obsessed with Emerald Green Bathroom
Enter a bathroom where elegance meets functionality in every detail. The upper part of the wall boasts a serene earthy tone paint that sets the tone for relaxation. A transition of weave pattern white ceramic mosaic tiles demarcates the upper and lower portions. Beneath this line, emerald green subway tiles bring a pop of color and sophistication. The same weave pattern white ceramic mosaic tiles serve as the baseboard, connecting the floor and wall harmoniously. The floor is a study in tasteful contrast, with a perimeter of emerald green subway tiles surrounding an inner expanse of carefully selected Moroccan tiles. Vintage-inspired mirrors, washbasins, and vanities further underline the theme of elegance and harmony.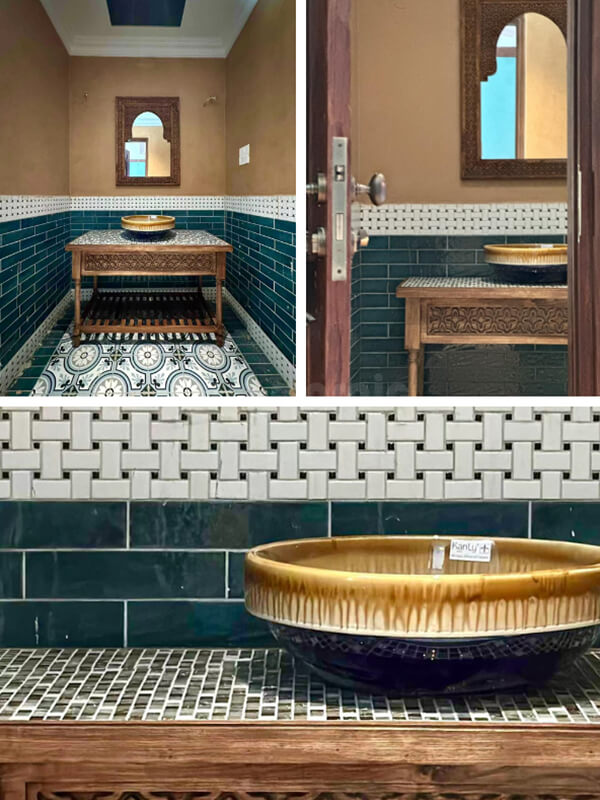 Featured Product: Weave pattern white and black mosaic tile CZH018D
Featured Product: 60x250mm handmade subway tile
Featured Product: 170x170mm Moroccan tile
#7 Earthy Tone Bathroom Vanity
Step into a bathroom retreat where rustic charm meets chic design. The walls resonate with a rustic earthy palette, instantly soothing the senses. The shower area features the distinct warmth of zellige tiles in a rich, deep hue, adding depth and texture. The wall behind the washbasin is a study in artistic design. Crafted as an inward-curving arc, it showcases the intricate beauty of handmade dark green herringbone tiles. This distinctive feature is framed by the classic elegance of a white and black mosaic pattern, enhancing both functionality and aesthetics. The room's crowning jewels are the antique copper-toned mirrors, paired with sapphire blue washbasins and a vintage wooden washstand. This amalgamation of elements creates a harmonious blend of rustic charm and sophisticated chic.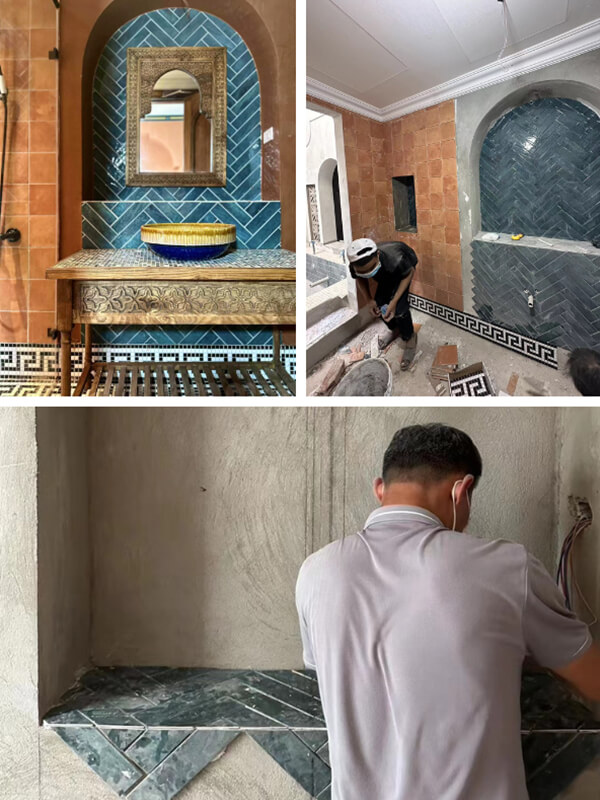 Featured Product: 60x250mm handmade subway tile
Featured Product: Black And White Border Corner BZMB2002
Featured Product: 6x6 Inch Matte Ink-jet Constant Coral Square Tile WMC8905
#8 Terracotta Bathroom Floor
Direct your attention to the earthy tones underfoot, where rustic zellige tiles grace the floor. These tiles, reminiscent of traditional craftsmanship, complement the original rustic wall surfaces beautifully. The most captivating aspect lies in the carefully planned steps, adorned with emerald green penny round tiles that create a striking contrast against the earthy backdrop. The staircase and its surrounding border are brought to life by these exquisite tiles, forming a design that embodies both creativity and practicality. The scene encapsulates the essence of the entire project - a perfect blend of nature-inspired earthiness and artistic innovation.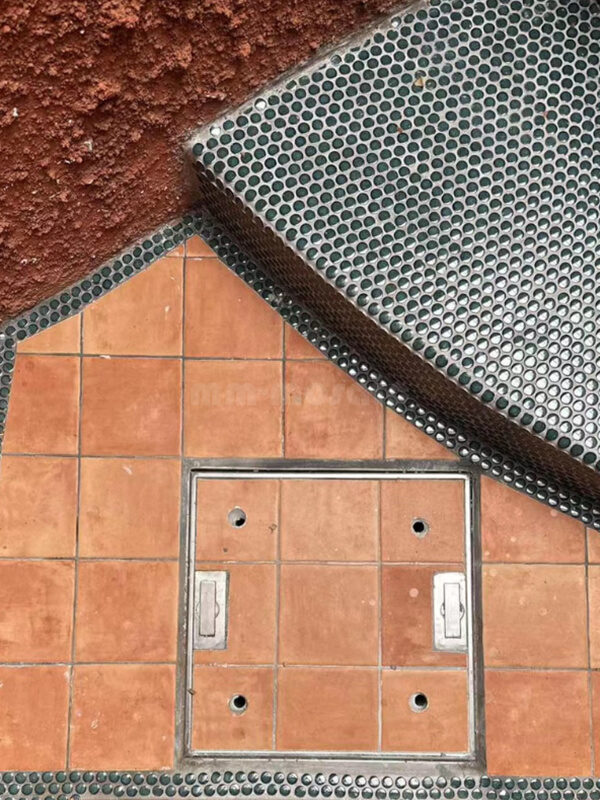 Featured Product: 28mm emerald green penny round tile CZO938A
Featured Product: 6x6 Inch Matte Ink-jet Constant Coral Square Tile WMC8905
For more commercial projects, visit our blog "A Unique Custom Mosaic Art with 3D Ceramic Mosaic Tiles"
In this captivating journey through our hotel renovation project, we've explored a myriad of scenes, each meticulously crafted to bring out the essence of design, comfort, and elegance. From the tranquil spa pool with its shimmering Moroccan tiles to the rustic-chic charm of the bathroom retreats, every space tells a story of artistic innovation and thoughtful curation.
At the heart of this project lies the profound impact that tiles, textures, and colors can have on transforming spaces into immersive experiences. The interplay of materials, the harmony of hues, and the skillful fusion of design elements have all been carefully orchestrated to create an environment that resonates with the senses.
As you envision these scenes, MM-Mosaic invites you to explore how the interplay of aesthetics and functionality can redefine the spaces you inhabit. Contact us to order tile samples to see and touch now!