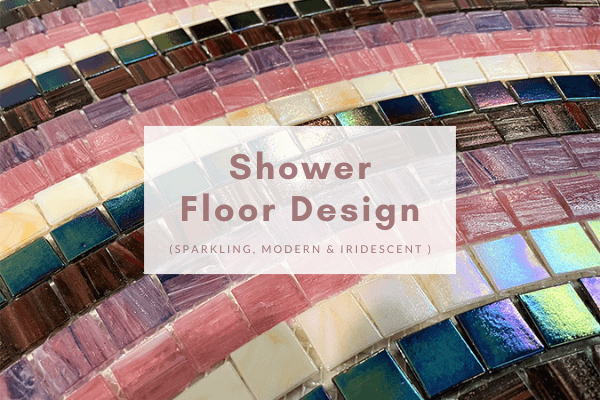 we are so pleased to introduce one of our favorite remodels to date. We had the honor of working with the amazing client to renovate her shower and we could not be more excited to share this appealing and dreamy shower floor. Keep reading to learn why this project is so near and dear to us.
About Our Client - Sophia
Sophia, our client, is a total expert when it comes to remodeling projects and design. She bought an old house and had been slowly going through the process of restoring it and to put it simply, that's no small feat. While paying close attention to her house's minimalist and pure glamour, she had been carefully selecting high-quality materials and studying the details of historic craftsmanship to keep true to the integral architecture of her house. Knowing about the amount of care and detail that goes into a Sophia project, we were more than thrilled to get the ball rolling on one of her projects to remodel a shower floor.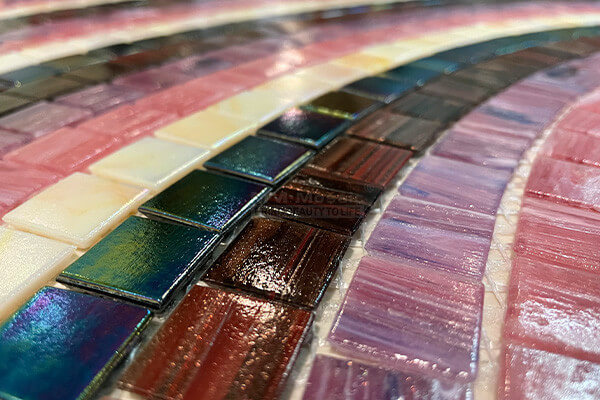 The Mosaic Tile
Sophia wanted something special for her shower floor. Like all shower floors, it's the first thing you touch when you walk into the shower so something particular was a must. She wanted something polished with a stunning and retro feel to honor her house's traditional roots. She also wanted something with a retro-modern sense yet durable quality. Fortunately, we had just the thing.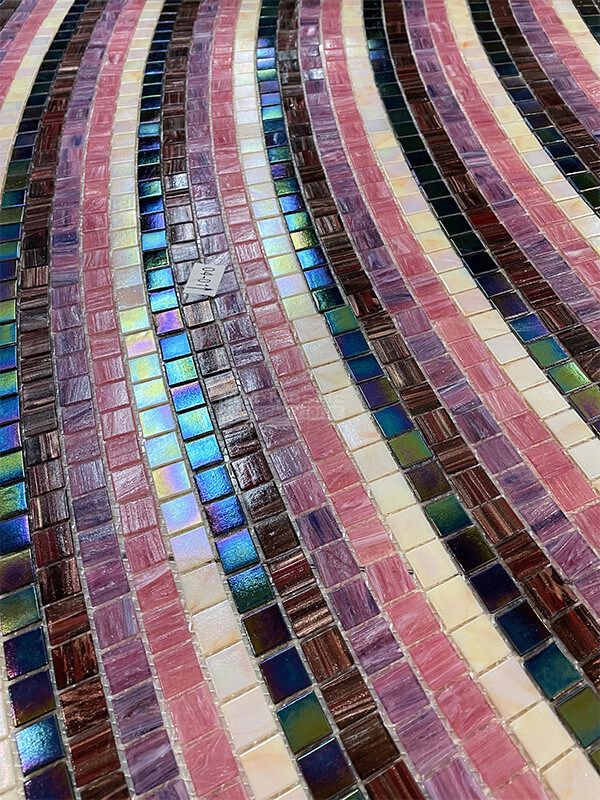 Known for their vintage yet sparkling feeling, Iridescent Glass Squares give off pureness that goes completely unmatched. Made up of eye-catching and light-reflecting iridescence, the Hot Melt Collection will provide a unique pop of color to any space. These environmentally friendly glass mosaic tiles are made in China from recycled glass and are ideal for indoor and outdoor areas. Durable, easy to clean, and available in a variety of beautiful colors, the Hot Melt Collection offers a unique expression of style for her personal oasis. Their historically celebrated quality, iridescent effect, and honest glamour were the great vibe for this shower floor.
For more iridescent tile ideas with our blog "8 Unique Ways to Make A Iridescent Space"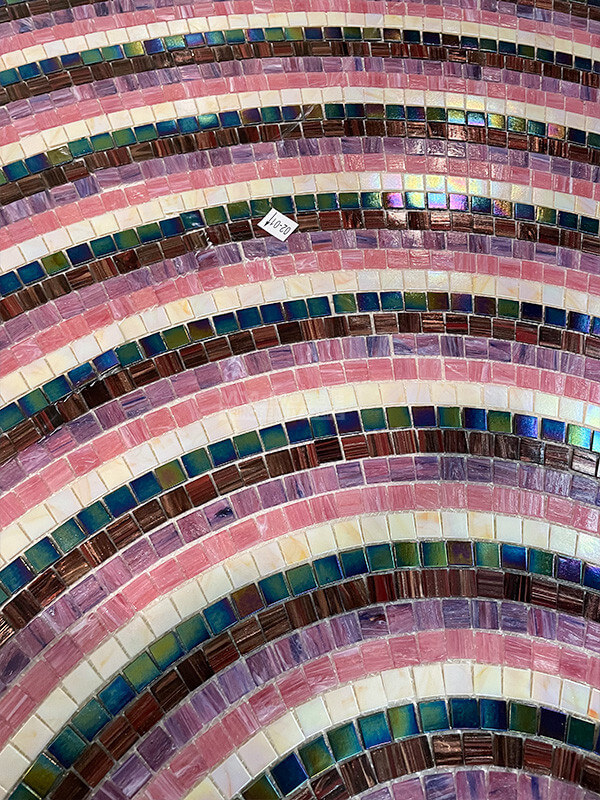 The Mosaic Pattern
One of our favorite parts of this shower floor remodels project was working with Sophia to lock down a mosaic pattern. We get way too excited when she is inspired by a particular landscape or moment in time because we believe that almost anything can be translated into a mosaic pattern. Whether it's a Spring landscape, cozy blue sky, summer breeze, or a chic rainbow after the rain, we want to help create that with mosaics.
For more mosaic pattern ideas, visit our blog "Trends: Chic Mosaic Arts Decor Your Space"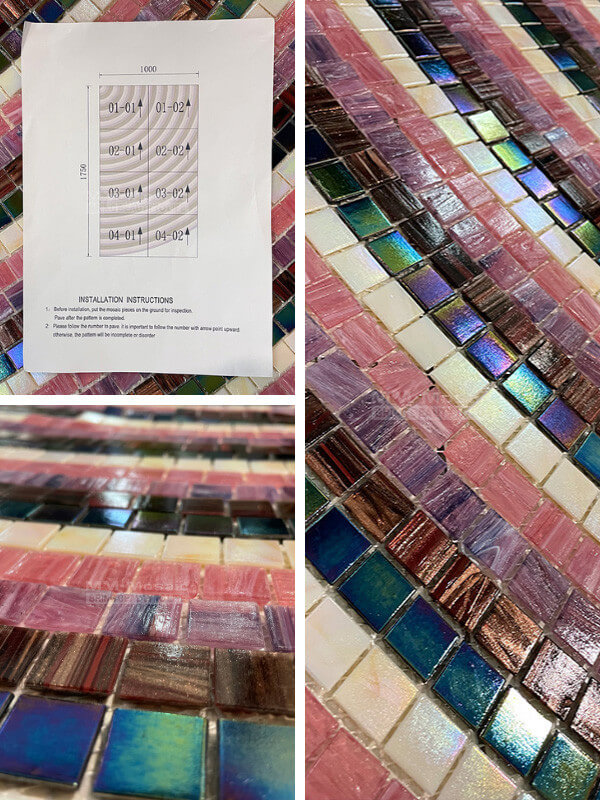 For this particular shower floor project, Sophia was inspired by the scenery after rain and wanted the tone and pattern of the shower floor to have freshness feel. We played with a range of hot melt chips including pearl whites, grass greens, tree browns, and teals but landed on one custom blend pattern that we just could not resist.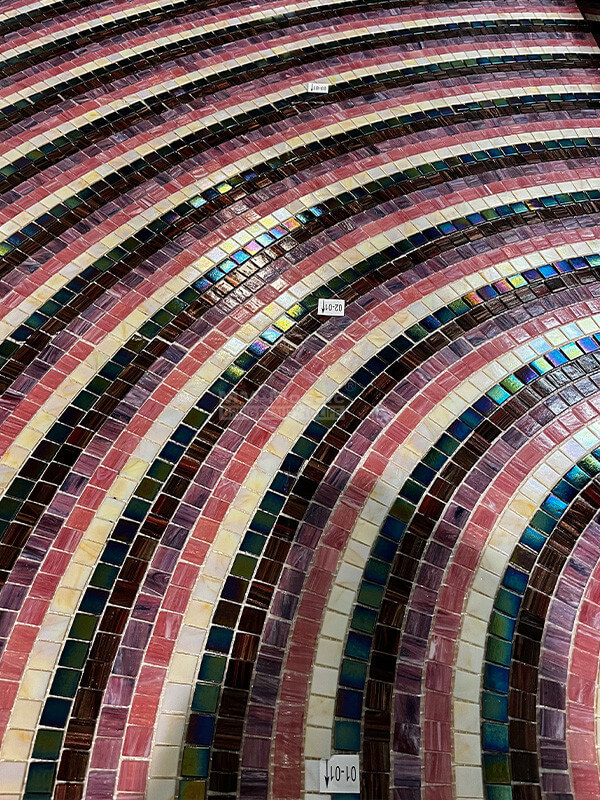 Final Results
Needless to say, we were totally floored by the results. This custom iridescent rainbow shower floor is definitely to write home about. From the perfect pearl white chips with light iridescent variation to charming brilliant color with high variation, this shower floor is mainly for Sophia's room use so it meets Sophia's personal style. When it comes to designing a detailed shower floor, Sophia is a true craftsman. We are so happy that our hot melt glass mosaic tile fits right into the mosaic pattern.
For more shower project ideas, visit our blog "Project: Kit Kat Tile Makes Fun in The Bathroom"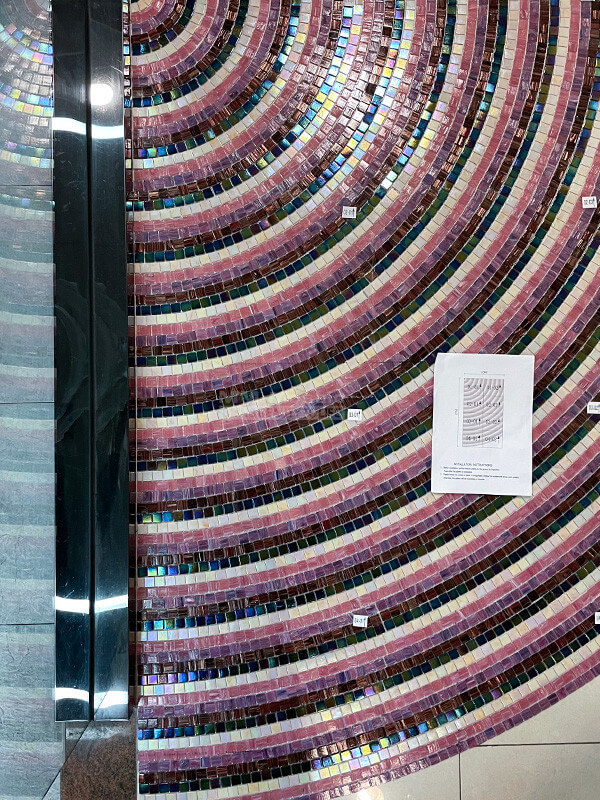 Check It Now
This shower floor project is slightly different from the traditional floor renovations our design team has done in the past but that just makes it all the more exciting. For Sophia's house, she focused on highlighting the vintage feel and adding sparkling custom things. From the charming pink-red tone shower wall, the custom iridescent rainbow shower floor to the wooden floor, we all think this remodel is packed with surprises!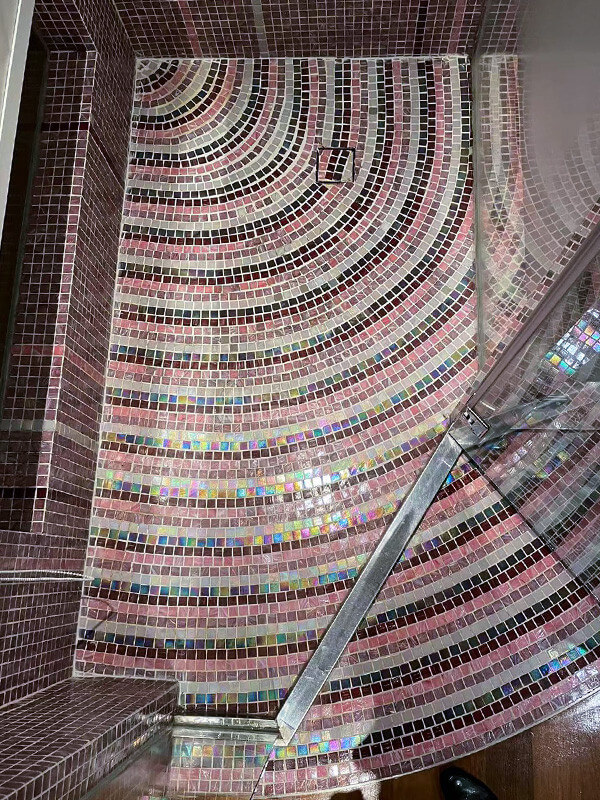 More Iridescent Square Eye-Candy
Not everyone is a craftsman-like Sophia, and true craftsman mosaic tile is hard to come by nowadays. That's why we want to pay homage to this historic and monumental style by helping everyone make the unique color tone that their house deserves. Whether it's one palette, five colors, or ten, we will help everyone find the correct one. Check out our color scheme to get the gears turning!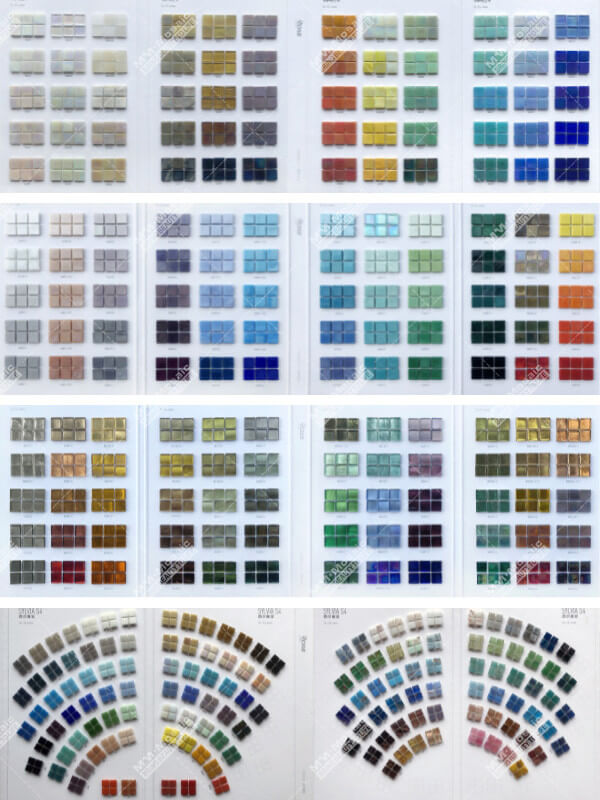 Get Inspired?
Love Sophia's shower floor? Picking a shower floor that's unique to you and your shower design is critical, as it's often the primary focal point of any shower. A shower floor can help pull together all the design elements within your shower so that it's cohesive, but it can also serve as a way to make a statement that is particularly you.
From custom mosaic patterns like Sophia's project to hexagon tile, fish scale tile, or herringbone tile, MM-Mosaic Tile has shower floor ideas to fit any design vision. Of course, you can order a free tile sample to see and touch at first, choose the one you like best! We believe that you will fall in love with our mosaics, and we would also love to hear what inspires you. Tell us now!