Mosaic tile is one of the most biggest design factors when it comes to both residential and commercial spaces. There are a lot of historic tile patterns to choose from, including hexagon, penny round, square, basket weave, lantern, herringbone, strips and so on. Which pattern is you like best? The hexagon is thought to be a nature's perfect shape once in a while, this pattern works perfectly to fit into different interior styles, for it adds fresh geometric beauty to any rooms, creating classical design and amazing appearance.
Hexagon mosaic tile typically in black and white color is a really popular choice for interior decoration. Today we are going to introduce you our newly released hexagon tile in a little bit difference. Go on and explore more about this new item.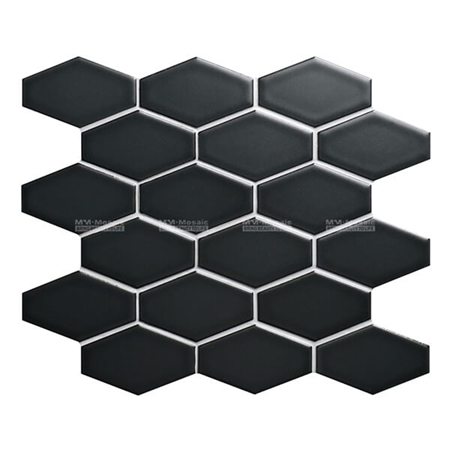 Featured product: Matte glazed black long hexagon porcelain mosaic CZM117Y

Chip Size: 48X48-25X25mm; Sheet Size: 283X318mm
Thickness:6mm; Gap:2mm; Mesh mounted on back, easy to install
Differ from other regular hex shapes, this long hex mosaic shape is stretched and looks much more slim, that means your space can get an unique visual effect from this surface pattern. That matte finish makes it anti-slip and wear-resistant, which is great for wall as well as floor use. One of the big selling points of the tile is a bevelled edge, and of course it is a matter of personal taste, people prefers the bevelled design as it adds depth, textures, characters and more interest than a flat surface. Made of premium porcelains, it is durable, good performance and provides a long service life. With good feature of low water absorption rate, this hex tile is practical for bathroom, shower, kitchen and any other rooms.
Decorating with black might be a big trouble for most people. Following are some great examples to show you how this black mosaique hexagonale brings an elegant and modern look that other hex mosaic tile cannot provide.
Kitchen Backsplash That Makes You Happy
The backsplash is the focal point of your kitchen decoration, which not only create your style, but also protect the wall from liquids. It is important to choose a backsplash style you like and don't be afraid to try unique and bold option. If you are hunt for tiles to make a chic statement with a neutral tone, then consider this black hex tile. The hexagon mosaic backsplash features geometric shape creates a neat look, this design is timeless and contemporary. Most importantly, the black colors and durable porcelain materials requires less cleaning work and maintenance, providing a better life for you.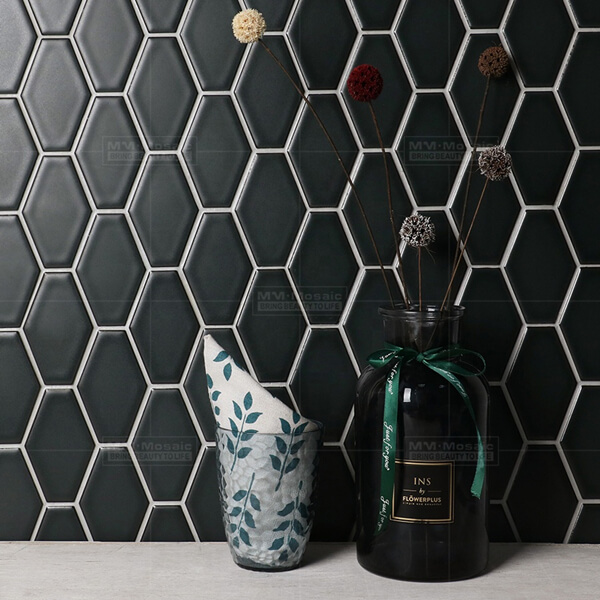 Level Up Your Home Style
If you are looking for a tile pattern that can elevate your living room immediately, then look no further than this honeycomb hexagon tile in black hue. Although you have a small living space, believe that it is a misconception that black tiles will make your room feel smaller. Take a look at the case below, the dark living room feels larger for the lines of space recede. The black hex tiling wall adds depth to the space, and makes the cozy sofa pop out and other decorating details come to life. Unquestionably, this matte black tile looks very nice under lighting and install a feature wall for you.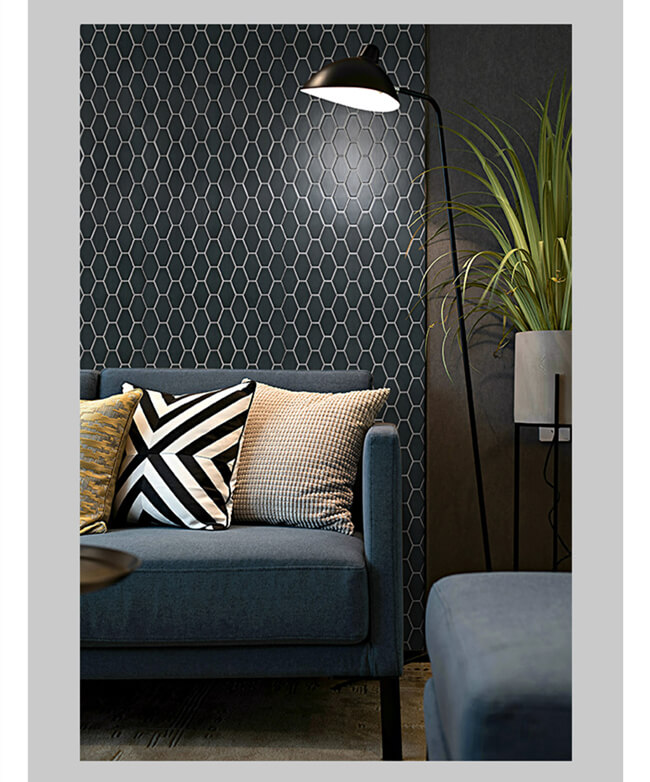 Bedroom In Black
The black hexagonal tiling wall makes a statement to the bedroom below. Give your bedroom a modern style by creating a minimalist design featuring a simple black hex tiling wall, and it is a good way to have white furniture like bedside table in white hue to create great contrast and keep it balance. Why not choose an artistic wall picture to highlight your own taste. Moreover, black sucks light, this is why most people like to use black in bedroom, it is a versatile choice to structure a comfortable environment for sleeping and relaxing. The case absolutely proofs that black tile also can be welcoming in decor.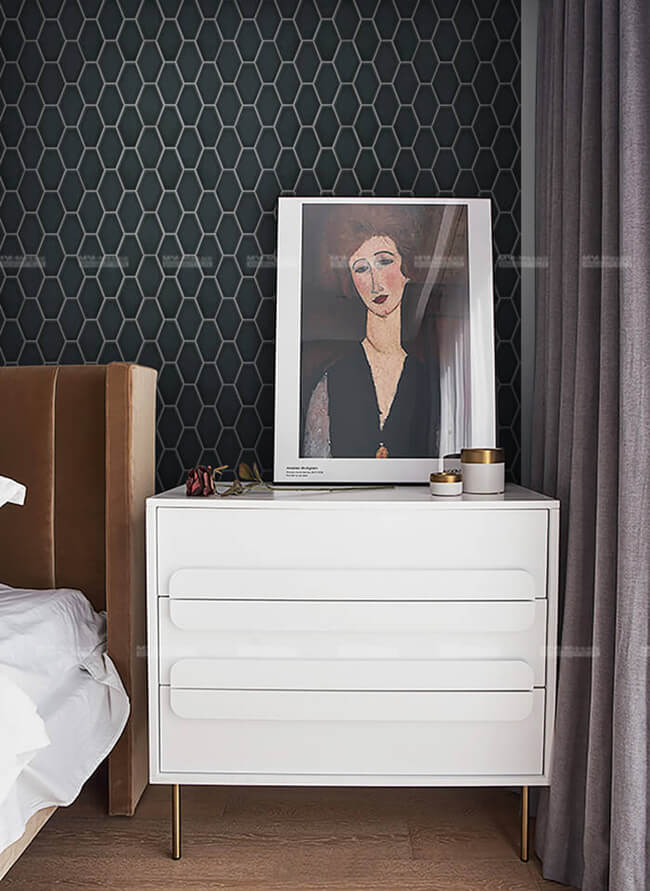 Loving The Serenity Of Bathroom
Bathroom is another place for relaxing in your house, while many homeowners are afraid to use black in their bathroom design. Remember that you can use black tiles for your bathroom wall design, but you don't have to tiling it all the wall for it is easy to be overwhelming if not used in proper way. Like example below, you can tiling one wall with our black long hexagon mosaic tile combined with other tiles in light hue, which can naturally make your shower room feel cozier. The combo effectively keeps the bathroom from feeling too heavy. The black hex tile works well as a background wall tile, the black wall emphasizes the attraction and beauty of the wall art painting.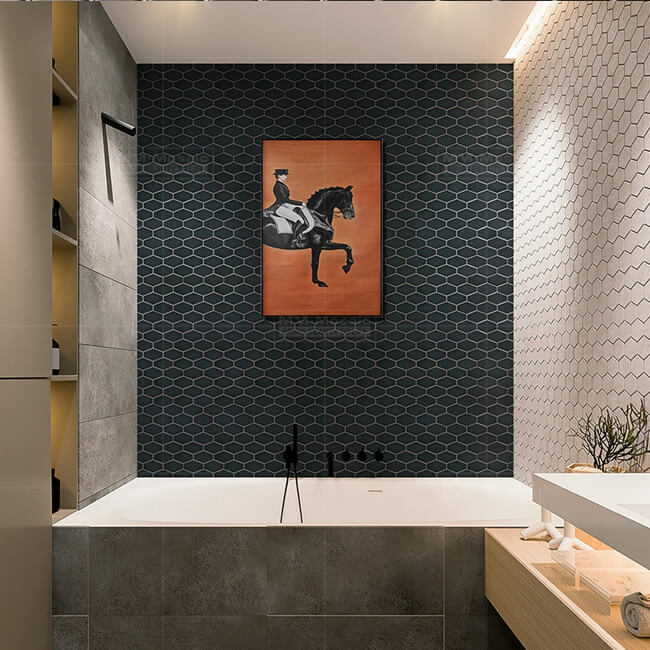 After learning the applications of this black hexagon tile mosaic, surely it deserves your attention. This hex tile design supplies classic colors including matte black, glossy black, glossy white and paper white to fit your taste. Do not hesitate to inquire us for best pricing if you are in market for this product.
If you love this long hex design, you would also like to explore similar patterns in the post: Style Collection: 268*294mm Egg Tart Crystal Glazed Long Hexagon Tile >>
MM-Mosaic is a premium mosaics tile company from China with over-10-year experience, we have established long-term business relationship with distributors, wholesaler, dealers, traders, interior designers and architects from different countries in the world. It would be a delight to hear from you and make further cooperation with you now.