You might say that wallpaper is out of fashion for a few decades, however, it's back and better than ever. The marble pattern is a contemporary, trendy, and natural style. You can find everything from black tones marble pattern to white hues marble pattern. What's even better is that it's much easier to install and remove that the old wallpaper.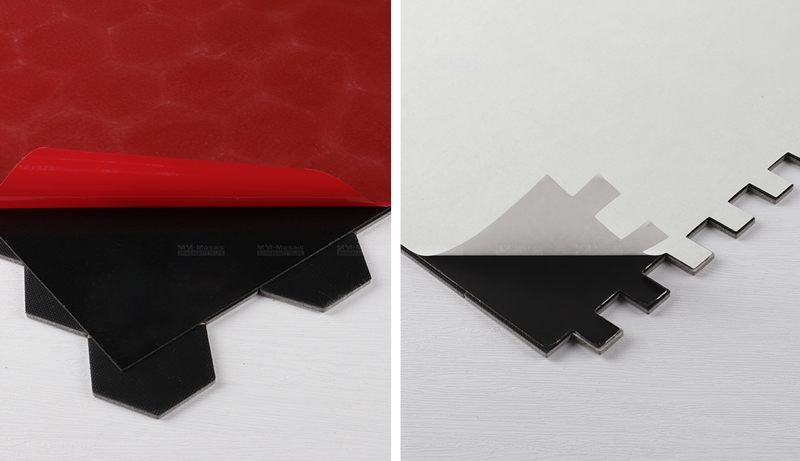 A large impact, aesthetically pleasing interior space, and easier installation - Peel and Stick PVC panels have countless style and function benefits. We are going to discuss the definition of the perfect Peel and Stick Tile, its advantages, and how to design a space with these new design wall tiles in mind. When you see the impact of the new material they have on a room, you'll know why!
Black Tone Peel and Stick Tile
New design peel and stick tile is all the rage, as it's easy for any DIY lover to install and comes down without any steaming or scraping. All you have to do is peel it off the wall. Some people call them "wallpaper" but we prefer to call them "peel and stick" meaning it works like a big sticker. Anyway, peel and stick tile is an unbeatable solution for renters who are going to sprucing up their home or anyone who's looking for a semi-permanent way to decorate.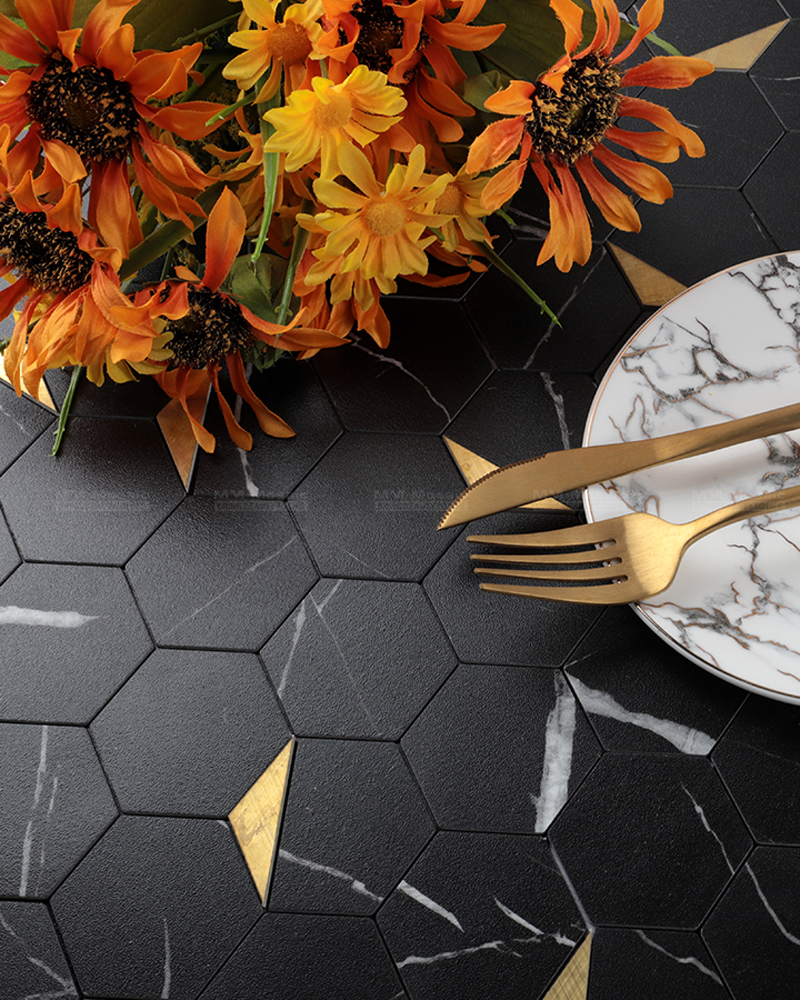 Featured Product: Peel and stick PVC hexagon shape panel ZOM8101
Hexagon in Bathroom
Hoping to make a black hue and bold statement? There's no better way to accomplish that goal than with our black color Peel and stick PVC hexagon shape panel, which features a natural marble pattern. Then beautiful peel and stick tile is designed to be installed via a "stick the wall" approach, and its dark look will bring instant charm to any bathroom space, whether it's classic, fashion-forward, or modern style bathroom. Don't worry the black is too dark for your wall, the marble pattern will balance the dark tones.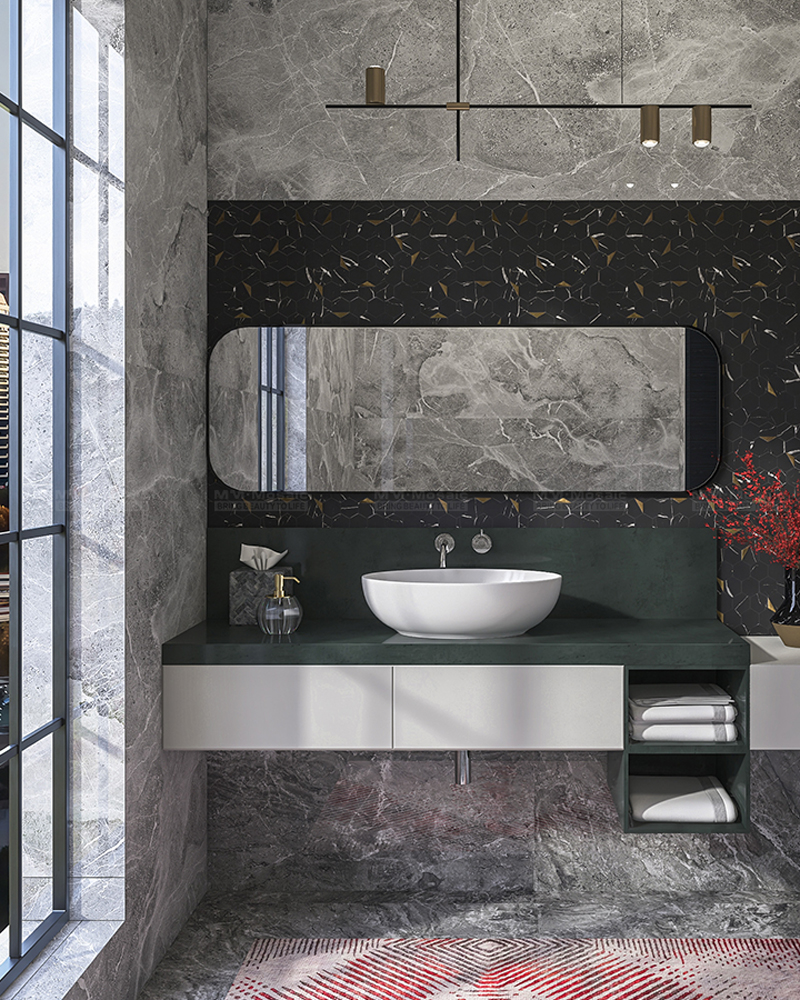 Dark Tone Backsplash
Just because someone rent doesn't mean you can not refresh your unsightly and outdated kitchen backsplash. But when you rip out the floor or paint the cabinets, your lease might be prohibited. However, there are other ways you can spice up your white wall. The peel and stick tile can transform a major kitchen backsplash without putting your security deposit at risk.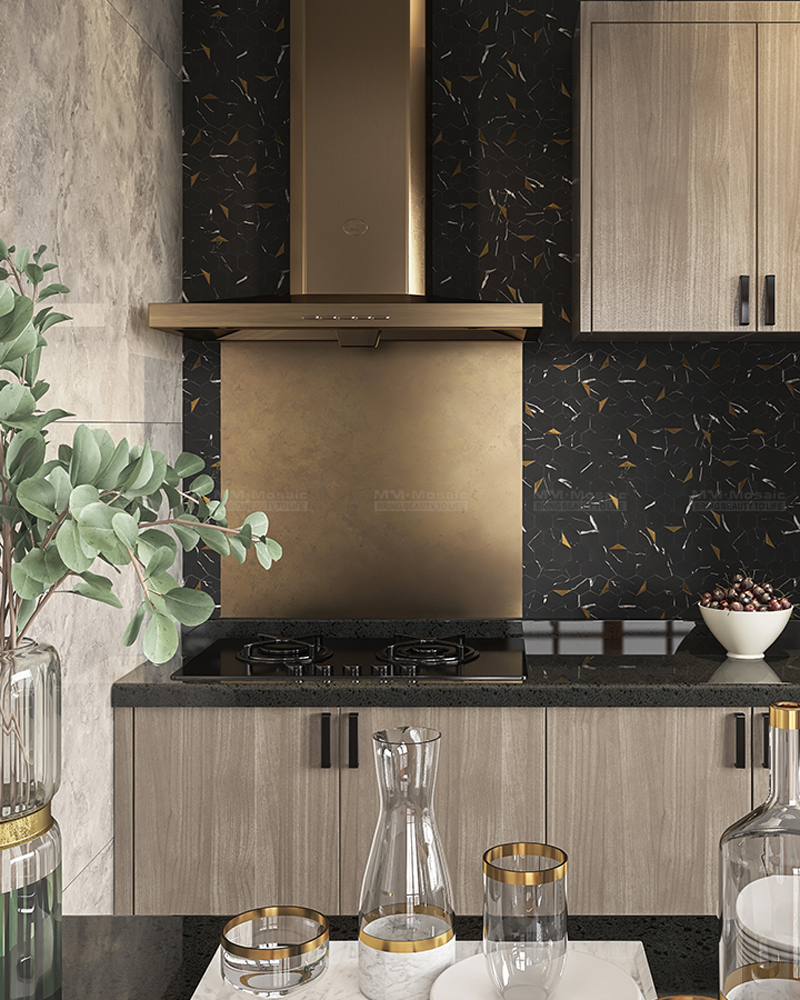 White Tone Peel and Stick Tile
The simple white tone, modern hexagon shape, and marble pattern. All of these elements create a one of a kind statement. Here's a tip for you to maintain this surface and perfect surface. Just clean this backsplash with a soft damp cloth or sponge and don't use any non-abrasive mild detergent.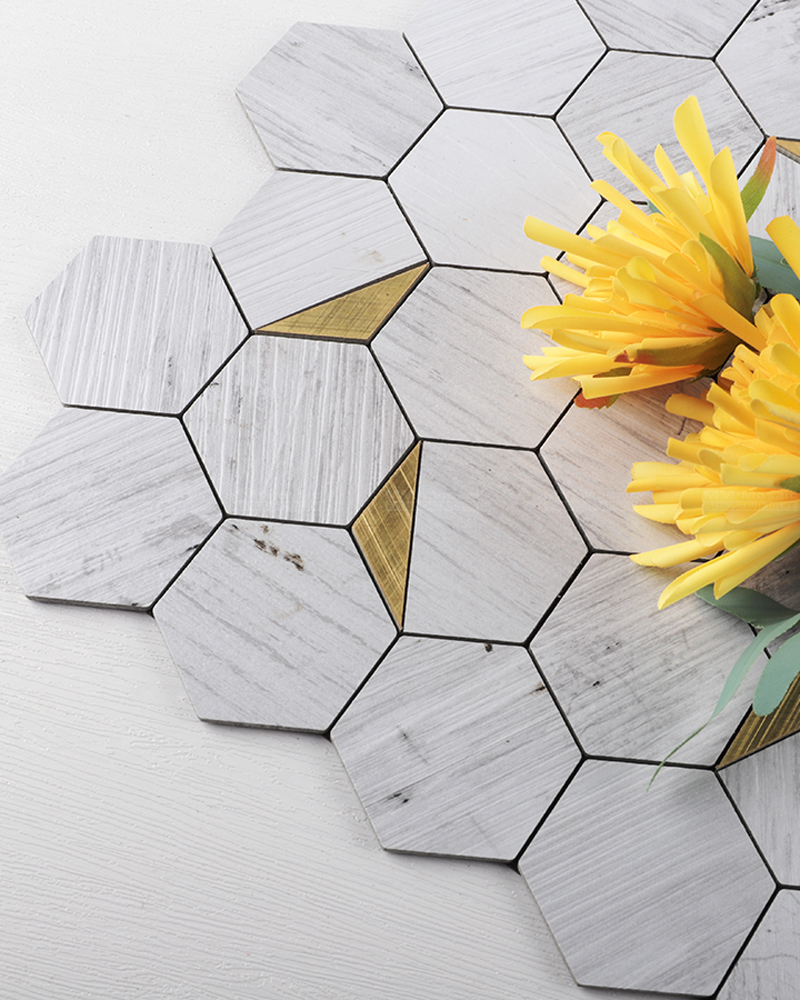 Featured Product: Peel and stick PVC hexagon shape panel ZOM8202
Finger Shape Panel
Transform your kitchen or bathroom quickly and easily with golden tone peel and stick tile. Our new design wall tiles are a unique mix of brushed golden metal and durable composite combined to create a timeless backsplash tile suitable for any room in your home. This appealing tile installs easily. You don't need to mortar or grout to change your room in as little as a few hours.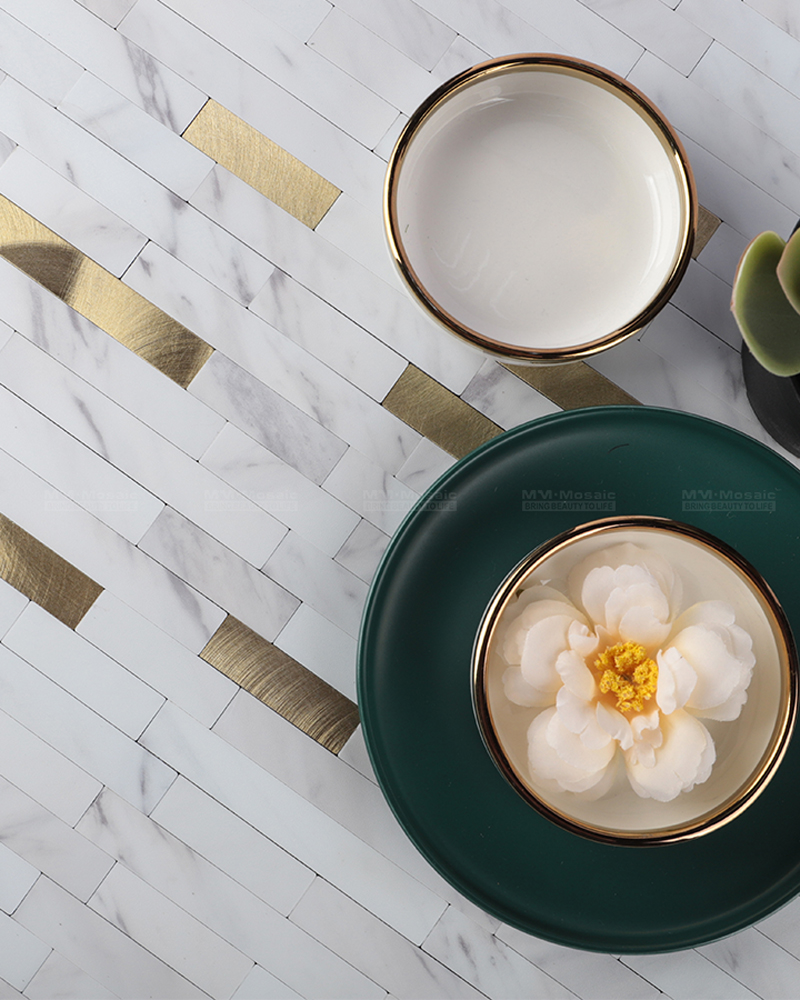 Featured Product: Peel and stick PVC finger shape panel ZOM8902
Feature Wall in Living room
You can decor your living room feature wall with our white hues peel and stick tile, which features a marble texture design that would look natural on any walls. The golden color strip will add luxury elements to your walls, what's more, the classic hexagon shape improves the style. You just only peel the back paper and stick the tile that's a breeze to install. It's a smart and easy way to transform a small space.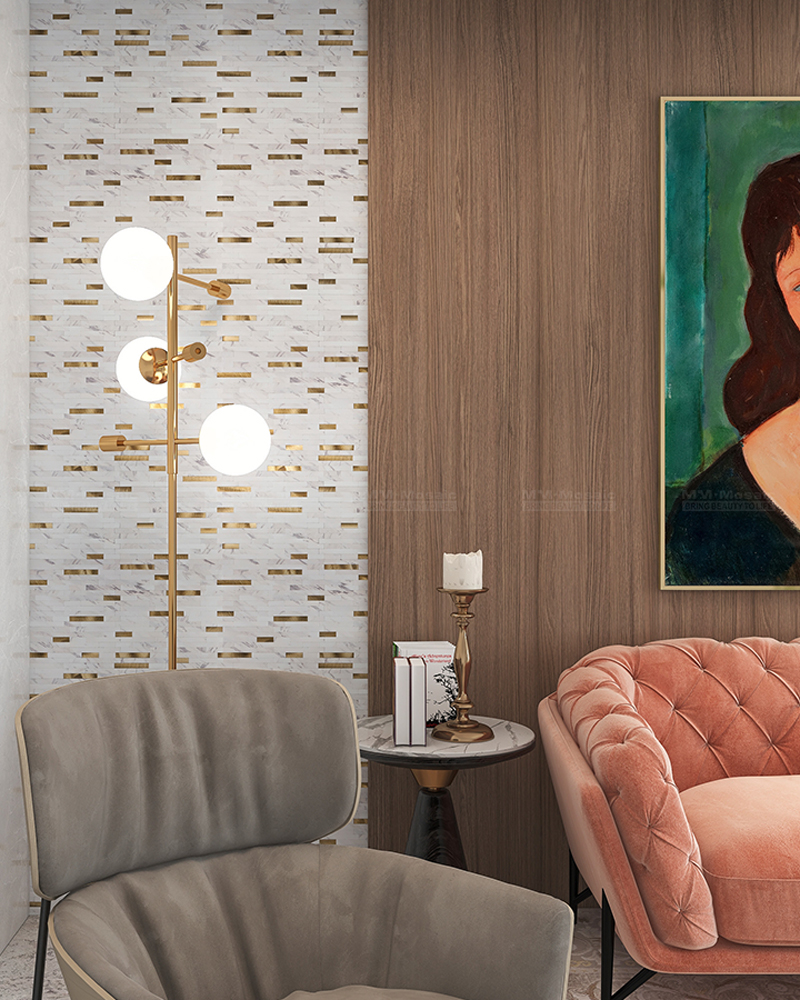 Kitchen Backsplash
These peel and stick strip styles will give you that farmhouse glamour appearance you look crave without any time-consuming headache of installing individual porcelain tiles or mixing up boresome concrete. These "wall tiles " are actually PVC panels that match up seamlessly, with a marble pattern that gives the look of porcelain kitchen tiles. The panels are made of anti-mold and anti-bacterial PVC that emit dioxins and are water, humidity-resistant, and heat so these can be used as your kitchen backsplash.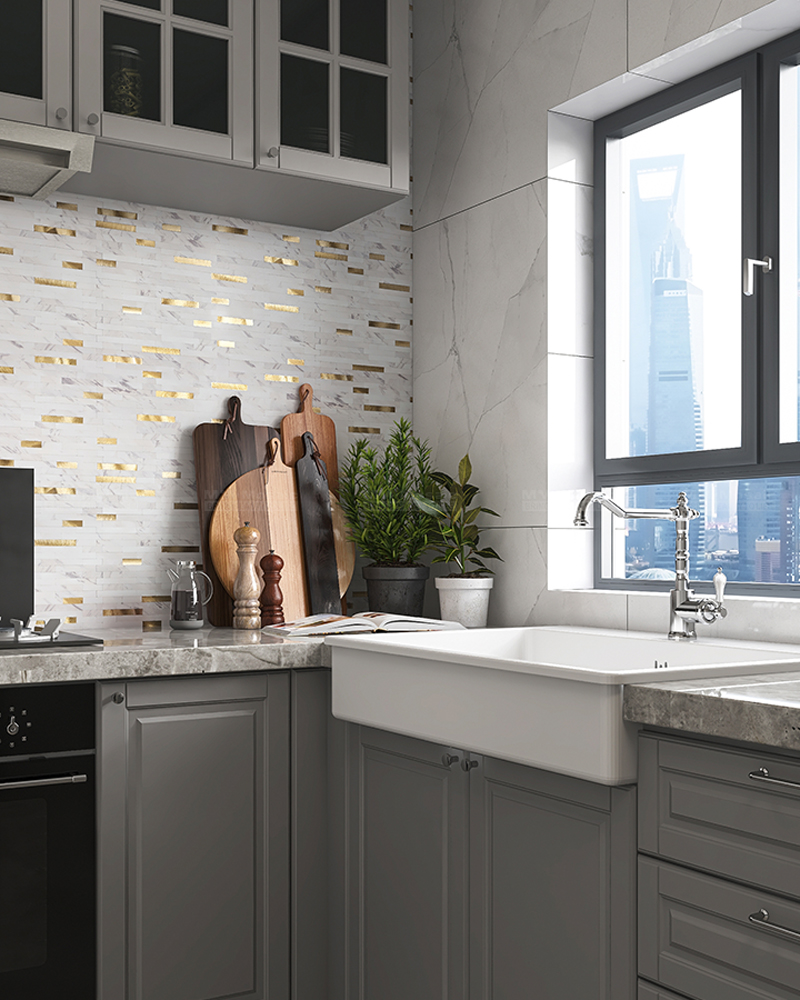 Silver in Tiles

The ease of application and removal make our silver tone Peel and stick PVC finger shape panel the perfect choice. Now, you can refresh any interior space in your house while saving time and money. Peel and stick tile is an ideal way for adding a little pattern, color, or allusion of texture to any room, such as kitchen, entryway, or living room walls. You can easily use peel and stick wall panels as your wall decor, like our above design shown.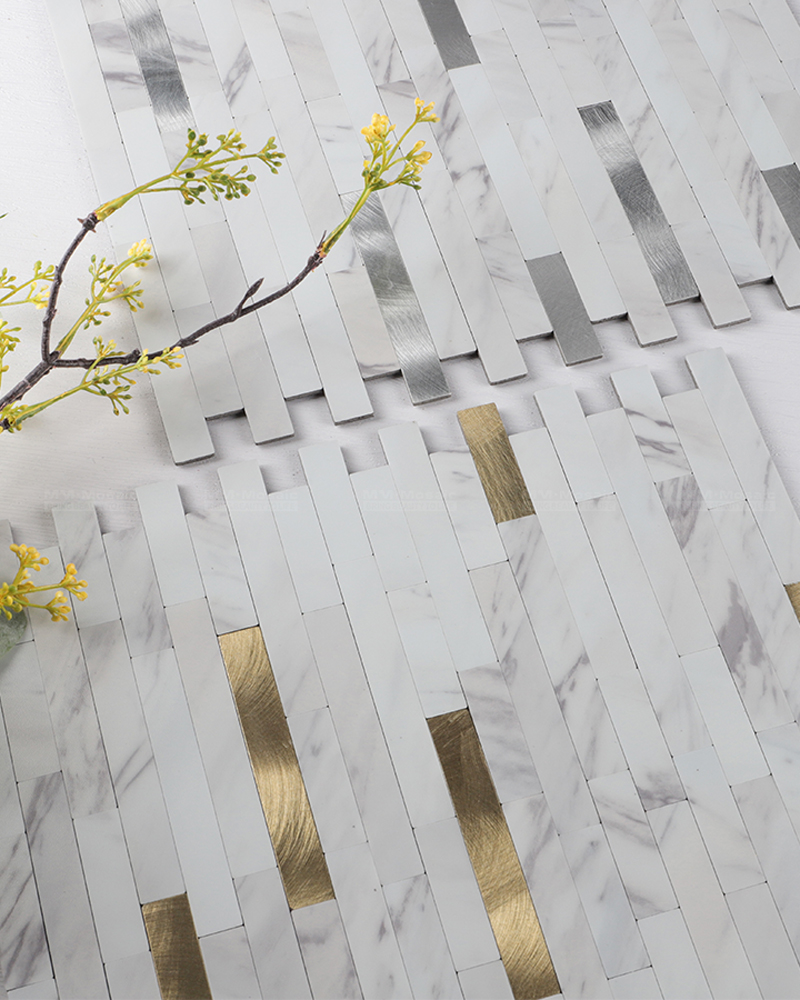 Featured Product: Peel and stick PVC finger shape panel ZOM8903
Get Inspired?
Falling in love with our new arrival peel and stick tile? Order tile samples to see, touch, and feel in person. As your interior design partner, MM-Mosaic will bring more trendy design news and create more chic tiles for your future projects.