A beautiful mosaic tile design always is a perfect combo of shape, colors and process workmanship, today we are introducing our new pattern - leaf shape mosaic tiles, a very popular mosaic pattern manufactured with bold colors and exquisite ice-crackle finish. This leaf mosaic tile pattern is going to bring a new style to your interior decoration and create visually striking design. Now read on and find more details about our new member of 2020 Spring.
A Characteristic Mosaic Pattern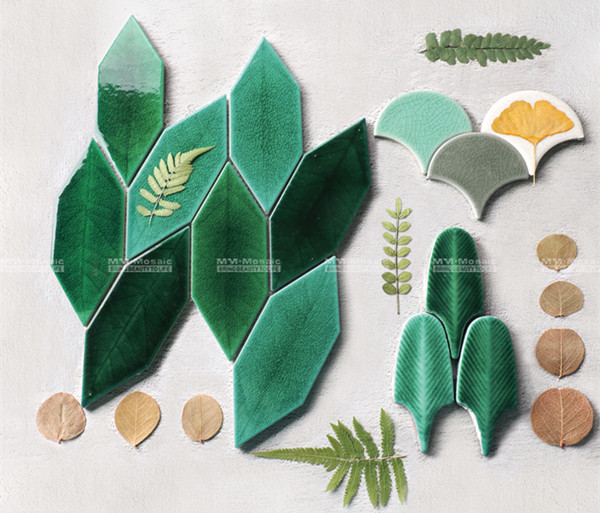 Featured product: Handmade glazed crackle green leaf shape mosaic tiles ZBC5001
Never wrong to choose a mosaic pattern of strong features for your project. Just like the shape you see, the mosaic pattern is inspired from the nature leaves on the tree. The green color feels vivifying and is sure to create a Spring vibe to any spaces.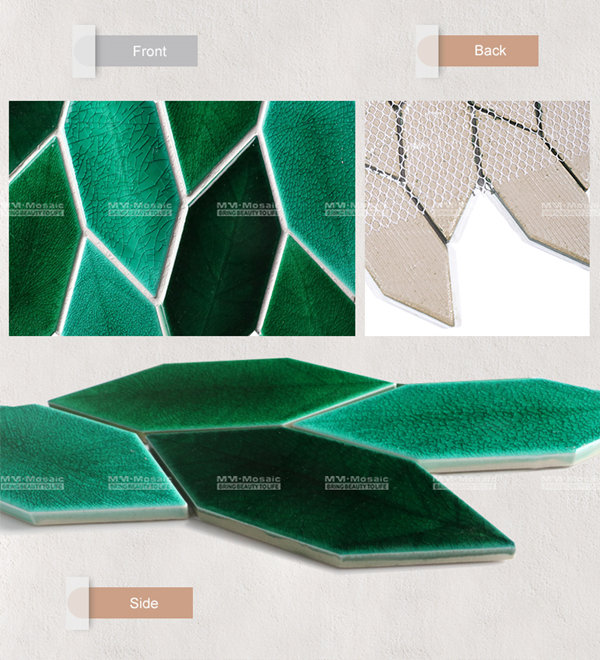 This handmade tile pattern brings you big surprise in details. The front surface has a charming glaze variation with 2 kinds of vivid texture, one is the crackle effect, another is the imitated leaf veins, this would be a WOW factor for your projects. The different shades of greens will add more depth and dimensions after installation. The tile sheet is mesh mounted on back, which makes your installation work much more easier and quicker. Look from the side of it, it has a 8.0mm thickness to bring a touch of quality. The tile is made of premium porcelains, it is a strong durable, wear-resistant and versatile in many interior space. Below, let's see how this pattern refresh a room!

Install A Feature Wall For Living Room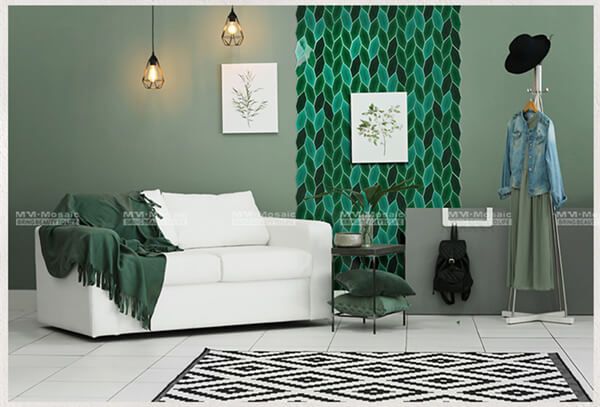 Give more thought on your living room remodeling because it is a very important part of a house decoration. You will spend most of your time in this area, watching a movie weekend, meeting guest and friends. A beautiful living room design helps to make a great impression on your guest, especially it certainly makes your life better. Consider to take our green leaf pattern mosaic on your wall cladding like above, the combination of light green painting and a fraction of the leaf pattern tiling creates a perfect wall for you, the color combo is very pleasing to eyes, and bring the whole room back to life easily. All your guest will love this wall design after they enter into this room.

Have A Stunning Back Splash for Kitchen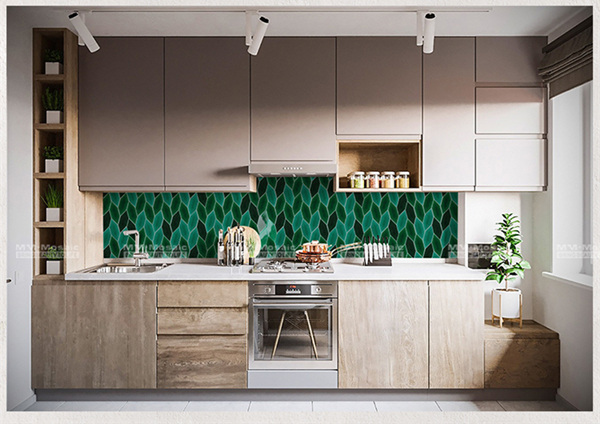 Adding something green like the green leaf tiles and plants can easily enliven a room. This striking green tile backsplash will draw your attention and refresh the entire kitchen. This tile is really good-looking and functional, its high glossy finish is easy to clean and maintain, its waterproof and wear-resistant features are ideal for making a wonderful cooking place.

Love this vibrant green palette? For more green interior inspirations, visit our blog: Interior Trends: 16+ Dark Green Palette Refreshes Your Space >>
Make Your Home Office of Personality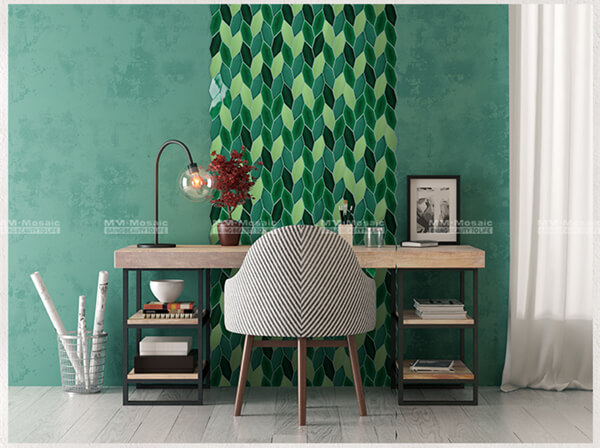 Nowadays, more and more people works as a Soho, they all have a small office at home. Decorating your home office in the way you like can absolutely make your work much more efficient. The above home office decor is made specially for an arts worker. The rustic green panting paired with the green leaf shape tile structures a background of art, making a stylish statement to the space.

Maple Color For Autumn Vibe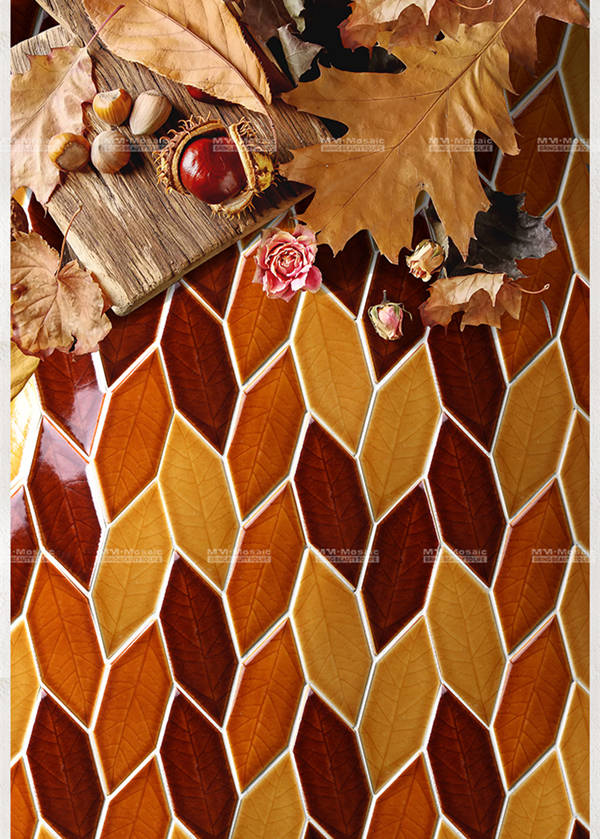 Apart from the green color, we also produce the maple color, which is excellent color for all Autumn decor. The leaf mosaic pattern in maple red mixed maple yellow can create an astonishing accent wall. For those who are looking for tiles for Halloween decor, thanksgiving decor, this maple leaf mosaic pattern is great choice.
If you love this new mosaic tile design, welcome to contact us for best quote. Sample can be provide for quality check. 4 colors for option below: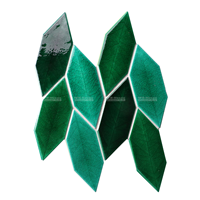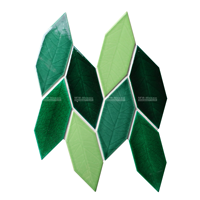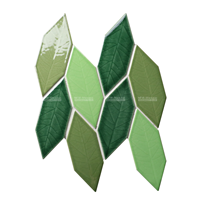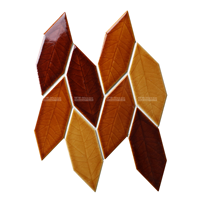 1. ZBC5001 / 2. ZHC5002 / 3. ZHC5003 / 4. ZOC5001
MM-Mosaic as a professional mosaic and tile company from China, has over 10 years experience in producing different styles of mosaic tiles for projects. If you wanna explore the mosaic market, MM-Mosaic is a great partner for you. Head to our product page for choice and find the latest design inspiration from our Mosaic Style blog.