There is no doubt that hexagon porcelain mosaic tiles, with the plain feature and natural marble patterned, are enjoying the spotlight due to a raising appreciation of vintage and historical patterns or a twist toward contemporary design. When it comes to building and interior design, the hexagon is a fundamental shape, which steeped in an abundant history of architectural, design and natural elements.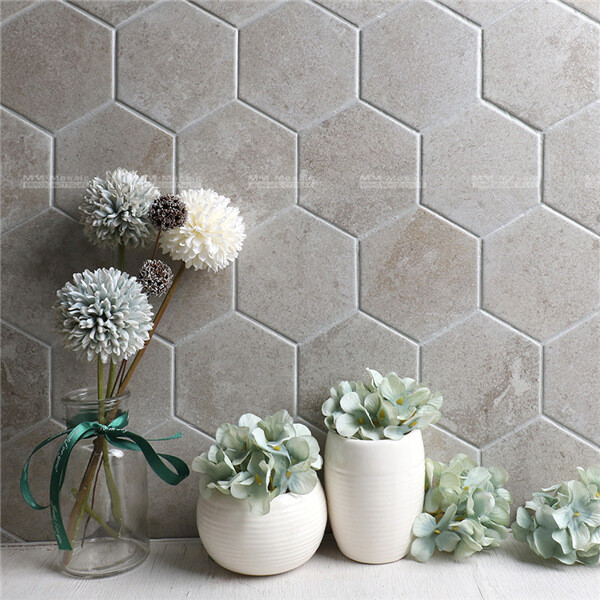 Featured Product: 4-inch Marbled Super Hexagon Porcelain mosaic Light Grey
Where can find this classic shape? It can be found in honeycombs, crystals, and snowflakes, which creates a traditional and distinguished appearance. So hexagon mosaic is also called honeycomb tiles, which are extremely mainstream for decorating at home space and normally be used both in the shower and kitchen and fit suitably any stylistic home theme your choice.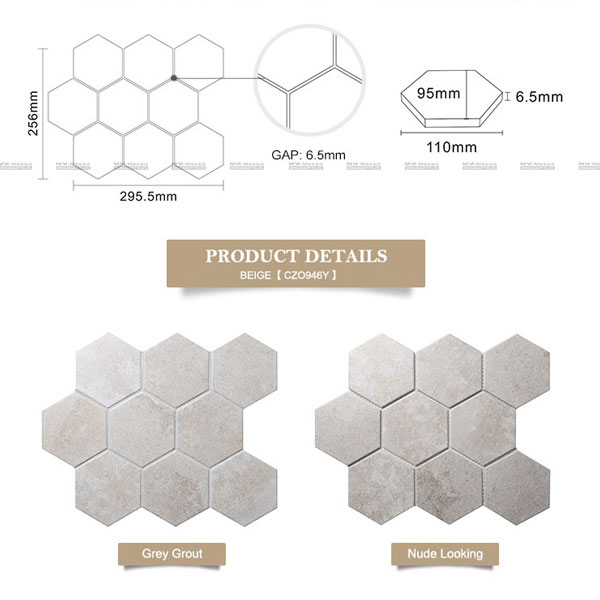 Product Details
Bathroom Flooring
Have you been considering trying out hexagon tiles as the washroom flooring tiles? The bathroom floor provides the ideal surface to investigate. Considered both well-timed and permanent, the classic marble super hexagon mosaic collection showcases the new-arrival appreciation and can be used of geometrical shape in today's interior and exterior design portfolios. What's more, the design flexibility of marble hexagon tiles means you can pick the color for a characteristic design than speaks to you. It's alright to tiles straightforwardly on dry floor or drywall. Therefore, the cement super hexagon tiles influence is a change your bathroom needs.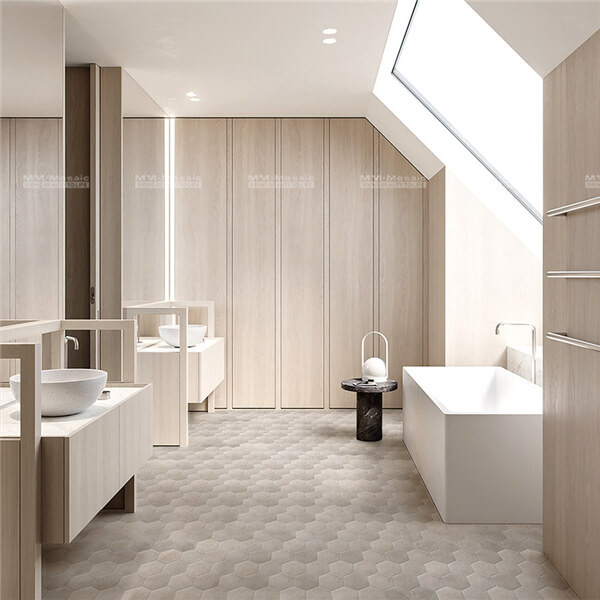 Living Room Space
Generally, many house owners pay less attention to using hexagon tiles as the living room background wall, in other words, the cement hexagon tiles are usually paved in the washroom or kitchen. As a matter of fact, the beautiful marble hexagon mosaic gives a phenomenal chance to character a remarkable style in the space.
No matter what your home decor style transforms towards vintage, contemporary or middle ages style, hexagon wall tiles will catch every guest's eye as they walk through the door.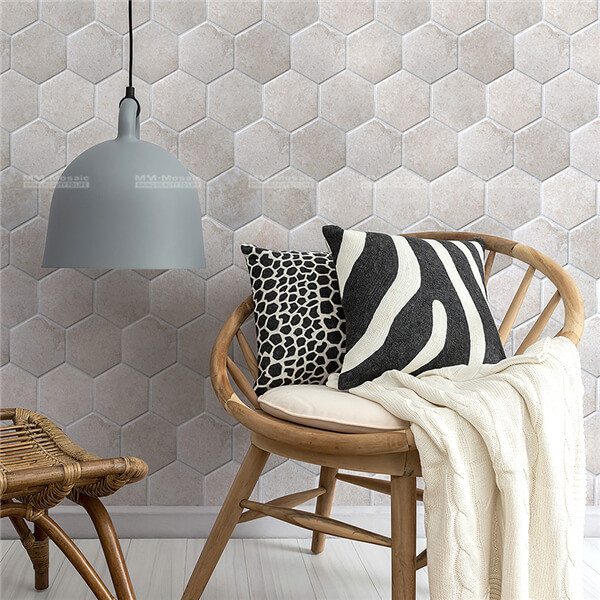 Restaurant Background Wall
Here is one space we love, designed by our interior designer. The super cement hexagon tiles are used in the restaurant wall, which provides visual relief from lots of regular geometric found in the wall. To order further enhance the effect, the marbled surface of hexagon tiles merges well with the wooden table and the rustic flooring tiles, adding a soft border between the wall and the restaurant furniture. It's a design inspiration that works well in these types of the restaurant due to its extremely large shape, subtly setting off the wall area from the other space, therefore, nothing works better than this porcelain mosaic tile as a wall tiles for a restaurant.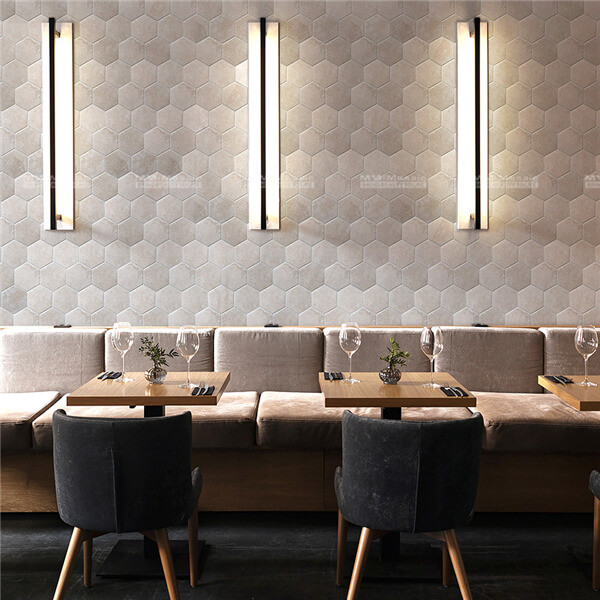 If you are a hexagonal fanatic and have great interested in metallic print hexagon tiles, this article might give some inspires for you: Style Collection: Super Hexagon Matt Metallic Print Porcelain Mosaic
And why not to learn more about this long shaped hexagon tiles: Style Collection: Cool Matte Glazed Black Long Hexagon Mosaic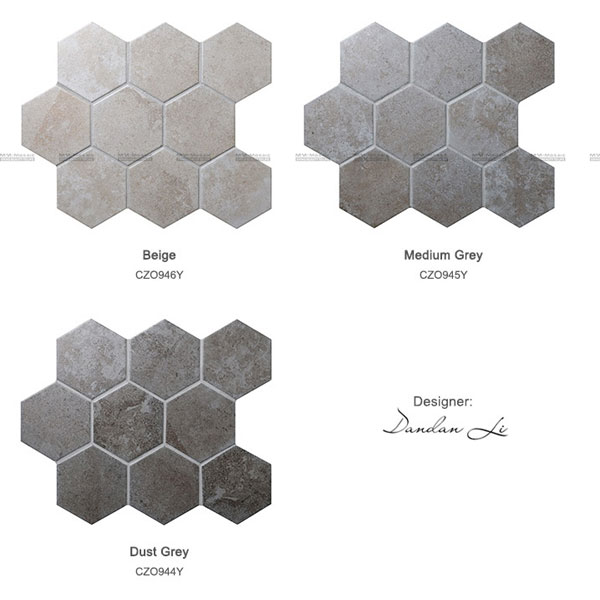 Need some premium samples? Or funny ideas? Inquire us!
Whether you are considering plan marble hexagon tiles or one of the inspiration design from this patterned collection, MM-Mosaic, as a ten-years experienced mosaic manufacturer, can provide the professional suggestions about this delicate porcelain mosaic for any space. Moreover, we have established long business relationships with many global customers, which accumulated plenty of export experience.