It is not a secret that everybody love using mosaic tiles in their home decoration, it is never out of style and still trendy for a long time. There are more and more colors, shapes and patterns for choice as many mosaic tile factories is keeping upgrade and creation on products to meet more customers' demands. MM-Mosaic keeps going and improving our product lines in wide range, bringing more interesting and beautiful mosaic tile designs to you. Today we are introducing one of our new addition in pretty pink color, a fantastic color will be big in this year as well as 2019.
Pretty Pink Color + Herringbone Pattern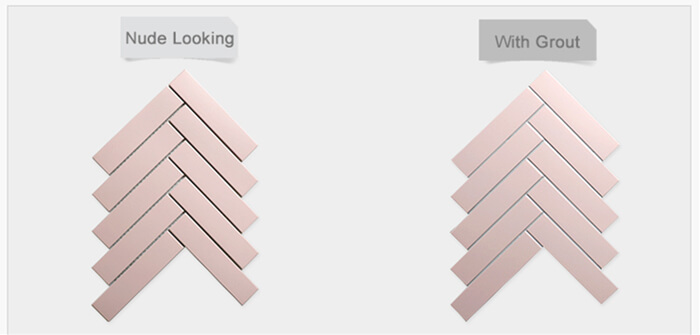 Peatured product: pink herringbone tile mosaic CZM904B
Pink is lovely color while herringbone pattern is a staple in backsplash, wall and floor decoration. When pink meets herringbone, this product would win high popularity, especially used for girlish rooms. Features 145x32.5mm strip chip size, the large herringbone tile mesh-mounted on back makes your installation easier and adds more dimension to space. Matte surface process makes these herringbone tile sheets are suitable for both wall and floors.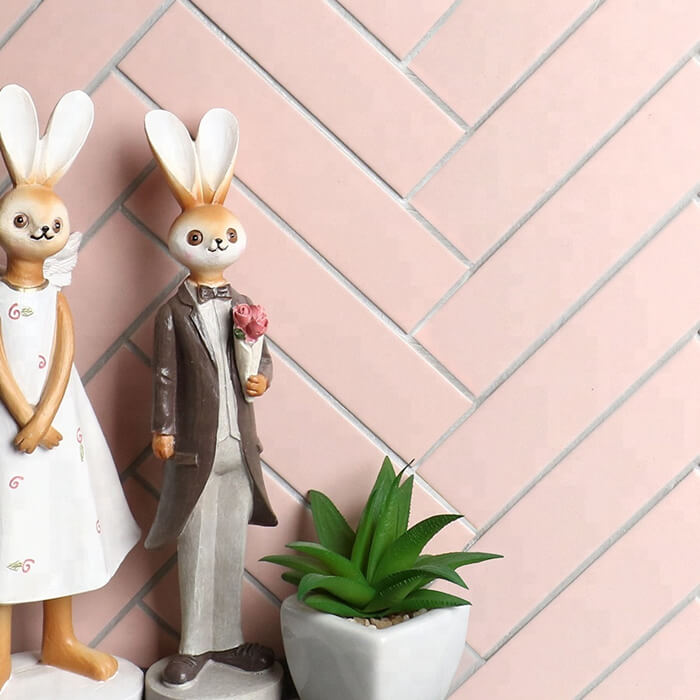 Herringbone tile is widely used in backspalsh and wall cladding to make a statement to any spaces. The lighter pink mosaic tile works with gray grout color perfectly create an elegant and high-grade look to the backsplash.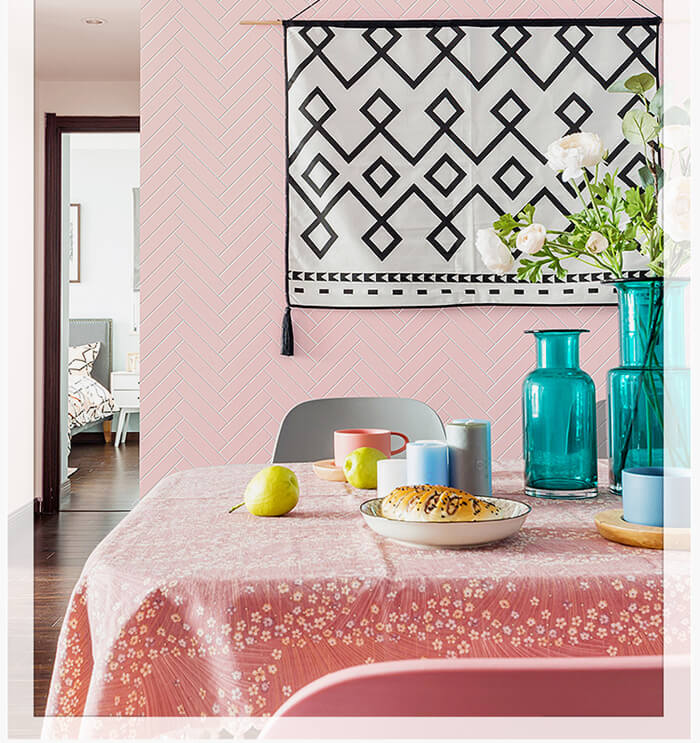 Color is making a comeback in interior design and pink is a bold and fresh choice. If you welcome change in your kitchen renovation, just try to consider pink as main color instead of pure black, white and gray. Take this pink tile to start with your wall, combined with pink table cover to have a lovely and energy apperance.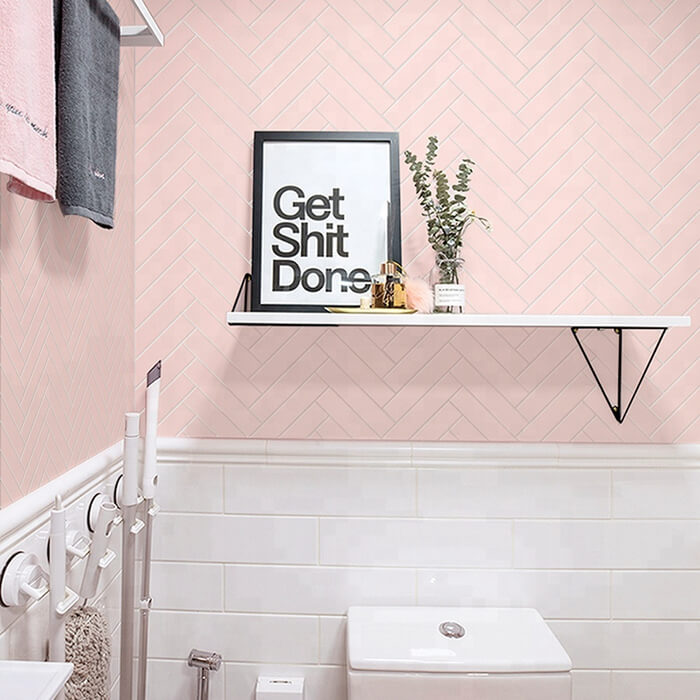 One fo my favorite trends for bathroom decoration is Ikea Style, which is simple, fresh and natural. The combo of pink herringbone tile and white subway tile builds a clean, simple and contemporary vibe, especially cozy for living. If you are afraid that the design is too dull, choosing slogan decoration to give a voice to the bathroom, which never goes wrong.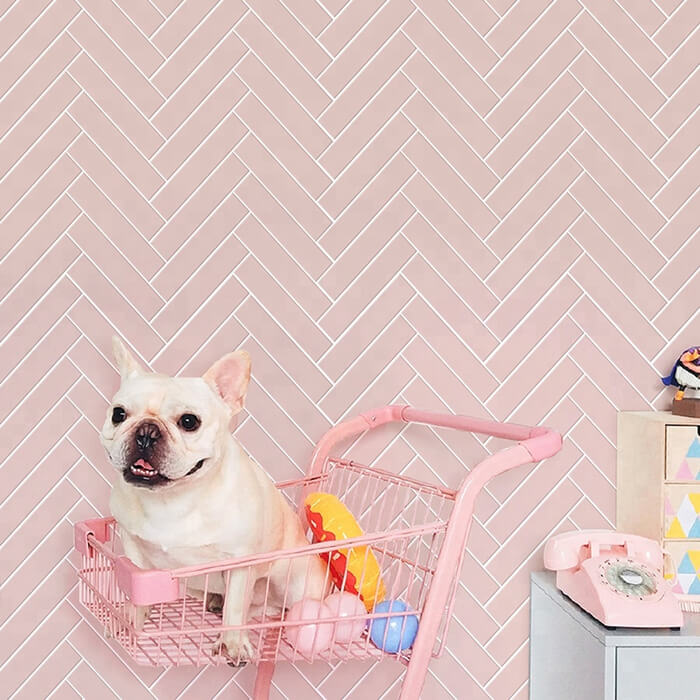 Doggie is the best friend to people, and they also need a comfortable living space. If you are going to remodel the living place for your dear doggie, then a pink-pink space is a great choice to send sweets and love to them. The pink hue can makes people happy as well as animals.
For other pink mosaic tiles patterns, you would like to read this post: Style Selection: 28mm Pretty Pink Penny Round Ceramic Tile >>
Optional color: this herringbone tile mosaic offers 3 colors including pink, green and dark green. Do not hesitate to contact us for bottom price and sample can be provided for quality check.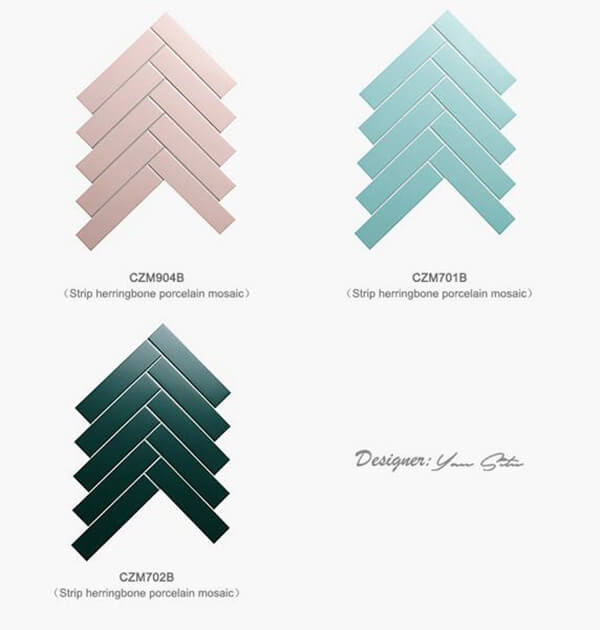 If you like this pink herringbone tile, you would also like Style Collection: Royal Blue Crystal Glazed Porcelain Herringbone Tile >>
MM-Mosaic is a premium mosaic tile company from China, we are committed to supplies various mosaic tile wholesale products and service for all customers worldwide. Customized service is also available here.