When the square moves over, there is another shape in town and it's that grooviest of geometrics. The classic hexagon. From accessories to furniture, the honeycomb pattern is enjoying a space moment - who hasn't swooned over a sweet macaron hexagon porcelain mosaic? So, it's natural that hexagon mosaic is bang on trend right now, which makes everyone easier to find their beauty and to see why they're so popular. More attractive than the monotonous planks and less pretentious than the dazzling parquet. Hexagons have a sense of drama yet are eye-catching. We have prepared some stunning designs from our professional designer below: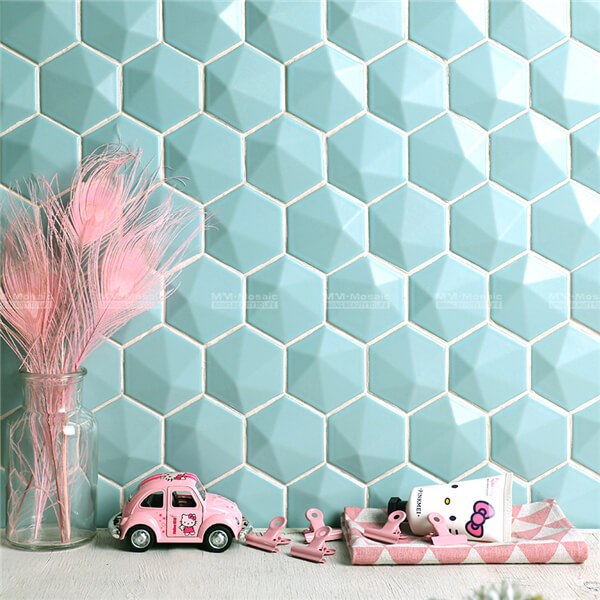 Featured Product: Glazed Matt 3D Hexagon Porcelain Mosaic Blithe Green CZM711D
Dynamic Green Macaron
In this contemporary fresh bathroom. Green hexagon tiles bring some geometric flair and add interest to an understand interior design scheme. Inspired by the sweet macaron colors, the classic hexagon shape is retained but given a striking and newfangled look that completely refreshes the traditional hexagon image. More than that, the refreshing emerald green matches well with this heat summer holiday, which makes you more cooler.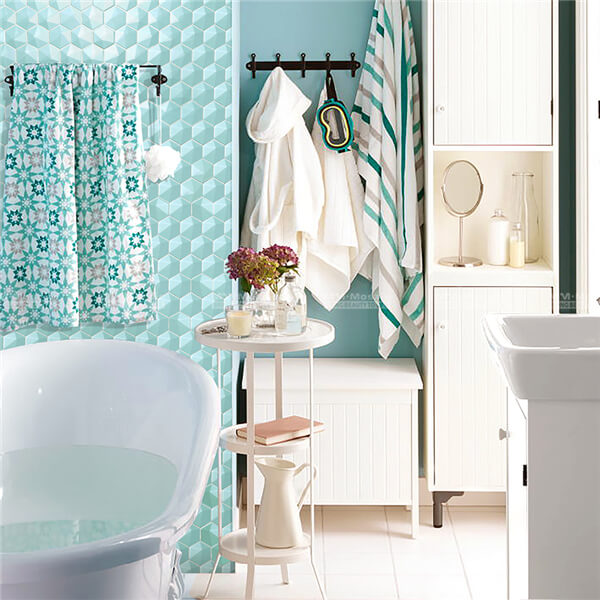 Not only for the bathroom, but this fantastic mosaic hexagon tile can also be found in the living room wall. There are so many things to adore about this statement space, it's hard to know where to start. Their monochromatic green glaze choices have a charismatic variation to match the natural greenery of the outdoors. Combining with our favorite gray linen sofas and pink bolsters, it finishes the concept of modern young people's ideal home. From the bottom to the top, the mosaic tiles are vertically rising, which helps make space look more brighten and gives a small space a big impact. Finally, all of the elements pair perfectly together.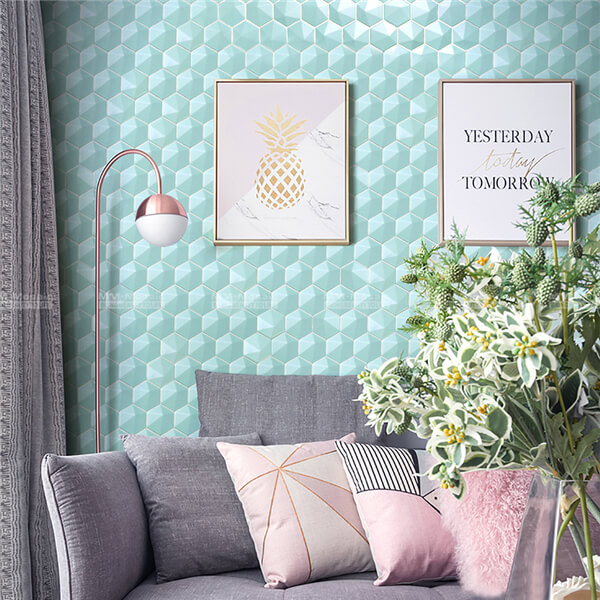 What's more. there is another important space design that is not mentioned - the kitchen backsplash. The regularity of its format provides this collection with a style stripped of superfluous elements. Each piece Macaron mosaic creates is exclusive and avant-garde, with unique 3D surface designs, which comes from the imagination of the most daring designers and new backsplash trends.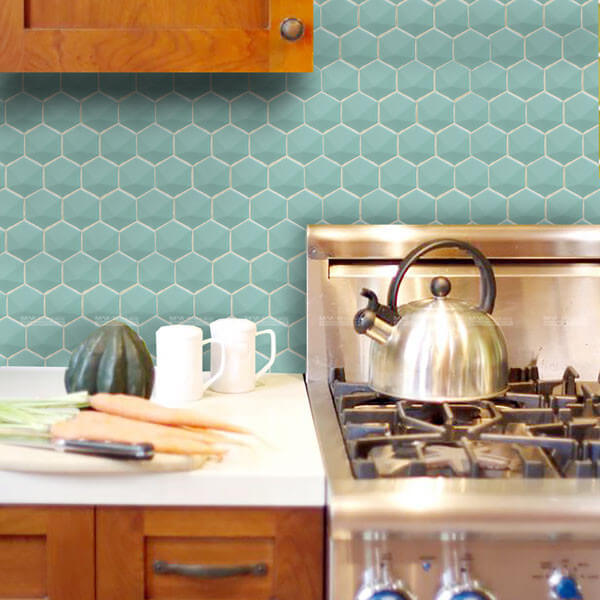 When it comes to the backsplash, we also wanna share other Macaron hexagon mosaic tile backsplash for your reference, and the porcelain mosaic incorporates a myriad of decorative options to spice up any backsplash or wall.
Gentle Rose Pink
Featured Product: Glazed Matt 3D Hexagon Porcelain Mosaic Pink CZM411D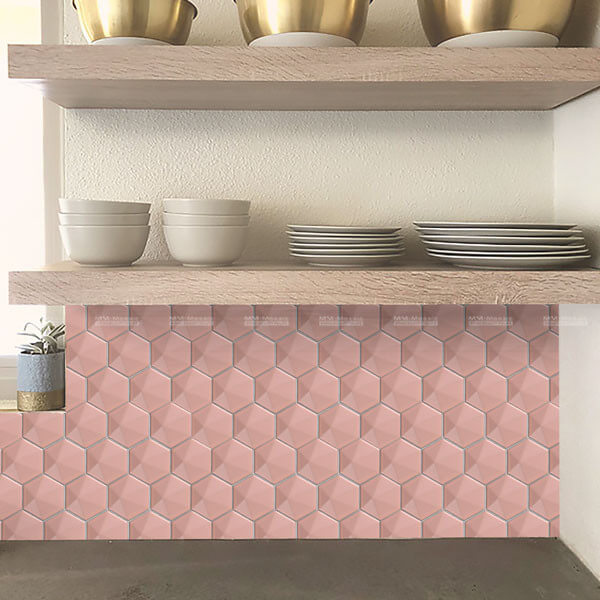 The Gentleman Blue
Featured Product: Glazed Matt 3D Hexagon Porcelain Mosaic Sky Blue CZM611D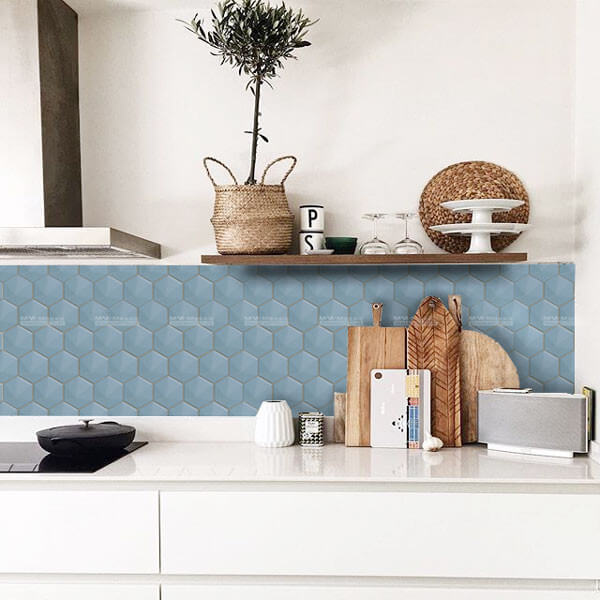 Minimalist Gray
Featured Product: Glazed Matt 3D Hexagon Porcelain Mosaic Sky Blue CZM334D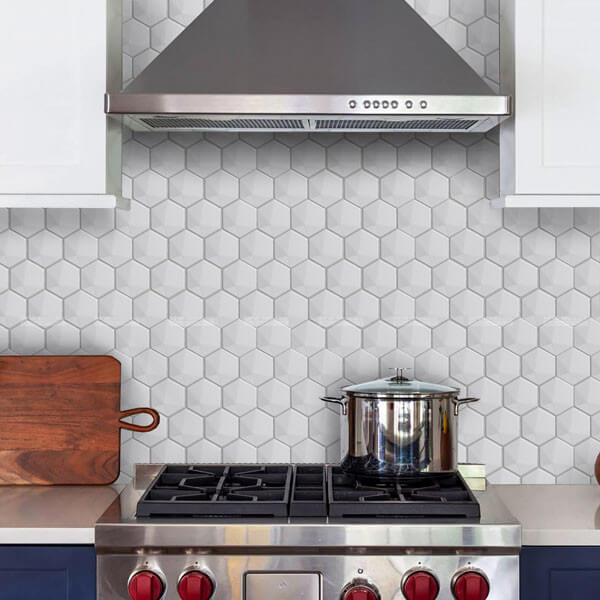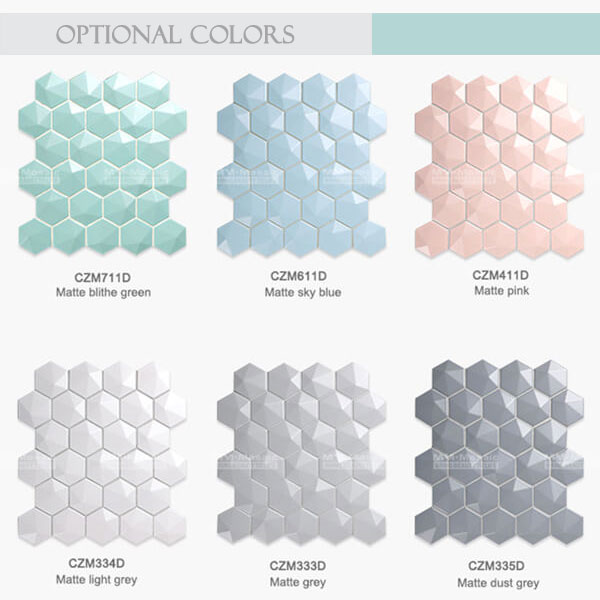 Get any 3D mosaic inspirations? Wanna any delicate samples? Contact us immediately! No matter how does interior design style changes, MM-Mosaic can not only keep up with the trend but also provide a suitable project for you.