Looking for a new mosaic tile to make change to your space? Penny tile, also named as penny round mosaic, circular mosaic, enjoys high popularity in home design to fit different space style, from Victorian to bungalow, mid-century modern to contemporary. It is often used in splashback, wall, background and flooring. This tile provides rich colors, textures and sizes, interior designer like this type of mosaic very much, for they always look good in new and old house, they provides endless possibilities and inspirations.
This 19mm blossom penny tile give you the new ways to build your dreamy spaces. A new design to our round tile series, the reason why we collect is its speciality, people will love it at the first sight.
Manufactured under high temperature and strict processing, the surface with delicate texture is created. Its vein looks like a blossoming flower, as well as a freezing ice. The combo of veins and blue hue makes a fresh and contemporary style.
19mm Penny Round, Blossom Glazed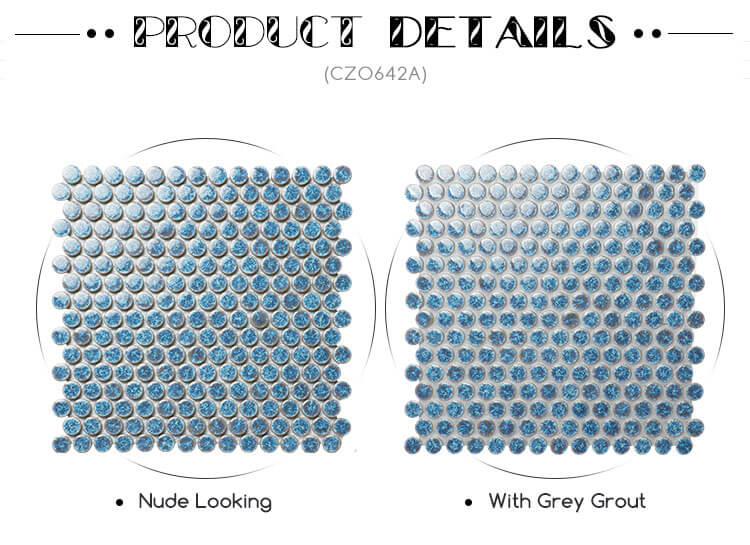 Featured product: Penny round tile CZO642A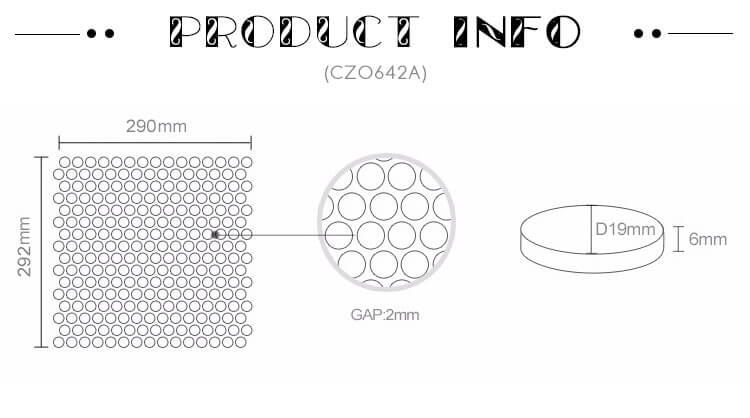 The 19mm-diameter ceramic penny round mosaic gives you a 2mm gap, that means you will have a lot of grouts. It is a good thing because the penny tile also can be used in floor decor although it has a glossy surface, that will not produce a slippery floor. Moreover, it is an effective way to enlarge your space visually. If you want a penny round mosaic floor tile for your bathroom design, this one is a best recommend.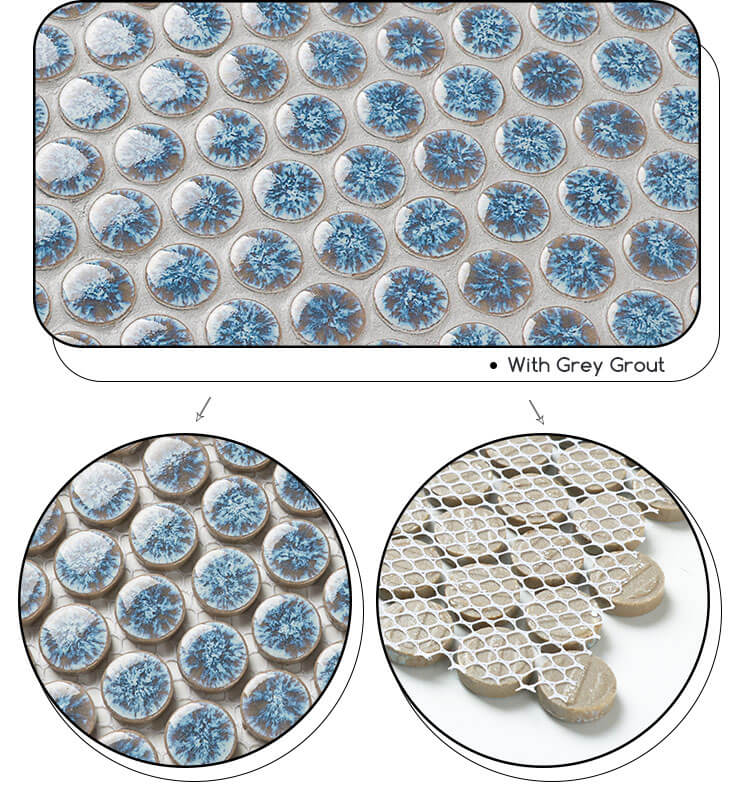 Another important thing you need to consider is the grout color, which will make great difference on your tiling project. Not only the grout can hold the tile in place, but also it will affect what your tile will look. For this blossom penny tile, We would suggest a grey grout color, it matches the vein perfectly, seamlessly and the vein is still a feature for tiling. Mesh backing design helps to make the installation and cutting work easier.
Add Charm To Backsplash
Penny round tile typically looks pretty in backsplash design, this circle surface creates an unique splashback that exactly shows your own personality with fambe textures and elegant blues. The glossy surface is easy to clean, beautiful and practical as a kitchen backsplash tiles.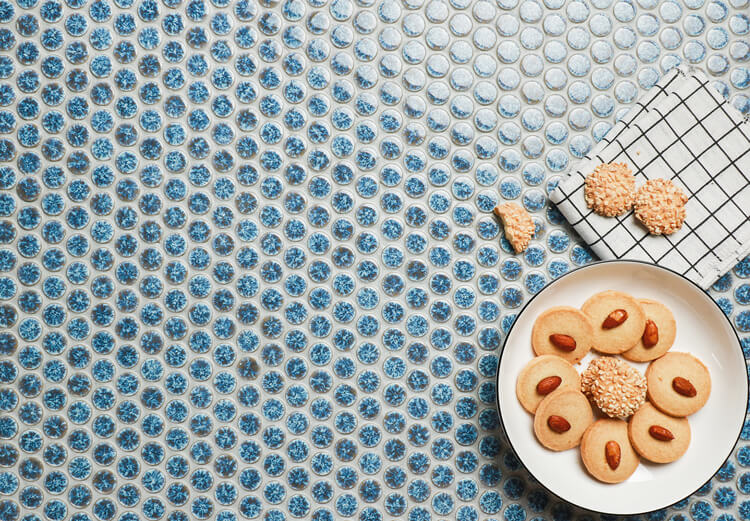 Simple Living Room Decoration
"Less is more" is one of the most classic and prevailing design concept in home decor. More and more homeowners prefer their home design to be simpler and cleaner. Nordic style and industrial vibe is getting trendy, it is uncomplicated and never out-of-date. Installing a blue penny round tiled wall to your living room like below, it has structured a fancy room in neat way.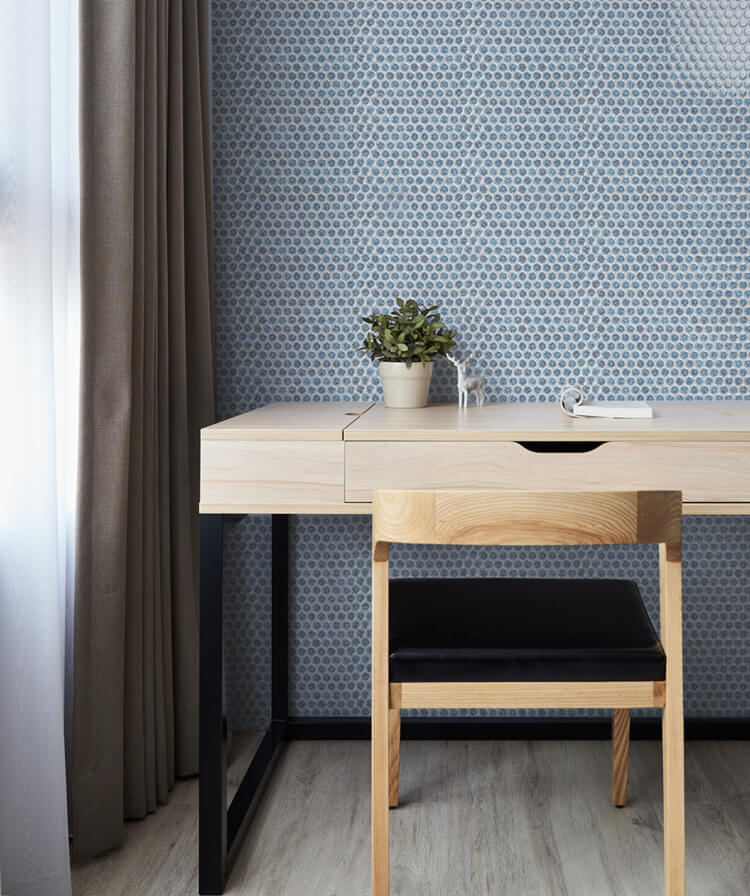 For An Exquisite Living
A better living space can make your life better and exquisite. That's so fascinating and incredible to have a pantry for your home, example as below. The combination is perfect in blue, to choose other tiles to work with the penny tile, it never goes wrong to use tiles in same color tone, that is a safe and workable decision. What a stunning space, now it is all about fashionable, modern, luxurious design.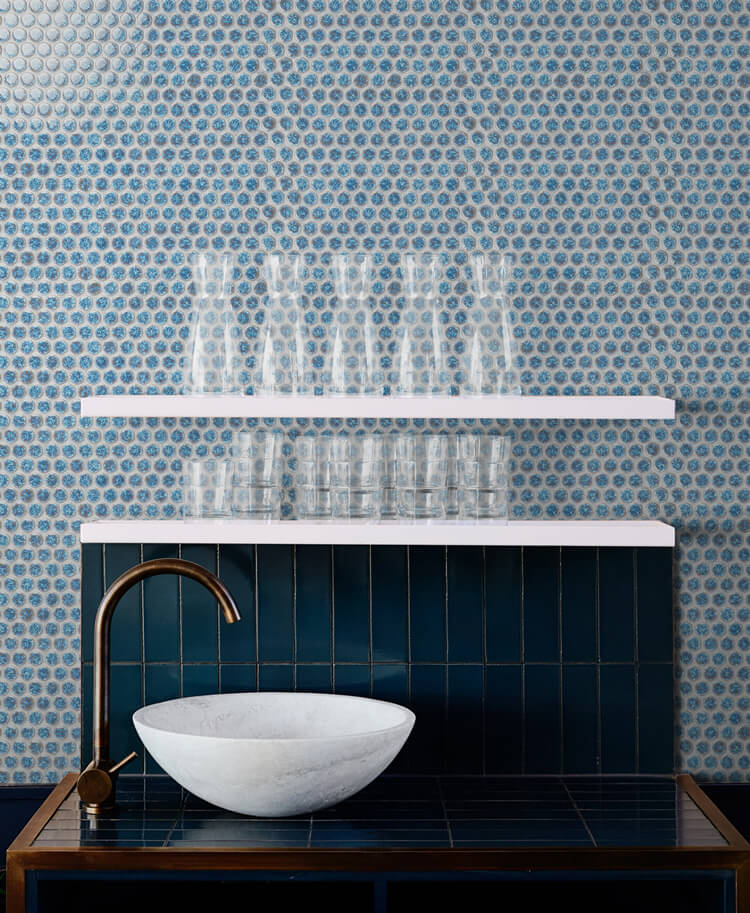 Optional Colors
This penny tile series supplies 4 colors to choose from, including dark blue, light blue, mint and beige, all features a fresh color and blossom textures. If you want a sample, welcome to contact us to info@mm-mosaic.com.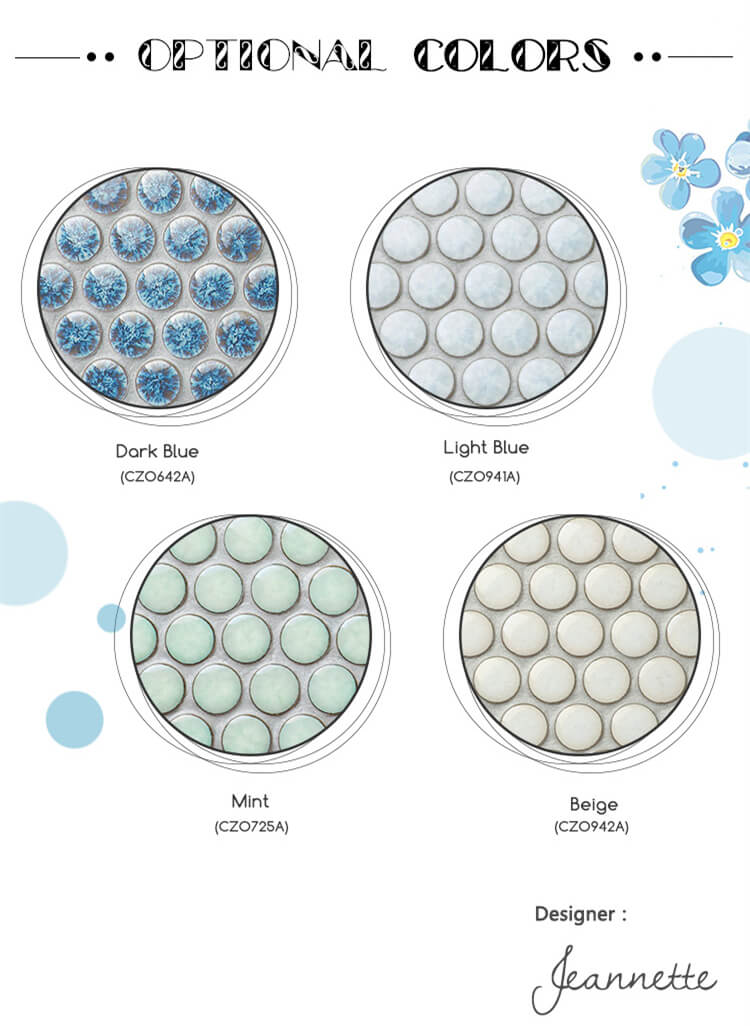 Blossom Blue Arabesque Tile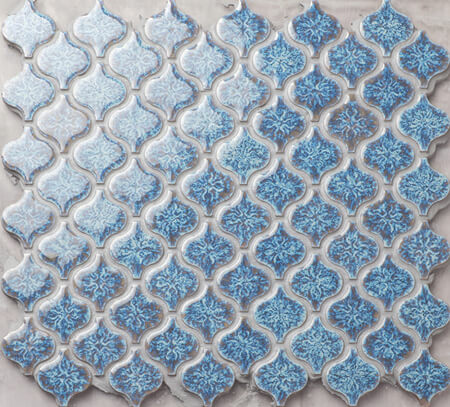 Featured product: Blue fambe blossom arabesque tile CZO643A
If you are only fond of the blue blossom vein, there are another shape for you - Lantern shape, a stylish pattern to add retro feel to any designs. Sample can be provided for quality check.
For more penny round tile designs, this article "2018 Newest 10 Penny Round Tile Design" will show you more latest designs and good ideas.
MM-Mosaic is one of the most professional and experienced mosaic tile manufacturers from China, committed to supplies different types of mosaic and tiles for export. Customized service is available here, ask us a free quote to make a further cooperation.