Are you still fretting about how to make rooms look larger? Here in today's article we will introduce a few quick tips that help you enhance those small spaces such as kitchen, shower, attic, etc into spacious rooms in a both beautiful and cost-efficient way. What MM-Mosaic mentions is to use a certain kind of tile that has light color, reflective surface or large size. You may think it is not feasible, yet it does work and even has possibility to produce a great result! Follow our steps to get further insights, and you will have your living experience highly improved.

Wall & Floor Use Large Tiles
Different sizes have different degrees of impact on human vision. Generally, larger size of tile is easier to add dimension and make the room look more spacious. There are some kinds of tiles that have been usually made in large size –wood look porcelain tile, marble effect porcelain tiles, and concrete effect tiles. These three tiles are popular in floor paving, which are stain-resistant and easy-cleaning. Also, if install large tiles floor to ceiling, your room will appear more taller as eyes are drew upwards. Large sized tiles used on wall and floor especially in entranceway and living room is a positive element to extend the space. It is absolutely a good news for downtown households who have relatively smaller dwellings.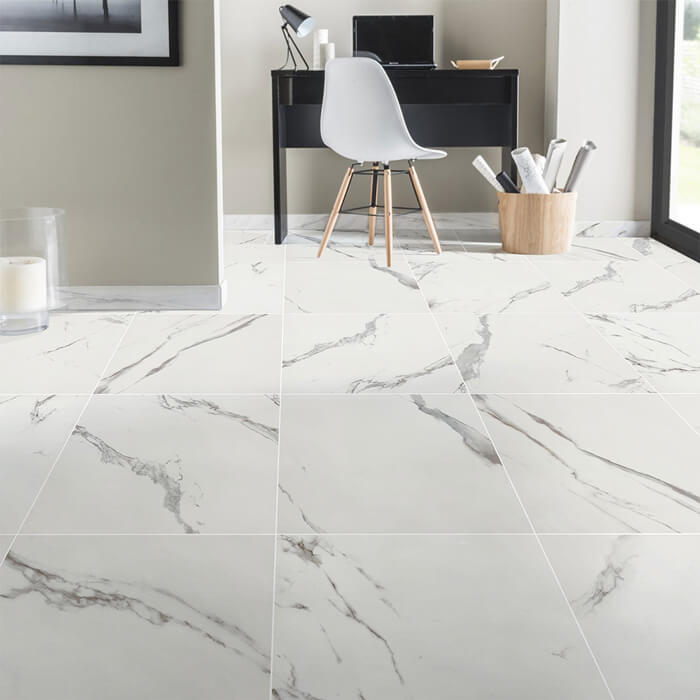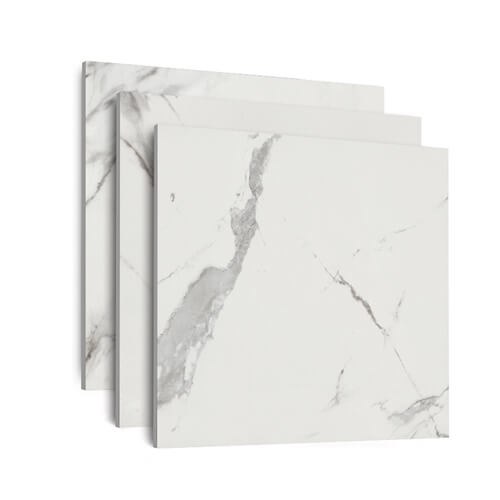 marble effect porcelain tiles KLK3301K
Stick With Neutral Or Lighter Colors
Loft is a small place that is often designed for storage at the top of a house. However, some people enjoy spending time in the loft by converting it into a study, workplace or bedchamber. Reasons vary, but most would say they need to stay a little more personal sometimes. Loft is often regarded small and repressed. If you really want to make good use of it by renovating it into a room that has double functions just as the picture shows below, MM-Mosaic recommends you to use concrete effect tiles, because these tiles are in neutral color and can broaden the space visually. It is an imitation tile that is made of porcelain, which is superior to cement tile that is produced by concrete material in many ways. What's more, a penny mosaic backsplash in light blue & white blend is workable to enlarge the space, as circle is a mellow pattern and it is painted with light glaze coat as well.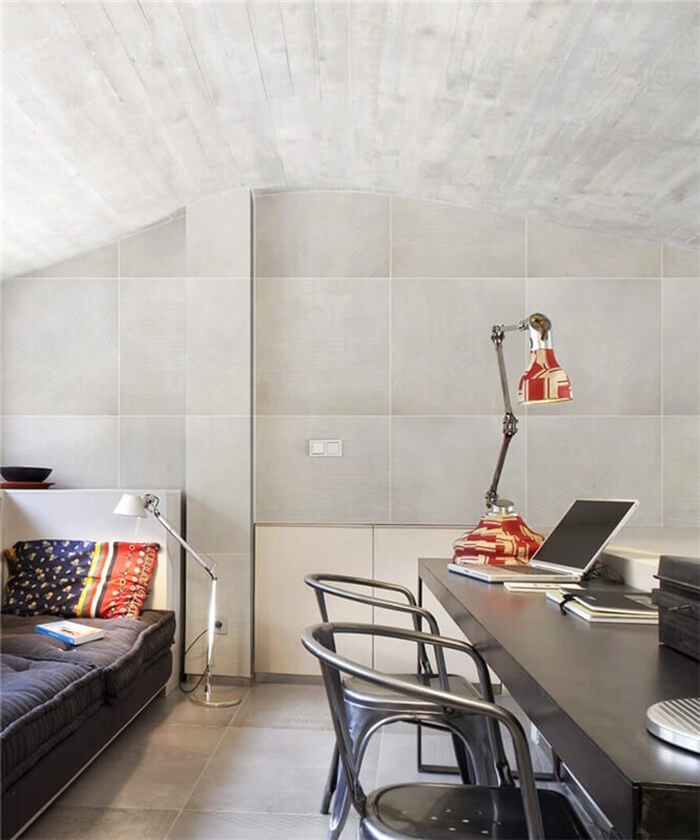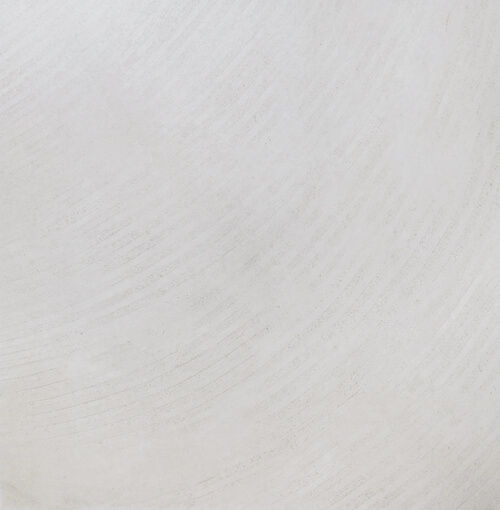 concrete effect tiles BLG6601K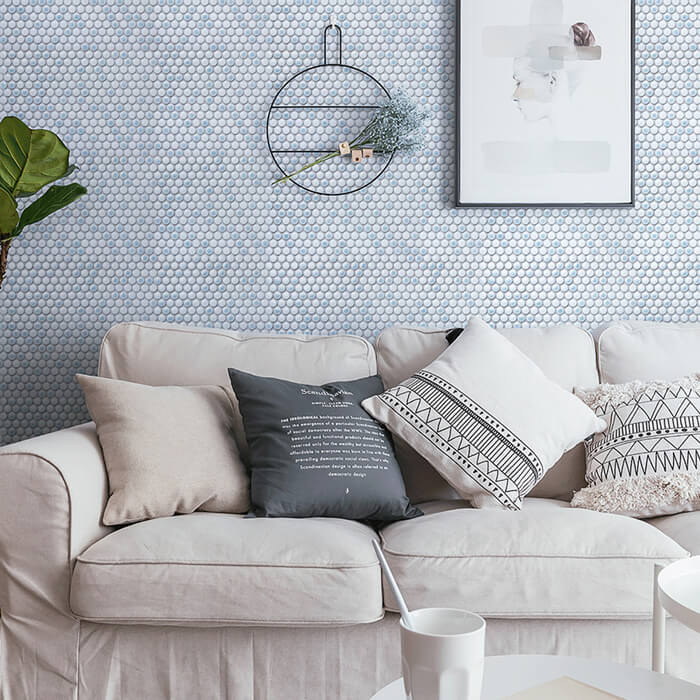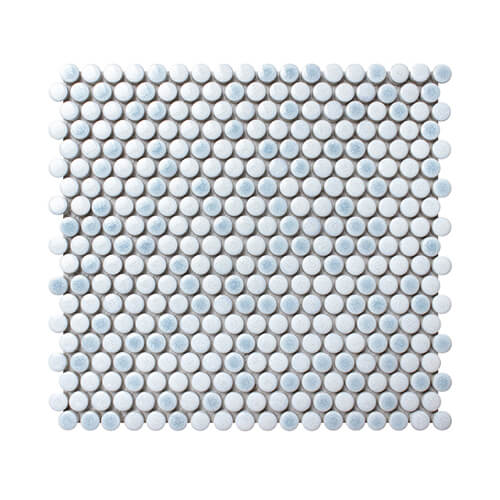 penny mosaic backsplash tile CZO026A
Keep Design Elements Simple
Simple design is a core of Nordic style. Many modern people like designing their houses to the simplest – using minimum colors, avoid complicated patterns, etc. Simple design not only can make sure the room look tidy but also make it larger visually, particularly by taking black & white as the basic tone, if applied properly, they look integrated and harmonious. The attached bathroom design is a typical example. In such a small room, there are altogether three main color lumps – white, grey and black. They appear as a part of the bathroom design in the form of tile – white square tile, grey cement porcelain tile and black brickbond tile. Amongst, white tiles take a biggest part in the centre of the design, which stretch the space visually to a large extent.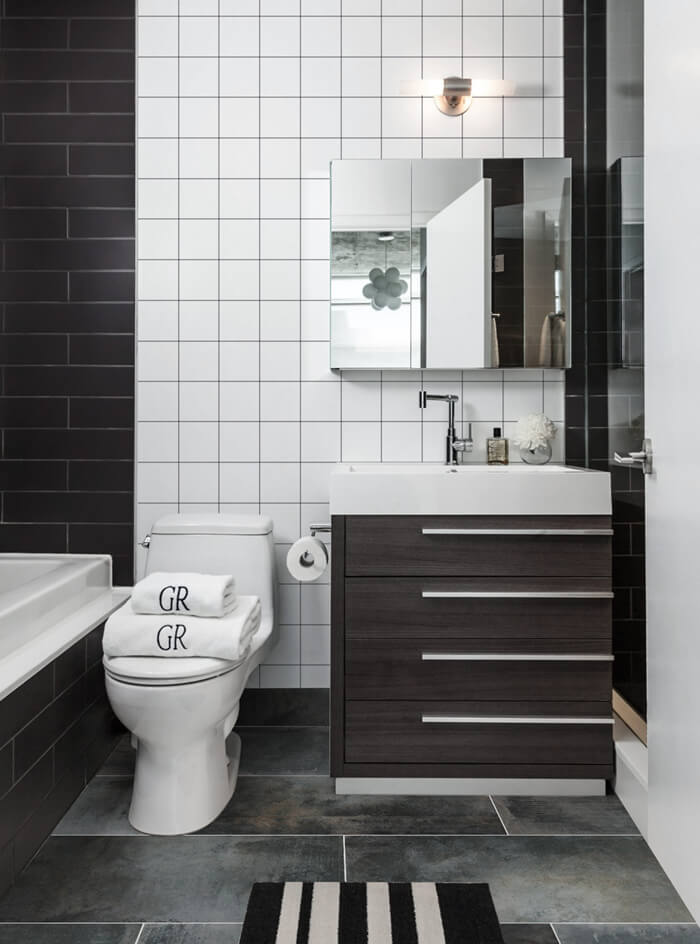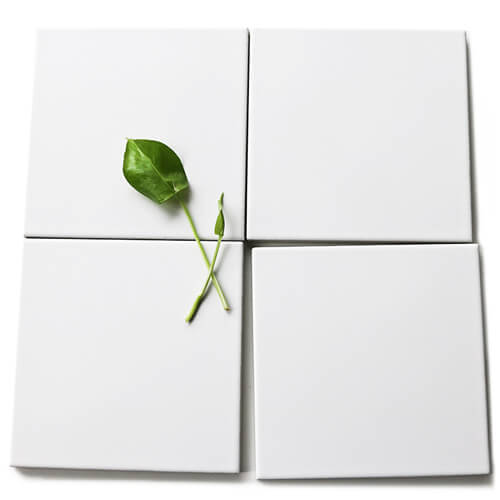 Make Best Of Light Refraction
In a small room, it is better to make full use of light reflection. In this way, your room will look brighter and to some extent it further enhances the visual effect that people think the room is larger. Using tiles that have reflective surface is a simplest way to achieve this look. You can choose glass tile, as it is characterized by glittering and non-porous surface, which is very suitable for wet rooms such as kitchen and shower. You can also pick up glazed ceramic mosaic tiles. Quality glaze coat not only provides protection to the ceramic, keeping moist and liquid from penetration, but also create a beautiful reflective surface, which rebounds light to the maximum.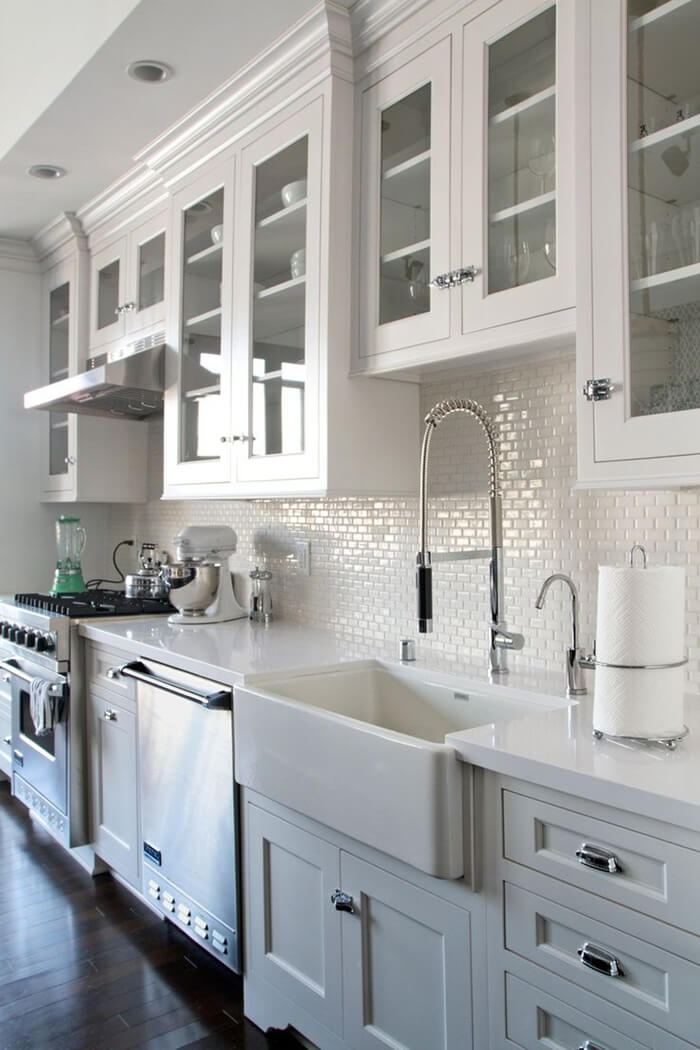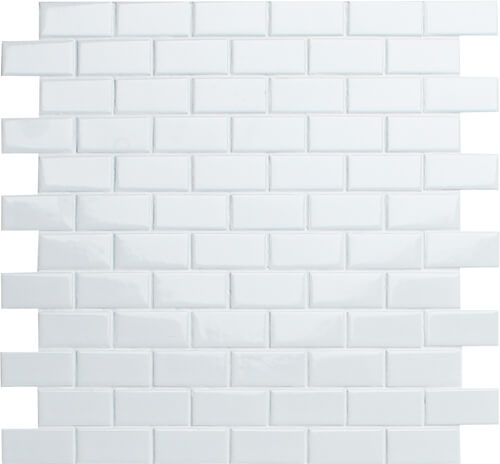 glossy white brickbond mosaic tile CZG203DZ
Let Natural Light In
There is also a simple way to make your room look larger, that is, letting natural light in. Before your home is built up, you should have planned plenty windows or skylights for the convenience of gaining light as much as possible, especially for some places that are covert and not often exposed to sunshine. Ample light and white glazed tiles is a good match to make the best of light reflection. It is recommended to use white tiles to decorate bathroom just as the attached picture shows below. You may think white tile is a little boring. Don't worry. MM-Mosaic has launched many unique white tiles. Below is attached one of them. There is always one right for your remodeling project.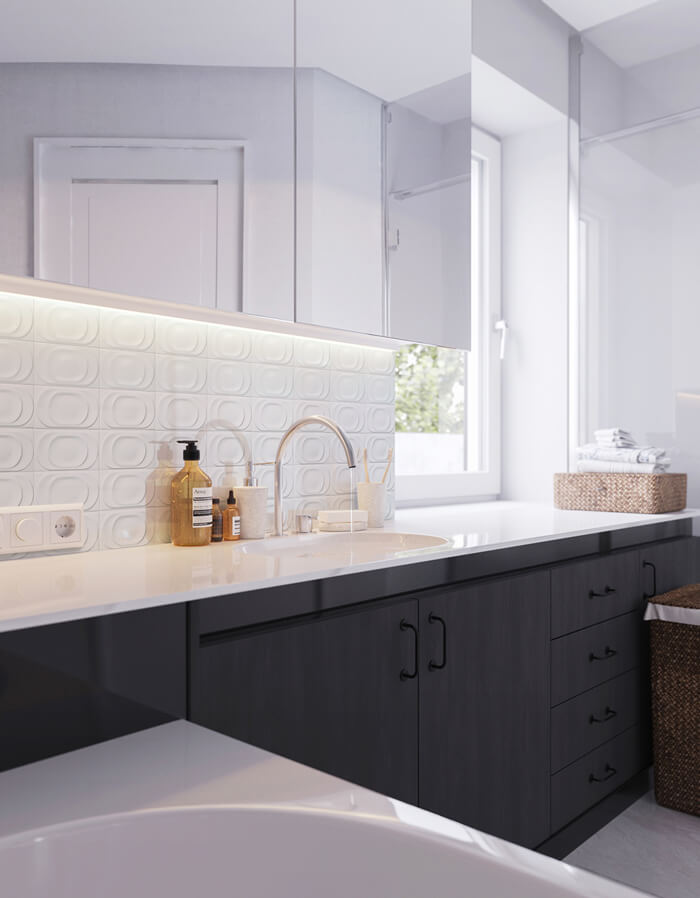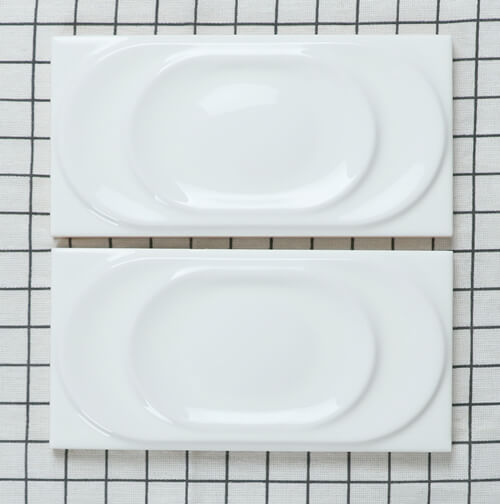 unique white ceramic subway tile CZG205JM
Hang A Large Mirror
Last but not least, adding a piece of large mirror may help you a lot as well. This time is another example of taking light reflection principle. If your room is small, it is improper to use smaller mirror. Instead, large mirror is a good measure, as large mirror can reflect real articles in the room. It is better to install mirror right faces the door directly. In this way, the mirror will often reflect the corridor when door is open. A reflected corridor can add dimension to your room visually. As shown in the attached shower design, there is a large mirror hanging in front of the mosaic tile backsplash. White fish scale tile is another important element to make the shower look spacious.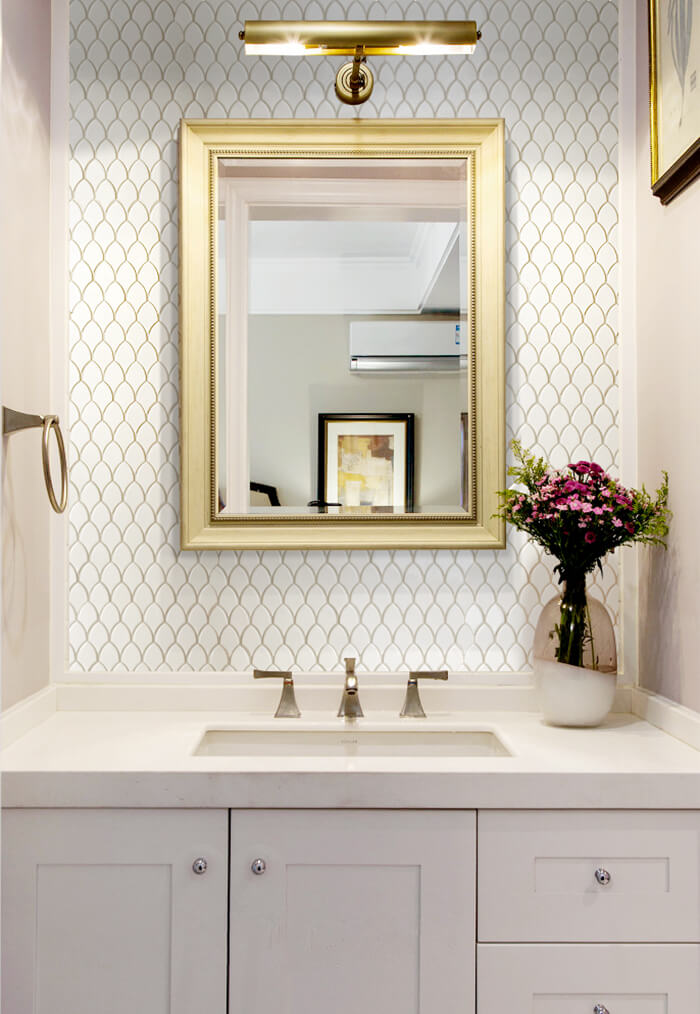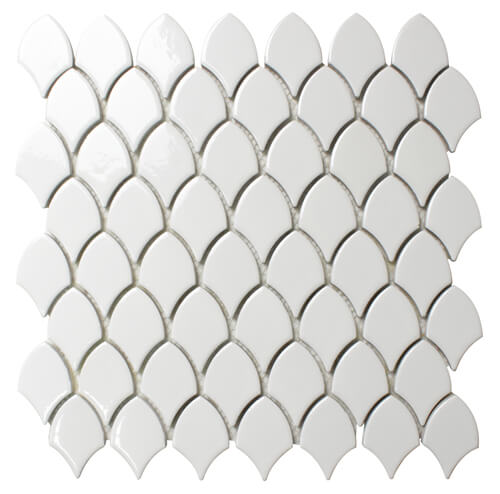 white fish scale tile CZG230ML
MM-Mosaic hope that we have shown you how tile can enhance your small rooms. We would also love to see you visit our website for more tile ideas. We have everything you need to make your small spaces LARGE visually!