Kitchen improvement can prove to be a tough process for many homeowners. Before starting a remodel, you should really think about what your goals are and what you are looking for a renovation will accomplish. Do you simply need to add more details or are you in need of a thorough refurbishment? It is always great to have a clear picture in mind. Backsplash is regarded as a focal point in kitchen design, follow surrounding walls and floors. With decision of tile resurfacing, you will find things meet the expectations more easily. Before deciding what kind of style you are going to take, there are a few trends for you to take reference.

The Simplest Is The Best
Simple, clean and fresh kitchen design still occupies. People are never losing the love of simplest beauty. It is at least shown in their preference for pure beige fish scale mosaic tile. Shimmering glaze coat, crispy arc shape, rigid thickness and proper size…all are truly impressive. What's important, the tile becomes one of the main parts to perfect the kitchen backsplash, making it decent but not tedious. Without doubt, light-toned background here works out its greatest impact on the entire kitchen style. If you also look for such a classic look, you would better go with light colors, white, beige, grey, etc. Application of single tone will be a best solution for messy rooms.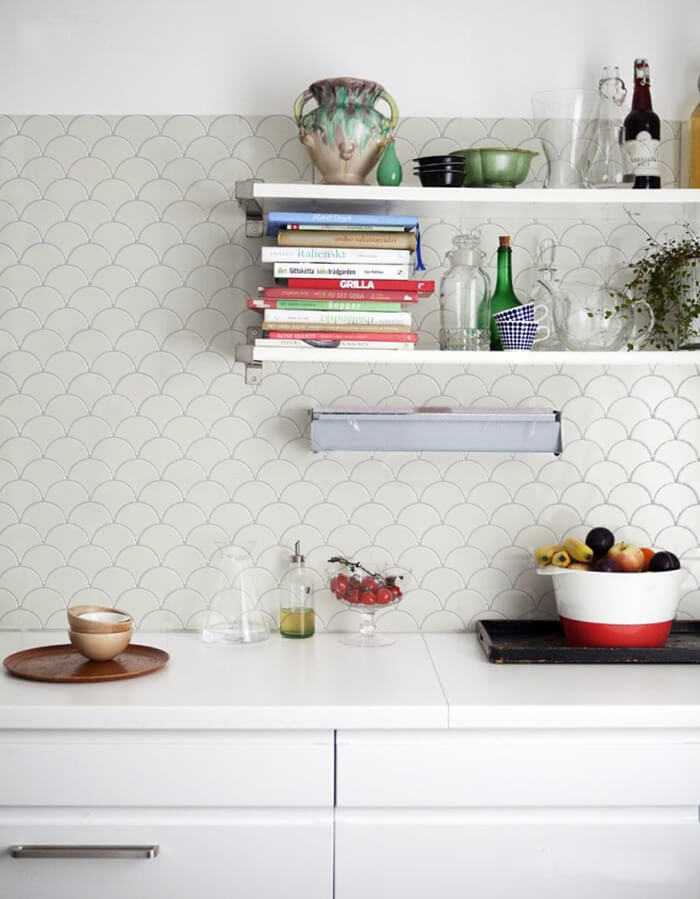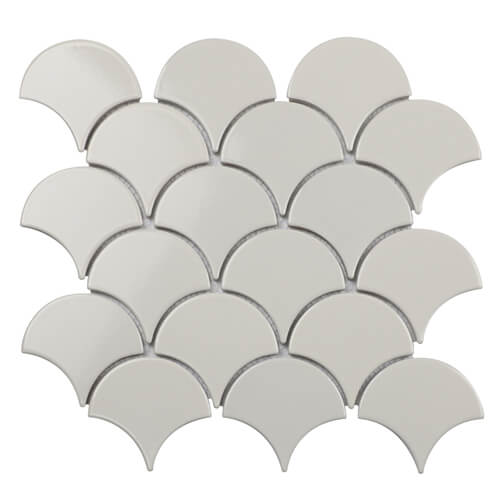 fish scale tile kitchen backsplash CZG522X
Embracing The Most Original Element
Marble, wood, shell…all of these nature creations feature their special characters so people like to use them for decoration. Decors made of natural materials have unparallel aesthetic value than that of the artificial. Even so, manmade products can appear uncannily lifelike due to developed techniques. Since marble made mosaic tile more expensive, many homeowners would prefer using substitute, that is, as seen in the attached pictures, marble look porcelain subway mosaic tile. This tile not only brings vivid marbled texture, but provides visual interest to the kitchen, making it look more spacious. The tile has a smooth matte surface, which is stain resistant and easy cleaning.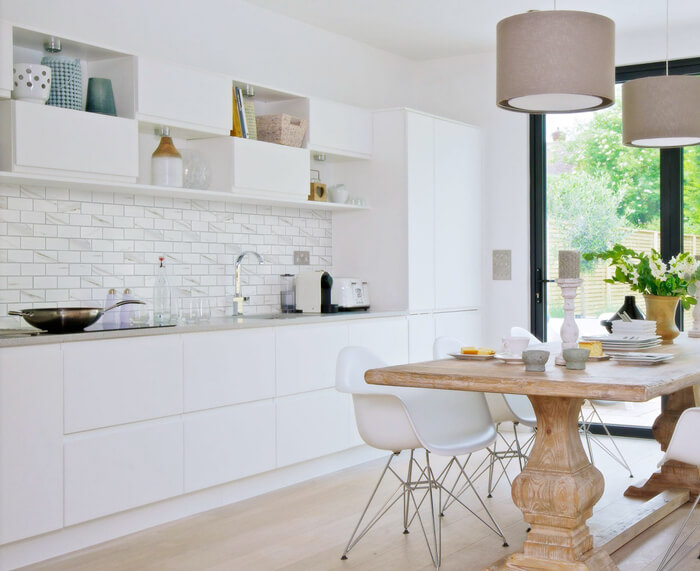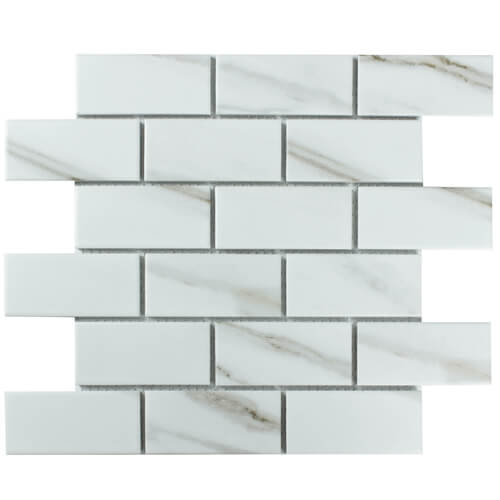 porcelain mosaic tile that looks like marble CZM933Y
Extending The Same Style To Dinning Place
It is common that cooking place and dinning area share the same room. Often, there are table and chairs occupying the corner that has the least traffic. Also, there has to be enough room so as to ensure dinning atmosphere is comfortable. Then you will find it a little blank, which is unmatched to the existent well-decorated kitchen. For those who want shortcuts, installing the same mosaic tile as backsplash does on wall is a good idea. As shown below, penny tile blue and white blend looks gorgeous behind the photo frames. It is integrated as a part of the dinning place where you and your families have daily meals enjoyably.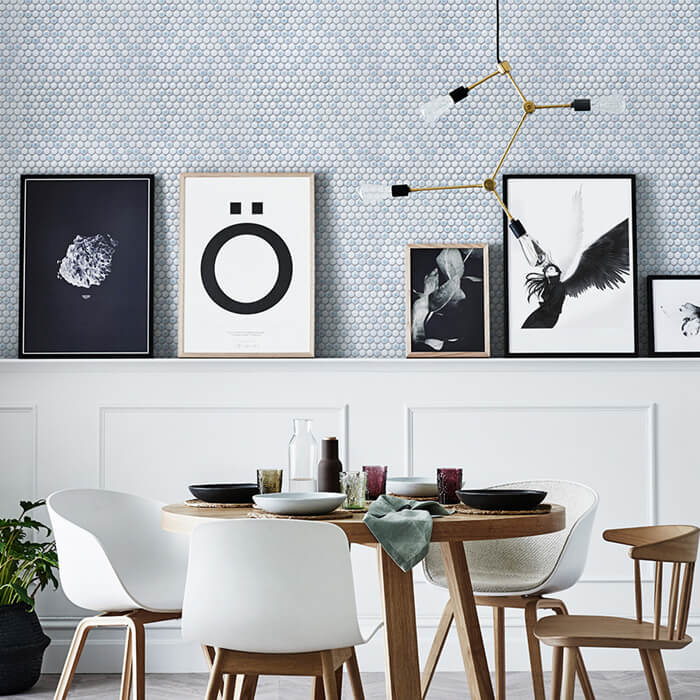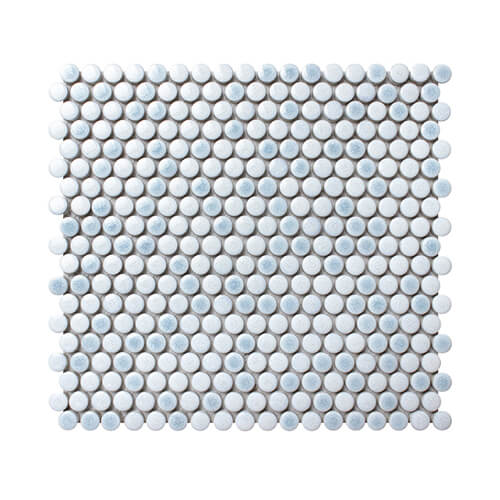 penny round tile kitchen CZO026A
Saying Goodbye To The White Plastered Look
While all white, crisp, and clean kitchens have been popular in years past, we are moving into the future of design with bolder and more vibrant colors in mind. Many people are resorting to two-toned kitchens. This design trend is often seen in more modern homes and adopts a brighter and more interesting color palette. Peach, orange, and darker browns are a few of the more popular color choices this year. Below attached kitchen counter design is an outstanding example. It is comprised of several colors of dot patterned square tiles in a freestyle way. Different placement of different colored tiles produce different effect. You have to try and set down the final layout before installation.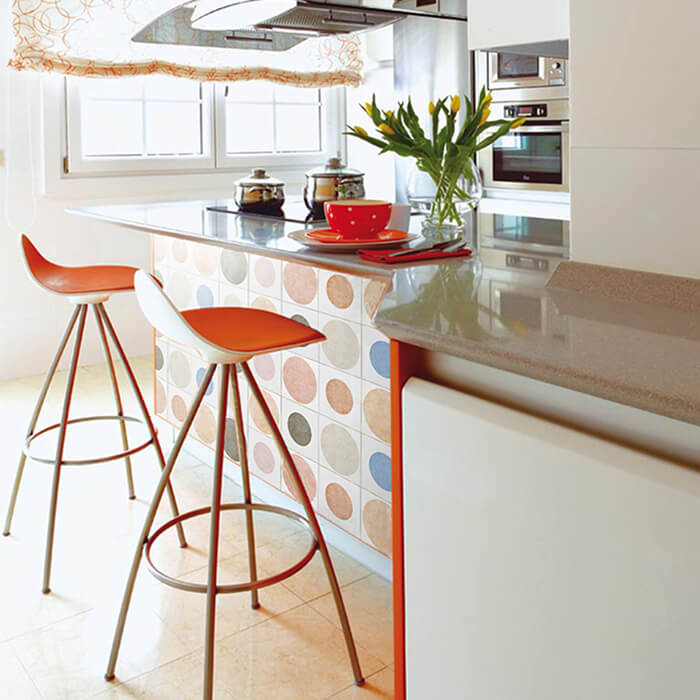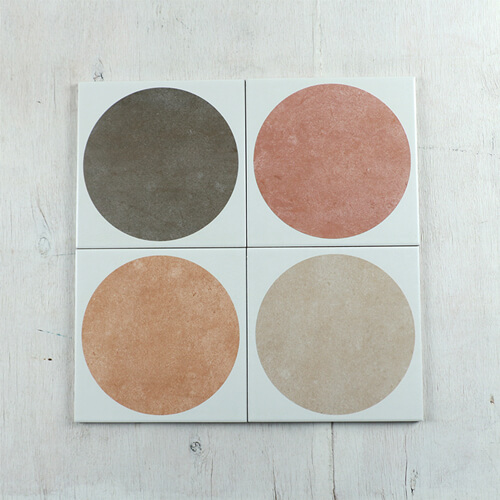 square backsplash tiles PRM907DN
Advocating Renaissance Of Old Style
With the trend of retro style getting overwhelming in fashion, it is now extending to home decoration. If you have a habit to read interior design magazines, you may have found old style takes a leap in the list of people choosing home decors, and building materials like mosaic tile is no exception. In most people's eyes, darker greens, browns with ropey craftsmanship offer aura of old time. You may also feel the same in the attached kitchen design, which is using turquoise penny mosaic for backsplash decoration. Zoom in the tile closely, you will see the exquisite surface. In surface treatment, there is one called fambe effect. It is the best technique to create retro style in tile making. Homeowners can take fullest use and conduct a retro tile resurfacing.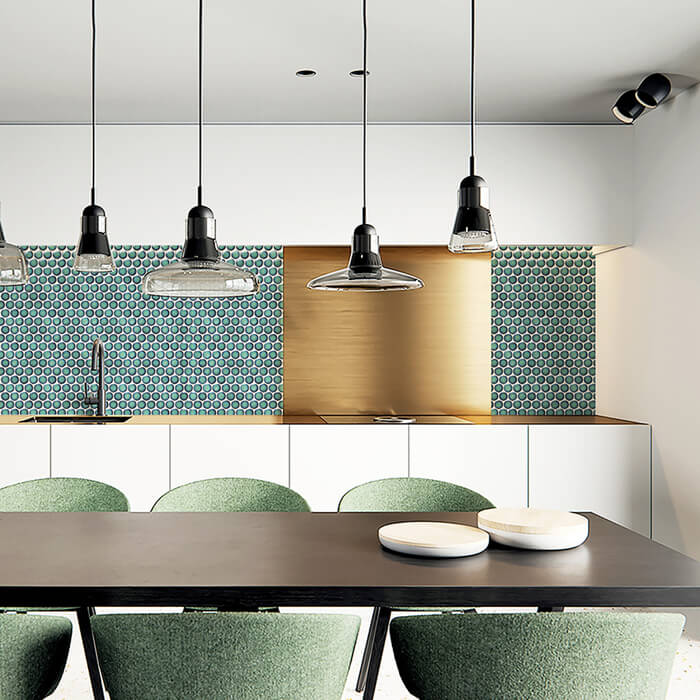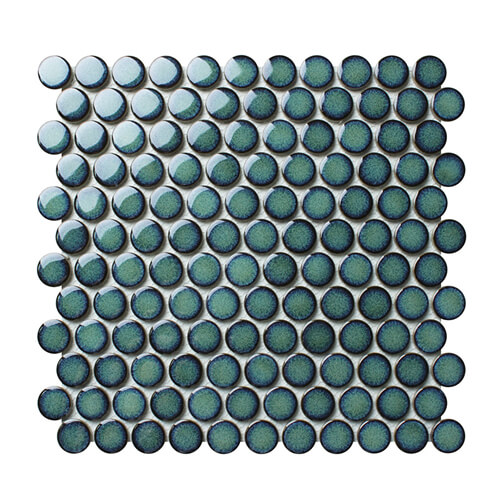 Using Contemporary Black To Express Personality
Gone are the days of matte color and appliances. Now we are seeing glossy black finishes taking a front seat in design. From the kitchen island to the appliances, homeowners are looking for a more glossy black finish to add a bit more sophistication and elegance to the space. As design attaches, pairing glossy black accents and finishes with marble countertops and matte black cupboard is a fun way to add a more contemporary touch to this updated kitchen. Further, the shiny glazed surface of the tile is beneficial to maintenance. Smooth surface will regain its brand new look with a simple wipe.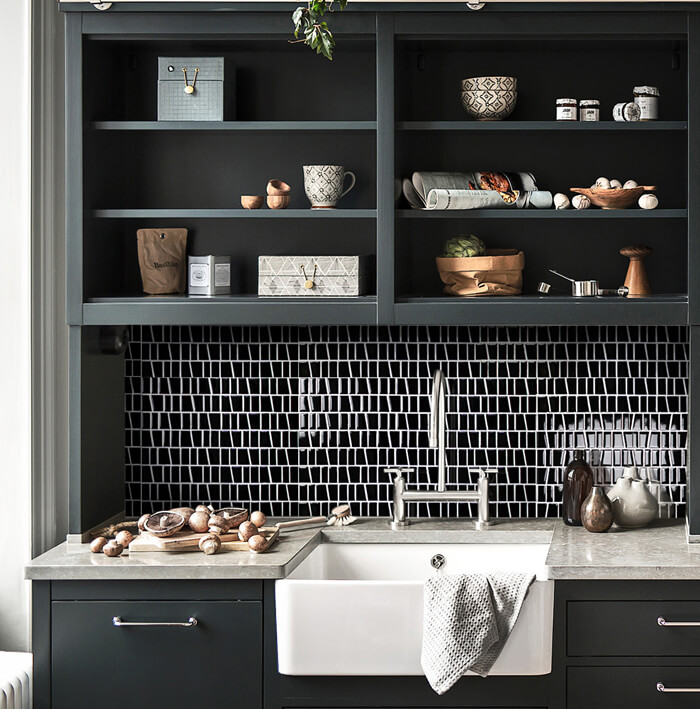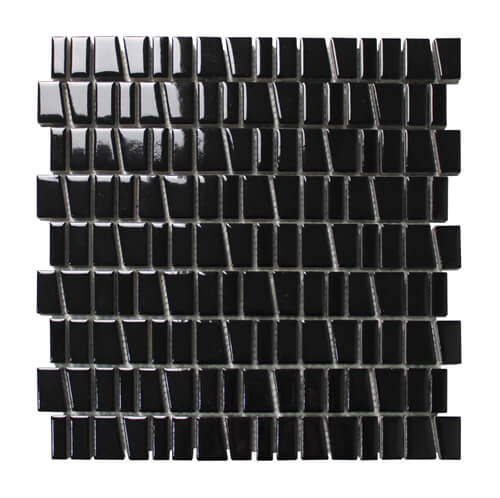 black trapezoid mosaic tile for kitchen CZG124ML
For more kitchen tile design trends, you may like this post:
8 Top Recommended Kitchen Tile Backsplash Ideas>>>

If you are ready to embrace a new look and want more information on these or other kitchen trends, then contact us, MM-Mosaic, a premium mosaics tile company based in mainland China, so we can get you closer to your dream kitchen design by recommending the most suitable mosaic tiles.