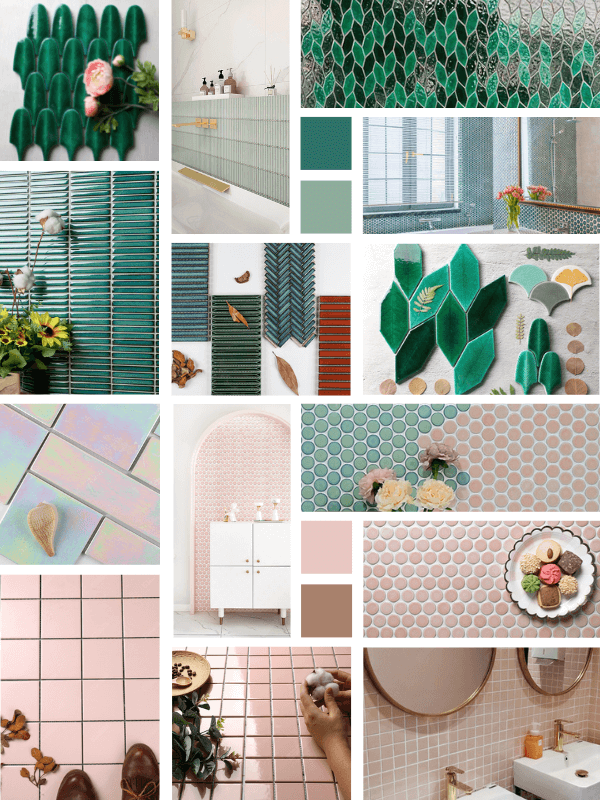 2022 has been finished! For us, that means we are compiling all the projects and trends we have seen this year and predicting what comes next in the mosaic tile world. So we have made our list and checked it twice. From Modern backsplashes to appealing tones, we are so excited to share with you our top 6 tile trends we're predicting for 2023...
#1 Refreshing Up in 2023
We have said it before and we will say it again now! Things are certainly warming up in the handmade tile group! We predicted an uptick in refreshing tone tiles in our 2022 Tile Trend Forecast and we are happy to say that the rise is still rising. We've seen more and more green hue interior spaces as we've made our way through this past year. With energetic glazes like dark green, we're excited to see what fresh green hues will be used in 2023.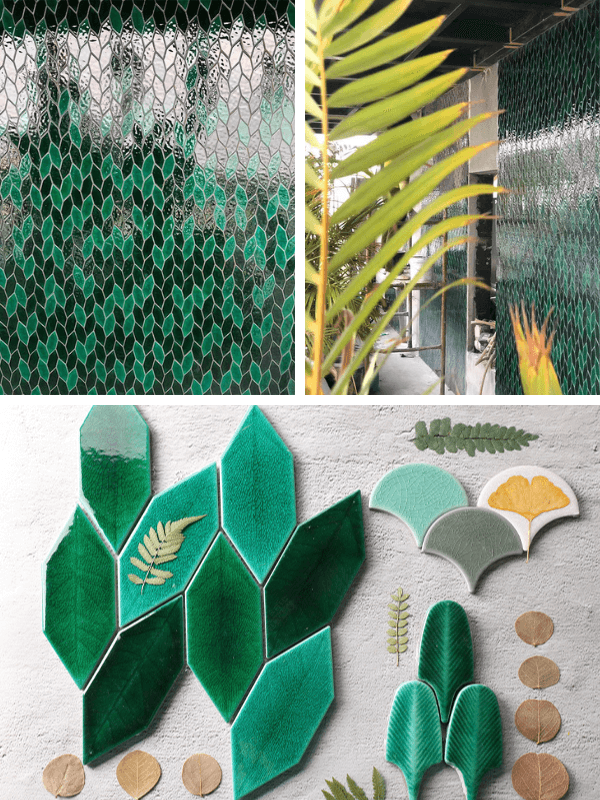 Featured Product: Dark Green Picket Tile ZBC5001
#2 Perfectly Pink Wall & Floor
Pink-tone interior spaces are back in trend thanks to the popularity of Mid-Century Modern interiors. We will get an appealing and chic look with this pink without having to do a lot of designing - the pink color speaks for itself. Moreover, having a glossy pink tone to greet you every morning is a wonderful way to start the day.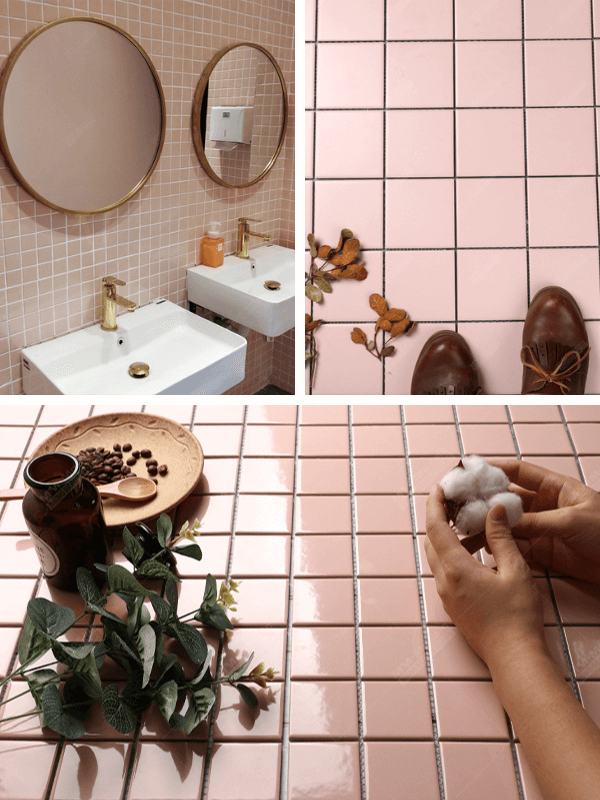 Featured Product: 2x2 Pink Square Mosaic Tile CKG410B
#3 Forest Vibes
It's no surprise that our glossy dark green glaze made a huge impact in last year. In fact, we think green color is the new neutral. Therefore, it's time to roll out the green carpet for even more dark green tile remodeling cases in 2023. With unmatched handmade variations and a wide range of green hues, this palette is nothing short of irresistible. We've seen it in every handmade tile shape and pattern we have to provide. Some of our favorites are our signature kit kat tiles in kiln dark green and our penny round tiles in fambe green. Which green hue combo has caught your eye this past year?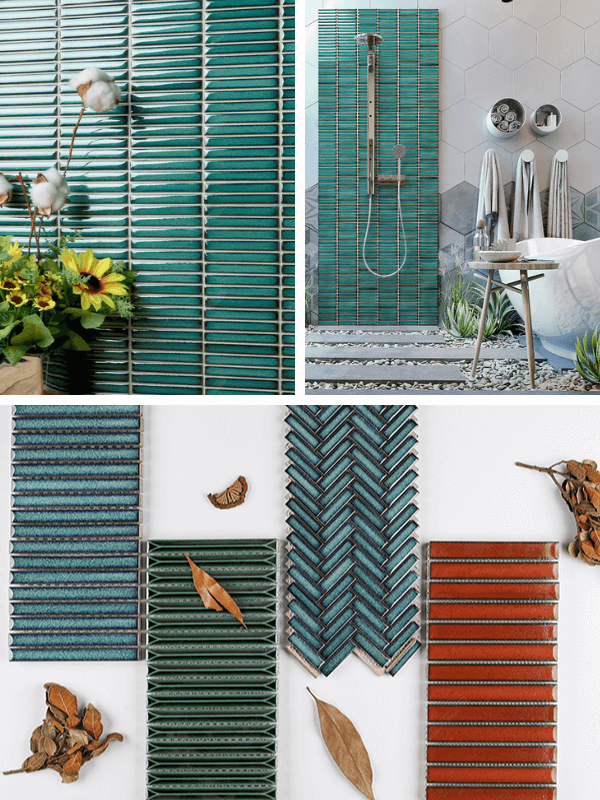 Featured Product: Dark Green Kit Kat Tile CZO949A
#4 Iridescent-Inspired Shower Wall
We figured that the beautiful iridescent glaze is perfect for a bored shower space. We love styling the iridescent palette in front of this jaw-dropping tile color. This unique glaze color will uplift your shower wall creating a modern and fun space to have a relaxing bath. Try it in our premium handmade tile for a custom look while staying on budget.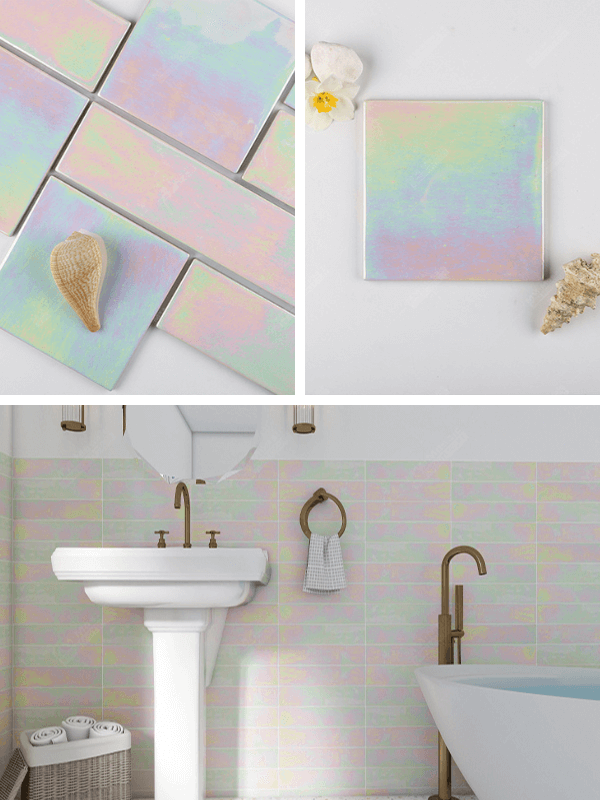 Featured Product: Iridescent Square Ceramic Mosaic WOC8901
#5 Playing With a Natural Tile
While playing with this natural light green color, keep in mind that we provide it in any of our various standard tile shapes. Each shape creates its own unique graphic element and has a different effect when complementary colors are added. We prefer to kit kat tile shape mix this natural light green color. We think this color would look great as a focal point in an otherwise neutral room. We also think it could be beautifully styled with a complementary Carrara pattern. Try adding light green glaze as a complementary color like the kit kat sheets below.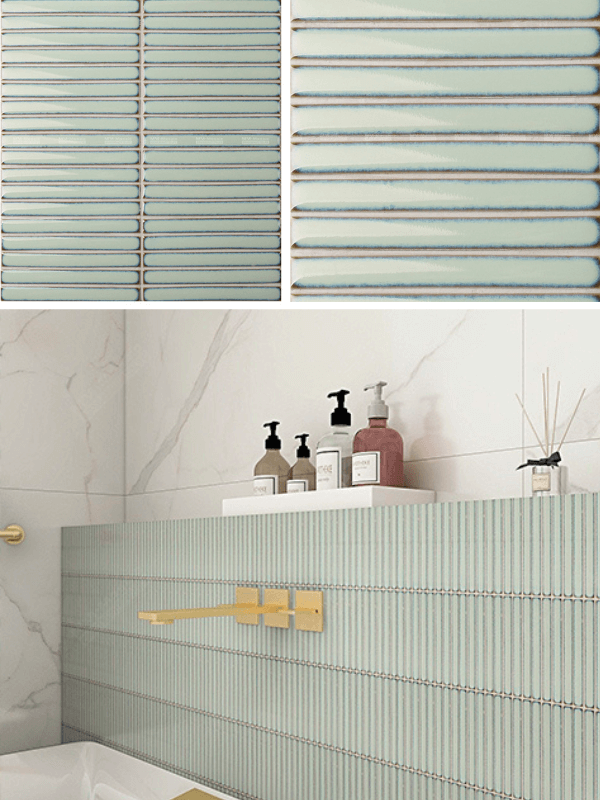 Featured Product: Light Green Ceramic Finger Tile ZOB1704
#6 Style Your Style with Plumage
The beauty of plumage tile is the ability to be put in any space, including restaurants. This restaurant is located in Vietnam and houses this tranquil and modern plumage tile accent wall! This dark green plumage tile is the perfect backdrop for all things brunch. The glossy ceramic plumage tile keeps the design timeless and compliments the rest of the space beautifully.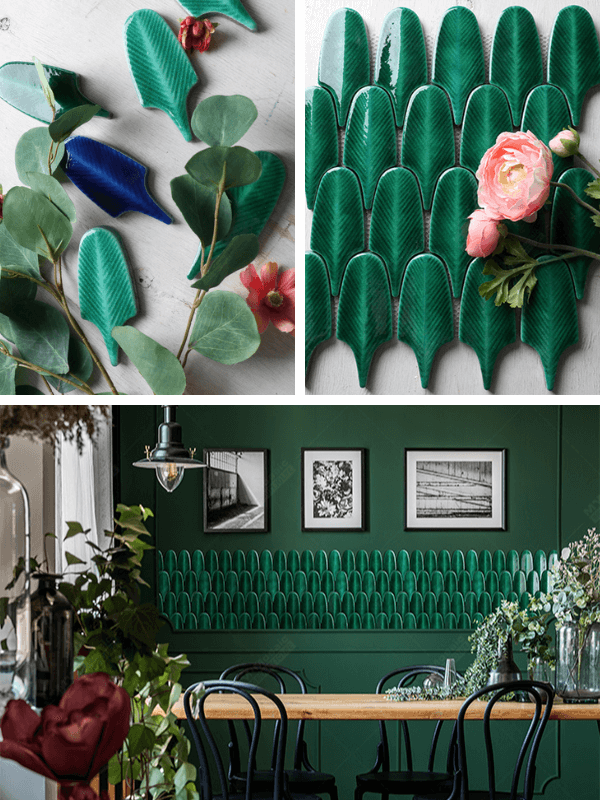 Featured Product: Dark Green Plumage Tile ZBE1601
#7 Snow Flower Backsplash
Snow flower patterns are one of our fan-favorite tile shapes and they are ideal for backsplash remodeling case. The snow flower appearance of this tile shape makes the white color transitions of this light white to pure white ombre seamless and satisfying. The snow flower pattern tile creates a gorgeous blend of whites that compliment the rest of the kitchen beautifully.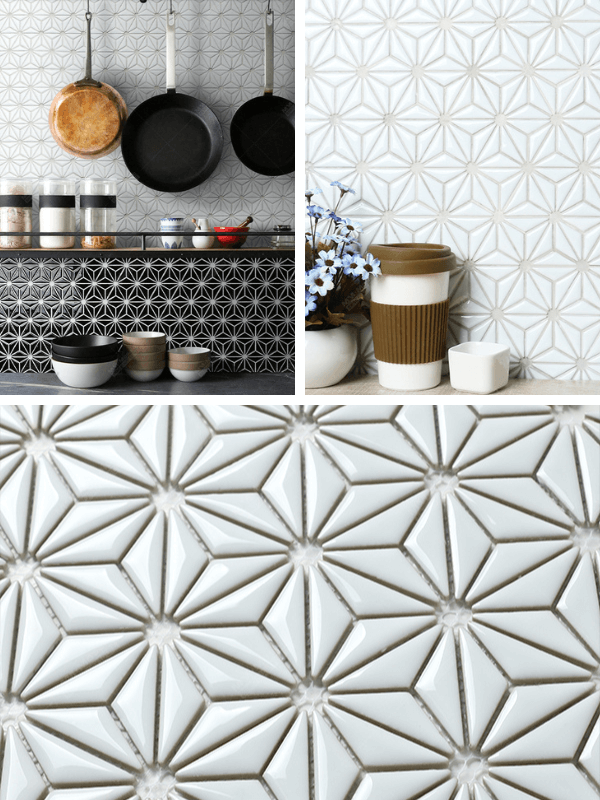 Featured Product: White Flower Pattern Ceramic Mosaic CZG204CD
#8 Petty in Pink Accent Wall
Roll out the pink canvas in this space for this bright and bold combination! Our kiln pink glaze is the perfect vibrant, yet mellow option when it comes to pink tile. Can you imagine walking into your favorite space and being obsessed with this stunning pink accent wall?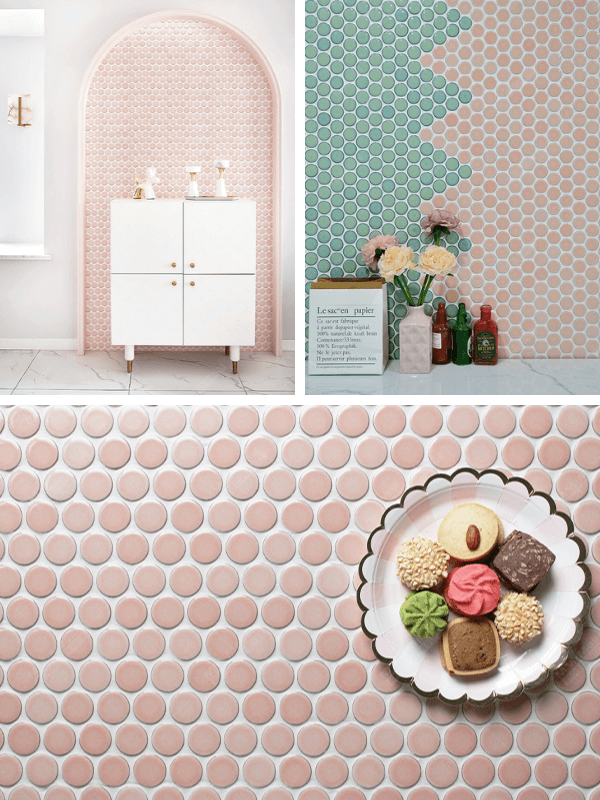 Featured Product: Porcelain Pink Penny Round Tile CZO421A
Our kiln pink glaze has quickly become a fan favorite when it comes to penny round. This glaze and pattern combination will turn any room into a dream space. This penny-round accent wall was designed by our professional designer Max. Deserves a standing ovation. This dynamic duo is the perfect choice for an eclectic entryway for someone with a bubbly personality.
#9 Dark Green Penny Rounds Everywhere
The next prediction from our 2022 Tile Trend Forecast that's holding its weight as we move into 2023 is penny rounds. We have increasingly seen interior designers bring penny rounds of the outdoors, into their homes with kiln dark green penny round backsplashes and fambe greens showers. These dark green penny round projects have us dreaming of a mountain vacation that seems long overdue.
Featured Product: Dark Greed Penny Round Tile CZO938A
#10 Soft Palettes!
Incorporate sky blue into your interior space like a natural sky with natural blues and soft cloud tones. The understated sophistication of natural sky blue tile adds instant depth to any space–it's no wonder we are getting so many requests for this color.
Natural blue in the wall paired with wooden furniture creates a timeless palette with a modern twist thanks to the vertically stacked tile installation.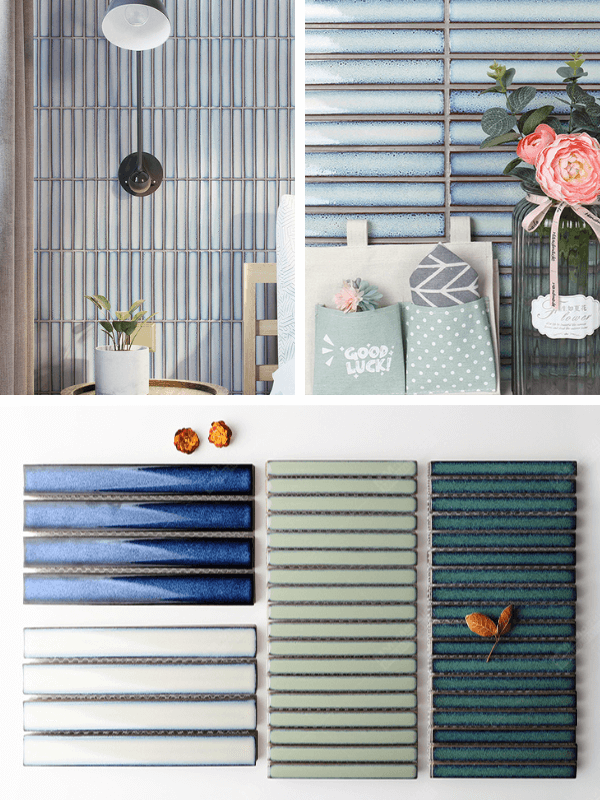 Featured Product: Stacked Blue Finger Tile CZO902DX
Get Inspired?
Whether you are looking for a trendy tile design to decorate your entryway accent, shower, or kitchen backsplash, MM-Mosaic as a professional mosaic tile supplier, is here to help you along the way. Why not tell us your design ideas and visions, and we will get the kiln fired up and ready to go? Order tile samples to see and touch right now! You might fall in love with our exquisite handmade tiles and we're so happy to hear what inspires you.