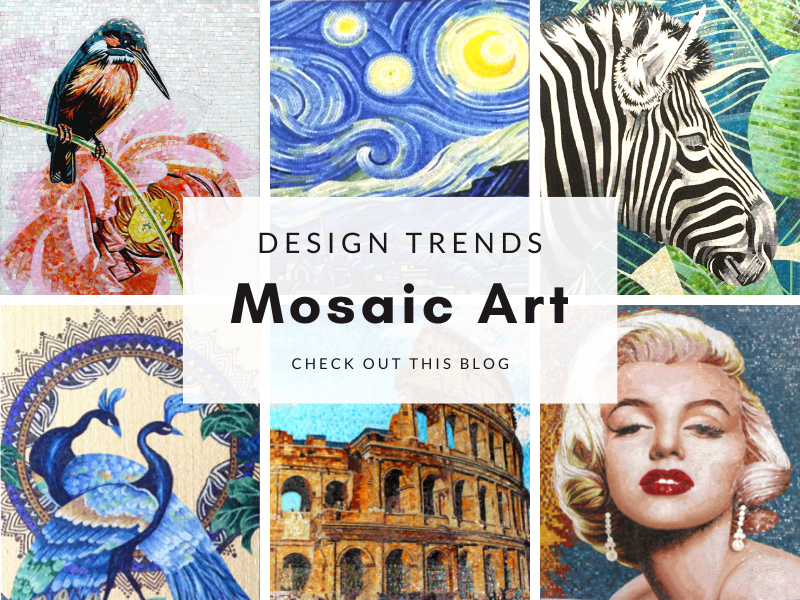 Check out our collection of creative mosaic designs and get inspiration in everything from abstract patterns to figure to animals. Create custom mosaic art by bringing an image of your option. Moreover, change your own logo or portrait into beautiful art that will never fade or discolor. Here are abundant mosaic murals for your opt...

1 Abstract
First on the list is the abstract patterns! The abstract pattern designs bring style and an amazing look to your interior space, such as home, office, or hotel lobby. From modern cubism and geometric abstraction to figurative picture and impressionist painting mosaic mural. Our selection has an individual piece for every taste.
Choose a stunning and elegant mirror glass mosaic art for your gallery wall or opt for an abstract pattern mural to enhance your commercial space might be a great idea!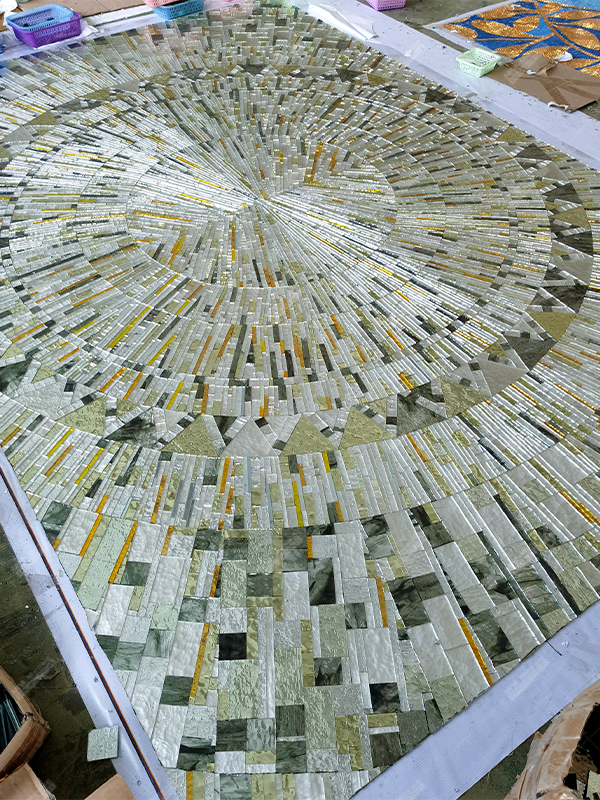 Material: Handcrafted Mirror Glass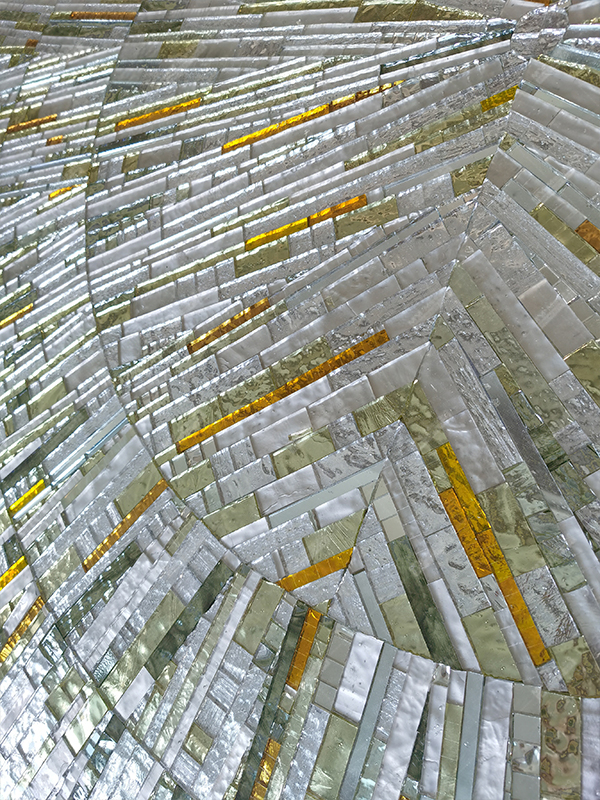 2 Birds and Butterflies
How about the Birds and Butterflies Collection? This series consists of an array of bird and butterfly mosaic pattern designs. Any of the handcrafted chips in this series can be used as an indoor or outdoor mural. Many designers choose to use floral mosaic arts to decor the living room accent wall that only improves the intricacy of the art. Having a lovely bird or beautiful butterfly design may be a good thought!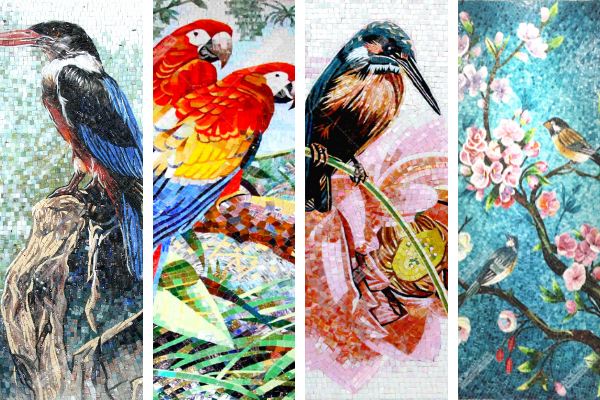 3 Peacock
Have you ever lost yourself when just simply looking at a beautiful peacock's feathers? Merely marveling at the beauty of patterns, colors, and the sophistication of their feathers? We specifically have and we can create various peacock mosaic art designs to inspire every mosaic artwork lover to unleash their completeness and endeavor to show our appealing colors. Our peacock mosaic mural collection is more than meets the eye, it's a presentation of one of nature's wonders.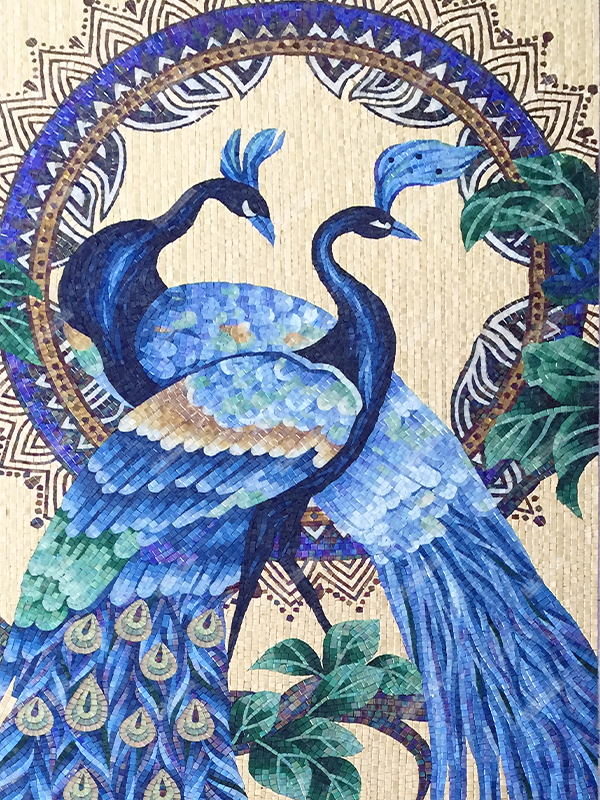 Materials: Glass Mosaic Chips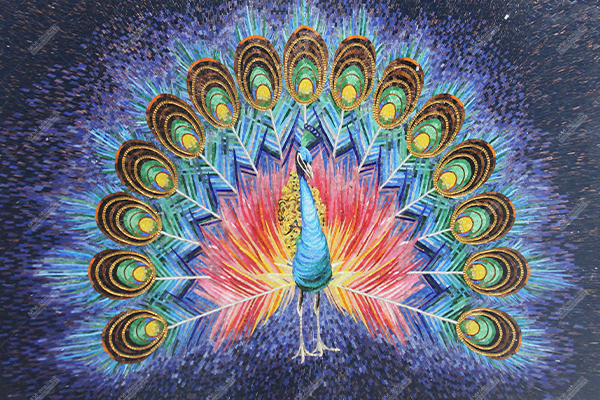 4 Geometric
Let's bring new life to your pure walls and common floors with geometric mosaic designs, an important element of designing with mosaic. An unparalleled geometric pattern can change a wall and floor and make them become a beautiful 3D finish. Using glass mosaic chips or ceramic pieces, our professional artisans have handcrafted these unique patterns for all of your residential or commercial projects. Get inspiration from our selection of geometric patterns.
For more mosaic design ideas here "Handcrafted Mosaic Mural Collection"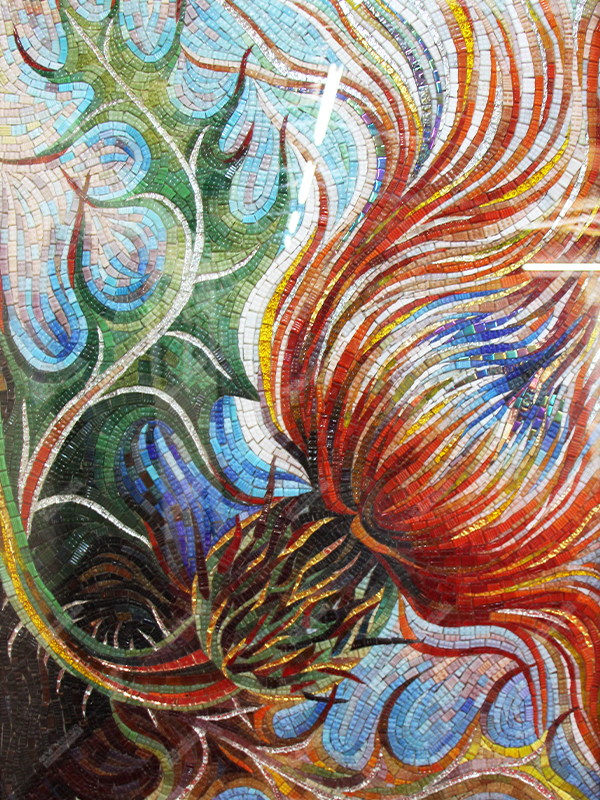 5 Ancient Mythology
Our handmade mosaic murals are a history and mythology lovers' dream. Browse our attractive reproductions of Roman and Greek mosaic arts. Various impressive variety of historical mosaic pattern designs portraying ancient characters, symbols, and famous historical scenes that you can make them as mosaic art. With the circumspective care and dedication of our highly skilled artisans. Our mosaic art will last a lifetime and are sure to enhance a bold statement to your space decor.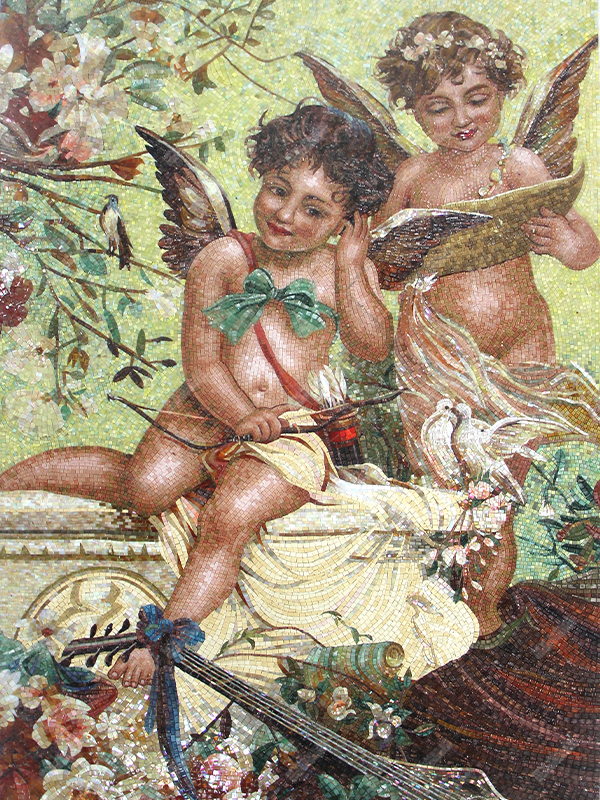 6 Flowers and Trees
Abundant flowers and trees pattern serves as a charming design element in any space. Handcrafted by our experienced artists with the finest glass or ceramic tiles available. Our colorful mosaic patterns create intricate details to your kitchen, accent walls, hotel lobby, spa, or pool. Have a personal design idea in mind? Contact us to commission a piece of the custom mosaic mural from our highly-skilled artisans, designed exclusively to match your taste.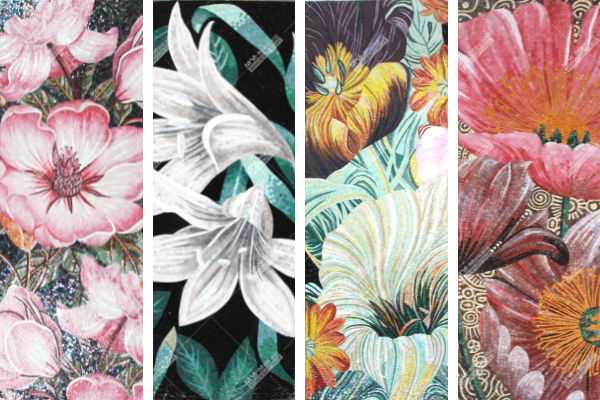 7 Human Figures
Browse our human figure collection and fine art made from rich iridescent glass or ceramic mosaic chips. Our human forms patterns serve as wonderful impact statements for living rooms, enter way walls, and bedrooms alike. Searching for transforming a family portrait into a mosaic art? Custom order your own mosaic art right now!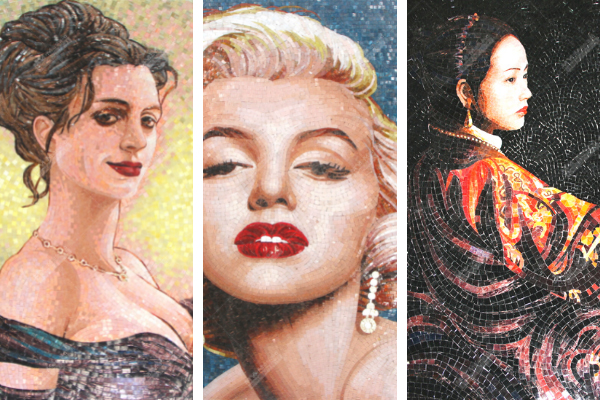 8 Animals
The vivid collection features Animals patterns that are the ideal decoration for hallways, bathrooms, bedrooms, and even outdoor areas. This collection's art chips are exquisitely made from glass mosaic tile or ceramic material. Because some chips source glass mosaics to bring emphasis to richer tones and color hues. Perfect for all residential space and commercial decor, our Animals Collection will bring new life to your walls and floors.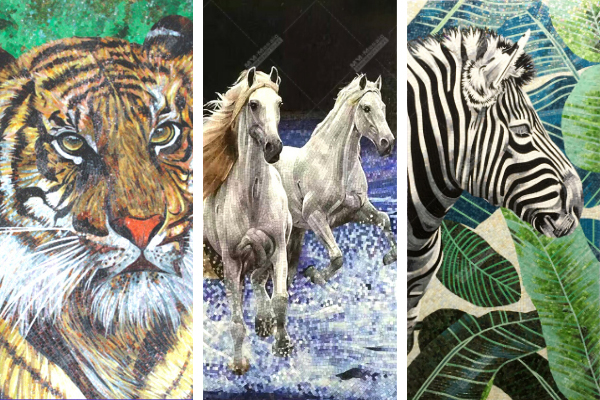 9 Famous Painting
Explore our Famous Painting Series of authentic artwork! Transform your space's bare walls into a work of handcrafted art. Using high-quality glass mosaic pieces, our mosaic patterns are all handmade, illustrating surprising famous paintings. Any of our artwork can be customized to suit your size and design preferences. Whether your taste of aesthetic is retro, modern, or dynamic, our art is the finishing touch your home craves.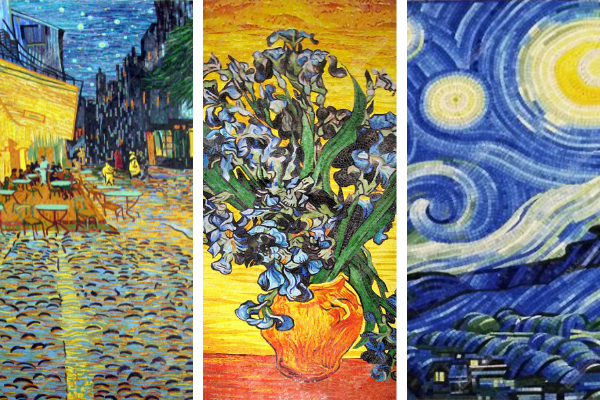 10 Religious
If you are a religious person, you must not miss this Religious Collection. Featuring powerful mosaic arts, medallions, and ancient byzantine designs, our religious mosaic mural will meet your suit. Christian art highlights the main iconic figures and scenes of Christianity. Symbolic Islamic symbols and calligraphic mosaic art are represented in this outstanding collection through handcrafted mosaic murals. Moreover, we provide handmade Jewish, Hindu, and Buddhist-inspired art. Don't find your faith listed? All faiths can be shown through our appealing custom art.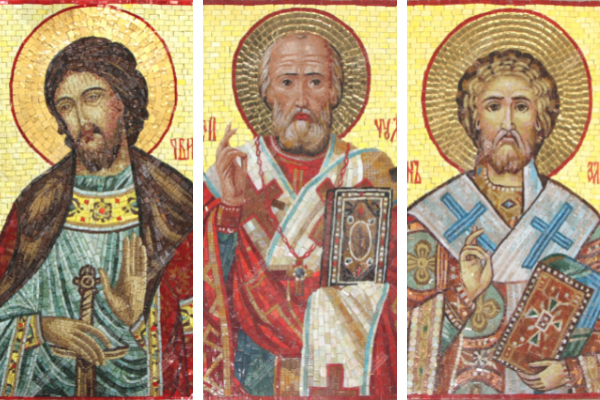 11 Golden Elements
Obsessed with our golden element pattern? This mosaic is a powerful element to consider when designing a space with glass or ceramic mosaic chips. Mosaic mural designs composed with vivid tones hold the power to change a common wall or floor into an absorbing focal point. Applying golden elements to beautiful mosaic chips, our skilled artists have made a series of exclusive mosaic patterns for all of your residential and commercial projects.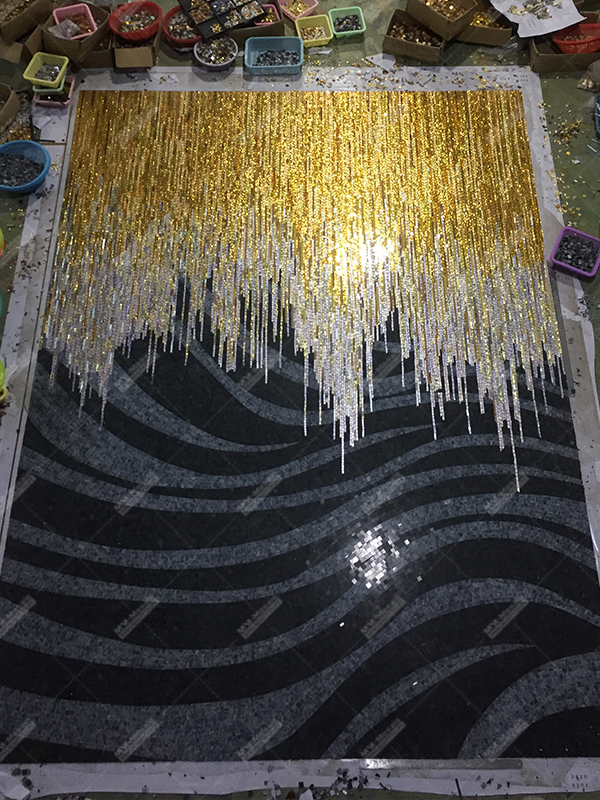 12 Cartoon
Our lovely Cartoon Collection was exclusively crafted to fit the children's activities space, such as school, garden, or children's bedroom. Bring the cute cartoon mosaic art into your space with our abundant and rich handcrafted mosaic mural right now!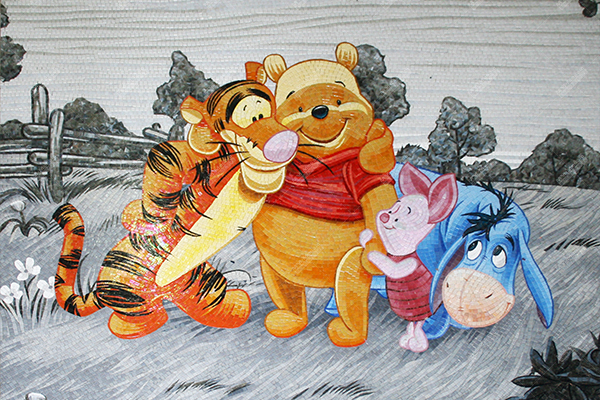 13 Chinese Landscape
Our series of Chinese Landscape mosaic art will create a traditional and peaceful feel in your design space. Whether you are in search of green lotus leaves, sunset scene, or tranquil moon for your home or sourcing art for the hotel or office, our Chinese Landscape Collection will greet your visitors with soothing style. From vibrant lotus pond to sunset scene patterns, you might fall in love with our Chinese elements.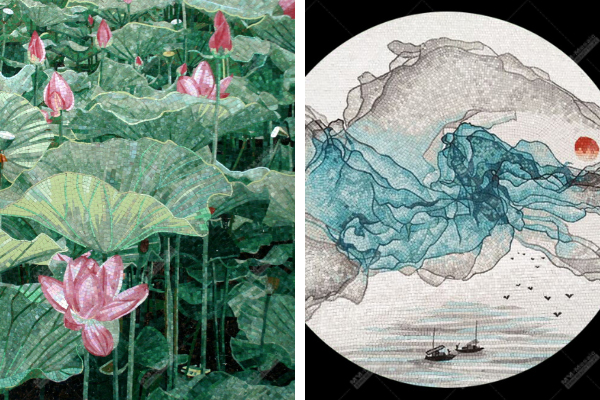 14 Personal Sign Logo
None of the above custom mosaic arts you like? Let's check out this series! Featuring a wide option of custom-made logos and signs, our personal sign logo series will make your brand transform into mosaic art that lasts forever. Just need to provide us with a photo pr description of your idea and our experienced artists will create an appealing illustration of your inspiration using glass or ceramic mosaic pieces.
For the details of this project, visit our blog "Swimming Pool Project: Appealing France Hotel Pool Design"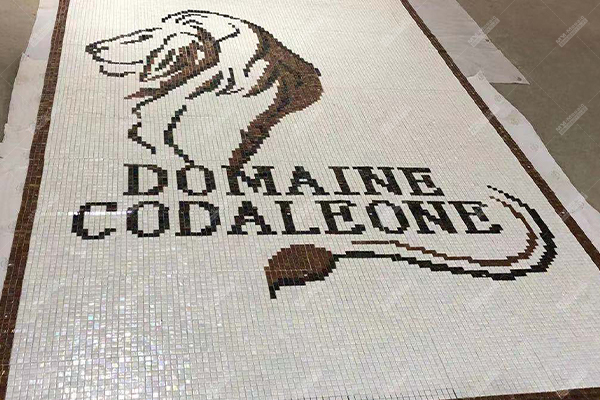 Get Inspired?
Get inspired with our Mosaic Art? Looking to beautify your residential or commercial space even further? Then feast your eyes on our stunning mosaic mural collection. Sharing your mural design inspirations with MM-Mosaic professional designer, we can make fantastic mosaic art to meet your space. Moreover, you can order tile chip samples to see and touch before you make a determination.